Daffy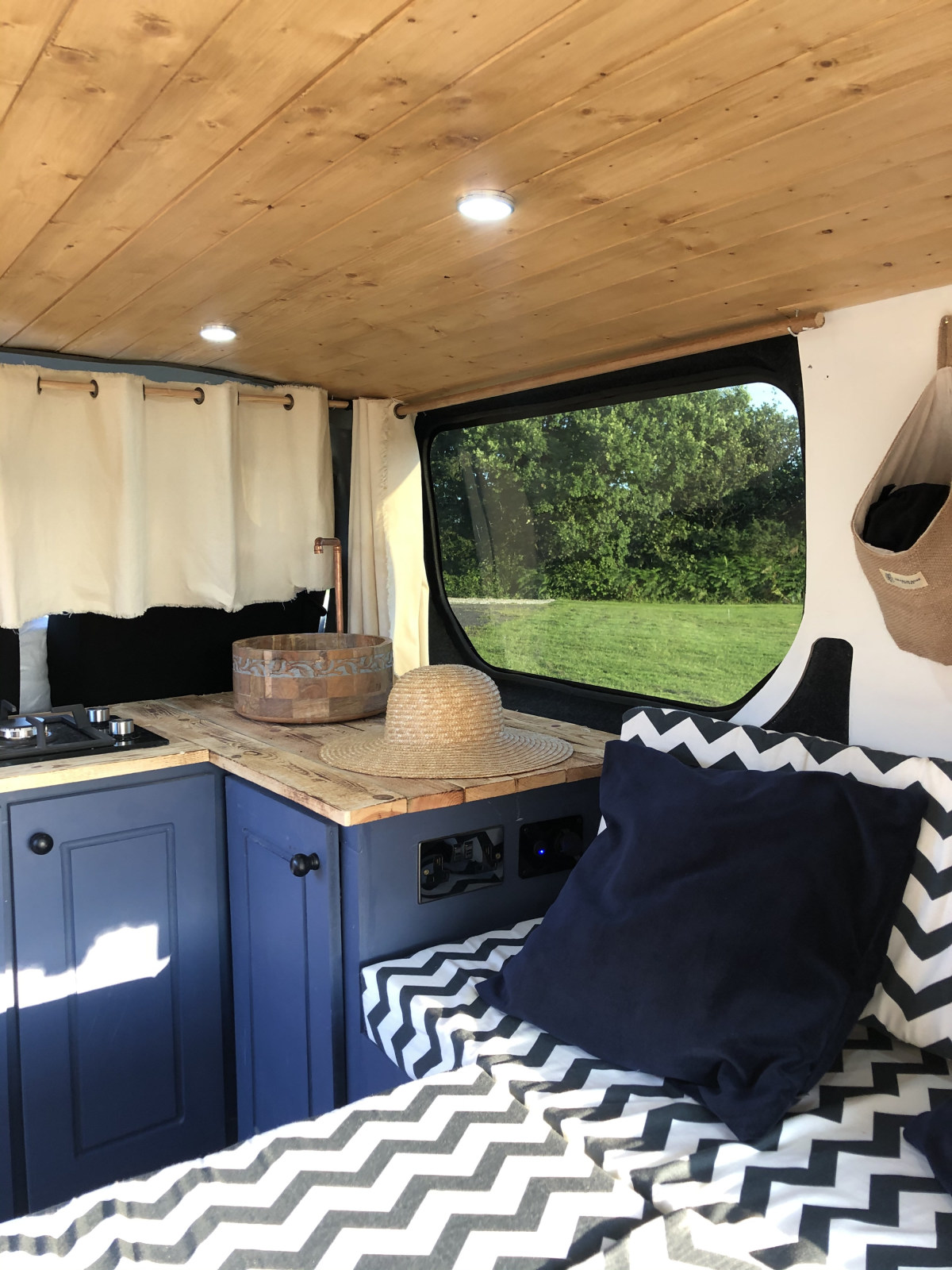 London
3 Belted seats 2 Adult berths
Are you ready to take this little slice of sunshine for a spin? Daffy is a one of a kind, heavenly crafted campervan, located in London. Daffy expertely intertwines several styles to create a stylish and bright atmosphere. From a wooden paneled ceiling to geometric soft furnishings, Daffy really will stand out on any instagram feed. A snug L shape sofa transforms into a cosy double bed by night, the perfect set up for a romantic getaway.

Compact but powerful, this firecracker of a camper has everything you need to cook up a delicious feast for two including a 2 ring gas hob and a bamboo plate and bowl set. There is also an option to add on a fire pit - picture roasting marshmallows on the beach on a starry night.

One of the most incredible features within Daffy is the built-in shower attached to the rear door. Simply pop up the boot and enjoy! For those looking to be truly at one with nature and venture off the beaten track, Daffy is at your service. Fitted with a leisure battery so you can keep charged wherever you are. All that's left to do is choose your location. So the question is, where will you go?
Essential Information
Air Conditioner
Hob
Refrigerator
Kitchen Sink
Outside Shower
Extra Storage
Audio Inputs
Radio
Inverter
Pet Friendly
Double Beds: &nbsp1
EU Travel Allowed
About the Campervan
Description of Beds: Daffy is compact with an L shaped and sofa turned bed. With dimensions of 175cm x 125cm and an additional foot extension to accommodate even the tallest sleepers up to 6"5.

Description of Seating: Daffy can take up to 3 passengers in the front cab with 3 belted seats.

Description of Electrical Setup: Daffy has both 12v and 240v electrics. Daffy has a leisure battery which charges when driving which will give you enough charge to power lights/ phones and if needed laptops. Daffy has a 12v electric cooler to keep your drinks chilled in the day. Daffy has 2 mains socket plugs and 4 usb charging points.

About the area: Daffy is parked in a sleepy residential estate in Dulwich, easily accessible by train or the Victoria line as it is close to Brixton station.

Parking: If you need to park your car we may be able to provide a parking space. Please let us know in advance so we can check if there will be a space available.

Cooking Equipment: Daffy might be compact but she has a well stocked kitchen. This includes 3 bamboo bowls and plates, cutlery for 3, saucepan, frying pan and stove top kettle, unbreakable wine glasses and a bottle and can opener. Daffy has a double ring gas stove for cosy cooking indoors and the option of taking out the fire-pit if you feel like flaming a few sausages on an open fire.

Water and Sanitation: Daffy has a beautiful hand crafted wooden sink, connected to a 10L fresh water tank and 10L waste tank. One of the best bits of Daffy is the built-in shower. Simply pop the boot up and flick the switch.

Audio Equipment: Daffy has a pioneer radio with bluetooth so you can connect up your phone to your favourite music.

Type of Heating: Currently Daffy has no heating but you can stay toasty outside with the option of a fire-pit.

Extra Information: Daffy is a smart, super nimble van. Being bright yellow means you will never lose her in a crowd.

Conversion Story: Daffy has traveled all the way from the Lake District to her new home in London. No doubt Daffy was once a trusty breakdown van but has since had a complete makeover and we think she looks beautiful. Everything from the blueberry interior to the hand carved wooden basin was chosen with style in mind.
Pick up / Drop off Times
| - | Pick up | Drop off |
| --- | --- | --- |
| Sunday | By arrangement | By arrangement |
| Monday | By arrangement | By arrangement |
| Tuesday | By arrangement | By arrangement |
| Wednesday | By arrangement | By arrangement |
| Thursday | By arrangement | By arrangement |
| Friday | By arrangement | By arrangement |
| Saturday | By arrangement | By arrangement |
Note: Campervan Hire prices are per 24 hours. If you request pick-up at an earlier time than your drop-off time the owner will quote you for the additional hours. Typically this is £12.50 per additional hour.
When would you like to go?
Sorry, there was a problem...
Vehicle Spec
Vehicle Type: camper-van
Make: Renault
Model: Trafic
Year: 2006
Vehicle Length: 4.78 metres
Vehicle Height: 1.96 metres
Box Length: 4.78 metres
Max Laden Weight (MAM): 2900 kg
Payload: 500 kg
Transmission: manual
Fuel Type: diesel
Registration: emailed when you book
Note: The hire of this vehicle is arranged by Quirky Campers ltd acting as the agent on behalf of Daffy's owners. We make every effort to ensure that all the vehicles listed with us are of a high standard but cannot guarantee the condition of the vehicle. If you experience any problems please notify us as soon as possible.