Peaches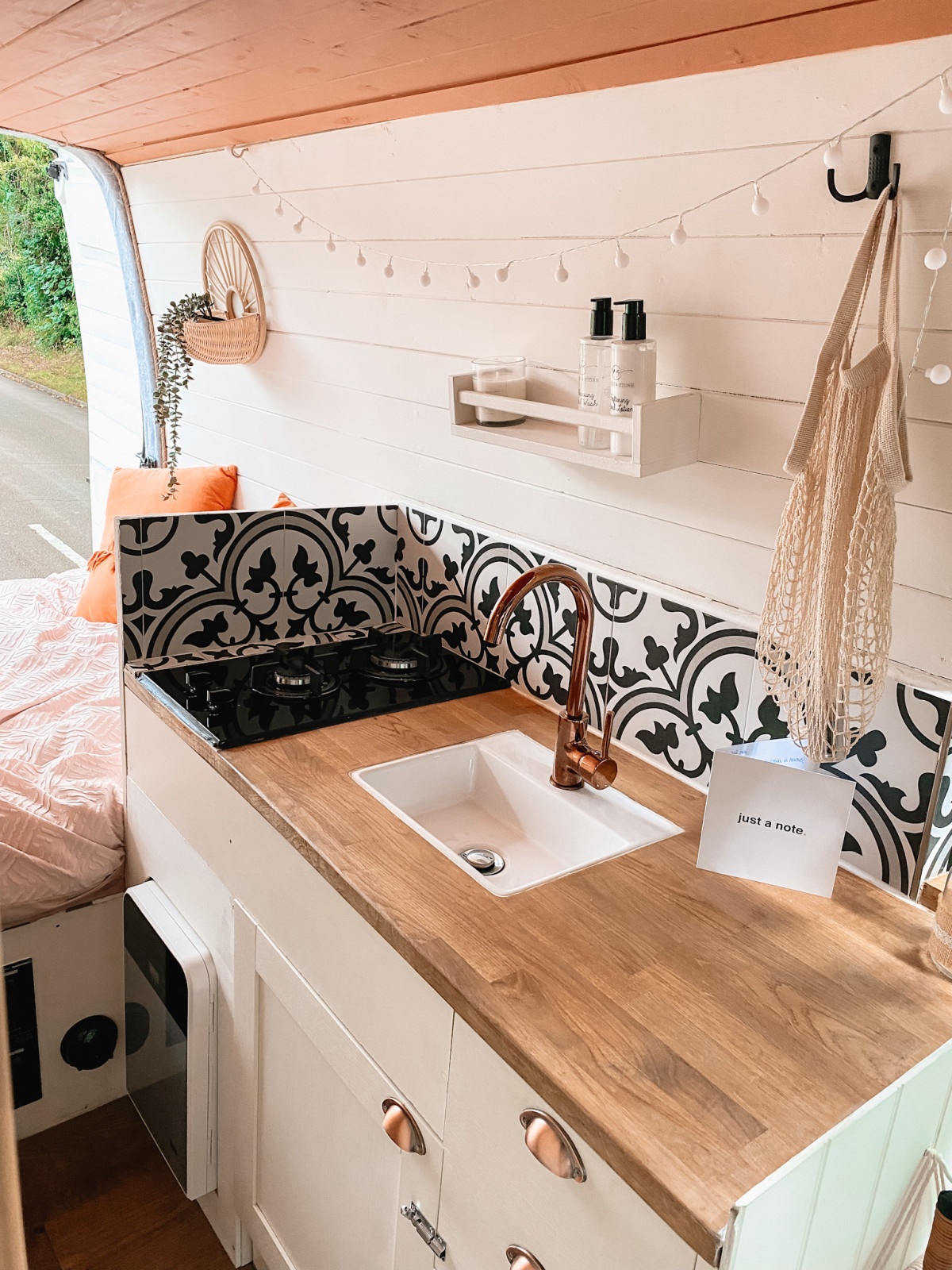 High Wycombe
4 Belted seats 2 Adult berths
Trust me, you're going to want a 'peach' of this! This camper really is the cream of the crop and has all the right ingredients to cook up an unforgettable trip for you and your significant other. It's whitewashed and subtle bohemian style, creates the perfect base for your romantic getaway. Sleeping two in a cosy fixed double bed towards the rear, you can simply open the backdoors and enjoy a side of unbelievable views with your morning coffee. Room for one more? Peaches is pet-friendly and offers plenty of space for your four legged buddy to join you on your adventures.

Table for two? Peaches has everything you need to create a romantic meal, including a double gas burner, a selection of pans and cooking utensils, and a refrigerator so you can keep those bubbles cold, ready to serve with dinner. Forget music, just envisage pulling up by the beach, watching the sunset and listening to the sound of crashing waves whilst you eat - now that's romance!

Planning to escape off-grid? Peaches is ready and willing. With an indoor shower, toilet and solar power, you can enjoy being at one with nature whilst still benefiting from all the comforts of a b&b. So what are you waiting for? Book your great escape and get ready to 'preach' for the stars!
Essential Information
Hob
Heater
Dining Table
Refrigerator
Kitchen Sink
Inside Shower
Toilet
Ceiling Fan
Solar
Radio
Pet Friendly
Toilet Capacity: &nbsp25 litres
Water Tank Capacity: &nbsp50 litres
EU Travel Allowed
About the Campervan
Description of Beds: Peaches sleeps 2 on a fixed bed. The dimensions of the bed are 129cm width by 170cm length. The bed has a 200kg weight limit.
.
Description of Seating: Our van can carry 4 passengers with 4 belted seats, all with headrests. In the main living space you can squeeze 3 comfortably around the table with the rotating passenger seat which opens up the living space.

Description of Electrical Setup:Our van is an off grid campervan with 450 watts of solar on the roof all running off 2 140ah AGM Batteries. Peaches can also hook up to the mains to charge the batteries, as well as running off the mains. We have three 240v plugs - one in the living space, one for the fridge and one in the garage. Also available is a USB charging point located in the sleeping area. The fridge can either run off 12v or 240v. It is a 22 litre fridge.

About the area: We live in high Wycombe which is 25 minutes from Windsor and approximately 40 minutes to Heathrow or London. We park Peaches just around the corner from our home on a secure road.

Parking: Peaches is parked just around the corner from our home - therefore when we do hand overs, you are welcome to park in her spot and we will keep an eye on you're car for you while you're on your travels!



Cooking Equipment: Peaches has all the necessities to keep you going! She can cater for four with all of the necessary equipment for cooking. In the kitchen cupboard you will find four plates, full set of cutlery, one chopping board, scissors, ladle, tongs, a sharp knife, a set of three saucepans, two mugs and two drinking glasses. Love a morning cuppa? You are not experiencing van life if you don't use our whistle kettle on the stove! Don't panic - if you are a coffee drinker, we have a percolator for you. Lastly if you have a lot to wash up after a delicious meal, we have a washing up bowl which saves a lot of water in the long run and avoids any mess!

Water and Sanitation: Our van is kitted out with a lovely hot inside shower and toilet. It is run by a gas boiler tucked away in the walls and the gas bottle is situated in the garage in a gas safe cabinet. There is also a 12v pump in the garage that pumps water from the 50 litre water tank to the sink and the shower - this should keep you going for a few days!

Audio Equipment: Enjoy your journey while listening to your favourite radio stations.

Type of Heating: Our van is fully kitted with a diesel heater to keep you toasty in the evenings.


Conversion Story: After years of dreaming of buying and converting our own van, we finally took the plunge during the pandemic and bought an old plumbers van. It was the best decision we have ever made! We both had zero experience in van building, however we knew that travelling and creating new adventures together was what we wanted to do - therefore we made it happen (with a little help from YouTube!). We hope you love exploring in Peaches as much as we do, we can't wait to see your photos!
Pick up / Drop off Times
| - | Pick up | Drop off |
| --- | --- | --- |
| Sunday | By arrangement | By arrangement |
| Monday | 4:00PM - 10:00PM | 4:00PM - 10:00PM |
| Tuesday | 4:00PM - 10:00PM | 4:00PM - 10:00PM |
| Wednesday | 4:00PM - 10:00PM | 4:00PM - 10:00PM |
| Thursday | 4:00PM - 10:00PM | 4:00PM - 10:00PM |
| Friday | 4:00PM - 10:00PM | 4:00PM - 10:00PM |
| Saturday | By arrangement | By arrangement |
Note: Campervan Hire prices are per 24 hours. If you request pick-up at an earlier time than your drop-off time the owner will quote you for the additional hours. Typically this is £12.50 per additional hour.
When would you like to go?
Sorry, there was a problem...
Vehicle Spec
Vehicle Type: camper-van
Make: Vauxhall
Model: Movano
Year: 2008
Vehicle Length: 6 metres
Vehicle Height: 2.5 metres
Max Laden Weight (MAM): 3500 kg
Payload: 660 kg
Transmission: manual
Fuel Type: diesel
Fuel Efficiency: 25 mpg
Registration: emailed when you book
Note: The hire of this vehicle is arranged by Quirky Campers ltd acting as the agent on behalf of Peaches's owners. We make every effort to ensure that all the vehicles listed with us are of a high standard but cannot guarantee the condition of the vehicle. If you experience any problems please notify us as soon as possible.