Antares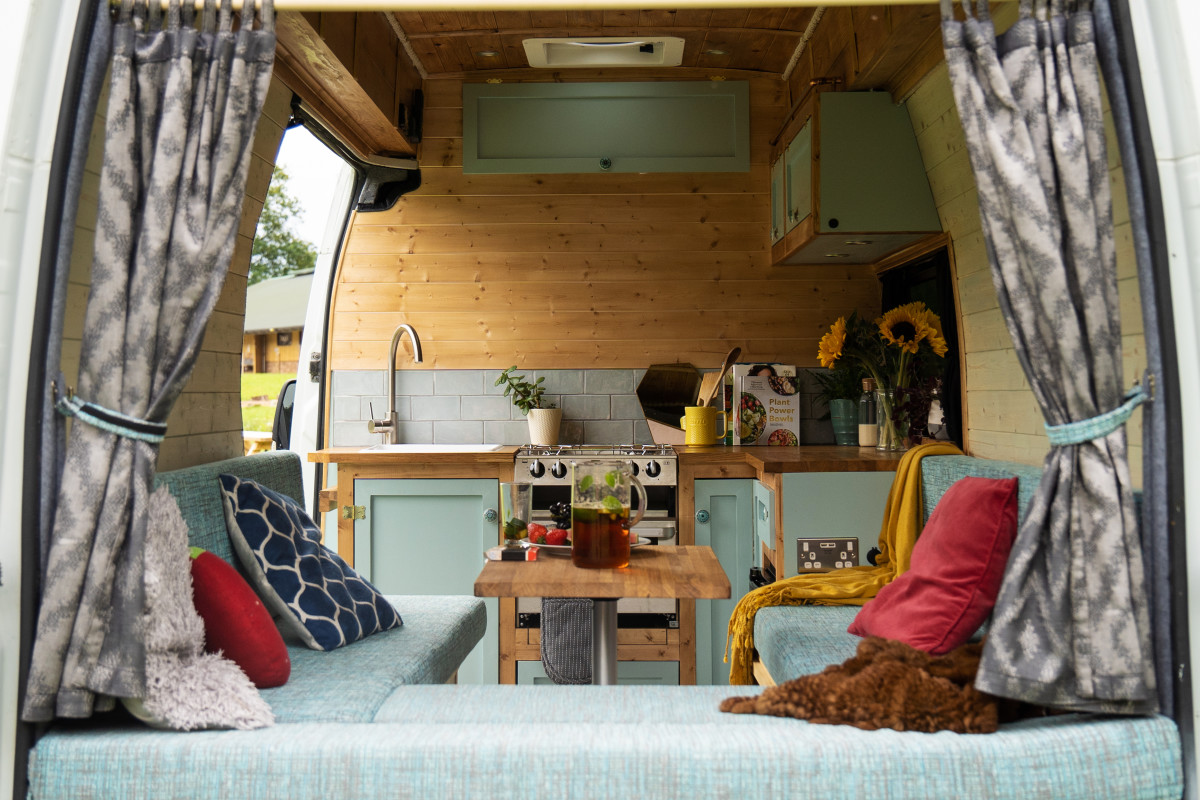 Portsmouth
3 Belted seats 2 Adult berths 1 Child berths
Calling all the fabulous pooches and their well-behaved owners! Come on in and take a peak at one of the shiniest stars within our fleet. Located in the sunny seaside town of Portsmouth, Antares is perfectly positioned for a family getaway to the seaside or for whisking that special someone to a countryside escape to the New Forest. Sleeping two adults and one child in a spacious king size bed and containing 3 belted seats in the front, there is plenty of room for the whole gang. Antares's owners have perfectly meshed together rustic country style living with a modern flare, creating a warm, inviting and romantic atmosphere.

With a kitchen fit for Mary Berry herself, Antares has been fully-kitted out with family feasts in mind. Not only does Antares benefit from a double gas stove, he also has an oven too. This means after a long day of building sandcastles and splashing in the sea, you can decide whether to cook a 3 course meal or simply throw in an oven pizza. There's also a refrigerator for you to store fresh ingredients and keep your drinks cool. Why not invite a friend round to join you for dinner? Antares's dining area has been designed to seat 3, making it the ideal space for a games night or happy hour cocktails.

Antares is also prepared for off-grid adventures, so you can park right on the beach if you'd like to and still have everything you need to feel at home. Including solar power, a diesel heater to keep you warm when it's chilly outside and an outside shower so you can wash off any sandy feet and paws before settling in for the night. What more could you need?
Essential Information
Hob
Heater
Dining Table
Oven
Refrigerator
Kitchen Sink
Outside Shower
Wifi
Ceiling Fan
Solar
Audio Inputs
Radio
Inverter
Pet Friendly
Gas Capacity: &nbsp5.3 litres
EU Travel Allowed
About the Campervan
Description of Beds:
Antares sleeps three people, two adults and one child, comfortably in a 170cm wide x 183cm long bed. As this is a custom size bed designed to fit the space, standard UK fitted bed sheets will not fit (the bed is between a King and SuperKing). We advise bringing a flat sheet; double bed size or larger will be sufficient.

Description of Seating:
Three belted seats in the drivers cabin (including driver) with headrests. Three people can comfortably sit around the dinner table, so why not invite a guest for tea and enjoy the views from the back of the van.

Description of Electrical Setup:
Antaras is designed to be completely 'off grid' and self-sufficient, no mains hookup is required. Two 130ah leisure batteries provide power throughout the vehicle. These are charged by the van when in motion via the split charge relay and from the 315 W solar panel unit on the roof the rest of the time; all controlled by the Victron 1000 W Inverter. The cabin benefits from two double plug sockets with USB's, plus a double USB socket in the main cabin and a double USB in the driver's cabin.

About the area:
Antares lives in Portsmouth, a well-known coastal town, between the Southdowns National Park and the New Forest National Park. Perfect for access along the south coast, towards Dorset, Devon & Cornwall, a short ferry ride to the Isle of Wight and a gateway to the English Channel and Mainland Europe via ferry.

Parking:
Antares is parked on Northarbour Rd in Portsmouth. This road has no parking fees should you wish to leave your car here.

Cooking Equipment:
We hope we've supplied everything that is required to allow you to be completely self-sufficient on your holiday. Antares has a double gas stove and oven and comes with the following kitchenware: Chopping board (hidden under the cooker) | 2x cooking pots (1x large, 1x small) | 2x frying pans (1x large, 1x small) | 1x Sieve | 1x cheese grater | 1x Bottle opener | 1x tin opener | 1x wooden spoon | 4x bamboo cups | 4x bamboo plates | 4x bamboo bowels | 2x large gin glasses | 3x Sharpe knives | 4x pairs knives/folks | 1x oven glove | 1x sponge | 1x washing up liquid | 1x multi surface cleaner | 1x dustpan and brush | 1x washing up bowl | 1x drying rack

Water and Sanitation:
Antares comes with 80L of fixed potable water storage located underneath the van. This supplies the kitchen sink and outdoor shower, both of which are gas heated.

Audio Equipment:
The van has an inbuilt stereo in the driver's cab with Bluetooth capability so you can enjoy your own tunes whilst touring around and TomTom Sat nav to keep you on track to your destination.

Type of Heating:
Antares is fully insulated throughout and equipped with a diesel-powered heater to allow for comfortable winter breaks.

Extra Information:
Antares is a handcrafted, custom built campervan with a unique country home style. It was renovated to a high specification as a one-off project and we fell in love with him the first time we saw him! We are really pleased to share our lovely van with you and welcome any feedback that could help make him more comfortable and enjoyable.
Pick up / Drop off Times
| - | Pick up | Drop off |
| --- | --- | --- |
| Sunday | 2:00PM - 9:00PM | 2:00PM - 9:00PM |
| Monday | 2:00PM - 9:00PM | 2:00PM - 9:00PM |
| Tuesday | 2:00PM - 9:00PM | 2:00PM - 9:00PM |
| Wednesday | 2:00PM - 9:00PM | 2:00PM - 9:00PM |
| Thursday | 2:00PM - 9:00PM | 2:00PM - 9:00PM |
| Friday | 2:00PM - 9:00PM | 2:00PM - 9:00PM |
| Saturday | 2:00PM - 9:00PM | 2:00PM - 9:00PM |
Note: Campervan Hire prices are per 24 hours. If you request pick-up at an earlier time than your drop-off time the owner will quote you for the additional hours. Typically this is £12.50 per additional hour.
When would you like to go?
Sorry, there was a problem...
Vehicle Spec
Vehicle Type: camper-van
Make: Renault
Model: Master
Year: 2013
Vehicle Length: 5.5 metres
Vehicle Height: 2.5 metres
Length with hitch: 5.5 metres
Max Laden Weight (MAM): 3500 kg
Payload: 1,120 kg
Transmission: manual
Fuel Type: diesel
Registration: emailed when you book
Note: The hire of this vehicle is arranged by Quirky Campers ltd acting as the agent on behalf of Antares's owners. We make every effort to ensure that all the vehicles listed with us are of a high standard but cannot guarantee the condition of the vehicle. If you experience any problems please notify us as soon as possible.