Chamonix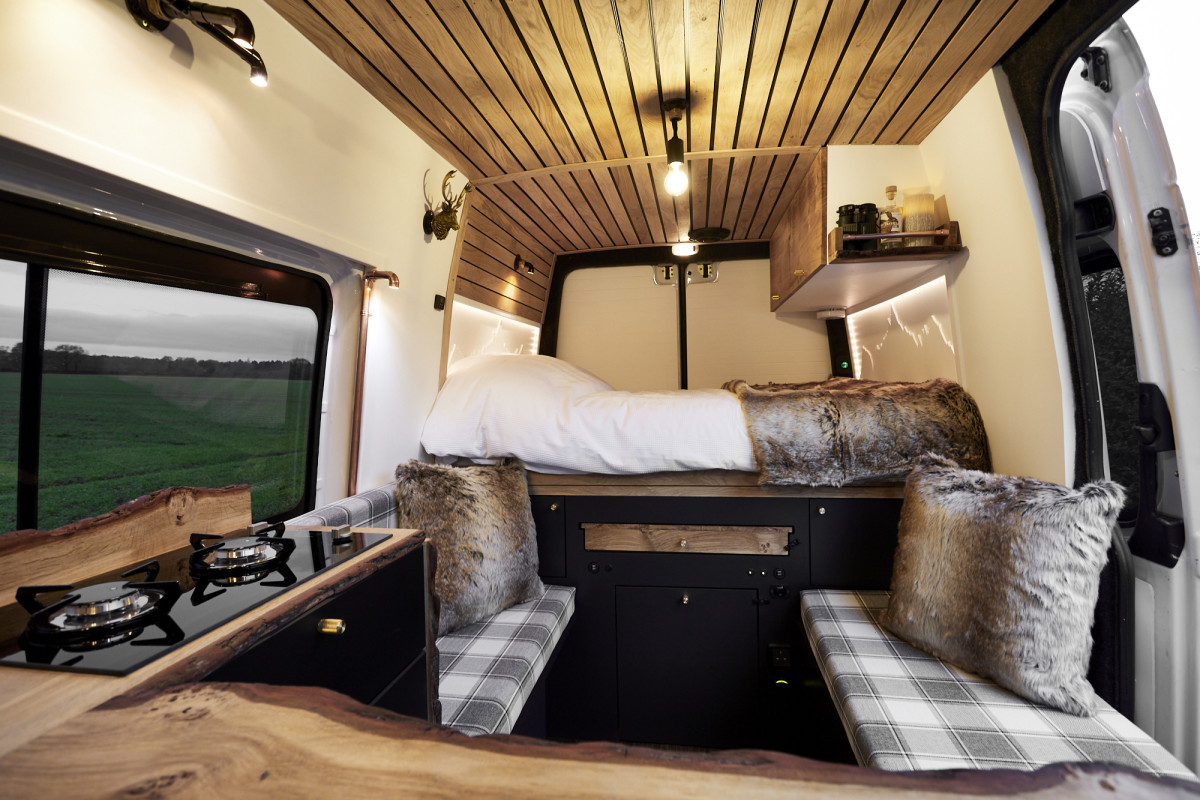 Thirsk
3 Belted seats 3 Adult berths
Imagine a luxurious alpine cabin with a splash of Scandinavian design and you will come up with the beauty that is Chamonix.

Perfect for campervan hire for Scotland, Yorkshire, Lake District and Northumberland - Chamonix is located 5 minutes off the A1 so you can really go wandering to your hearts content. Chamonix is a medium wheel base sprinter who is a dream to drive and has a reversing camera to make things even easier. She even has all weather tyres to keep you safe if exploring more remote regions. She has a toilet and an optional instant hot water outdoor shower along with bed options to suit everyone including either a fixed width ways double bed or a length ways pull out bed to suit tall people and she even has a 3rd berth.

With her 300 watts of solar and functional water system you really can go and be off grid and emerse yourself in nature. Chamonix's owners, Jacqui and Laura from Brown Bird and Company, are professional campervan converters and live full time in a van which Chamonix has been based upon so you know you are taking out a top quality camper. They have no end of knowledge of places you can go, amazing park ups, cool things to do and lots of advice on having the trip of your dreams. They are also able to offer delivery, collection and bespoke trip planning advice.

Remember to take a look at all the amazing extras you can hire with Chamonix to make your trip even more epic!
Essential Information
Heater
Dining Table
Refrigerator
Kitchen Sink
Outside Shower
Toilet
Ceiling Fan
Solar
Reversing Camera
Extra Storage
Radio
Inverter
Pet Friendly
Gas Capacity: &nbsp20 litres
Water Tank Capacity: &nbsp60 litres
About the Campervan
Description of Beds:. Chamonix can comfortably sleep 3 adults (or 2 adults + 1 child) She has a fixed width ways double bed at the back (174cm) which can also be used as a pull out length ways bed for taller people which is 187cm with room to stretch (this takes 1 minute to set up) The sofa benches can also quickly convert into an 3rd berth width ways across the van.
.
Description of Seating: Chamonix has 3 belted seats and can seat 4 on her comfy benches in the living area. The beautiful oak pull out table on hidden sliders is big enough for 4 people to eat dinner together.

Description of Electrical Setup: Chamonix is built to be off grid with her well spec'd electrical system. She has a lithium battery, 300 watts of solar power and DC to DC charger which means the lithium battery gets charged whilst you are driving. There is also a battery charger which can be used on hook up. There are 8 USB sockets and an inverter for charging laptops etc. There is a 40 litre compressor fridge/freezer which pulls out into the living area.

About the area: Chamonix is kept on a working farm in Darlington just a stones throw from the A1. It's the perfect location for going off to explore Yorkshire, Northumberland, The Lake District and Scotland. Within 20 minutes you can be in the Yorkshire dales and it's under and hour to both Northumberland and the outskirts of the Lake District.

Professionally Conversion: Chamonix's owners are full time van lifers and professional campervan converters (Brown Bird and Company) so can offer a whole host of hints and tips for your time away.

Additional Extras There are a whole host of amazing additional extras available with Chamonix to make your trip even more awesome. From outdoor wood burners to projectors there is entertainment and luxuries for all. Chamonix's owners also offer free itinerary guides and park up information to everyone that books her. There will also be lots of books and games to enjoy.

Parking: You are welcome to leave your car in Chamonix's parking place on the farm. Chamonix has a rear reversing camera making parking very easy and also has off road tyres for extra security on the road.

Cooking Equipment: Chamonix has everything you need to cook up a storm whilst away on your adventure. Everything is top quality and has a feel luxurious (no cheap plastic beakers in this campervan!) She has a frying pan, saucepan, cutlery, plates, bowls, mugs, glasses, an areropress coffee maker, coffee grinder and some essentials to get you going. There is a 2 burner gas hob and you can choose to hire an Omnia oven as an additional extra which allows you to cook any oven food on the hob.

Water and Sanitation: Chamonix has a 60 litre water capacity which is perfect for off grid adventures. She has a Dometic portable toilet which lives in a cupboard under the sofa and pulls out easily. You can hire a gas Joolca Hottap portable shower which can be used outside. A deluxe double en-suite Joolca pop up shower tent can be provided too.

Audio Equipment: Chamonix has a radio in the cab which has bluetooth so you can listen to any music streaming apps including spotify.

Type of Heating: Chamonix has an Eberspacher diesel heater which is plumbed directly into the fuel tank so you can be super warm and toasty whatever the weather.

Chamonix's owners are able to offer a personalised service for any hirers who need any extra help to plan their adventures or need collecting or picking up from a train station or airport. They can also deliver the van upon request to campsites of the hirers choice.
They also provide a welcome hamper to every hirer plus a mini hamper for any dogs travelling with their owners.

Conversion Story: Chamonix began life as a Yodel delivery van before Laura & Jacqui bought her to convert. She was a perfect base van for them as she had been well looked after and serviced with low mileage. Laura & Jacqui converted her according to their model van build design which is very similar to the van they live full time in. It features their beautiful live edge work tops, copper features such as a hand built copper tap, copper lights and copper and oak shelves.
Laura and Jacqui know how important it is that we maximise the use of space with plenty of easy to use storage and equipment, whilst maintaining a space that feels open and easy to move around in without squeezing past each other or making up beds everyday. You can find out more about Jacqui and Laura on their instagram account @brownbirdandcompany and their website www.brownbirdandcompany.co.uk
Pick up / Drop off Times
| - | Pick up | Drop off |
| --- | --- | --- |
| Sunday | 7:00AM - 8:00PM | 7:00AM - 8:00PM |
| Monday | 7:00AM - 8:00PM | 7:00AM - 8:00PM |
| Tuesday | 7:00AM - 8:00PM | 7:00AM - 8:00PM |
| Wednesday | 7:00AM - 8:00PM | 7:00AM - 8:00PM |
| Thursday | 7:00AM - 8:00PM | 7:00AM - 8:00PM |
| Friday | 7:00AM - 8:00PM | 7:00AM - 8:00PM |
| Saturday | 7:00AM - 8:00PM | 7:00AM - 8:00PM |
Note: Campervan Hire prices are per 24 hours. The default pick up and drop off time is 2pm. If you request a pick up or drop off outside of this, the owner will quote you for the additional time. Typically this is £12.50 per additional hour.
When would you like to go?
Sorry, there was a problem...
Vehicle Spec
Vehicle Type: Campervan
Make: Mercedes
Model: Sprinter
Year: 2017
Vehicle Length: 6 metres
Vehicle Height: 3 metres
Max Laden Weight (MAM): 3500 kg
Payload: 800 kg
Transmission: manual
Fuel Type: diesel
Fuel Efficiency: 32 mpg
Registration: emailed when you book
Note: The hire of this vehicle is arranged by Quirky Campers ltd acting as the agent on behalf of Chamonix's owners. We make every effort to ensure that all the vehicles listed with us are of a high standard but cannot guarantee the condition of the vehicle. If you experience any problems please notify us as soon as possible.
Reviews
See Full Reviews...

September 2022

Ali Jones

From Laura Fiddes-Baron...
Thanks so much Alison - we're glad you had a lovely time. Hopefully see you again in the future, Laura & Jacqui

September 2022

Tracey Lilburn

From Laura Fiddes-Baron...
Thanks so much for your lovely review Tracey - we hope to see you again soon. Thanks Laura & Jacqui

August 2022

Helen

From Laura Fiddes-Baron...
Thanks so much for your lovely review Helen

August 2022

Sarah Leckenby

From Laura Fiddes-Baron...
Thanks so much for your lovely review Sarah - it means everything to us you had such a fantastic experience. Hope to chat again in the future, Laura & Jacqui

August 2022

Garry

From Laura Fiddes-Baron...
Thank you so much for such a lovely review. We are delighted you had such a lovely time and would welcome you back with open arms whenever you like 😊. Look forward to seeing you again in the future, Laura & Jacqui

June 2022

Ang and phil

From Laura Fiddes-Baron...
Thank you so much for your lovely review Phil - we are delighted you had such a lovely time in the Lakes. You and you cute pooches are welcome back anytime without hesitation 😊

May 2022

Kate and Jamie

From Laura Fiddes-Baron...
Thanks so much for your lovely review - we are so delighted you had such a good time exploring Northumberland. We would love to see you back again for another adventure 😊 Laura & Jacqui x

April 2022

Claire&Craig

From Laura Fiddes-Baron...
Thank you so much for such a lovely review and also for being fabulous guests - it means the world to us. We loved chatting with you and look forward to seeing you again for your next adventure 🙌🗻

March 2022

RT

From Laura Fiddes-Baron...
Thanks so much Ruth - we are delighted you had such a great time and your review means such a lot. Thanks for being such a lovely guest 😊

March 2022

Charlie

From Laura Fiddes-Baron...
Thanks so much for your lovely review Charlie and we are delighted you had such a lovely time away. Hopefully see you soon, Laura & Jacqui