Toots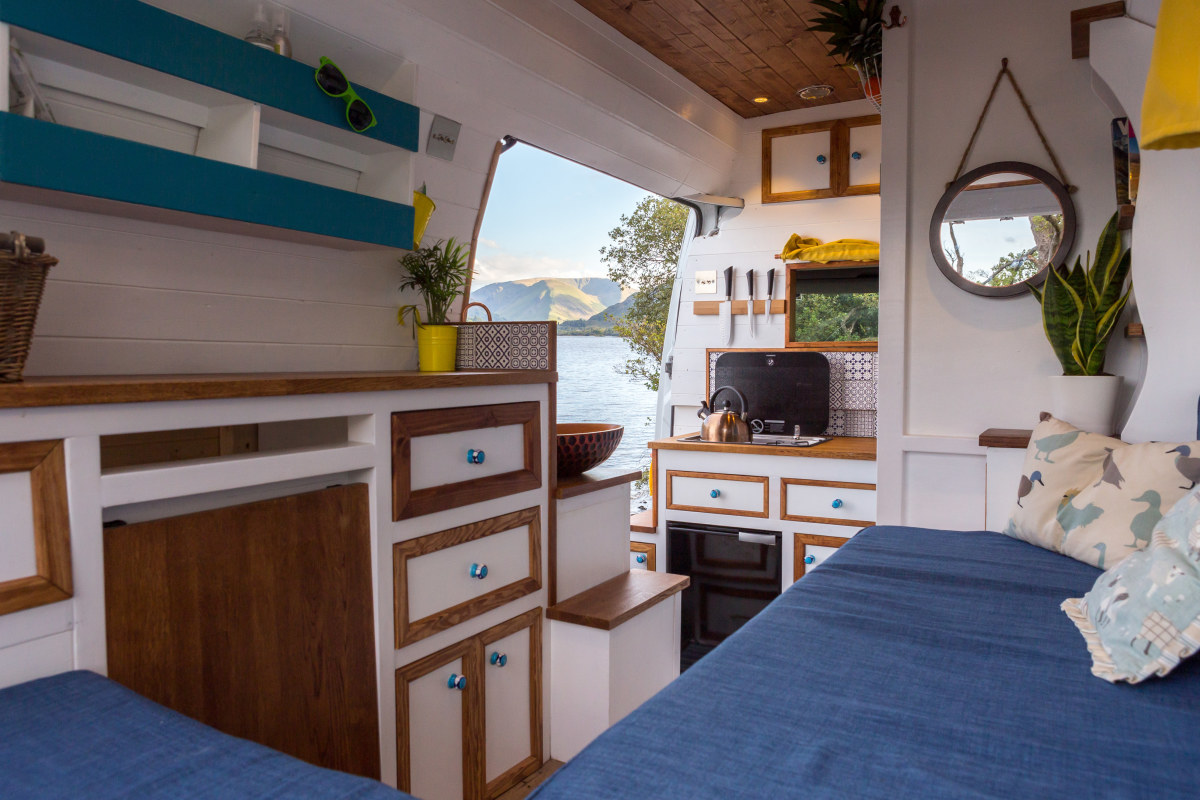 Kendal
3 Belted seats 2 Adult berths
TOOT TOOT, make way for the new van on the block, an extraordinary 2 berth campervan located in the picturesque village of Kendal. Bespoke, unique and lovingly handcrafted, this off-grid romantic chateau on wheels, is the ideal choice for you and that special someone. Situated within the Lake District, you are spoilt for choice when it comes to choosing a backdrop for your journey of romance, will it be the never-ending countryside fields in the peaceful Yorkshire Dales close by, or sunrise dips surrounded by the rugged beauty and open wilderness of the Scottish highlands?

Spend your mornings tucking into your delicious breakfast in Toot's dining area, which includes a large L shaped sofa and oak pull-out dining table and spend your evenings snuggled up with your favourite book in his cosy memory foam double bed. Solid oak worktops, 2 hob gas burners, and indoor refrigerator fridge with an in-built freezer makes up Toots versatile and adaptable kitchen space. Picture pulling up by the beach, opening up the side door and cooking up your favourite dish with an ocean view - now that's what you call the ultimate date night!

The owner's have made excellent use of the space, with a 2 tier design, so all your clothes, food and essentials can be neatly stored away in drawers and cupboards. Yet there's still plenty of room to store large items such as wellies, walking boots, camping table and chairs in the underfloor and garage storage areas. Measuring at 5.4 metres long Toots is small enough for a relaxed driving experience, yet big enough to provide you with comfortable living space.

Toots has everything you need to travel off-grid in style, including solar power, indoor bathroom and a diesel heater to keep you toasty and warm through the winter months. There is even an outdoor shower to wash off your dogs sandy paws after a romantic sunset stroll along the beach. Toots owner's are also happy to include lots of optional extras at no extra cost, such as: a camping table and chairs, bedding, pillows, towels and even a ukulele to practice, so you might end your trip as an accomplished musician if you weren't already!
Essential Information
Hob
Heater
Dining Table
Refrigerator
Kitchen Sink
Inside Shower
Outside Shower
Toilet
Awning
Solar
Extra Storage
Audio Inputs
Radio
Inverter
Pet Friendly
Gas Capacity: &nbsp3.9 litres
Waste Tank Capacity: &nbsp10 litres
Water Tank Capacity: &nbsp40 litres
About the Campervan
Description of Beds: Sleeps 2 adults or 2 plus one small child if you are feeling cosy. The bed is a full size standard double measuring 135cm wide and 195cm long. The bed folds back into a comfy corner sofa by day.

Description of Seating: 3 belted seats in the front (including driver) with headrests. 2 seats are suitable for a child's car seat. 4 people can fit sociably in the main living space.

Description of Electrical Setup: Toots' electrics run off the leisure battery powered by the large 12v solar panel and split charge relay. There are several USB charging points and a 12v socket with a small 240v inverter to power small appliances up to 120W, e.g. laptops.

About the area: Toots lives in Kendal and is parked off the road on a quiet residential street.

Parking: If you drive to collect Toots, you are welcome to leave your car in his normal spot on our driveway. If you come by train, it is a 20 minute walk to collect Toots from Kendal station. If you need any assistance, for example a lift from the station with lots of luggage then please contact the owners, they may be able to help.

Cooking Equipment: Toots comes fully equipped with everything you need to cook up delicious food and drink on the 2 burner gas hob, and we even include free tea, coffee and and use of our lovely spice rack! Included in the kitchen equipment are: kettle, pots, pans, frying pan, plates, bowls, mugs, cups, cutlery, cooking knives, chopping board, colander, tin opener, bottle opener, toasting rack. Toots also comes with washing up equipment and tea towels.

Water and Sanitation: Toots features a 20l fresh water tank under the sink with a 12v water pump hooked up to the tap providing drinking water. There is a 10 litre waste tank also under the sink and a spare 20l fresh water tank stored in the garage area. Toots features a totally self-contained wet-room, including a removable toilet and a 12v shower which can be used both inside and outside. Water is simply heated using the kettle and gas hob, pour it into the water container, pop the 12v shower in and off you go. To use the shower externally just take the shower equipment outside and plug it in using the 12v socket at the back.

Audio Equipment: Toots is fitted with a radio with Bluetooth in the cab area to link up your devices, and we provide a Bluetooth speaker with USB charging in the rear of the van.

Type of Heating: Toots has an onboard diesel heater to keep you toasty on cold winter nights.

Conversion Story: Toots began life as a police incident response vehicle complete with blue flashing lights and a CB radio. This is the 3rd van Tom has converted, but the first to be hired out. Tom and Sally are a jack of all trades couple, both qualified teachers but also veteran hospitality workers, travellers, van-lifers and musicians amongst other things, as well as being professional van converters and full time parents.

As a keen DIYer Tom converted their first van before they moved to Spain in 2015, developing a love for van life and van conversions. Developing his skills for the second van, he converted a Mercedes Sprinter to a much more professional standard in 2019 with the intention of renting out, before being sold when baby Molly arrived. Toots marks their 3rd van, and although a recent conversion has already had many family adventures.
Pick up / Drop off Times
| - | Pick up | Drop off |
| --- | --- | --- |
| Sunday | By arrangement | By arrangement |
| Monday | By arrangement | By arrangement |
| Tuesday | By arrangement | By arrangement |
| Wednesday | By arrangement | By arrangement |
| Thursday | By arrangement | By arrangement |
| Friday | By arrangement | By arrangement |
| Saturday | By arrangement | By arrangement |
Note: Campervan Hire prices are per 24 hours. The default pick up and drop off time is 2pm. If you request a pick up or drop off outside of this, the owner will quote you for the additional time. Typically this is £12.50 per additional hour.
When would you like to go?
Sorry, there was a problem...
Vehicle Spec
Vehicle Type: Campervan
Make: Renault
Model: Master
Year: 2014
Vehicle Length: 5.4 metres
Vehicle Height: 2.71 metres
Max Laden Weight (MAM): 3500 kg
Payload: 740 kg
Transmission: manual
Fuel Type: diesel
Registration: emailed when you book
Note: The hire of this vehicle is arranged by Quirky Campers ltd acting as the agent on behalf of Toots's owners. We make every effort to ensure that all the vehicles listed with us are of a high standard but cannot guarantee the condition of the vehicle. If you experience any problems please notify us as soon as possible.
Reviews
See Full Reviews...

April 2022

Fantastic experience!

April 2022

Paul and Yvonne Dowell

March 2022

Paul , Ellie and Mila

February 2022

Bilbo & his hoomans

February 2022

Christopher