Elmer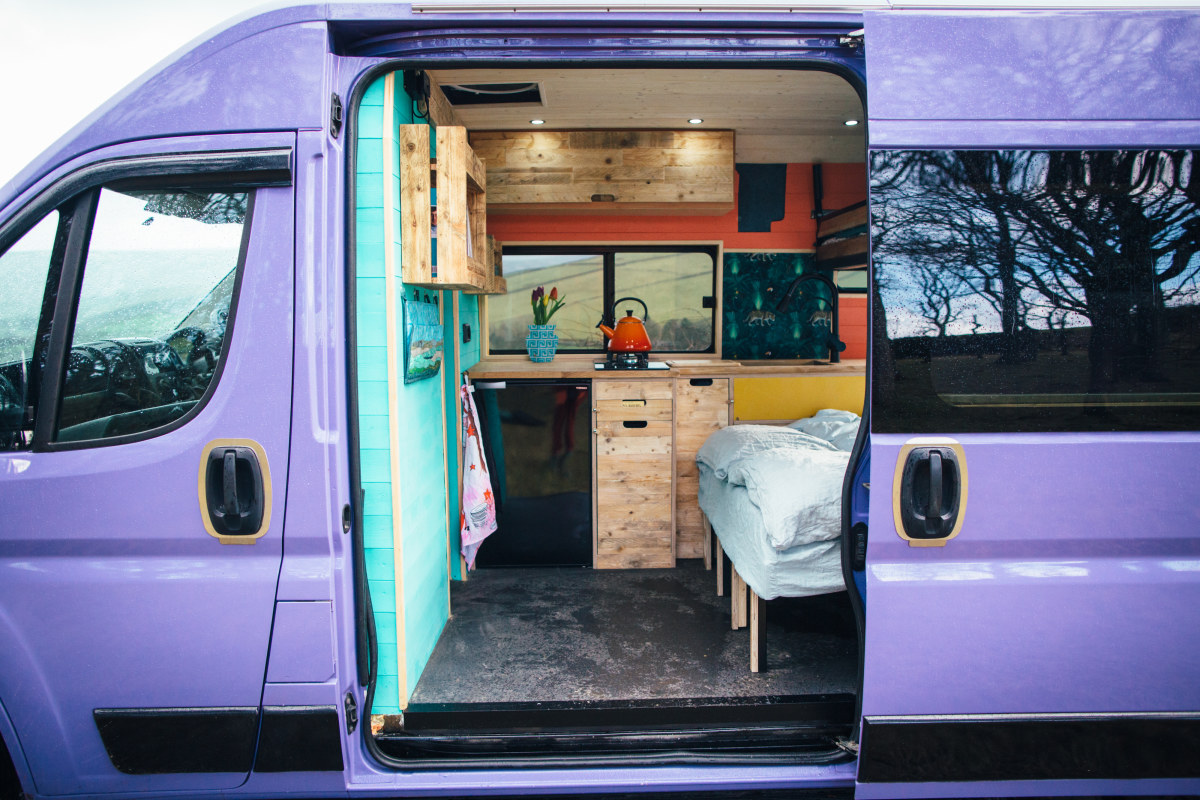 Glossop
5 Belted seats 2 Adult berths 2 Child berths
″...if there was even a little smile, it was usually Elmer who started it." Stand out from the crowd and let your true colours shine as you take off on the adventure of a lifetime in Elmer the campervan. Once a simple delivery van, Elmer has been transformed into a bright and cheerful road trip companion ready to deliver you unforgettable memories wherever you go. Elmer features countless thoughtful touches such as fabric pockets on the backdoor to store phones and glasses and jungle themed shelving on the rear doors.

Sleeping two adults in a double rock 'n' roll bed and two small children in an adjustable bunk bed which can be fastened to create more headroom, there's space for the whole family - including four-legged family members. Fully-equipped with two gas hobs, filtered water tap and fridge to store fresh food and drinks. Her marvellous kitchen has been lovingly crafted using reclaimed materials and is bound to inspire you to create delicious dishes for the entire herd.

Elmer has been fitted with a heater, toilet, awning and an outdoor shower for you to wash off any muddy boots or paws, guaranteeing you a comfortable escape whenever or wherever you decide to embark. Whether it's at a campsite in the height of summer or by a mountain in the dead of winter.

In a world full of grey elephants, be an Elmer.
Essential Information
Hob
Heater
Refrigerator
Kitchen Sink
Outside Shower
Toilet
Wifi
Ceiling Fan
Awning
Solar
Inverter
Pet Friendly
Double Beds: &nbsp2
Gas Capacity: &nbsp11.5 litres
Waste Tank Capacity: &nbsp10 litres
Water Tank Capacity: &nbsp70 litres
About the Campervan
Description of Beds:. Elmer sleeps up to four people. She has a double rock and roll bed (180cm long x 130cm wide) and a bunk bed for one or two small children (160cm long x 100 wide). The bunk bed can be fastened to the ceiling for extra headspace during the day.

Description of Seating: Elmer can accommodate five passengers: two in the front cab; and three in the back. All five seats have headrests and three-point seatbelts. You are welcome to bring a tent if you would like to make use of all five seats.

Description of Electrical Setup: Elmer can go anywhere with her impressive electrical system and she can be used totally off grid. Her power comes from a massive 290 Amp leisure battery that charges as she drives and from a 305 watt solar panel on her roof. Elmer also has an external mains hook-up point and a 12 volt inverter so she can be connected to mains electricity at campsites. Elmer has a considerable number of plug sockets and USB sockets. She also has a 4g WiFi Booster on her roof to improve phone signal.

About the area: Elmer lives in Glossop, in a conservation area on the edge of the Peak District National Park. It is a five-minute drive or two mile walk up to the Pennine Way. Kinder Scout and Jacob's Ladder are a 10 minute drive away. Other nearby attractions include Castleton, Dovedale, and Hope.

Parking: Elmer lives at the end of a quiet cul-de-sac. If you drive to collect her, you are welcome to leave your car on her owner's drive. If you come by train, Elmer's owner should be able to pick you up from Glossop train station with prior notice.

Cooking Equipment: Inside, Elmer has two gas hobs, a full size fridge, and a large sink for washing pans, hair, or a small human or dog. The sink has hot and cold running water as well as a special tap for filtered water. Elmer has everything you need to cook for 4-5 people, including two large saucepans, a frying pan, 5 plates, 5 bowls, 5 mugs, and ample cutlery and larger utensils. Crucially, Elmer also contains a bottle opener and several large wine glasses.

Water and Sanitation: Elmer has an outside hot shower that is powered by a combi boiler. The shower can be used 'au natural' while you take in the views standing between her rear doors or by putting up the pop-up shower tent. You can also borrow Elmer's famous glittery toilet, which can be used inside or outside in a pop up tent.

Type of Heating: Elmer is toasty in the winter and cool in the summer. For colder nights she has a Truma Combi 4e boiler that pumps hot air into the sleeping area and hot water to the sink and shower. To keep things cool, Elmer has three opening windows: a large window over the oven; and two smaller vent windows (with mosquito nets) towards the back of the sleeping area. In addition, Elmer has a top of the range electric ceiling fan to circulate cool air. When the ceiling fan is combined with the vented back windows, it creates a light breeze on summer evenings.

Extra Information: Because she was converted by a single, female traveller, Elmer contains a number of additional safety and security features, such as extra deadbolts on her side and rear doors. Elmer also has tamper-proof metal plates on all of her doors. For privacy, Elmer has tinted back windows and a partition wall that separates the living area from the cab. She has colourful window shades that can be used for privacy and to keep her cool. In addition, Elmer's partition wall has an internal door so that she can be driven away without going outside of the vehicle, which is very useful if it is raining! Elmer has reversing sensors and beeps loudly when she is reversing.

Conversion Story: Elmer used to be a white delivery van for Sunderland Council and was purchased by her current owner Cat just before Lockdown 1.0. Over the next two years, Elmer was lovingly converted by hand. Her unique colour scheme is inspired by Elmer the Patchwork Elephant and designed to spread joy and fun wherever she goes. Remy and Ella at Surprise View Campers in Sheffield put the finishing touches to Elmer and used reclaimed materials, such as pallet wood to create Elmer's colourful and rustic style. Elmer's two bed frames and other bespoke metalwork were hand-crafted by master welder Stef at S. J. Dzign Fabrication in Sheffield.
Pick up / Drop off Times
| - | Pick up | Drop off |
| --- | --- | --- |
| Sunday | 9:00AM - 8:00PM | 9:00AM - 8:00PM |
| Monday | 10:00AM - 8:00PM | 9:00AM - 6:00PM |
| Tuesday | 9:00AM - 8:00PM | 9:00AM - 8:00PM |
| Wednesday | 9:00AM - 8:00PM | 9:00AM - 8:00PM |
| Thursday | 9:00AM - 8:00PM | 9:00AM - 8:00PM |
| Friday | 9:00AM - 8:00PM | 9:00AM - 8:00PM |
| Saturday | 9:00AM - 8:00PM | 9:00AM - 8:00PM |
Note: Campervan Hire prices are per 24 hours. The default pick up and drop off time is 2pm. If you request a pick up or drop off outside of this, the owner will quote you for the additional time. Typically this is £12.50 per additional hour.
When would you like to go?
Sorry, there was a problem...
Vehicle Spec
Vehicle Type: Campervan
Make: Citroen
Model: Relay
Year: 2014
Vehicle Length: 5.4 metres
Max Laden Weight (MAM): 3500 kg
Payload: 760 kg
Transmission: manual
Fuel Type: diesel
Registration: emailed when you book
Note: The hire of this vehicle is arranged by Quirky Campers ltd acting as the agent on behalf of Elmer's owners. We make every effort to ensure that all the vehicles listed with us are of a high standard but cannot guarantee the condition of the vehicle. If you experience any problems please notify us as soon as possible.