Franky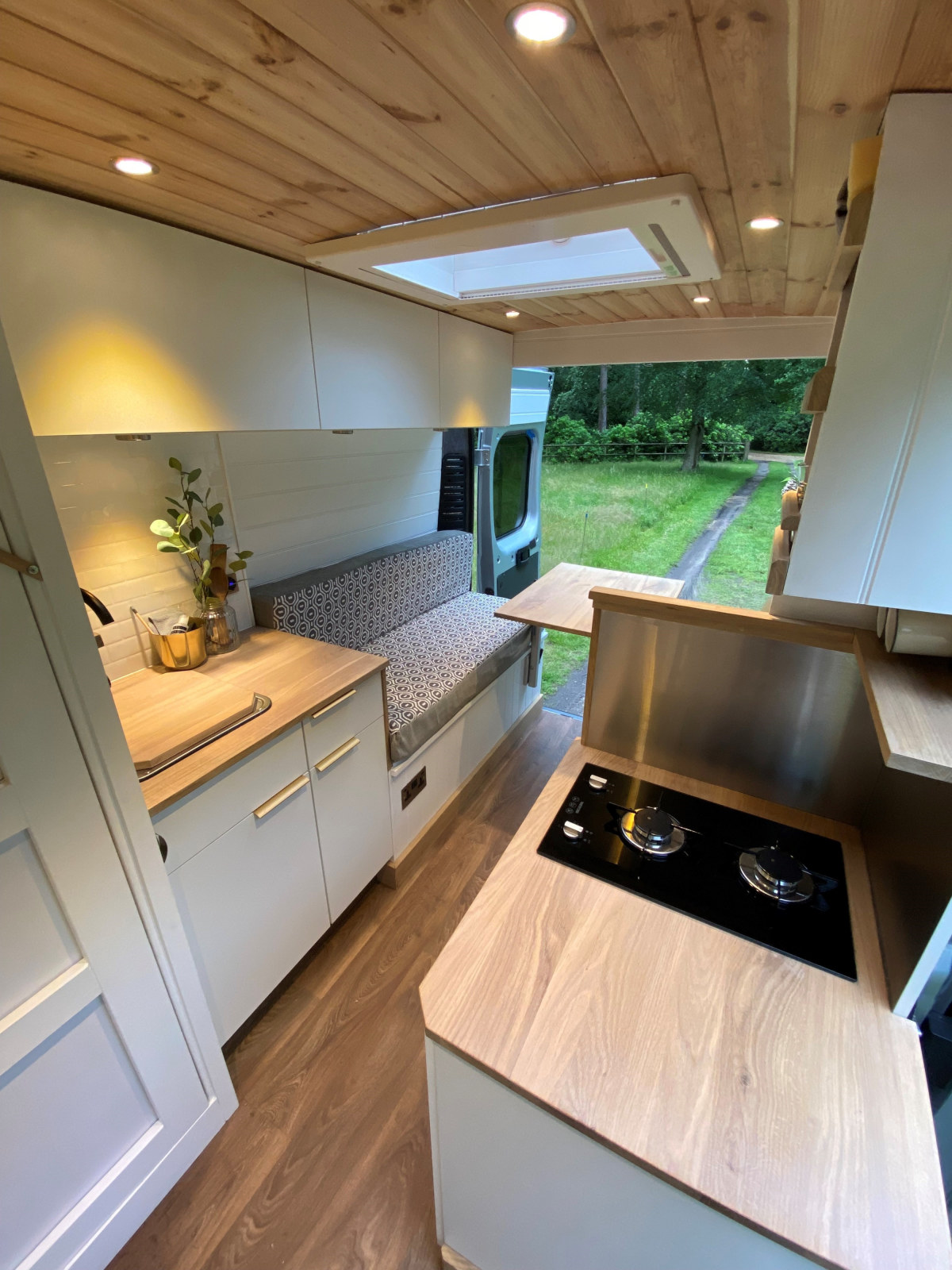 London
3 Belted seats 2 Adult berths
Scrap Hollywood, Franky goes wherever your heart desires! Belt up and get ready for an adventure of a lifetime in this beautiful 2 berth camper, located in London. Franky's modern and stylish design is derived from the owner's love of beaches and winter mountains featuring whitewashed walls, oak work surfaces and finishes and geometric soft furnishings. The rear of the camper is home to a multifunctional space, by day you can gather round the social dining area which could seat up to six comfortably and by night you can settle down to read a book in a cosy full sized double bed, fitted with Egyptian cotton sheets. It would be a challenge to have anything but a good night's sleep in Franky.

Franky's versatile kitchen allows you to cook up a storm in many different ways. If it's raining you can cook indoors on his 2 ring gas hob. Sunshine and clear skies? Why not take your apron outside and cook up a feast on the fire pit with a grill or cast-iron dutch oven. There's even a refrigerator and ice tray so you can keep your bubbles chilled. Picture grilling burgers on the beach, a glass of prosecco in hand, with a roaring red sunset on the horizon - could it get anymore romantic?

This camper is fitted with everything to keep you comfortable off the beaten track including solar power, toilet, indoor shower and an outdoor shower to wash off any sandy feet. There is also a heater, so you can keep snuggled up and warm, even in the depths of winter. So what are you waiting for? Treat your special someone to the romantic escape they deserve.
Essential Information
Air Conditioner
Hob
Heater
Dining Table
Refrigerator
Kitchen Sink
Inside Shower
Outside Shower
Toilet
Ceiling Fan
Solar
CD Player
Inverter
Double Beds: &nbsp1
Gas Capacity: &nbsp3.5 litres
Toilet Capacity: &nbsp5 litres
Water Tank Capacity: &nbsp55 litres
About the Campervan
Description of Beds: the dining area turns into a full size double bed and sleeps across the van. sleeps 2, on a silent night foam double mattress,135cm x 190com. There is floor space when the bed is out.

Description of Seating: Three belted seats in the front (including driver) with headrests.

Description of Electrical Setup: The van is off-grid, there are 2 USB charging points for small personal devices such as phones, and a 400w inverter suitable for a laptop. All the built in appliances in the van will work fully off grid. When additional power is needed there is a shore line hook up point for mains power enabling 4 3-pin household plugs. The van has 190amp battery, 115w solar, split relay charge to keep you topped up when driving.

About the area: We are located 6 minutes walk from the nearest tube, 1 mile from waterloo station, there are plenty of transport links in the local area.

Parking: If you drive to collect Franky, please arrange with me in advance so I can advise and arrange a permit. Please be advised that the ULEZ may apply.

Cooking Equipment: Franky has everything you could need to cook up a feast, including: mugs, melamine plates, bowls, cutlery, resin wine glasses and tumblers, chopping board, kettle, frying pan, large and small saucepan. Cooking spoon, tongs, a sharp knife, bottle opener, peeler, cafetiere, AeroPress coffee maker, as well as a colander, salad bowl and small dustpan and brush'.

For outdoor cooking, there is an option for a fire pit, with grill, and cast-iron Dutch oven and Muurikka to cook up a serious feast.

Water and Sanitation: Franky benefits from an enclosed indoor hot water shower, and 21 litre chemical toilet. The shower doubles up as a drying room equipment with hot air fan and ventilation to enable quick drying of clothes if you get stuck in a shower in the mountains.

There is a 55 litre water tank that supplies hot and cold water to the shower, sink, and outdoor foot wash via a pump.

Audio Equipment: Franky has an inbuilt system in the cab with sat nav, Bluetooth music connection, radio and CD player. In the living space there is an Anker sound core with Bluetooth connection.

Type of Heating: Full heating and hot water is built in, There is a Planer, Binar water Diesel heater. which provides hot water and hot air to heat the space. It heats the water automatically if you drive, or can be operated manually if stationary. The 10liter water tank stays hot for 6-12hours (depending on summer/winter), which is perfect for a quick shower or washing dishes fuss free throughout the day. The van is insulated to a high spec with an insulated bulkhead to separate the cab, making this an ideal cool in the summer or warm in the winter adventure van.

Extra Information: Frank was hand converted by me, the top features are Oak work surfaces and finishes, soft close hinges and draws, a drying room - if you get caught in a snowstorm or downpour. A fridge freezer - perfect for a G&T. ULEZ compliant, Hot water, Egyptians cotton sheets and silent night mattress - everything you might need for comfort outdoors.

Conversion Story: Franky began his life as a florist van, I bought him after a long and careful lockdown hunt. He was finally finished in lockdown number 3, with a focus on comfort, space and suitability for the beach or winter mountains. Frank is my second van I have converted, Frank is fully off grid, and finished with Oak throughout, perfect for a quick luxury holiday in nature, or a month in the highlands.
Pick up / Drop off Times
| - | Pick up | Drop off |
| --- | --- | --- |
| Sunday | By arrangement | By arrangement |
| Monday | By arrangement | By arrangement |
| Tuesday | By arrangement | By arrangement |
| Wednesday | By arrangement | By arrangement |
| Thursday | By arrangement | By arrangement |
| Friday | By arrangement | By arrangement |
| Saturday | By arrangement | By arrangement |
Note: Campervan Hire prices are per 24 hours. If you request pick-up at an earlier time than your drop-off time the owner will quote you for the additional hours. Typically this is £12.50 per additional hour.
When would you like to go?
Sorry, there was a problem...
Vehicle Spec
Vehicle Type: camper-van
Make: Peugeot
Model: Boxer
Year: 2017
Vehicle Length: 5.4 metres
Vehicle Height: 2.7 metres
Length with hitch: 5.4 metres
Max Laden Weight (MAM): 3500 kg
Payload: 680 kg
Transmission: manual
Fuel Type: diesel
Fuel Efficiency: 90 mpg
Registration: emailed when you book
Note: The hire of this vehicle is arranged by Quirky Campers ltd acting as the agent on behalf of Franky's owners. We make every effort to ensure that all the vehicles listed with us are of a high standard but cannot guarantee the condition of the vehicle. If you experience any problems please notify us as soon as possible.