Elton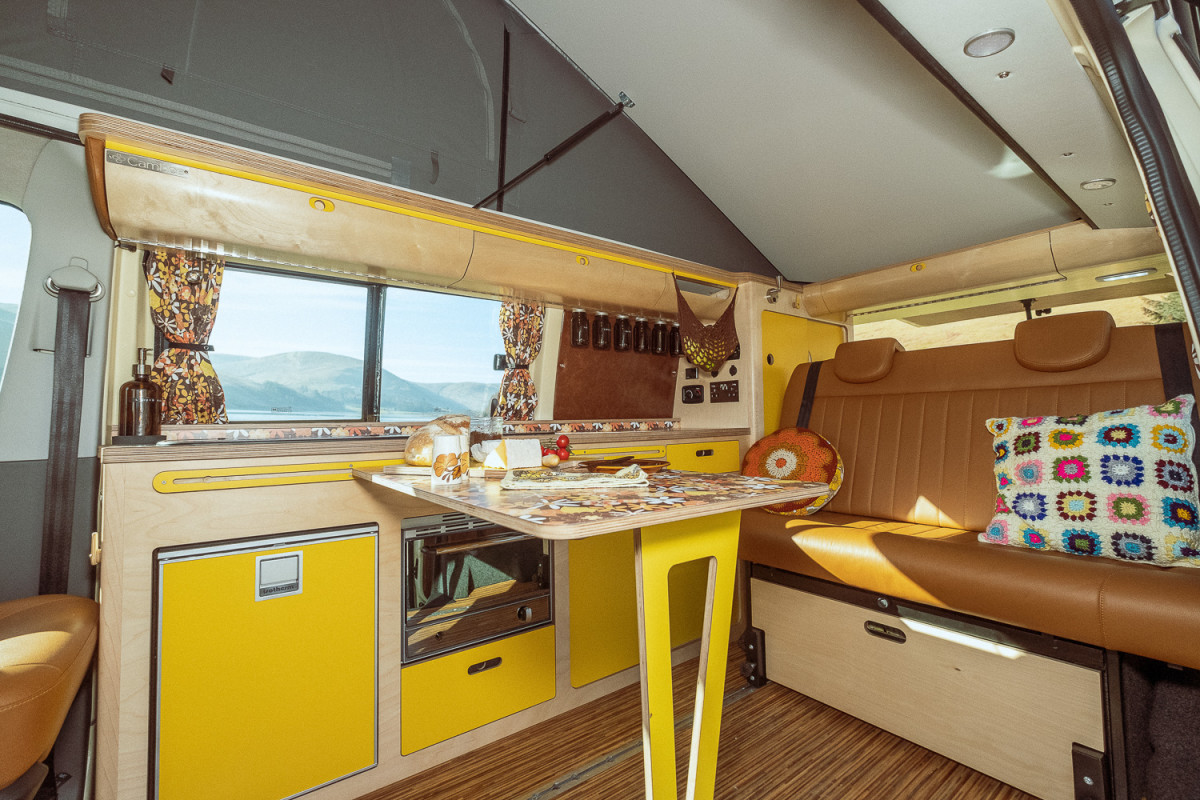 Edinburgh
4 Belted seats 4 Adult berths
"I hope you don't mind but I put down in words how wonderful life is now you're in the world."

Calling all wide eyed wanderers, Elton is what you have been searching for! Located in the campervan mecca, Scotland, you will be spoilt for choice when it comes to picturesque park ups. Buckle up and be transported back in time with his eye-catching flower power design and bright yellow cabentary. Whether you're looking to make potions in a travelling show or simply escape the hustle and bustle of everyday life, Elton is the perfect pick.

Elton sleeps two in a rock 'n' roll bed and two in a double bed in the pop up roof. After a day hiking with your little explorers, return to Elton and kick back in your deceptively spacious living space, with the two swivel seats and central dining table - there's plenty of room for the whole family.

For those looking to venture off-grid, Elton has everything you need to stay comfortable on the go; including a fully fitted kitchen with two burner hob and oven, diesel heater to keep you toasty on those chilly nights, solar power and an outdoor shower to wash off any sandy feet or muddy palms.

So don't go breaking his heart, choose Elton for an adventure to remember!
Essential Information
Air Conditioner
Hob
Heater
Dining Table
Oven
Refrigerator
Kitchen Sink
Outside Shower
Awning
Solar
Extra Storage
Radio
Gas Capacity: &nbsp12 litres
Water Tank Capacity: &nbsp57 litres
About the Campervan
Description of Beds: Elton will sleep 4 people comfortably, two people in the rock and roll double bed downstairs and two people in the double bed contained in the pop up roof. When not using the pop up roof bed, the roof can remain up giving extra headspace and room during the day. Rock and Roll Bed: 118cm Wide 190cm Long. Pop Up Roof Bed 107cm Wide 230cm Long.

Description of Seating: Elton has four leather belted seats. Two seats with headrests in the front and 2 with removable headrests in the back. The front two seats swivel round to face the living area. The rear seats are on rails enabling their position to be changed easily giving more living space or more storage space in the back, as required. There is a table which can be slotted in easily at different positions in the living area and there are screw table legs as an extra so the table can be used for meals outside.

Description of Electrical Setup: Elton has both a lithium leisure battery, and a 200W solar panel, extending the amount of time you are able to stay "off-grid", as well as 240V electric hook up capabilities. There are 4 plug sockets with USB provision able to be used when using electric hook up and 9 12V USB sockets throughout which can be used during all times.

About the area: Elton lives in Edinburgh in Scotland. A prime spot to not only enjoy the surrounding area-the beaches and coastal walks of East Lothian, the forests and waterfalls of Perthshire and The Borders, but also within easy driving distance of the Cairngorms and Loch Lomond/Trossachs National Park, Glencoe and the start of the famous North Coast 500 road-trip which takes you along some of Scotland's finest coastal scenery.

Parking: If coming by car, you can leave your car free on a quiet residential street near to where we live. We are not far from both Waverley Station in Edinburgh and Edinburgh airport and are on easy tram and bus links from both.

Cooking Equipment: Elton should have all you need to rustle up some cooking delights on the two burner gas stove or in the gas oven. Included for your trip will be some tea, coffee, sugar, olive oil and vinegar, cooking foil and beeswax wraps, environmentally friendly liquid soap which can be used for both washing dishes and bodies and an environmentally friendly surface spray.
Cooking equipment includes 4 mugs, 4 glasses, 4 shot glasses/egg-cups, plates and side plates, server platter and lidded bowl, 2 chopping boards, kettle, frying pan, 4 pots, collapsible colander, bread knife, sharp knife, various cooking utensils and graters, corkscrew, stove top espresso machine and a gas hob non stick sandwich toaster.

Water and Sanitation: Elton has a 57 litre external underslung water tank, which will be full when you arrive. This supplies both instant hot and cold water to the sink inside via a pump. Elton also has a shower situated on the end of the wardrobe at the rear of the van, meaning you are able to have an outdoor hot, (or cold!), shower. A pop up privacy tent can also be supplied as an extra. Should you also wish to take a toilet with you, we can supply a pop up eco toilet as an extra.

Audio Equipment: Elton has an up to date VW infotainment system which includes DAB/FM radio, navigation system and bluetooth connectivity so you can play your own music, all controlled by an easy to use touch screen on the front dashboard.

Type of Heating: Elton has a diesel powered thermostat controlled blow heater which heats him up in no time, keeping you toasty and warm whatever the Scottish weather!

Extra Information: Elton was inspired by the old 1970s VW camper vans. Having had one of these VW vans in the past, we wanted Elton to evoke the nostalgic feelings of these old campers, but with all the luxuries, reliability and convenience of a modern van. Having looked at many companies, we decided to use a company in Devon called Cambee who use birch ply and formica to make their units, similar to the ones from the original VWs. I designed the flower formica design as a nod to the flower power designs so common in that era and the colour scheme used are all colours common from design of that era. To complete the experience, Elton is also kitted out with some vintage cookware, kitchenalia and crochet cushions.

We hope you love stepping back in time on your trip in Elton.

Warning: The payload of this vehicle is 360kg. This is below the Quirky Campers recommended payload of 460kg for a vehicle with 4 belted seats. Drivers need to be aware that the total weight of driver, passengers and baggage must be below 360kg to keep the vehicle within its legal Max Allowed Mass (MAM) of 3000kg
Pick up / Drop off Times
| - | Pick up | Drop off |
| --- | --- | --- |
| Sunday | By arrangement | By arrangement |
| Monday | By arrangement | By arrangement |
| Tuesday | By arrangement | By arrangement |
| Wednesday | By arrangement | By arrangement |
| Thursday | By arrangement | By arrangement |
| Friday | By arrangement | By arrangement |
| Saturday | By arrangement | By arrangement |
Note: Campervan Hire prices are per 24 hours. The default pick up and drop off time is 2pm. If you request a pick up or drop off outside of this, the owner will quote you for the additional time. Typically this is £12.50 per additional hour.
When would you like to go?
Sorry, there was a problem...
Vehicle Spec
Vehicle Type: Campervan
Make: Volkswagen
Model: Transporter
Year: 2021
Vehicle Length: 5.3 metres
Vehicle Height: 2 metres
Length with hitch: 5.3 metres
Max Laden Weight (MAM): 3000 kg
Payload: 360 kg
Transmission: automatic
Fuel Type: diesel
Registration: emailed when you book
Note: The hire of this vehicle is arranged by Quirky Campers ltd acting as the agent on behalf of Elton's owners. We make every effort to ensure that all the vehicles listed with us are of a high standard but cannot guarantee the condition of the vehicle. If you experience any problems please notify us as soon as possible.
Reviews
See Full Reviews...

June 2022

Carla

From Kirsten Ogilvie...
So glad you all had the best time in Elton Carla :) It was a pleasure to have you all and you are welcome back any time. Hope your friends had a safe journey back to Chile. Hope to see you again some time. Kirsten, Jon and Elton :) x

May 2022

Yasmine & Natascha

From Kirsten Ogilvie...
Thank you so much Yasmine. You were a pleasure to host and are both welcome back any time! :) Hope to see you again. Kirsten & Elton :)

April 2022

Brooke

From Kirsten Ogilvie...
Thanks so much Brooke! It was a pleasure to host you and I'm so glad you had an amazing time in Elton. Come again any time. Kirsten & Elton :)

April 2022

Richard

From Kirsten Ogilvie...
Thank you so much Richard! It was a pleasure to host you and Julija and I am so pleased you had a great time. Elton and I hope to see you again soon :)