Colleen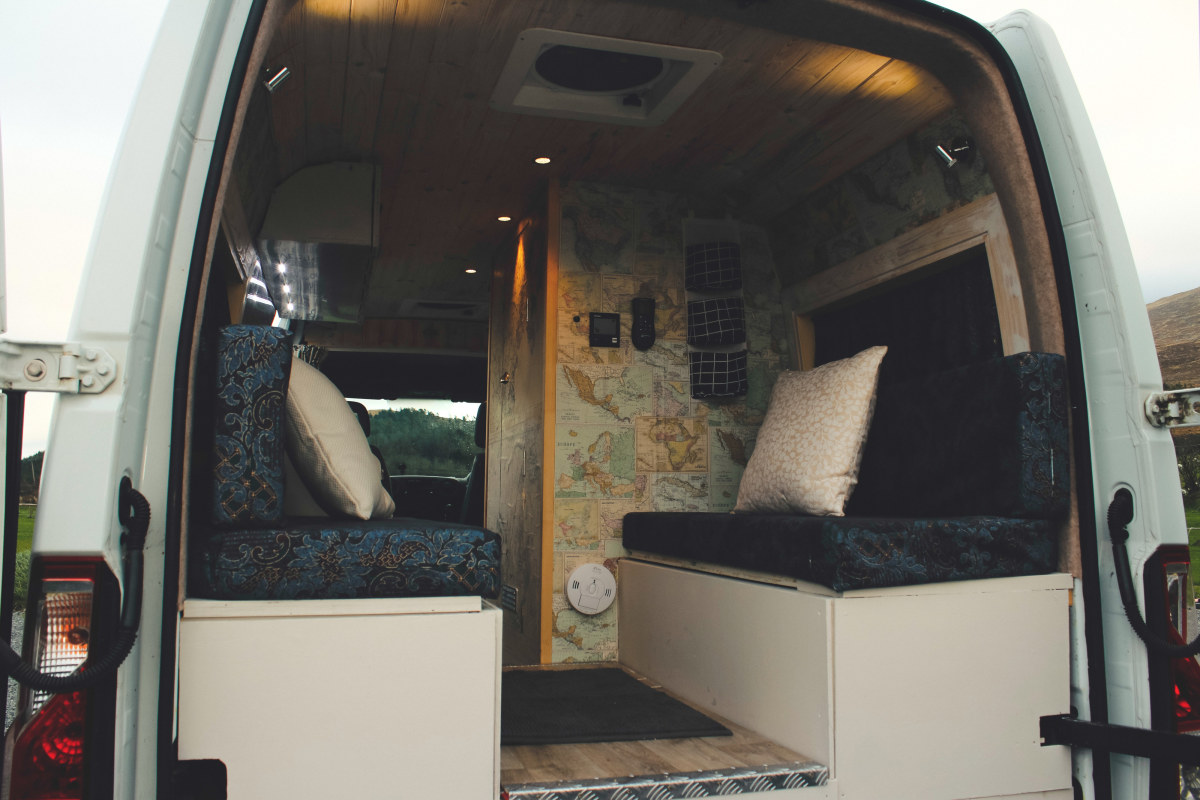 Dunmurry
4 Belted seats 2 Adult berths
Put your holidays on the map as you travel Ireland in style. Situated in the Lagan Valley, Colleen is bursting with personality and is custom built with functionality in mind. Her rear dining area quickly transforms into a cosy double bed - so whether you're enjoying a lazy morning under the duvet or a romantic meal for two - you will always have the best spot in the house for breathtaking views. This is your chance to wander through the fabled Glens of Antrim and travel the Wild Atlantic Way, explore truly breathtaking sights and sink a Guinness in a proper Irish pub!

The kitchen itself has everything you need to create a restaurant worthy feast. With a 2 ring gas hob, perfect for cooking in the wild - how does pasta and pinot sound? Not only does Colleen have cooking and bedroom facilities, she also has practical off-grid capabilities including an inside shower, toilet, heating and enough internal power to make sure the lights stay on. So forget Tiffany's, you could be grabbing breakfast in Belfast with Colleen as early as this weekend.
Essential Information
Heater
Dining Table
Refrigerator
Kitchen Sink
Inside Shower
Toilet
Wifi
Ceiling Fan
Tow Bar
Solar
Radio
Inverter
Pet Friendly
Gas Capacity: &nbsp25 litres
Waste Tank Capacity: &nbsp60 litres
Water Tank Capacity: &nbsp100 litres
EU Travel Allowed
About the Campervan
Description of Beds:. Converted from the rear seating area, that also sports its own swivel table top, the double sized bed sleeps 2 adults comfortably. Leave it as a bed and sit 'up front' or have it as a seating area with your own personal view out the back doors, your choice.

Description of Seating: Two front 3 point belted swivel seats (one being the drivers) and another two rear 3 point belted seats. All recently recovered with headrests. There is easy access from the cab into the rear living space without having to leave the vehicle. With the front seats turned around it makes a comfortable and intimate seating area with a single leg table top that swivels to suit your needs. A Thule 12v slide out step gives comfortable access to the living area without the need for any small stools sinking in the mud!

Description of Electrical Setup: Colleen was built as an off grid campervan and as such has a 240Ah battery bank, which can be charged (up to 30Amp) when the van us running or when plugged into a 240V hook up (10Amp) as well as via the 160Watt solar panel. Multiple usb charging points and the facilities of a 1500W inverter, for when you just have to have AC! The starter battery is constantly topped up by the leisure batteries, so you will never experience a dead starter battery.

About the area: Colleen lives in Belfast, Northern Ireland. She has access to the North Antrim Coastline, the Mourne Mountains, the Fermanagh Lakes and further out into the Wild Atlantic Way.

Parking: If you drive to collect Colleen, you are welcome to leave your car in her normal spot. We are situated only 4 miles south of Belfast, only a 5 minute walk from the main bus and rail transport links. If you are flying into Ireland we can arrange to have Colleen meet you at the airport, where your trip can get started right away!

Cooking Equipment: Colleen has the a 2 ring gas burner along with the necessary pots and pans to make yourself a feast out in the wild! The unbreakable wine glasses and the enamelled tin cups make sure you won't be having a smashing time! Along with this comes stainless steel flatware, sharp knives, bottle openers, kettle etc. Along with a 'Welcome Pack' of basic food stuffs to help you on your way. The 3 way fridge has a 43 litre capacity. It runs on 12 when Colleen is on the move, 240v on hook up and gas when settled in for the day.

Water and Sanitation: There is an 80l internal water tank which supplies the internal enclosed hot/cold shower and the sink for when you just have to do the washing up! Also a separate 25l fresh drinking water tank which supplies a water fountain by the sink. An under-slung 60l water tank facilitates all the grey water. There is a monitor for the fresh and grey tanks to let you know if you need to empty or fill up.

Type of Heating: Colleen sports a state of the art Truma E boiler. It will run quietly on both lpg and/or electricity (when on hook up). This produces all the hot air and hot water you will need to keep cosy and clean! Running in conjunction with two MaxxAir fans you will wake up to minimal condensation with fresh air being replenished all night long. The lpg comes from a refillable 25l under-slung tank, with the refill port just behind the driver's door.

Conversion Story: Colleen was completely hand built by myself and my son, initially just as a personal project. As it progressed we realised we had created something that others could share in. That's when we gave her a name. The concept was to create a completely self contained living space that we could take anywhere and live for up to a week off grid.
Pick up / Drop off Times
| - | Pick up | Drop off |
| --- | --- | --- |
| Sunday | 9:00AM - 9:00PM | 9:00AM - 9:00PM |
| Monday | 9:00AM - 9:00PM | 9:00AM - 9:00PM |
| Tuesday | 9:00AM - 9:00PM | 9:00AM - 9:00PM |
| Wednesday | 9:00AM - 9:00PM | 9:00AM - 9:00PM |
| Thursday | 9:00AM - 9:00PM | 9:00AM - 9:00PM |
| Friday | 9:00AM - 9:00PM | 9:00AM - 9:00PM |
| Saturday | 9:00AM - 9:00PM | 9:00AM - 9:00PM |
Note: Campervan Hire prices are per 24 hours. The default pick up and drop off time is 2pm. If you request a pick up or drop off outside of this, the owner will quote you for the additional time. Typically this is £12.50 per additional hour.
When would you like to go?
Sorry, there was a problem...
Vehicle Spec
Vehicle Type: Campervan
Make: Renault
Model: Master
Year: 2014
Vehicle Length: 6 metres
Vehicle Height: 2.7 metres
Length with hitch: 6 metres
Max Laden Weight (MAM): 3500 kg
Payload: 600 kg
Transmission: manual
Fuel Type: diesel
Fuel Efficiency: 30 mpg
Registration: emailed when you book
Note: The hire of this vehicle is arranged by Quirky Campers ltd acting as the agent on behalf of Colleen's owners. We make every effort to ensure that all the vehicles listed with us are of a high standard but cannot guarantee the condition of the vehicle. If you experience any problems please notify us as soon as possible.