Rhapsody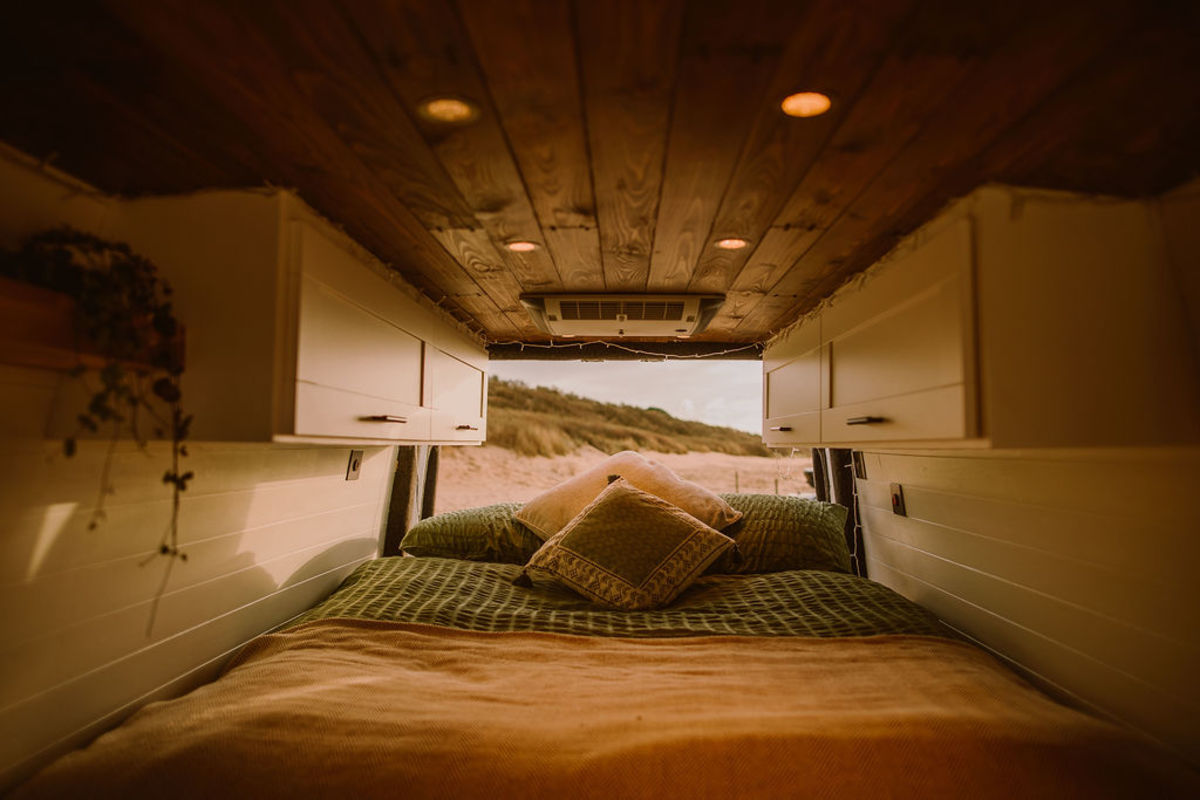 Axbridge
2 Belted seats 2 Adult berths
All hail the queen! If you're looking to escape reality, there is no better place to start than behind the wheel of Rhapsody. You can easily come and easily go at your leisure in your very own home on wheels. Her sleek whitewashed design has been enhanced with earthy toned soft furnishings and solid wood cabinetry to create an inviting and calming space for couples, friends or solo travellers. Whether you sleep a 'little high' or 'little low', the fixed lengthways bed ensures you have plenty of legroom to stretch out at night.

Designed to inspire even amateur cooks, Rhapsody's kitchen has been kitted out with everything needed to make a scrumptious meal including a two ring gas hob and plenty of worktop space. There's also an additional single hob that gives you the freedom to cook outside. Fresh ingredients and wine can be stored in the fridge. Picture this…it's a hot summer's day, you're looking out to a never ending stretch of crystal blue water and your dinner is being prepped whilst you sip on a glass of your favourite wine - doesn't that sound like heaven!

Say goodbye to queuing outside campsite loos, the bathroom benefits from a luxurious heated shower and toilet. Rhapsody's electric system certainly does back a punch, designed perfectly for off-grid adventures, there are three ways to charge this camper. All that's left to do is pack your bags and buckle up!
Essential Information
Air Conditioner
Hob
Heater
Dining Table
Refrigerator
Kitchen Sink
Inside Shower
Toilet
Ceiling Fan
Solar
Extra Storage
Radio
Inverter
Pet Friendly
Double Beds: &nbsp1
Gas Capacity: &nbsp50 litres
Waste Tank Capacity: &nbsp75 litres
Water Tank Capacity: &nbsp110 litres
About the Campervan
Description of Beds: Rhapsody sleeps 2 in a full double at the back of the van which is positioned length ways (so LOTS of legroom) - 120cm wide and 190cm long.

Description of Seating: Rhapsody takes 2 belted passengers and has seating in the main living area for up to 3 people with a slide out table from under the bed.

Description of Electrical Setup: Rhapsody is fully off-grid offering 3 ways to charge - Rhapsody has x3 100w solar panels on his roof. He has x3 110amh batteries, battery to battery charger and Shore Power (240v Hook Up) for when you're on campsites and a 2000w inverter. There are 2 USB ports on either side of the bed, perfect for charging your phone overnight. UBS and USB-C charging points at the bottom of the bed and a 240v 3 prong plug socket by the gas hob.

About the area: Rhapsody can be picked up from Axbridge but is stored at a Campervan lockup nearby when not in use. Just round the corner from Axbridge is the famous Cheddar Gorge, so don't forget to make a stop there.

Parking: If you drive to collect Rhapsody you are welcome to leave your car in his normal spot or in the local car park (which is free). If you come by train, Rhapsody's owners will be able to pick you up from Weston-Super-Mare Train Station for an additional cost of £10 return trip (pick up/drop off)

Cooking Equipment: In addition to the two gas hobs inside, there is a single gas burner that you can use to cook outside. Rhapsody has everything you could need to cook up a feast, including 2 traditional tin camping mugs, 4 cups and 4 bowls, 4 bamboo dining plates, cutlery for 4, 2 plastic wine glasses, chopping board, kettle, set of camping frying pans and saucepans There is a cooking spoon and spatula, 3 sharp knives and full cutlery set. Rhapsody also has a colander and small dustpan and brush.

Water and Sanitation: Rhapsody has an indoor hot water shower, the water is heated by the Truma Combi Boiler (which is what also provides the heating in the van). There is also a chemical toilet in the van, which is removable. Rhapsody has a 110 litre underslung water tank, which is drinkable, however, we do advise on purchasing drinking water separately and using the water for washing up and showers.

Audio Equipment: Rhapsody is set up with a Radio which can be connected via Bluetooth to play your own music.

Type of Heating: Truma Combi Boiler (uses underslung LPG)

Extra Information: Rhapsody was actually built by our friends who intended on heading to Europe in it. They made it around Scotland but due to the lockdowns and Brexit they never made it over to Europe! Rhapsody is actually part of a fleet of camper vans owned within the family, that are all Queen inspired! We have Bohemia, Freddie and Mercury (as well as Rhapsody)

Conversion Story: My partner and I lived in New Zealand for a year and whilst we were there we bought a teeny tiny Mitsubishi L300 and did a backpacker bodge job on converting it - we lived out of our van, Patch, for just under a year and fell in love with the Van Life style. Rocking up to incredible places, having a cuppa at the beach and trekking on to the next place. We decided that when we got back to the UK, we'd convert something a little bigger and this is when Bohemia was born (you won't see her on Quirky as she's all ours!). We then decided that we wanted something a little bigger (again) and that's when we bought Rhapsody (see what we did there...).
Pick up / Drop off Times
| - | Pick up | Drop off |
| --- | --- | --- |
| Sunday | 2:00PM - 2:00PM | 2:00PM - 2:00PM |
| Monday | 2:00PM - 2:00PM | 2:00PM - 2:00PM |
| Tuesday | 2:00PM - 2:00PM | 2:00PM - 2:00PM |
| Wednesday | 2:00PM - 2:00PM | 2:00PM - 2:00PM |
| Thursday | 2:00PM - 2:00PM | 2:00PM - 2:00PM |
| Friday | 2:00PM - 2:00PM | 2:00PM - 2:00PM |
| Saturday | 2:00PM - 2:00PM | 2:00PM - 2:00PM |
Note: Campervan Hire prices are per 24 hours. The default pick up and drop off time is 2pm. If you request a pick up or drop off outside of this, the owner will quote you for the additional time. Typically this is £12.50 per additional hour.
When would you like to go?
Sorry, there was a problem...
Vehicle Spec
Vehicle Type: Campervan
Make: Mercedes-Benz
Model: Sprinter
Year: 2013
Vehicle Length: 7 metres
Vehicle Height: 3.4 metres
Length with hitch: 4.7 metres
Max Laden Weight (MAM): 3500 kg
Payload: 3,500 kg
Transmission: manual
Fuel Type: diesel
Registration: emailed when you book
Note: The hire of this vehicle is arranged by Quirky Campers ltd acting as the agent on behalf of Rhapsody's owners. We make every effort to ensure that all the vehicles listed with us are of a high standard but cannot guarantee the condition of the vehicle. If you experience any problems please notify us as soon as possible.
Reviews
See Full Reviews...

June 2022

Dean and Sharon

From Stephanie Clements...
Awh you two! I'm so happy that you loved your first vanlife experience! Excited to see what van you get and how you convert it! Thanks for choosing Rhapsody for your first van life adventure!

June 2022

Adele & Jase

From Stephanie Clements...
So glad you had a great experience and cannot wait to hopefully welcome you back on your next adventure!