Jessie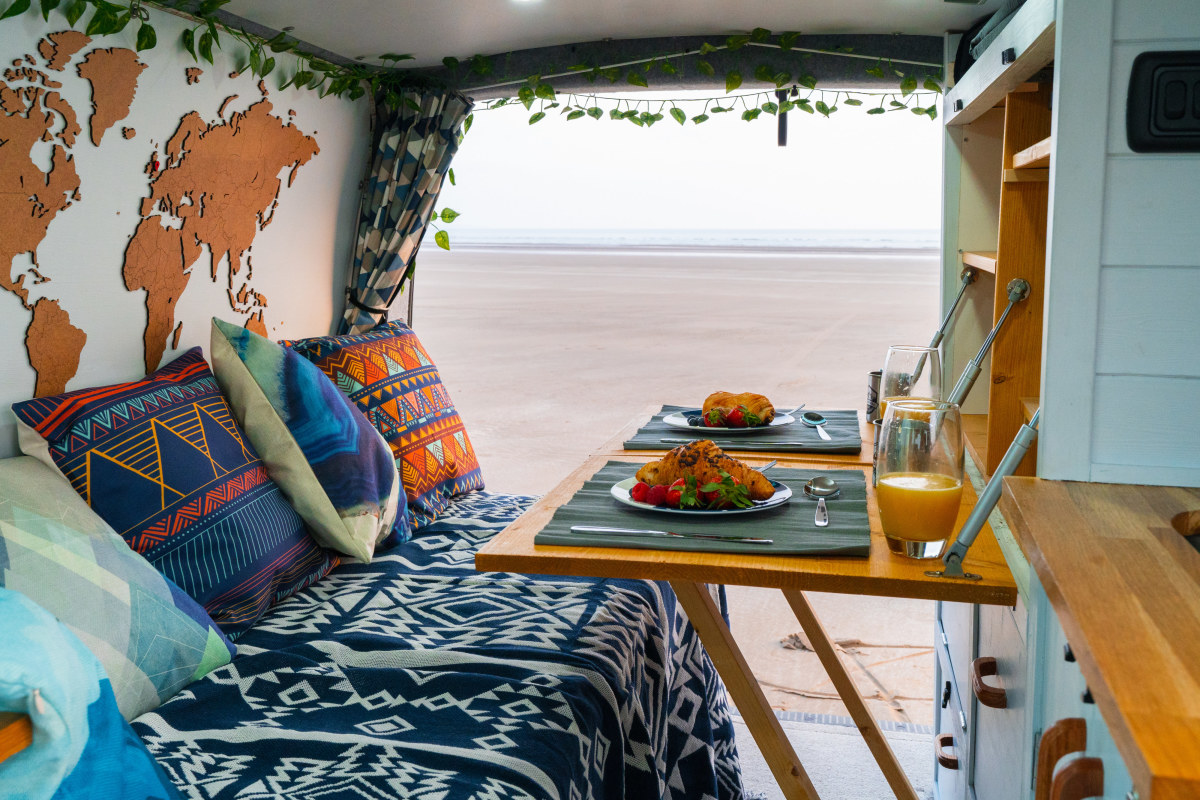 Bangor
2 Belted seats 2 Adult berths
Calling all wilderness explorers! We've found your new best friend...

Jessie is the ultimate compact travel van, her small size and automatic gearbox make her easy to drive, but don't be fooled, she's bigger on the inside! Pet friendly and fully equipped with everything a pair of adventurers and their furry companions could need for expeditions big and small.

If you feel like taking your adventure to the next level, why not check out Jessie's optional add ons for road and hybrid bike rental? You could even hire your very own paddleboards, perfect for when you want to get away from the crowds and find a private lake for an afternoon. With her bright interior decor and homely wooden surfaces, you can be sure of a cosy home to come back to after a day out hiking. Need a little more quiet time in the evening? Why not pamper yourselves with the luxury Welsh goodies hamper and a treasure trove of board games, just what you need for a perfect night in.

Jessie is based in North Wales, a haven of nature, with castles galore, endless beaches and just about every adventure activity you can think of right on your doorstep. But that can be just the beginning of your trip! So pick a spot on Jessie's world map and get in the driver's seat, because wherever you go, Jessie's got your back.

Essential Information
Hob
Dining Table
Refrigerator
Kitchen Sink
Outside Shower
Toilet
Solar
CD Player
Audio Inputs
Radio
Inverter
Pet Friendly
Double Beds: &nbsp1
Waste Tank Capacity: &nbsp20 litres
Water Tank Capacity: &nbsp20 litres
About the Campervan
Description of Beds: The van has a sofa bed which in "bed mode" sleeps two people in a small double bed. The bed is 120 cm wide by 160 cm long (There is space at the end of the bed to extend the length slightly). The bed cushions are made of cushy memory foam mattresses. During the day, the bed can be converted into a sofa. There are two large storage compartments underneath the bed for all your gear.

Description of Seating: There are 2 belted seats, both in the front of the van (including the driver). For socialising, there is space on the sofa for 2-3 people to sit comfortably and the two front seats swivel around to face the living area.

Description of Electrical Setup: There are 2 x 100Ah lithium ion batteries. The batteries can be charged by the 2 x 130W solar panels on the roof. The batteries will also be charged by the alternator while driving and it can be charged by an electric hook-up.

In the back there are 4 x USB sockets and 2 x 240V sockets powered by a 1000W inverter. There is also a 12V socket in the back for powering the outdoor shower or other devices.

The van has no gas supply, cooking is done on an induction stove. We have found that staying still in an area with little sunlight, the batteries will need charging via hook-up every 3 days with average use. When driving around an hour or more per day or on days with lots of sun, we found the batteries maintained good charge.

About the area: Jessie is located 5 minutes from Snowdonia national park and 10 minutes from the Isle of Anglesey. We are 20 minutes from Snowdon, the highest mountain in England and Wales, you can hike or even take a train to the top for fantastic views. For more hiking and climbing, the Carneddau and Glyderau mountain ranges (including Tryfan) are 15 minutes away. There are 250 miles of coastline in North Wales with a coastal path the entire way round and plenty of beaches (both sandy and pebbly) within easy reach. Snowdonia is filled with beautiful lakes, you can hire water sports equipment from the nearby Llyn Padarn lake in Llanberis (20 minutes).

There are over 100 castles dotted around North Wales, in our opinion the most spectacular Medieval castles are the UNESCO World Heritage Caernarfon, Conwy and Beaumaris castles, all within 30 minutes drive. You can also find Gwyrch Castle, featured on 'I'm a Celebrity get me out of here!' nearby.

If you want a relaxed day out, there are a number of pretty welsh villages nearby where you can grab a coffee and take in the scenery.

For adventure seekers, you can be at Zip World in less than 5 minutes after collecting Jessie! North Wales also has opportunities for mountain biking, road cycling, climbing, surfing (including the world's first inland surf lagoon), white water kayaking/rafting, sea kayaking, paddleboarding, coasteering and much more.
We are happy to offer any personalised recommendations of things to do in the local area.

Parking: If you come by train, we will usually be able to pick you up/drop you off from Bangor train station. If you're arriving by car you'll be able to park in Jessie's usual parking space on our driveway.

Cooking Equipment: Jessie has a small functional kitchen inside, there is a single ring induction hob, which can be used outside with an electric hookup. Utensils include, 2 saucepans, a frying pan, a hob kettle and pan stands, sharp knives, a wooden chopping board, wooden spoons, spatulas, a tin opener, peeler, cheese grater, colander, and cafetiere, enough Cutlery for 2 people, 2 large plates, 2 small plates, 2 bowls, 4 mugs, 2 glasses, 2 table mats and a washing up bowl for when you're all done.

Water and Sanitation: Jessie has a 20L fresh water tank under the sink which supplies cold water to the tap via an electric pump. The dirty water is collected in a second 20L container under the sink. Both containers are removable for easy filling / emptying.

An optional portable toilet and outdoor shower can be provided.

Audio Equipment: The van is equipped with a standard audio system in the front only (CD/ player, radio, Bluetooth/aux phone connection).

Type of Heating: There are no additional heaters installed in the van, but the van is well insulated (with sheep's wool and cork insulation) and thermal window covers are provided. We stayed in the van in the arctic at -5°C and were only a little bit cold, we would say the van is very comfortable in temperatures above 10°C and OK in temperatures above 5°C. Although we've used the van below 5°C, we wouldn't recommend it.

Extra Information: Jessie has an automatic transmission and is equipped with hand controls and a steering ball meaning she can be driven by just about anyone! We have chosen a particular type of hand controls which means the van can also still be driven normally (with feet).

Conversion Story: We bought Jessie (unnamed van at the time) during the 2020 lockdown when Covid forced us to cancel our round-the-world travel plans. We'd always wanted a campervan but struggled to find one we liked so we decided to use the time to convert a van ourselves. The units are all handmade from birch ply and pine and the counter tops are solid oak. After 8 months of hard work Jessie (still unnamed) was finally finished and ready for adventure. We travelled in her around the UK for a while and then took a 6000 mile trip through Europe to the Arctic. One day we found ourselves camping next to a Danish couple and their two very friendly dogs Jessie and Balder, who we became good friends with. Sadly Jessie passed away shortly after we returned to UK so we decided to name our van in her honour.

Pick up / Drop off Times
| - | Pick up | Drop off |
| --- | --- | --- |
| Sunday | By arrangement | By arrangement |
| Monday | By arrangement | By arrangement |
| Tuesday | By arrangement | By arrangement |
| Wednesday | By arrangement | By arrangement |
| Thursday | By arrangement | By arrangement |
| Friday | By arrangement | By arrangement |
| Saturday | By arrangement | By arrangement |
Note: Campervan Hire prices are per 24 hours. The default pick up and drop off time is 2pm. If you request a pick up or drop off outside of this, the owner will quote you for the additional time. Typically this is £12.50 per additional hour.
When would you like to go?
Sorry, there was a problem...
Vehicle Spec
Vehicle Type: Campervan
Make: Volkswagen
Model: Transporter
Year: 2018
Vehicle Length: 5.3 metres
Vehicle Height: 2 metres
Class / Floorplan: T6 LWB
Max Laden Weight (MAM): 3200 kg
Payload: 720 kg
Transmission: automatic
Fuel Type: diesel
Registration: emailed when you book
Note: The hire of this vehicle is arranged by Quirky Campers ltd acting as the agent on behalf of Jessie's owners. We make every effort to ensure that all the vehicles listed with us are of a high standard but cannot guarantee the condition of the vehicle. If you experience any problems please notify us as soon as possible.
Reviews
This van hasn't yet received any reviews.