Fauna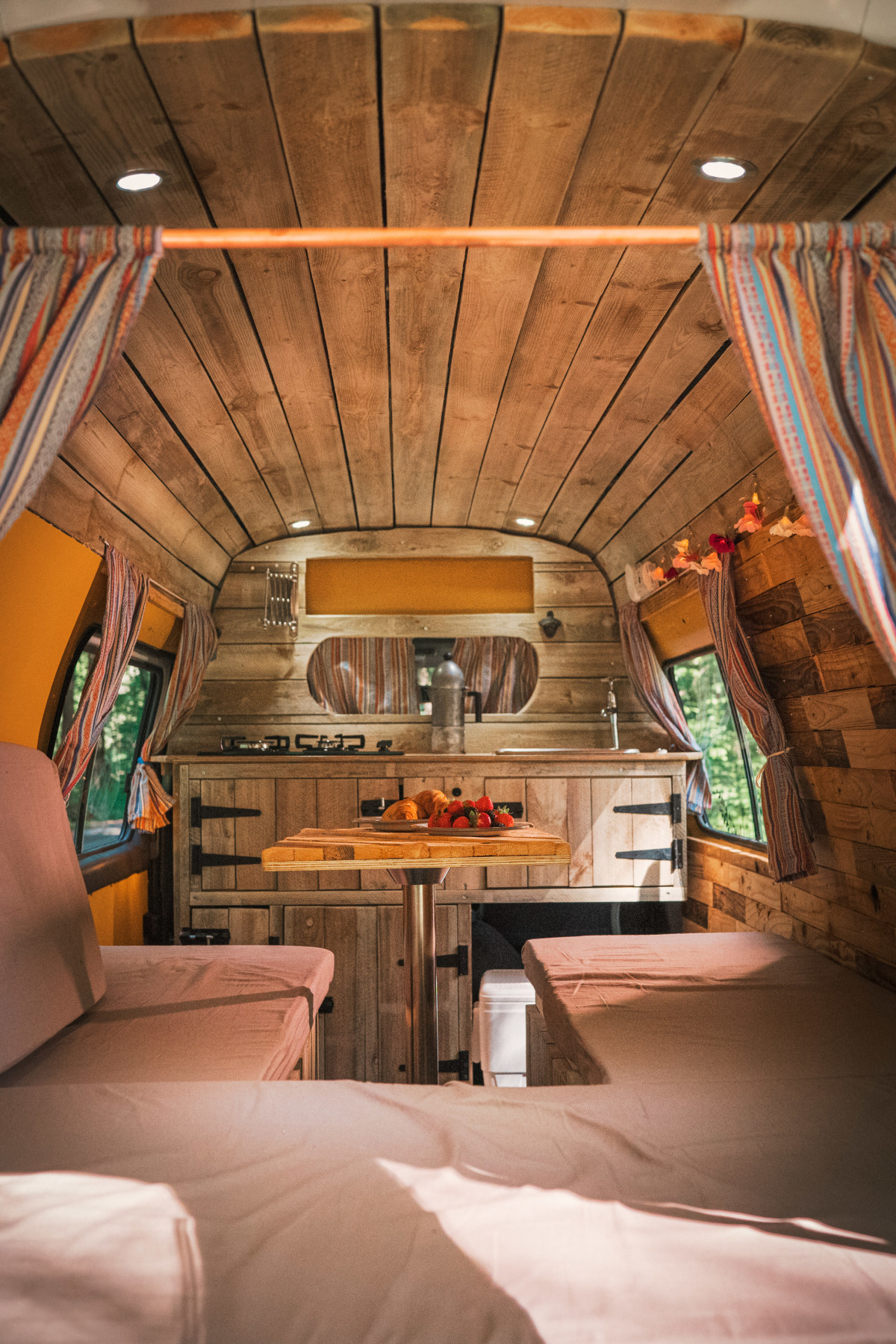 Glasgow
3 Belted seats 2 Adult berths
Here we have a remarkable species of campervan, Fauna. Taken straight from the pages of a fairytale, Fauna's interior craftsmanship and decor oozes romance and whimsical charm. Experience the outdoors like never before by escaping the busy city and switching off from the distractions of everyday life. Located in Scotland, you will be spoilt for choice for breathtaking park ups and backdrops.

The bed is effortlessly made by lowering the dining table, so after a day of exploring you can simply slide right in. If you're feeling a bit chilly, Fauna has been fitted with a compact diesel heater which has the ability to warm up the entire space in minutes.

Fauna's beautiful kitchen is equipped with everything you need to enjoy a feast in the forest including a two ring gas hob, a coolbox to store food and drinks and a portable gas hob for the days you fancy dining al fresco. Settle in, open up the back doors and let the fresh air seep as you start your morning slowly with breakfast in bed - doesn't that sound dreamy?
Essential Information
Hob
Heater
Dining Table
Kitchen Sink
CD Player
Pet Friendly
Water Tank Capacity: &nbsp20 litres
About the Campervan
Description of Beds: Fauna sleeps two people in a comfortable double bed measuring at 183cm x 147 cm. She has three belted seats, you can opt to add a popup tent, camping mat, sleeping bag and pillow as an extra, to accommodate a 3rd person.

Description of Seating: There are two belted seats in the front and the third middle seat has a lap belt. One of the passenger seats would be suitable for a baby seat.

Description of Electrical Setup: Leisure Battery supplying 4 usb sockets two at the rear of the van and two near the side door. No inverter, No hook up.

About the Area: Is parked on our drive outside her house in a quiet suburb just North of Glasgow 3 mins off M80 Motorway, less than an hour's drive from Loch Lomond National Park.

Parking: You are welcome to leave your car in her normal spot, if you come by train we would be happy to pick you up from Lenzie station. If you have an electric vehicle we would be happy to charge it while you are away. (we have a type 2 connector or Standard 3pin (Granny plug)

Cooking Equipment: With a two ring gas hob, Fauna has everything you could need to cook up a feast, including: 2 traditional tin camping mugs, 2 insulated mugs (suitable for both wine and tea) and 2 bowls, 2 dining plates, cutlery for 2, chopping board, kettle, small frying pan, large and small saucepan, 1 sharp knife, 1 tin opener, corkscrew/bottle opener. Fauna also has a stove-top espresso machine and a toasting rack that you can use over the gas hob as well as a colander, washing up bowl, and small dustpan and brush'

Fauna also comes with a high end 80 litre Cool Box and an additional single ring portable gas stove which can be used outside.

Water and Sanitisation: Fauna comes with a sink which is supplied by an electric pump feeding from a 20 litre removable tank.

Audio Equipment: CD Player in the front and small bluetooth speaker in the rear (USB powered) so you can play your own music

Heating: Fauna has a compact but powerful diesel heater, which is controlled either by control unit or remote control.

Conversion Story: Fauna was previously a mobility van which the previous owner imported from Japan and lovingly converted using traditional sustainable materials.
Pick up / Drop off Times
| - | Pick up | Drop off |
| --- | --- | --- |
| Sunday | By arrangement | By arrangement |
| Monday | By arrangement | By arrangement |
| Tuesday | By arrangement | By arrangement |
| Wednesday | By arrangement | By arrangement |
| Thursday | By arrangement | By arrangement |
| Friday | By arrangement | By arrangement |
| Saturday | By arrangement | By arrangement |
Note: Campervan Hire prices are per 24 hours. The default pick up and drop off time is 2pm. If you request a pick up or drop off outside of this, the owner will quote you for the additional time. Typically this is £12.50 per additional hour.
When would you like to go?
Sorry, there was a problem...
Vehicle Spec
Vehicle Type: Campervan
Make: Nissan
Model: Caravan
Year: 2008
Vehicle Length: 5 metres
Max Laden Weight (MAM): 2750 kg
Payload: 490 kg
Transmission: automatic
Fuel Type: gas
Registration: emailed when you book
Note: The hire of this vehicle is arranged by Quirky Campers ltd acting as the agent on behalf of Fauna's owners. We make every effort to ensure that all the vehicles listed with us are of a high standard but cannot guarantee the condition of the vehicle. If you experience any problems please notify us as soon as possible.