Hygge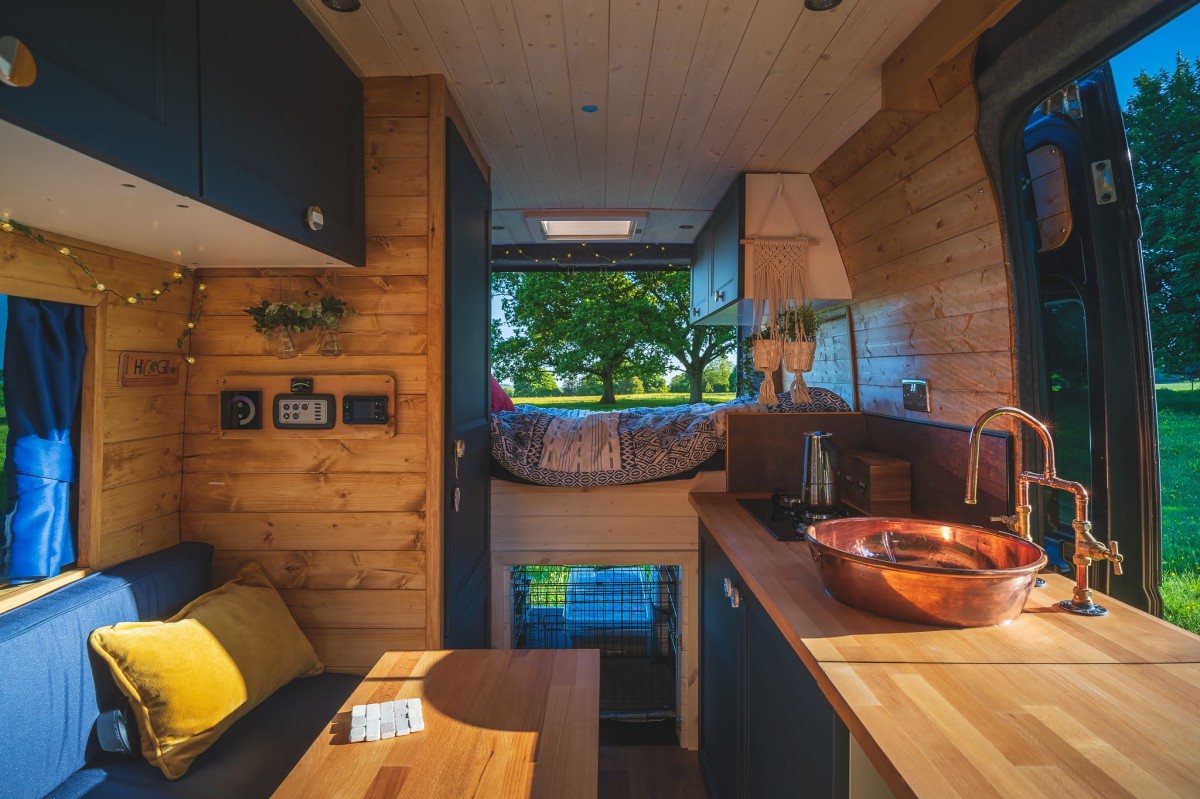 Newbury
2 Belted seats 2 Adult berths
Like snuggling in front of a fire when it's chucking it down outside or sliding into slippers after a long day at work, Hygge is the epitome of cosiness. Professionally converted by the Scandinavian Camper Van company, Hygge was crafted with relaxing adventures in mind. From its warm timber tones to delicate finishing touches, everything within this camper sets the scene for romance. After a day of whimsical woodland walks and cosy coffee dates, you can climb right into your fixed double bed.

Enjoy breakfast in bed like never before. Hygge has everything you need to cook up a hearty feast, including two gas hobs and a ridgemonkey. Slide open the doors and let the outdoors in as you sip your fresh coffee, curled up around the dining area. The two front seats swivel round to extend the living space further, perfect for a games night with friends.

Settle off-grid in the depths of the forest and have all your home comforts at your fingertips. With an impressive solar set up to charge your devices on the go, a heated outdoor shower, ideal for washing off muddy paws and a diesel heater to keep you toasty on chilly evenings.

So pop that 'out of office' and get ready to experience a level of comfort you didn't know existed.
Essential Information
Air Conditioner
Hob
Heater
Dining Table
Refrigerator
Kitchen Sink
Outside Shower
Bike Rack
Toilet
Ceiling Fan
Awning
Solar
Reversing Camera
Extra Storage
CD Player
Radio
Pet Friendly
Double Beds: &nbsp1
Gas Capacity: &nbsp25 litres
Waste Tank Capacity: &nbsp50 litres
Water Tank Capacity: &nbsp66 litres
About the Campervan
Description of Beds: Sleeps 2 in a built-in double bed 188cm long and 136cm wide.

Description of Seating: 2 belted seats at the front (including driver) with headrests. These swivel into the main living space where there is a bench seat comfortably sitting a further 2 people.

Description of Electrical Setup: 12v leisure system with 100w of solar and 130 AH leisure battery, set up for off-grid. Hook up, 2x USB points and 2x 3-pin plug sockets in the living space. 2x 3-pin plug sockets in the kitchen area and 2x USB points by the bed.

About the area: Hygge lives in Newbury and is parked at the back of the house with easy access to the M4/A34 for convenient travel in any direction.

Parking: If you drive to collect Hygge, you are welcome to leave your car in her normal spot. If you come by train, it is a simple 15 minute walk from Newbury train station, but we can possibly arrange a collection depending on work commitments.

Cooking Equipment: Hygge has everything you could need to cook up a feast, including 2 gas hobs: 2 ceramic mugs, 4 bamboo cups, bowls, side and dining plates, cutlery for 4, 2 polycarbonate wine glasses, chopping board, whistling kettle, large and small frying pan, large and small saucepan.There is a set of Joseph and Joseph utensils, 3 sharp knives, tin opener, corkscrew/bottle opener. Hygge also has a stove-top espresso maker and a ridge monkey sandwich toaster/griddle that you can use over the gas hob as well as a colander, and small dustpan and brush, along with a small hand-held hoover'.

Water and Sanitation: Hygge has an outdoor shower, with hot and cold water. The water is heated electrical via hook up or LPG. Hygge has a Thetford portable toilet that can be placed in a tent outside, which can also be used with the shower. The main water (drinking water) and grey water tanks are underslung.The main water tank provides water to the sink and shower.

Audio Equipment: Hygge has a pioneer head unit with radio/CD player, with Aux in the main cab.

Type of Heating: Hygge has a diesel warm air heater.

Conversion Story: Hygge was converted by the Scandinavian Camper Van Company in 2022, having been liberated from her former life as a gardener's van. The use of spruce timber cladding, warm colours, individual cupboard handles, an antique copper sink, hand-made copper taps, dimmable main lighting, along with cosy fairy lights, mean she really lives up to her name.
Pick up / Drop off Times
| - | Pick up | Drop off |
| --- | --- | --- |
| Sunday | 3:00PM - 5:00PM | 9:00AM - 11:00AM |
| Monday | Unavailable | 6:00PM - 8:00PM |
| Tuesday | Unavailable | Unavailable |
| Wednesday | Unavailable | Unavailable |
| Thursday | Unavailable | Unavailable |
| Friday | 6:00PM - 8:00PM | 6:00PM - 8:00PM |
| Saturday | 3:00PM - 5:00PM | 9:00AM - 11:00AM |
Note: Campervan Hire prices are per 24 hours. The default pick up and drop off time is 2pm. If you request a pick up or drop off outside of this, the owner will quote you for the additional time. Typically this is £12.50 per additional hour.
When would you like to go?
Sorry, there was a problem...
Vehicle Spec
Vehicle Type: Campervan
Make: Citroen
Model: Relay
Year: 2015
Vehicle Length: 6 metres
Vehicle Height: 2.55 metres
Max Laden Weight (MAM): 3500 kg
Payload: 360 kg
Transmission: manual
Fuel Type: diesel
Registration: emailed when you book
Note: The hire of this vehicle is arranged by Quirky Campers ltd acting as the agent on behalf of Hygge's owners. We make every effort to ensure that all the vehicles listed with us are of a high standard but cannot guarantee the condition of the vehicle. If you experience any problems please notify us as soon as possible.
Reviews
This van hasn't yet received any reviews.