Kanoa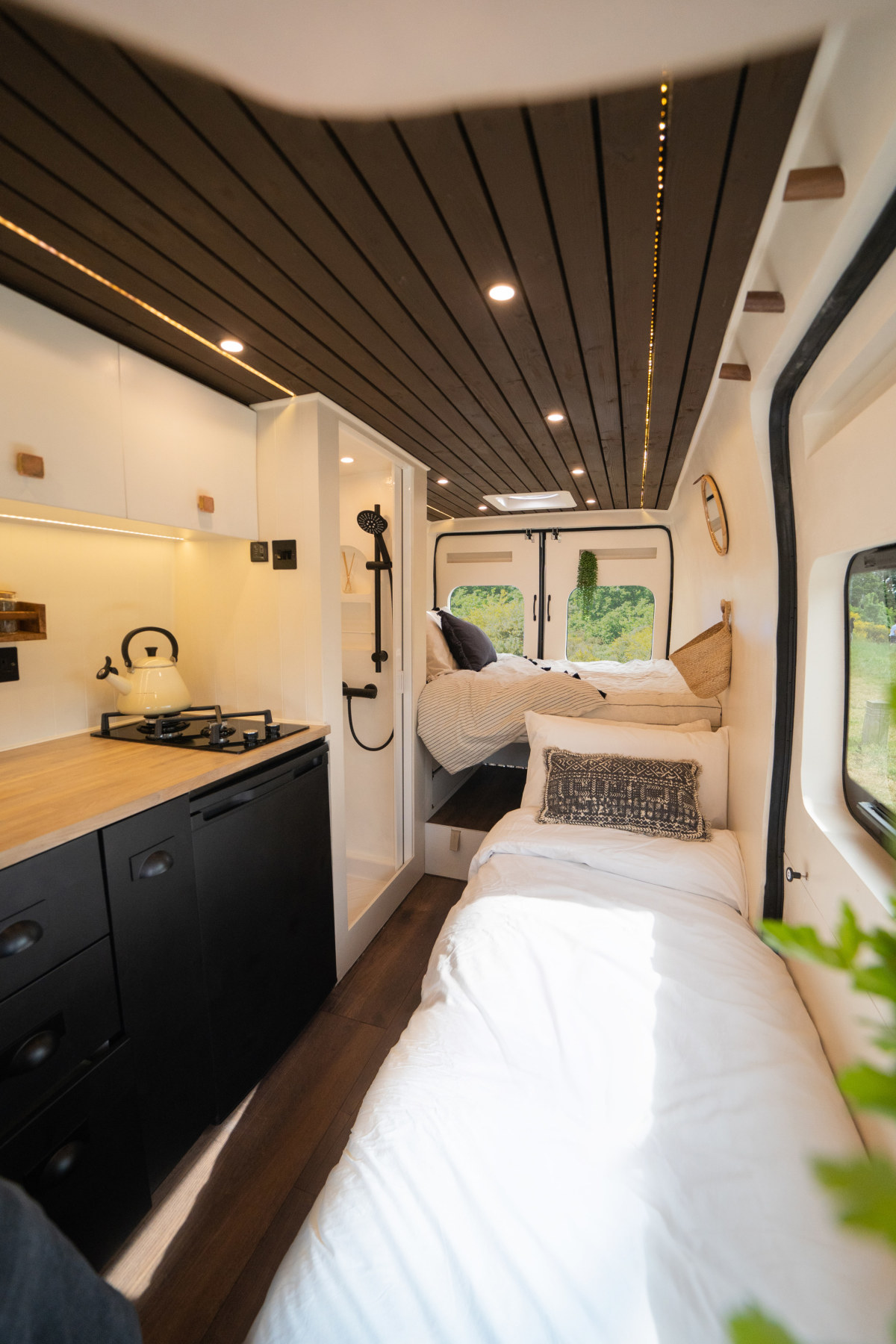 Thetford
3 Belted seats 3 Adult berths
Promoted from an events run around vehicle to the star of the show, Kanoa is a camper of many talents. Her sleek neutral design is contrasted with matte black cabinetry and complimented with natural textures. She is versatile, stylish and wild at heart, and has so much to offer.

Spend your mornings gathered around the large dining area, planning your action-packed itinerary for the day – and your evenings cosied up in the double bed, drinking a hot cuppa and watching your favourite film using Kanoa's complimentary WiFi. Kanoa's leather bench seat pulls out into a long single bed, providing room for a third person to join you on your trip.

Crafted with socialising in mind, Kanoa is able to fit 9 adults in total thanks to her swivel seats and bench feature – now that's quite a dinner party! You have everything you need to cook up a meal to remember, including; a 2-ring gas hob, a full-sized domestic fridge freezer, and a large selection of bowls, plates and cooking utensils. A portable hob as well as a barbeque are available through add-ons, if outdoor cooking is your style.

No matter the weather or the season, Kanoa is prepared for your off-grid adventures. During the summer, the MaxxAir fan creates strong breeze and the cab air conditioning can help to cool the air too – come to winter, the diesel heater warms the space in a matter of minutes. The luxurious indoor bathroom has a heated shower that's great for washing off any sandy feet or mucky pups. And if you need to leave your pup in the van, you can check up on them using one of Kanoa's security systems – so you can have peace of mind that they're safe and sound.

Is Kanoa the perfect campervan? We think so too!
Essential Information
Air Conditioner
Hob
Heater
Dining Table
Refrigerator
Kitchen Sink
Inside Shower
Toilet
Wifi
Ceiling Fan
Solar
Reversing Camera
CD Player
Audio Inputs
Radio
Inverter
Pet Friendly
One Way Rental
Gas Capacity: &nbsp20 litres
Waste Tank Capacity: &nbsp50 litres
Water Tank Capacity: &nbsp66 litres
EU Travel Allowed
About the Campervan
Description of Beds: Kanoa has a double bed that converts into a dinette which can comfortably seat 5 people and measures 182cm (5ft 11) by 140cm (4ft 6). There is also a single pull-out bed which measures 190cm (6ft 2) by 60cm (~2ft).

Description of Seating: There are three belted seats in the front cab area; two passenger seats and the driver's seat. The two passenger seats can swivel around to face the living area, opening the van up into one large space. The dinette area comfortably fits 5 adults and the bench can fit an additional 2 adults. In total, Kanoa can seat up to 9 adults inside the van! Unfortunately there are no isofix fittings.

Description of Electrical Setup: Kanoa was designed to be a fully off grid campervan and is kitted with 150ah (1800wh) of usable battery capacity. There are 3 ways to charge the batteries: 480W solar panels, 30amp DC-DC charger (charges the batteries as you drive) and a mains hook-up. The solar panels and the DC-DC charger together provide plenty of power so you can be fully off grid for the duration of your adventure! The 2000W pure sine wave inverter enables the use of 3-pin plugs which allows you to charge laptops and cameras etc. There are plenty of USB sockets and one USB-C socket, as well as cigarette lighter style 12v sockets. Kanoa also has a complimentary mobile WiFi router and a powerful antenna on the roof allowing you to stay connected almost anywhere you go!

About the area: Located on the border of Norfolk and Suffolk, Kanoa is in the heart of the Thetford Forest - the UK's largest man-made lowland forest. The beautiful beaches of North Norfolk and Suffolk are within an hour and half drive away. Kanoa is within a 3-minute walk from both the bus and train stations and there are direct public transport connections to London, the Midlands and the North, as well as Stansted airport.

Parking: If you drive to collect Kanoa, there is plenty of free on-street parking where you can park your vehicle for the duration of your trip. If you come by train or bus, Kanoa's owners will be able to meet you at Thetford Station which is only a short walk away!

Cooking Equipment: Kanoa comes with everything you will need to cook up a feast. This includes: 4 mugs, 4 cups, 3 bowls, 3 large dining plates, 3 rectangular wooden plates, a full cutlery set for 4, a chopping board, a stovetop kettle, a large and small frying pan, large and small saucepans with lids and a selection of spices. There are wooden cooking utensils, 3 sharp knives, a tin opener, a corkscrew/bottle opener, a grater, a garlic crush, a peeler and a pair of scissors. In addition to the two gas hobs inside (with 20L underslung LPG tank), there is a single burner camping stove that you can use to cook outside (extra). There is a fire extinguisher on board in case of an emergency. Kanoa also has an under-counter domestic-sized fridge-freezer which is vastly larger than a typical campervan fridge. We will also supply washing-up liquid, sponges, scourers, cloths, tea towels and cleaning products.

Please ask if there is anything specific you need for your trip and we will do our best to accommodate!

Water and Sanitation: Kanoa has a 66L (14.5 gallons) freshwater tank and a 50L (11 gallons) grey water tank which is plenty to keep you off grid for a few days. There is a freshwater inlet located at the back and a filler hose is provided for easy filling. There is a Brita water filter jug provided for drinking water.

One of Kanoa's main features is the indoor shower which is connected to a 10L electric water heater (as is the kitchen tap) and has a Nautilus retractable self cleaning door. The water heater can be powered using the inverter or mains hook up at a campsite (advised). A portable cassette toilet is also available as an extra (we ask that this is returned empty and cleaned).

Audio/video Equipment: The front cab has a radio/CD player and a Bluetooth adapter so you can play your own music straight from your phone. A projector and waterproof Bluetooth speaker can also be provided as an extra.

Type of Heating: Kanoa was designed for both the summer and winter months so she is fully insulated. On the colder days, there is a diesel heater which will keep you toasty inside the van. The heater is connected directly to the fuel tank of the van so as long as you have fuel in the tank you are good to go! For warmer weather, Kanoa has air conditioning in the front cab as well as a roof fan and a window in the rear which can be opened to create a cool breeze through the living space. Kanoa comes with insulated window covers which greatly helps to maintain the indoor temperature and gives you privacy in the evenings.

Conversion Story: In her previous life, Kanoa was the delivery vehicle for an events company. She has since matured from the event run-around to the star of the show, being transformed into a beautiful home on wheels that has become the centre of entertainment.

Being inspired by the freedom of vanlife, Kanoa was designed and built by her owners who carefully crafted every inch of space. Her modular elements can transform the small footprint of the van into many different spaces, easily accommodating your needs. Being focussed on off-grid adventures, Kanoa offers freedom like no other.
Pick up / Drop off Times
| - | Pick up | Drop off |
| --- | --- | --- |
| Sunday | 10:00AM - 7:00PM | 10:00AM - 7:00PM |
| Monday | 8:00AM - 9:00PM | 8:00AM - 9:00PM |
| Tuesday | 8:00AM - 9:00PM | 8:00AM - 9:00PM |
| Wednesday | 8:00AM - 9:00PM | 8:00AM - 9:00PM |
| Thursday | 8:00AM - 9:00PM | 8:00AM - 9:00PM |
| Friday | 8:00AM - 9:00PM | 8:00AM - 9:00PM |
| Saturday | 10:00AM - 9:00PM | 10:00AM - 9:00PM |
Note: Campervan Hire prices are per 24 hours. The default pick up and drop off time is 2pm. If you request a pick up or drop off outside of this, the owner will quote you for the additional time. Typically this is £12.50 per additional hour.
When would you like to go?
Sorry, there was a problem...
Vehicle Spec
Vehicle Type: Campervan
Make: Citroen
Model: Relay
Year: 2012
Vehicle Length: 6 metres
Vehicle Height: 2.8 metres
Max Laden Weight (MAM): 3500 kg
Payload: 380 kg
Transmission: manual
Fuel Type: diesel
Fuel Efficiency: 27 mpg
Registration: emailed when you book
Note: The hire of this vehicle is arranged by Quirky Campers ltd acting as the agent on behalf of Kanoa's owners. We make every effort to ensure that all the vehicles listed with us are of a high standard but cannot guarantee the condition of the vehicle. If you experience any problems please notify us as soon as possible.