The Grizzly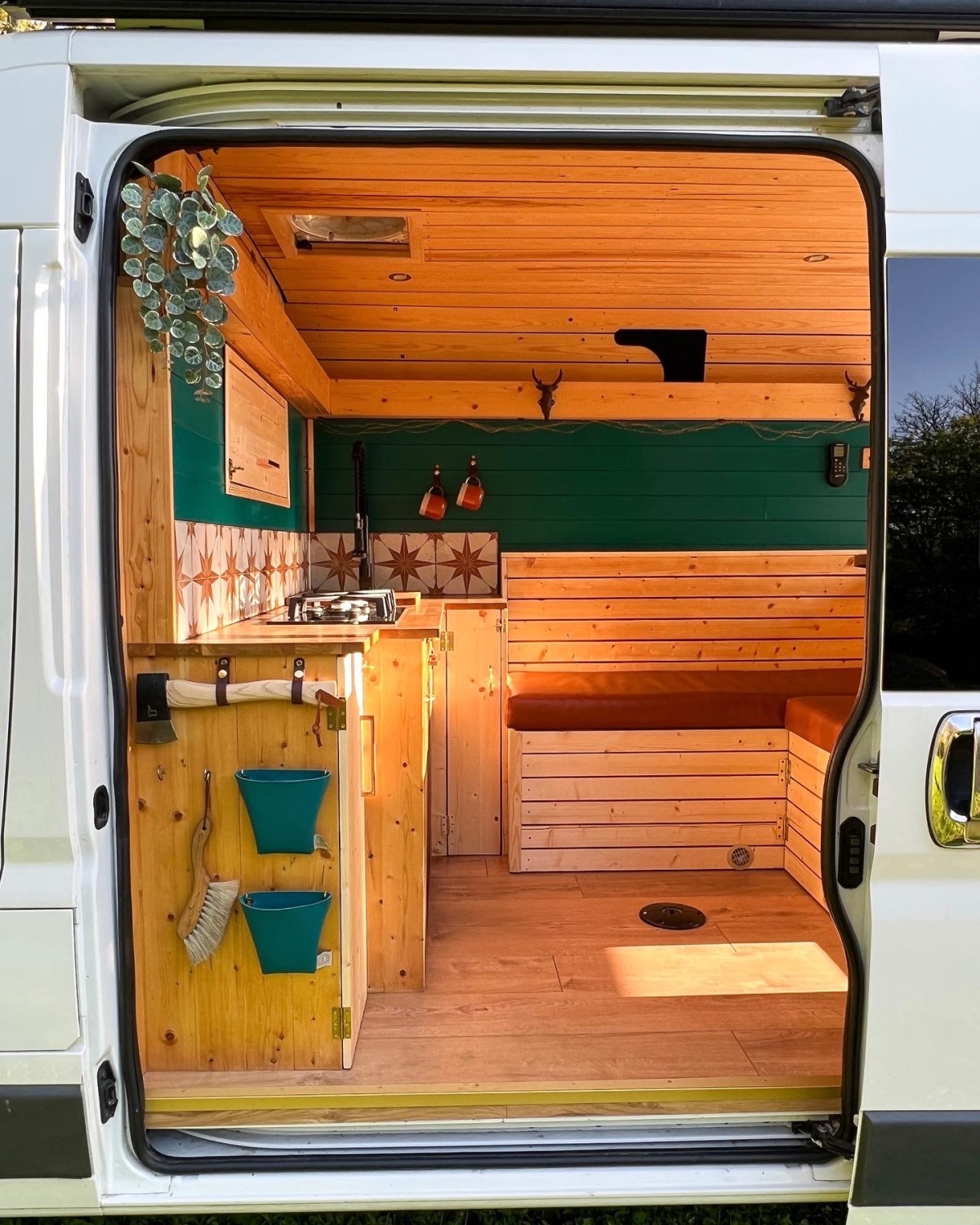 London
3 Belted seats 2 Adult berths
If you go down to the woods today, you're sure of a big surprise…and that's The Grizzly! Quirky Campers are thrilled to present the one and only Grizzly the Campervan. Lovingly crafted by the talented Camper Dreamin, this camper has been converted with versatility and off-grid escapes in mind. From his emerald green walls to starstruck tiles, every inch of The Grizzly has been finished to the highest quality. Sleeping two in a fixed double bed, there will be no faffing at night. Simply slide right into bed after a day of exploring.

The Grizzly has everything you need to host your own teddy bear's picnic including a large worktop space, double burner hob, an array of cooking utensils and dining equipment. There's even the option to add on a BBQ. Picture this…you're parked up in a secluded forest spot surrounded by nothing but tall trees and chirping birds. You have a chilled beer in hand, snuggled round a the cozy woodburner - could life get any sweeter?

So much more than a rolling home, this camper is also a cinema on wheels, thanks to his impressive projector set-up. And unlike your regular grizzly, this bear is pet-friendly, so your four-legged friends can join you for an off-grid getaway. There's also an outdoor shower to wash off any mucky paws or boots. So what are you waiting for? Book your grizzly adventure today!
Essential Information
Air Conditioner
Hob
Heater
Dining Table
Refrigerator
Kitchen Sink
Outside Shower
Toilet
Ceiling Fan
Awning
Solar
Extra Storage
Radio
Pet Friendly
Waste Tank Capacity: &nbsp15 litres
Water Tank Capacity: &nbsp66 litres
About the Campervan
Description of Beds: The Grizzly has a fixed double bed and a super comfortable foam double mattress (fixed bed means you've got tons of storage… and you don't have to make up the bed every night!). Bed dimensions 135 x 184cm.

Description of Seating: There are 3 belted seats in the cab (including the driver). In the living area, there's an L-shaped seating area, with a removable table.

Description of Electrical Setup: With the large leisure battery being charged either through driving or from the solar panel, you can be completely off grid with The Grizzly, with no need for hook up. There are 3 double USB ports, plus another in the cab area.

About the area: The Grizzly lives in SW London, with easy access to the London Underground (Northern Line) & there's a railway station 6 minutes walk away with a train that'd get you to Clapham Junction (2 minutes) or Victoria (8 minutes), so perfect for travellers coming in to London by plane, or for those coming from other parts of the country by train / tube.

Parking: If you're coming by car, you can leave your car in The Grizzly's usual spot while you're on your travels.

Cooking Equipment: You've got everything you need to cook up a feast! A large worktop, big sink with spray tap (with hot and cold water), a large double burner hob, plates, bowls, mugs, side plates, cooking utensils & cutlery, glasses, mugs, kettle (The Grizzly comes with tea, coffee, sugar), chopping board, a large water tank (66 litres) so that you're not filling up every 5 minutes, and a large LPG tank (underslung). In addition, you've also got the option of a BBQ.

Water and Sanitation: There's hot and cold water for the kitchen sink, an outdoor shower (also hot and cold water), as well as an outdoor sprayer (for cleaning feet / sand / washing down the dog!). You'll find a toilet that slides out from under the bench seats. Large water tank, grey water tank, and a separate hot water tank for the sink & shower.

Audio Equipment: There's a DAB radio in the cab, and you also have Bluetooth to play from your playlist in the cab. In the back, you've got a bluetooth portable Anker speaker (great sound!) so you can play your own music - or if you fancy watching a movie on the road, there's also the projector.

Type of Heating: 2 choices - the (swoon..) wood burner or a really efficient heater that heats up the main living area and / or the garage space.

Extra Information: Optional extras: Bedding, fluffy towels, BBQ, camping table & super comfortable chairs, BBQ, Fammia awning, shower/toilet tent.

Conversion Story: 'The Grizzly was lovingly crafted into the ultimate adventure camper by the wonderful (and talented) Camper Dreamin team, before starting his new life based in SW London. He's loved by many people who follow his adventures online - this is a very special van!
Pick up / Drop off Times
| - | Pick up | Drop off |
| --- | --- | --- |
| Sunday | 10:00AM - 5:00PM | 10:00AM - 5:00PM |
| Monday | 9:00AM - 5:00PM | 9:00AM - 5:00PM |
| Tuesday | 9:00AM - 5:00PM | 9:00AM - 5:00PM |
| Wednesday | 9:00AM - 5:00PM | 9:00AM - 5:00PM |
| Thursday | 9:00AM - 5:00PM | 9:00AM - 5:00PM |
| Friday | 9:00AM - 5:00PM | 9:00AM - 5:00PM |
| Saturday | 10:00AM - 5:00PM | 10:00AM - 5:00PM |
Note: Campervan Hire prices are per 24 hours. The default pick up and drop off time is 2pm. If you request a pick up or drop off outside of this, the owner will quote you for the additional time. Typically this is £12.50 per additional hour.
When would you like to go?
Sorry, there was a problem...
Vehicle Spec
Vehicle Type: Campervan
Make: Citroen
Model: Relay
Year: 2017
Vehicle Length: 6 metres
Vehicle Height: 2.5 metres
Length with hitch: 6 metres
Max Laden Weight (MAM): 3500 kg
Payload: 560 kg
Transmission: manual
Fuel Type: diesel
Registration: emailed when you book
Note: The hire of this vehicle is arranged by Quirky Campers ltd acting as the agent on behalf of The Grizzly's owners. We make every effort to ensure that all the vehicles listed with us are of a high standard but cannot guarantee the condition of the vehicle. If you experience any problems please notify us as soon as possible.
Reviews
This van hasn't yet received any reviews.