Mango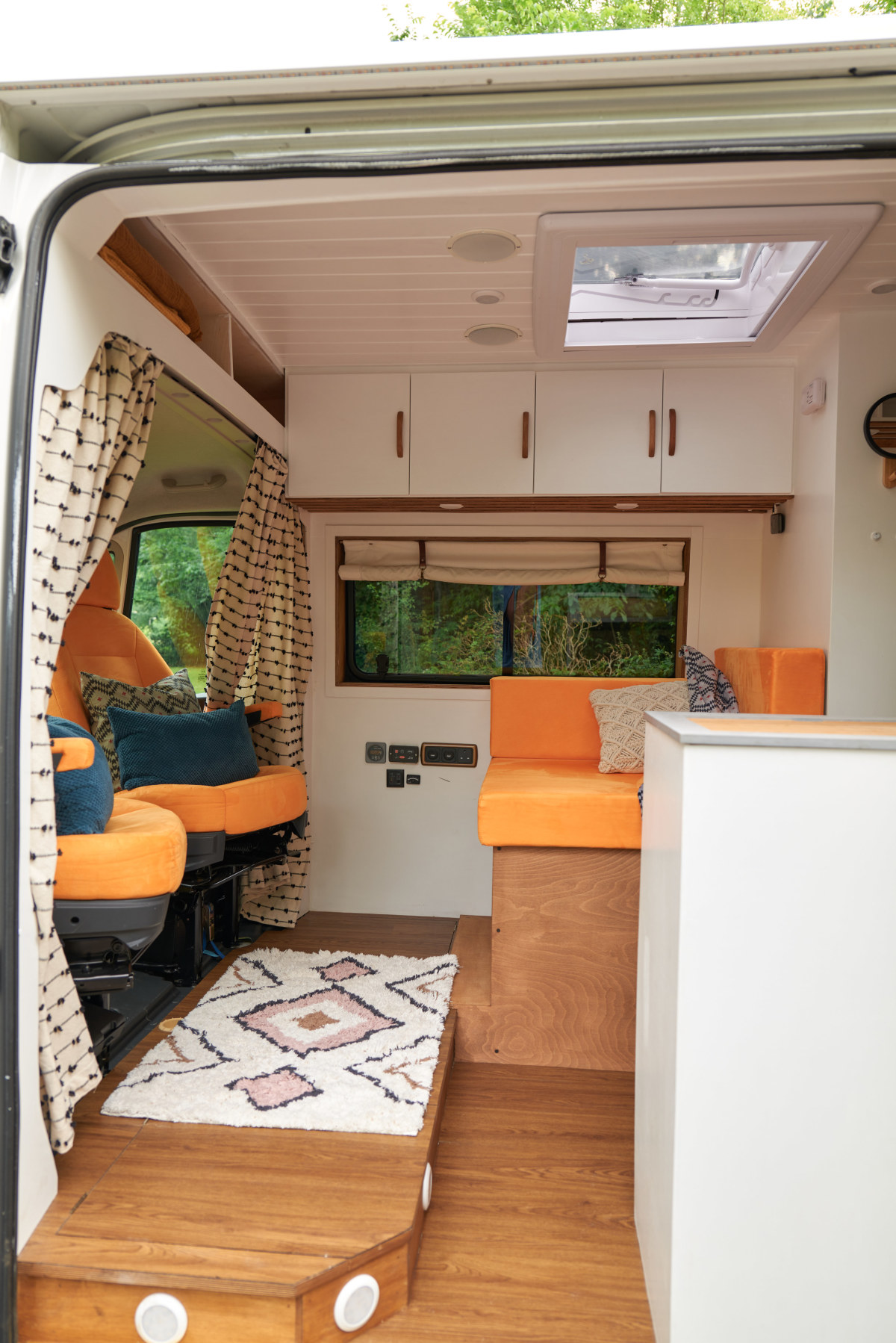 Shipley
2 Belted seats 2 Adult berths
There's nothing quite as refreshing as an adventure in Mango. Located in Saltaire, this campervan is within easy reach of the glorious Yorkshire Dales - home to the famous three peaks challenge and supersized yorkshire puds. Open up this camper and you'll find stunning white walls, expertly crafted cabinetry and stunning burnt orange soft furnishings. Behind the cab the patterned curtains can be pulled across during the day to allow natural light seep through and also provide easy access to the front seats if you want to get off in a hurry.

The double bed towards the rear is entirely fixed so you can slide straight in after a blissfully tiring day spent exploring. Just because he's named after a fruit, doesn't mean you have to live off them. Mango comes with a fully equipped kitchen so you can cook plenty of delicious meals wherever you go. There's a 2 ring gas hob, a fridge with an ice compartment to store lollies, there's even essentials to get you started which includes tea, coffee and milk.

Now you've found the ultimate van, it's time to choose the perfect spot. The great news is whether you decide to stay at a campsite or explore life on the wildside, Mango has everything you need; including an impressive solar set-up, toilet, heaps of storage and an indoor shower. Mango also benefits from an outdoor shower; for those who'd like to experience what it's truly like to be at one with nature - ee by gum, we think we've just fallen in love.
Essential Information
Hob
Heater
Dining Table
Refrigerator
Kitchen Sink
Inside Shower
Outside Shower
Bike Rack
Toilet
Ceiling Fan
Solar
Reversing Camera
Extra Storage
Radio
Inverter
Double Beds: &nbsp1
Gas Capacity: &nbsp10 litres
Waste Tank Capacity: &nbsp70 litres
Water Tank Capacity: &nbsp82 litres
EU Travel Allowed
About the Campervan
Description of Beds: Mango has a full-size, fixed double bed (1.4m/2m) & mattress (with protector), comfortably sleeping 2 adults. There's multi-speed ventilation in the bedroom, and bookshelf and reading lights. Mango's owners can prepare him with a double duvet and pillows, freshly laundered, white cotton bed sheet, duvet cover, pillow cases, and blankets.

Description of Seating: Mango has two belted seats in the front (including driver) with armrests and headrests, which spin round to face a big, comfy bench seat (no seat belt) for one in the living area. The fold away table is big enough for 3 people to eat dinner together inside, 4 outside.

Description of Electrical Setup: Mango is built to be off-grid so you won't need to plug in anywhere for power (handy for park ups away from it all and last minute campsite bookings - where electric hook-up availability is rare). The 2 x 100 amp leisure batteries are charged by 270 watts of solar power (on Mango's roof) and by battery-to-battery charger (while you're driving). There are 2 x regular (240v) plug sockets, and 3 x usb charge points (plus 2 in the cab when driving). Externally there is an electric hook up point if on a campsite or visiting friends, but this has not been needed, even in winter.

About the area: Mango is parked on a quiet residential street in the UNESCO World Heritage Village of Saltaire, a short drive from Leeds (30 mins), Bradford (15 mins), and local airports Leeds Bradford (25min) and Manchester (1hr20mins). It's the perfect location for going off (grid) to explore the Yorkshire Dales National Park (30 mins), the Lake District (1hr30mins), the Peak District (1hr) and beyond (Scotland is 4hrs+).

Parking: If you drive to collect Mango, you are welcome to leave your car in his normal spot. There are no restrictions. If you come by train, Mango's owners will be able to pick you up from Saltaire train station. For an additional fee, they can take Mango to meet you at Leeds Bradford airport or Manchester airport.

Cooking Equipment: Mango comes fully equipped with a fridge, ice compartment, 2-ring gas hob, and quality kitchenware, including: frying pan, stacking steamer pans, stovetop coffee pot, kettle, colander, cutlery, 2 plates, bowls, mugs, tumblers, wine glasses, a mango wood serving bowl, wooden bread board, chopping boards, tongs, bread knife, 3 sharp knives, peeler, tin opener, bottle opener / corkscrew, USB lighter, spatula, serving spoon, slotted spoon; some essentials to get you going - tea bags, coffee, milk (w/plant-based option), sugar, olive oil, salt & pepper; and stuff to keep him clean - sponge / scourer, cloth, tea towels, wipes, washing up liquid, hand soap, washing up bowl, small dustpan and brush and 2 bins and bin bags.

Water and Sanitation: Mango has an 82 litre water tank (hidden underneath) which is perfect for off grid adventures. He has an indoor shower, in a private, ventilated cubicle inside the main living space, which also houses a Dometic portable toilet. Plus there's an outdoor shower out of the garage for rinsing down after the beach or hosing your bike or walking boots, and a full size sink in the kitchen area for washing up. All taps run cold, and hot - powered by an easy-to-use combi-boiler, which runs off LPG (gas) in an underslung tank, out of the way. Mango's owners will fill with LPG before you take him out. The water tank holds drinking water, and comes with a 10m drinking water hose and attachments allowing you to fill up easily.

Audio Equipment: Mango has a built-in stereo in the dash, with speakers in the front and two more in the living space. Blue-tooth is available so you can play your own music.

Heating & Ventilation: Mango is centrally heated by a thermostatically controlled Truma 4e combi-boiler and vents around the van, which allow you to set the temperature, at any time of year. It's super-easy - reach the dial while in bed, and hit 21C in 10 mins. A vent (and clothes line) in the shower room dries towels and clothes within a few hours. Ventilation is provided by a 10-speed MaxFan Deluxe roof fan - which runs quietly, even if it's raining outside (no steamed up windows) - and a large operable skylight which lets light flood into the living space (with built-in bug and blackout screens). The cab has air-con for when driving.

Extra Information: Mango was designed and built with outdoor enthusiasts in mind - off grid capability (onboard water & waste water storage, indoor & outdoor showers, no need to plug in for power) and heaps of secure garage space (enough to store a combo of 4 full-size MTB or road bikes, and still leave space for bags, helmets, climbing gear, walking boots….) all out of sight, with additional deadlocks to maximise security. Despite his size, Mango is easy to drive, and comes with a reverse camera. You can park him in a supermarket car park with his nose sticking out. But watch out for height restriction barriers!

Conversion Story: Mango began life with an exhibition stand company carefully delivering to customers like BMW at trade shows on the continent. But only for two months, until lockdown hit. His owner bought him after a long and careful hunt, and Mango was lovingly converted by Yorkshire's finest trades, each a specialist in their field - cabinetry, auto electrics, gas safety installations, caravan water services. His units are built in birch ply, and fabrics and furnishings were carefully chosen with the help of an interior designer. All parts and equipment are of the highest spec, chosen for quality, safety and reliability, and installed and tested regularly by professional trades.
Pick up / Drop off Times
| - | Pick up | Drop off |
| --- | --- | --- |
| Sunday | 6:00AM - 6:00PM | 6:00AM - 6:00PM |
| Monday | By arrangement | By arrangement |
| Tuesday | By arrangement | By arrangement |
| Wednesday | By arrangement | By arrangement |
| Thursday | By arrangement | By arrangement |
| Friday | 12:00PM - 6:00PM | 12:00PM - 6:00PM |
| Saturday | 6:00AM - 6:00PM | 6:00AM - 6:00PM |
Note: Campervan Hire prices are per 24 hours. The default pick up and drop off time is 2pm. If you request a pick up or drop off outside of this, the owner will quote you for the additional time. Typically this is £12.50 per additional hour.
When would you like to go?
Sorry, there was a problem...
Vehicle Spec
Vehicle Type: Campervan
Make: Citroen
Model: Relay
Year: 2018
Vehicle Length: 6.3 metres
Vehicle Height: 2.8 metres
Transmission: manual
Fuel Type: diesel
Fuel Efficiency: 31 mpg
Registration: emailed when you book
Note: The hire of this vehicle is arranged by Quirky Campers ltd acting as the agent on behalf of Mango's owners. We make every effort to ensure that all the vehicles listed with us are of a high standard but cannot guarantee the condition of the vehicle. If you experience any problems please notify us as soon as possible.