Embla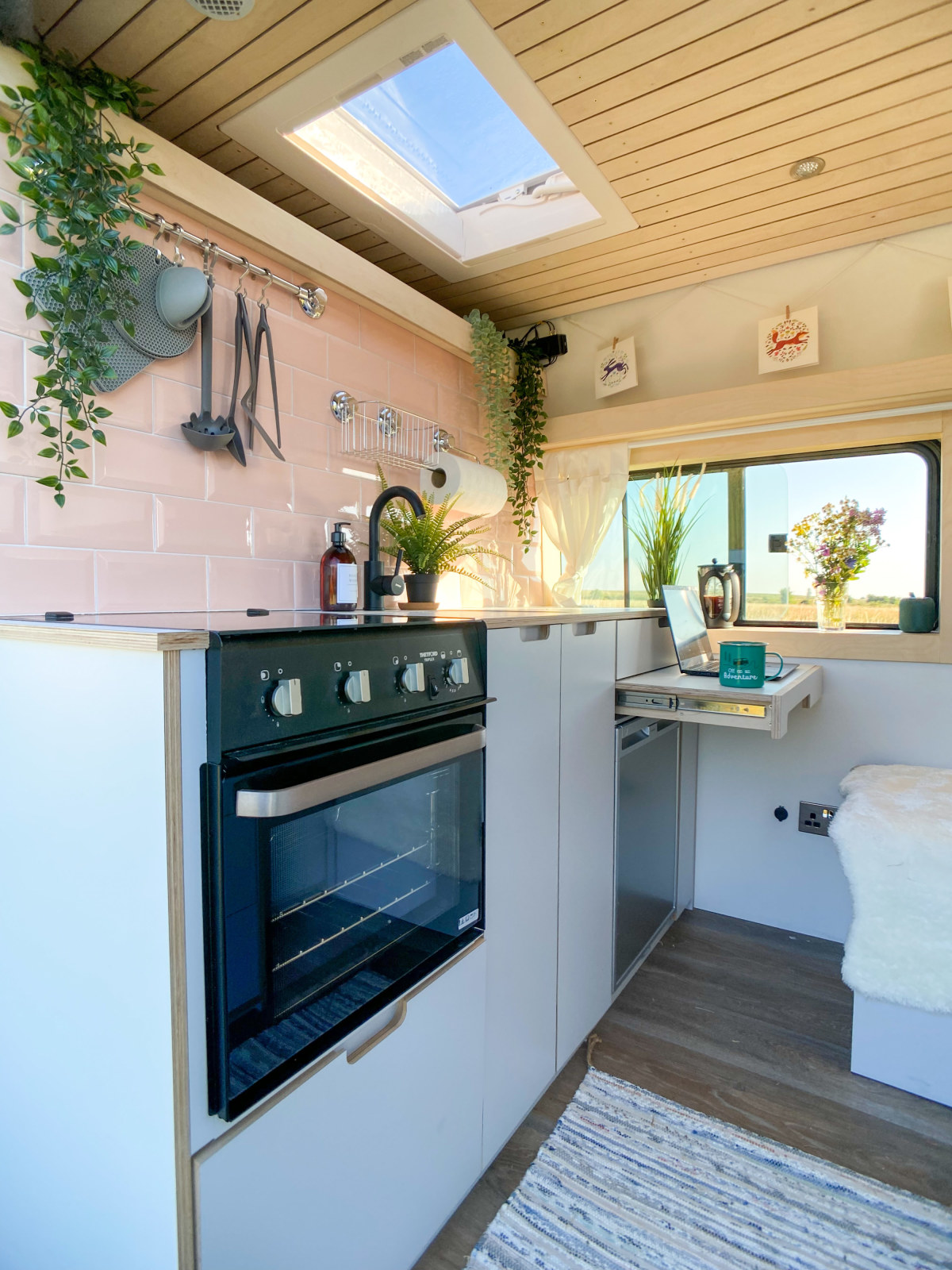 London
3 Belted seats 2 Adult berths
Seeking the perfect campervan to whisk that special someone away? Your search is over. Meet Embla, a scandilicious pet-friendly camper located in London. Every inch of Embla has been crafted to inspire peace and tranquillity, down to the very last detail; from the soothing whitewashed walls designed to provide you with a light and airy atmosphere to the hanging fairy lights which create ambient lighting. Embrace slow mornings from the comfort of your very own double bed. Open up the rear doors and enjoy the gentle breeze as you take in breathtaking views.

Consider yourself a foodie? Embla's stylish kitchen will inspire you to take your tastebuds on an adventure of their own. Whether you're parked in the forest, foraging your ingredients or by the beach cooking fresh seafood, Embla has everything you need to perform culinary magic. There's an oven with three gas hobs, a selection of pots and pans and a refrigerator where you can store leftovers. Picture cosying up by a roaring fire with a delicious home cooked meal and a chilled glass of your favourite wine - dreamy!

Fully equipped for off-grid and campsite getaways, Embla has everything you need to stay comfortable on the go including a toilet, an impressive solar set-up and a heater for those chillier nights. There's even an outdoor shower so you can freshen up the way nature intended it.

Trust us one night in Embla will leave you floating on air.
Essential Information
Hob
Heater
Dining Table
Oven
Refrigerator
Kitchen Sink
Outside Shower
Toilet
Wifi
Solar
Reversing Camera
Extra Storage
Inverter
Pet Friendly
Double Beds: &nbsp1
Waste Tank Capacity: &nbsp10 litres
Water Tank Capacity: &nbsp60 litres
EU Travel Allowed
About the Campervan
Description of Beds: Embla sleeps up to two people and a dog in a fixed standard small double bed (120cm wide and 190cm long) on a comfy Emma mattress.

Description of Seating: Embla has three belted seats in the front (including diver) with headrests. Inside there is seating for two adults (single seat which pulls out to convert to a double bench).

Description of Electrical Setup: Embla has full offgrid capabilities, ideally suited for rugged adventures away from civilisation with 220Ah leisure batteries (with battery monitor), DC-DC charger to charge the leisure battery automatically when driving, 250W inverter for AC powered appliances (e.g. laptops) and 2x200W solar panels. It also has a mains charge for mains hook-up, making it equally at home at campsites.

There is a single plug socket and two USB ports in the main living area, and a USB in the bedroom. Lighting is not an issue with two ceiling spotlights in the living area, one in the bedroom, a separate reading light in the bedroom and LED strip lights in the garage. Plus obligatory #vanlife fairy lights around the bed and separate solar powered fairy lights that can be set up outside for the ultimate cosy feeling.

About the area: Embla lives in zone 2 in South East London, only a two-minute walk from the nearest overground and train station, and on the A2 which makes getting out of London easy (and avoids the need to drive around narrow residential streets).

Parking: Embla is parked in a car park, just a two-minute walk from the nearest overground and train station. There is free on street parking locally, and parking can also be booked in advance in the car park where Embla lives.

Cooking Equipment: Embla is equipped for culinary adventures and has everything the modern foodie could need to prepare a delicious meal after a day hiking the local hills, or just lazing around a campsite with friends, including a Thetford Triplex with three gas hobs and an oven, two saucepans and two frying pans, cutting boards, two sharp knives, grater, scales, colander, wine opener, kettle and mixing bowls. When you are ready to eat, sit down with a full set of melamine plates and bowls for two people, wine glasses, cutlery, mugs, glass tumblers and of course two traditional tin camping mugs for a post dinner cup of tea in front of the campfire. For the coffee connoisseur, Embla will come with enough light roast coffee beans to get you started, as well as a manual grinder and a cafetiere.

Every chef knows that quality ingredients are invaluable, and Embla has a larger than average fridge/freezer to make sure those ingredients (and the post dinner beers) stay as fresh as possible.

Water and Sanitation: Embla has a 60l freshwater tank to make sure you don't run out on off grid adventures, with a 10l removable grey water tank under the sink which needs to be manually emptied. The freshwater tank supplies hot and cold water to the sink via a pump, and if you need to rinse off after a long day of exploring, why don't treat yourself to a hot outdoor shower, making the most of Embla. Embla also comes with an optional PortaPotti (as an add on).

Audio Equipment:. Embla comes with a waterproof Bluetooth speaker so you can play your own music. A projector and screen are also available as an add on to complete your outdoors cinematic adventure.

Type of Heating: For year-round adventures, Embla has a Truma Combi Combination Boiler and Space Heater, keeping it nice and toasty even on a cold winter day. The heater can operate off either gas (for offgrid adventures), or mains plug in at campsites.

Conversion Story: In the dark days of Covid lockdown, Embla's Scandinavian owner started dreaming of offgrid adventures and freedom in the form of a bespoke van. A van that could take her and her four-legged companion across the UK and beyond in comfort all year round, without relying on campsites and internet cafes to work.

With the help of some lovely local converters and many hours pondering design features and drawings, Embla was completed in early 2022. Embla embodies Scandinavian "friluftsliv" and adventure, and combines Scandi chic with hygge, comfort with practical solutions, and space and airiness with storage (and then some more storage). With Wi-Fi, heating, hot water, an outdoor shower, a full kitchen, and a fixed bed, Embla is everything you could want after a long day of hiking and gives you freedom to explore at your own pace.
Pick up / Drop off Times
| - | Pick up | Drop off |
| --- | --- | --- |
| Sunday | 12:00PM - 9:00PM | 12:00PM - 9:00PM |
| Monday | 7:00AM - 9:00PM | 7:00AM - 9:00PM |
| Tuesday | 7:00AM - 9:00PM | 7:00AM - 9:00PM |
| Wednesday | 7:00AM - 9:00PM | 7:00AM - 9:00PM |
| Thursday | 7:00AM - 9:00PM | 7:00AM - 9:00PM |
| Friday | 7:00AM - 9:00PM | 7:00AM - 9:00PM |
| Saturday | 9:00AM - 9:00PM | 9:00AM - 9:00PM |
Note: Campervan Hire prices are per 24 hours. The default pick up and drop off time is 2pm. If you request a pick up or drop off outside of this, the owner will quote you for the additional time. Typically this is £12.50 per additional hour.
When would you like to go?
Sorry, there was a problem...
Vehicle Spec
Vehicle Type: Campervan
Make: Peugeot
Model: Boxer
Year: 2018
Vehicle Length: 5.4 metres
Vehicle Height: 2.75 metres
Max Laden Weight (MAM): 3500 kg
Payload: 460 kg
Transmission: manual
Fuel Type: diesel
Registration: emailed when you book
Note: The hire of this vehicle is arranged by Quirky Campers ltd acting as the agent on behalf of Embla's owners. We make every effort to ensure that all the vehicles listed with us are of a high standard but cannot guarantee the condition of the vehicle. If you experience any problems please notify us as soon as possible.