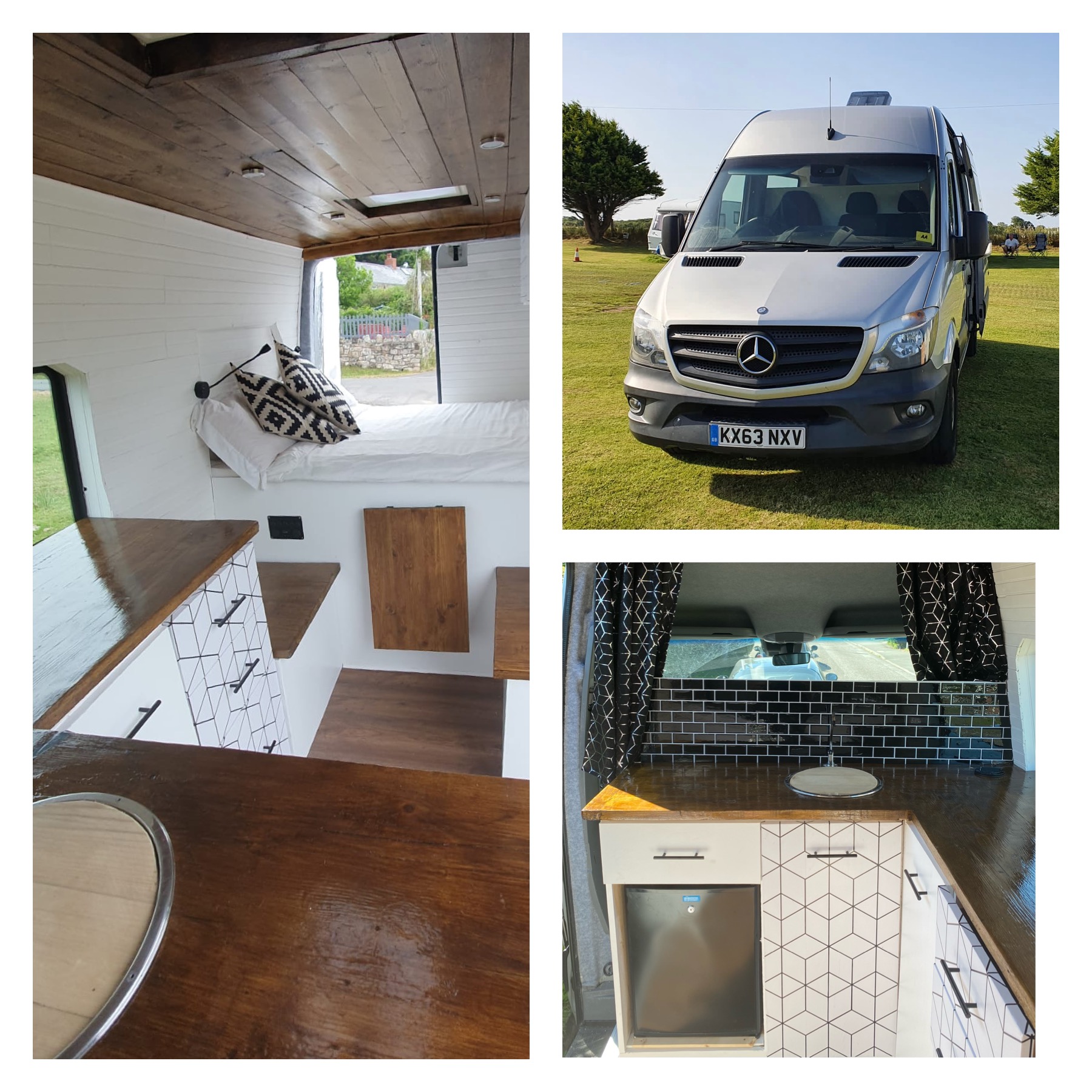 £26,000
Mercedes Sprinter 313 MWB
111,000 miles
Vehicle Description
Meet Benzel Washington – the lovingly converted 2013 silver Mercedes Sprinter 313 CDI 2.2 diesel MWB with high roof (plenty of space to stand up).
Manual transmission with 6 gears plus reverse.
110k miles on the clock.
MOT up to October 2021.
Includes :
– Spare tyre
– Bluetooth connectivity
– Lane assist
– Automatic lights
– Reverse sensors and camera
– 3 belted seats
Beds Description
Small double fixed bed (180 x 130cm)
Conversion Description
External
– 2 x large windows into living area to maximise natural light
– 2 x Fiamma skylights (46.5 x 47cm). One above the bed, one above the kitchen. Allows natural light to come in, let's out cooking smells and keeps van cool in summer.
– 240v electric hook up point
Materials and Insulation
– Walls, floors and ceilings fully insulated and covered in sound deadening panels to reduce noise
– Walls and ceiling covered with wood tongue and groove
– All remaining exposed metal inside van covered with carpet
– Dark laminate flooring
Kitchen
– 40l fridge. This can run off 12v or 240v and is completely silent so won't wake you up in the night
– Sink with drinking tap
– Handmade solid wood worktops made from reclaimed boards
– Bespoke cabinets. 4 drawers and large cupboard to provide lots of storage space
– Pop up electrics point with 3 x 240v plugs and 2 x USB ports
– Electric hot plate included for cooking
– 25l water container with electric pump
– 25l grey water tank
– Splash back with black and white vinyl tiles
Living Space
– 2 x box seats with storage space underneath
– Folding table
– Switches to control all appliances plus extra USB port
Sleeping Space
– Fixed small double bed (180 x 130cm) with new memory foam mattress
– 2 x reading lamps
– Storage space in the door for phones/books
– Large cabinets above to provide more storage
Garage
– Fixed bed provides ample storage in the garage below
– Garage lined with vinyl flooring
Electrics
– 2 x 120ah deep cycle leisure batteries
– EPEVER 20A MPPT solar charge
– CTEK MXS 5.0 battery charger
– 1000W pure sine wave inverter
– 2 x 100W mono-crystalline solar panels (200W total)
– Split charge relay
– 6 x LED lights with lights switch by the door
– Electric pop up in kitchen with 3 x plug sockets and 2 x USB
– Switches to control all appliances plus additional USB port
Benzel is currently registered as a light goods vehicle with the DVLA. We're in the process of trying to get this changed.
We're open to offers and willing to deliver once a deposit is taken. Any questions, please ask 🙂
Registered Vehicle Type
Other - see description for explanation
Base Vehicle Condition
Used
Converter Type
Self Build - Handcrafted Start-up
Maximum Weight (MAM or MTPLM)
3,500kg
Unladen Weight Verified?
YES - the vehicle has been weighed since completion
Gas sign-off supplied
Gas free
'We like the style' means that Quirky Campers would approve it for hiring but you must still check that the gas, electrics and weight were done properly. For some tips on what to look out for read this. If the listing has no Gas Safe certificate, no unladen weight and no electrical sign-off please proceed with caution!
Please note: Quirky Campers do not inspect the listings for accuracy or check campervans in person. We have asked sellers to provide evidence of certificates and paperwork however you MUST check yourself that the information provided is present and correct. You will need to exercise the normal due diligence when buying any vehicle.