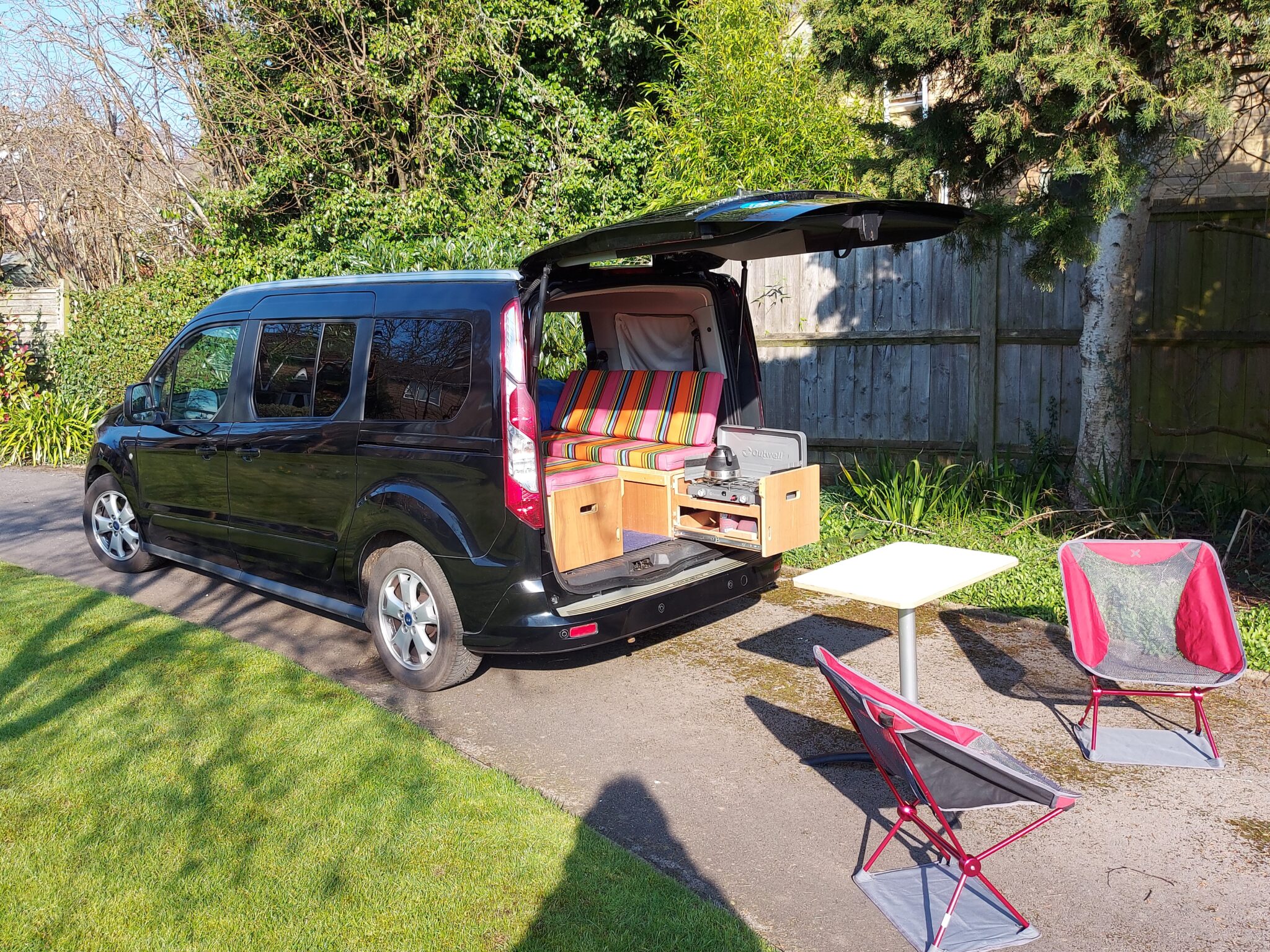 Sold
Vehicle Description
1560 cc Diesel, Euro 5, CO2 130 g/km, 6 gears, 45 mpg, full service history, excellent condition, MOT till October 2021
Conversion Description
Two berth mini camper based on Ford Grand Tourneo Connect Titanium 2014 (64 Reg). Custom conversion easily and quickly transformed in multiple configurations
Mini-camper suitable for extended holidays in all seasons with full width double bed.
The camper is equipped with leisure battery and diesel heater fitted underneath the car.
The leisure battery supplies power to:
– built in 36 litre Waeco compressor fridge,
– running water from pull out tap (15ltr water tank),
– 12vlt to 240vlt power inverter,
– LED lights and power points.
The camper comes with a 2 hob gas cooker.
There are 3 large fully extendable drawers on heavy duty runners: 2 to the rear of the vehicle and one to the side. With all doors of the camper closed, all drawers are still accessible through lids on top of the drawer units.
The van has a seating area in rear. A table top and leg are stored behind the driver's seat and can be set up in the seating area in the fitted socket, or outside with the included foot. The rear lifting tailgate can be opened from the inside with custom fitted rear handle/switch.
The seating area can be converted into a full double bed.
As this is a long wheel base vehicle the front seats can be kept in the normal driving position at all times.
Custom made 'retro' cushions covered with 'outside living' grade fabric.
Black out curtains: black outside, white inside. Fixed with unobtrusive Velcro.
The car has a panorama roof with electric blind.
The car comes with all original seats if wanted. With the conversion units bolted into the seat anchoring points, the car is easy and quick to configure into different options:
• 4 seat camper, (tap disconnected and water tank loose standing)
• 6 seat people carrier with fridge
• 7 seat people carrier (requires disassembling of fridge (reversible))
• Large load carrier (with camper units removed)
The van can be bought in the conversion configuration wanted (with or without remaining seats, all included in the price)
After lots of fun, we are selling the van with a heavy heart, whilst looking forward to starting a new conversion.
Please note: Quirky Campers do not inspect the listings for accuracy or check campervans in person. We have asked sellers to provide evidence of certificates and paperwork however you MUST check yourself that the information provided is present and correct. You will need to exercise the normal due diligence when buying any vehicle.
Make and Model
Ford Grand Tourneo Connect Titanium
Current Mileage
59,915miles
Registered Vehicle Type
Other - see description for explanation
Full double bed 190 x 120 cms, over storage space.
Maximum Weight (MAM or MTPLM)
2,330kg
Unladen Weight Verified?
NO - the vehicle has not been weighed since completion
Gas sign-off supplied
None