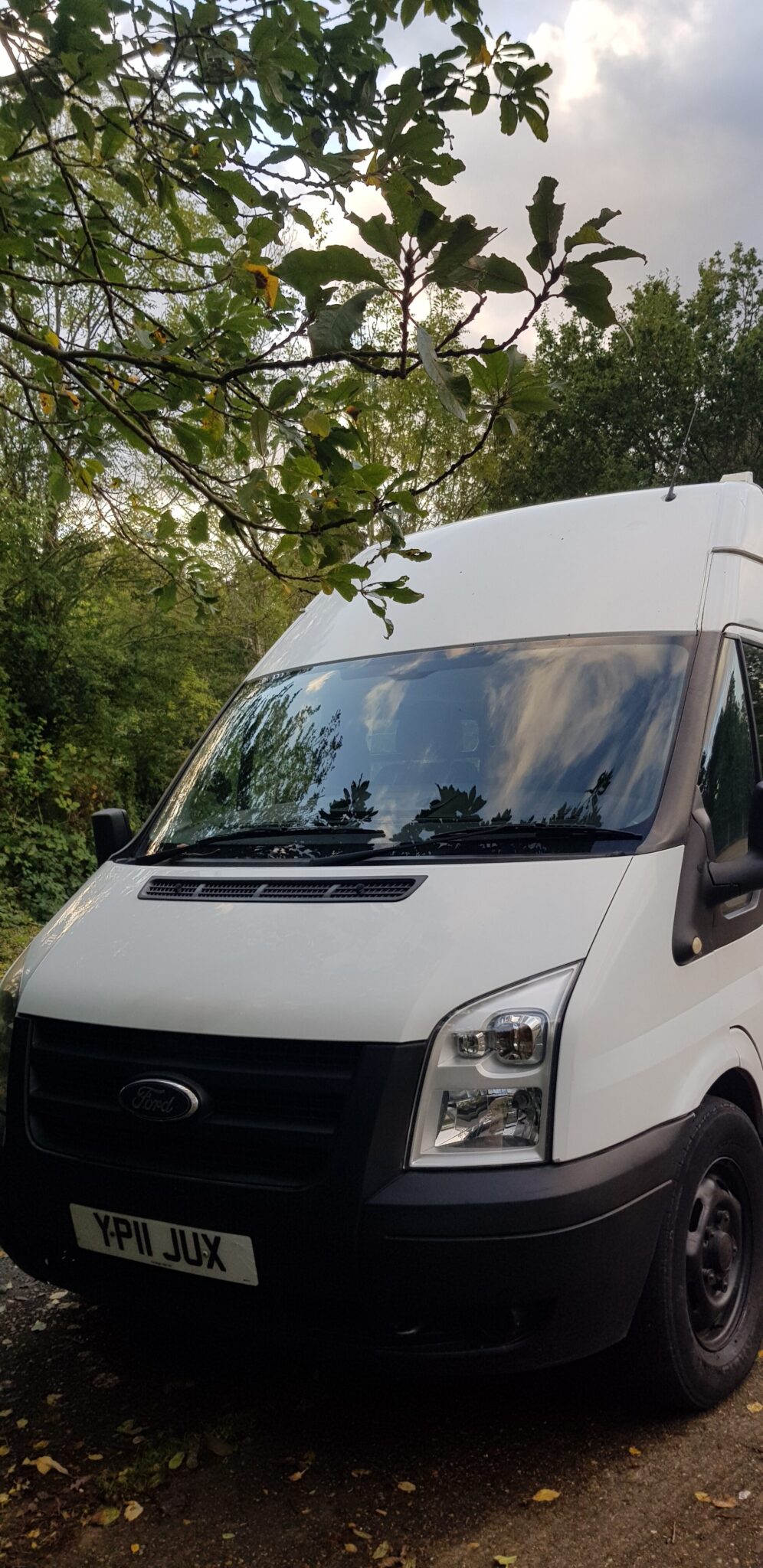 Sold
£7,500
Ford transit LWB High Top
150,000 miles
Vehicle Description
Fresh MOT valid until August 2022
2.4L diesel engine
Manual
1 previous owner
Beds Description
1 large fixed bed, 5ft × 5.8ft
Conversion Description
Custom Converted Ford Transit Camper Van (Long Wheel base – high top)
Reason for selling – We're moving to Ireland – to reregister a UK van there will cost us over €4000 due to ridiculous import tax
Fresh MOT until August 2022 (No advisories)
Engine doesn't miss a beat runs and drives very well
150,000 miles on the clock
Can show service history and receipts
Features:
– Three 100 Watt solar panels on the roof
– Victron Energy Solar Charge controller
– Two 12 volt Fullriver AGM leisure batteries
– 3000 watt inverter (Pure Sine Wave) for 240v plug outlets.
– Split charge relay (Charges leisure batteries from the Van engine running)
– Deep sink with 12v pump and tap that can double as a shower out the sliding window
– Eberspacher Diesel heater
– GPS tracker
– Wall mounted Screen (HDMI connection to Laptop)
– Thetford camping toilet
– Large memory foam mattress
– Loads of storage space under the bed accessible from the back doors
– Ceiling, Walls and Doors Insulated with organic sheeps wool
– Very Bright LED Work lamp mounted on roof (Great for camping in dark places)
– No VOC paint and wood stain (Non toxic)
Mechanical Work recently done :
– New alternator
– New Windscreen wiper blades
– New rear Brake calipers
– Oil filter and change aprox 6 months ago
Things I would change on this van:
If I was keeping this van I would probably take it to a body shop and get it resprayed, they would also remove some of the dent's but Im not willing to spend anymore cash on it as I'm selling.
The two leisure batteries I would probably upgrade to a lithium ion battery to be able to store more power as the solar doesn't pull in much power on overcast days.
I would probably add a built in stove to the wood work surface as we were cooking using a camping stove.
I would potentially add a gas powered fridge or at least a bigger one.
These things are obviously all personal preference.
The body work has some dents, nothing that effects the structure obviously as it's just past the MOT but due to this we're open to offers,
Call / text / WhatsApp – 078 2376 8984
Thank you
Registered Vehicle Type
Panel Van (meets DfT standards)
Base Vehicle Condition
Used
Converter Type
Self Build - Handcrafted Start-up
Conversion Condition
Used - Excellent
Maximum Weight (MAM or MTPLM)
3,500kg
Unladen Weight Verified?
NO - the vehicle has not been weighed since completion
Gas sign-off supplied
Gas free
Please note: Quirky Campers do not inspect the listings for accuracy or check campervans in person. We have asked sellers to provide evidence of certificates and paperwork however you MUST check yourself that the information provided is present and correct. You will need to exercise the normal due diligence when buying any vehicle.