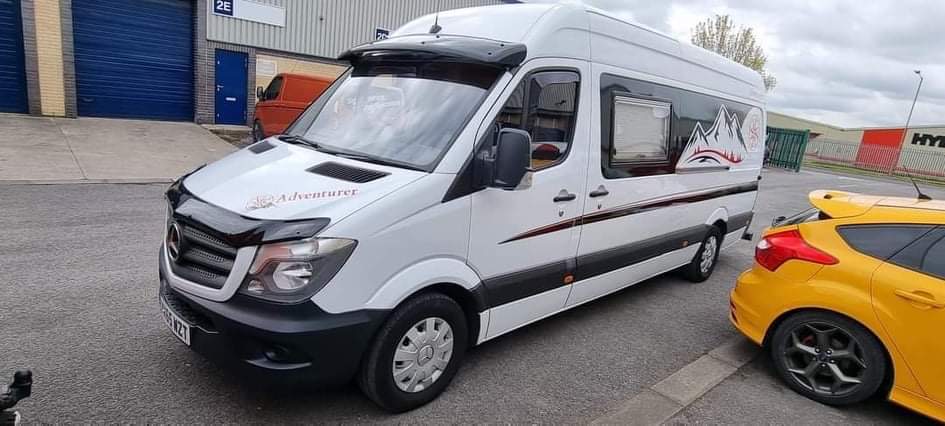 Vehicle Description
2016 Mercedes 313 campervan totally unique nothing out there like it
The timber used is all locally sourced and sustainable timber milled in Sunderland on my saw mill, A mix of western red Ceder, larch and oak make up most the interior of the camper and the floor is mixed british hardwoods.
The interior walls and roof are clad and trimmed with western red ceder, this timber is resistant to insect and fungal attack and looks great .
The bed is framed with oak for strength and the lats for the bed are larch.
All the surfaces , doors, draws and bathroom are also western red ceder, it looks heavy however it' weighs a lot less then the alternatives ie pine and manufactured board and again a lot more attractive.
The floor is a mix of british timbers cut , sanded then glued into place , then to finalize , crystal cast resin poured over the entire floor, I have never seen this anywhere else so it's one of a kind.
The handles in the camper are hand made by me from elm.
Nothing timber in this conversion is factory made or shop bought.
The van has a built in waste and water tank, end bathroom with toilet & shower drop down sink, storage full breakfast bar no stools never got round to building any, full oven, fridge,hob,sink, hot & cold water, solar panel, split charging system 3000 watt , Inverter with remote, 12v television no Arial but are cheap of ebay, this is a total one of build the miles are 133000 has six speed gear box runs and and drives very well would make and ideal full timer van of the grid etc body work is very clean got age related marks here and there just want to be honest I'm based in Sunderland can deliver anywhere in the UK £26000
Registered Vehicle Type
Other - see description for explanation
Base Vehicle Condition
Used
Converter Type
Self Build - Handcrafted Expert
Maximum Weight (MAM or MTPLM)
3,500kg
Unladen Weight Verified?
YES - the vehicle has been weighed since completion
Gas sign-off supplied
None
Please note: Quirky Campers do not inspect the listings for accuracy or check campervans in person. We have asked sellers to provide evidence of certificates and paperwork however you MUST check yourself that the information provided is present and correct. You will need to exercise the normal due diligence when buying any vehicle.