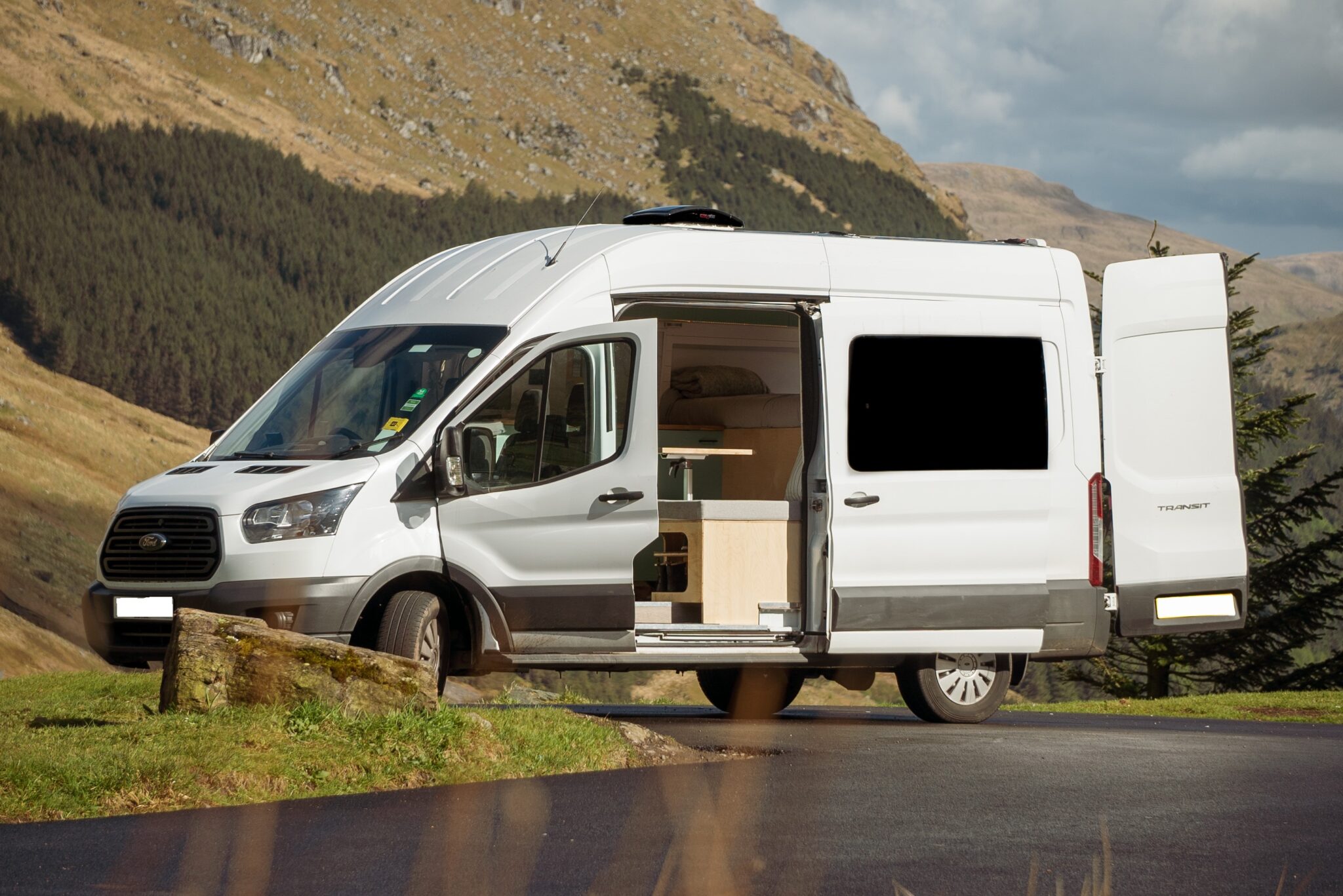 Vehicle Description
White Ford Transit 2017
– MOT Valid – Sept 2021
– Low mileage – 67,000
– Rear-wheel drive
– Engine and bodywork in good condition
– Cab area is clean and in excellent condition. 3 belted seats.
– Engine immobiliser
– Hillstart Assist
– Reverse Camera installed
– Spare tyre included
– Engine size 2.0
– Fuel Type: Diesel
– Number of Gears: 6
– Side window installed
Conversion Description
Bright modern clean design in an all-electric functional camper van. This van was designed for off-grid wild camping with enough storage for extended bike/ski/climbing trips but has all the comforts of home. Use power as if at home; Cook breakfast with Induction hobs and toaster, make tea or coffee with a kettle, then plug in your hairdryer and get ready for the day after a hot shower. This is all enabled by the massive 100% Lithium battery bank, all the tech specs for the power system are listed below.
We left the cab open to let maximum light flow through and for the comfort of not having to leave the van to reach the cab. The van has been completely insulated with closed-cell spray foam insulation and sound deadened.
Maxx Air fan, Dometic CRX50 fridge/freezer, and functional kitchen space with hot and cold water sink, oak butcher block countertop and 2 portable induction hobs make life on the road a breeze. We've also added a pull-out recirculating shower system and a dry toilet as well as a diesel heater. There's a ton of stuff packed into this van to enable the functionality, driving and parking ease of a smaller van with all the comforts of a big one! There's even a pull-down projector screen and projector for movie nights on the road! We've had lots of fun designing our perfect adventure vehicle and are ready to find the new owners for this tiny home on wheels.
All the tech stuff…..
ELECTRICS/LIGHTING
– LITHIUM Lifepo4 272Ah X 8 | 24V Pack | 6.5Kwh
– For reference, this is equivalent to almost 600Ah of 12v lithium batteries
– Or 1200Ah of 12v AGM batteries
– 400W solar (room for another 100w panel on roof)
–All in one MPPT Inverter Charger 60A Solar, 60A Shore, 3Kw Inverter (PureSine)
– Victron DC-DC 12-24V 30a Charger
– Mains hookup
– 240v Double Socket in Kitchen
– 2x 12v double USB sockets
– 2 Zone LED Puck Lights with dimmer touch control
_ Dimmable warm white under cabinet lighting with 2.4ghz touch remote
– Dimmable LED strips in the garage also on touch control
WATER/HEATING
ALL ELECTRIC, NO GAS!
– 72-litre underslung freshwater tank with lockable filler cap
– 32-litre underslung waste water tank
– Level indicator for both tanks
– 12v Shurflo water pump – Main Water system
– Fiamma expansion vessel
– Trauma Therme TT2 Water Heater (Electric and or Diesel)
– 5Kw Diesel Heater
– 12v Shurflow water pump and Filter system for recirculating shower
– Under Floor Heating
KITCHEN
– Pull out pantry with useful food storage, large cupboard with 3 shelves, 2 drawers, under sink cupboard, 4 large overhead cupboards.
– Dometic CRX50 Fridge/Freezer
– 2x portable induction hobs
– Slide-out drawer with bins, recycling and composting.
– Solid oak butcherblock worktop
– Splashback
– Drinking water tap and filter
– Silver stainless steel sink with mixer tap
– Lagun Mount table with oak worktop, able to move to a variety of positions
– Kitchen nooks to hold washing up utensils, decorated with mirrors
SHOWER/TOILET
– Dry composting toilet built into the bench seat. We wanted a chemical-free option for off-grid camping, but there's plenty of space to swap to a portapotty if that's more your style!
– Pull out shower Tray
– Recirculating shower system
BUILD
– Fully insulated with Closed Cell Spray Foam Insulation to provide warmth and a vapour barrier
– Sound deadening
– Walls and ceiling are painted shiplap panels.
– Floor luxury vinyl tile
– Furniture is made with Marine grade ply.
– 1x opening tinted window in the seating area
– Deluxe Maxx Air Fan (with remote thermostat)
– Fixed King sized bed with memory foam mattress
– Pull down blinds
GARAGE
– Large open garage space
– Handlebar hooks for 1 bike
– Storage can be designed upon request to your needs
EXTRAS
– Reverse Camera
– Projector
– Carbon monoxide detector
– Fire Extinguisher
Please note: Quirky Campers do not inspect the listings for accuracy or check campervans in person. We have asked sellers to provide evidence of certificates and paperwork however you MUST check yourself that the information provided is present and correct. You will need to exercise the normal due diligence when buying any vehicle.
Current Mileage
67,000miles
Registered Vehicle Type
Panel Van (meets DOT standards)
Fixed bed with a King Sized memory foam mattress.
Maximum Weight (MAM or MTPLM)
3,500kg
Unladen Weight Verified?
NO - the vehicle has not been weighed since completion
Gas sign-off supplied
Gas free