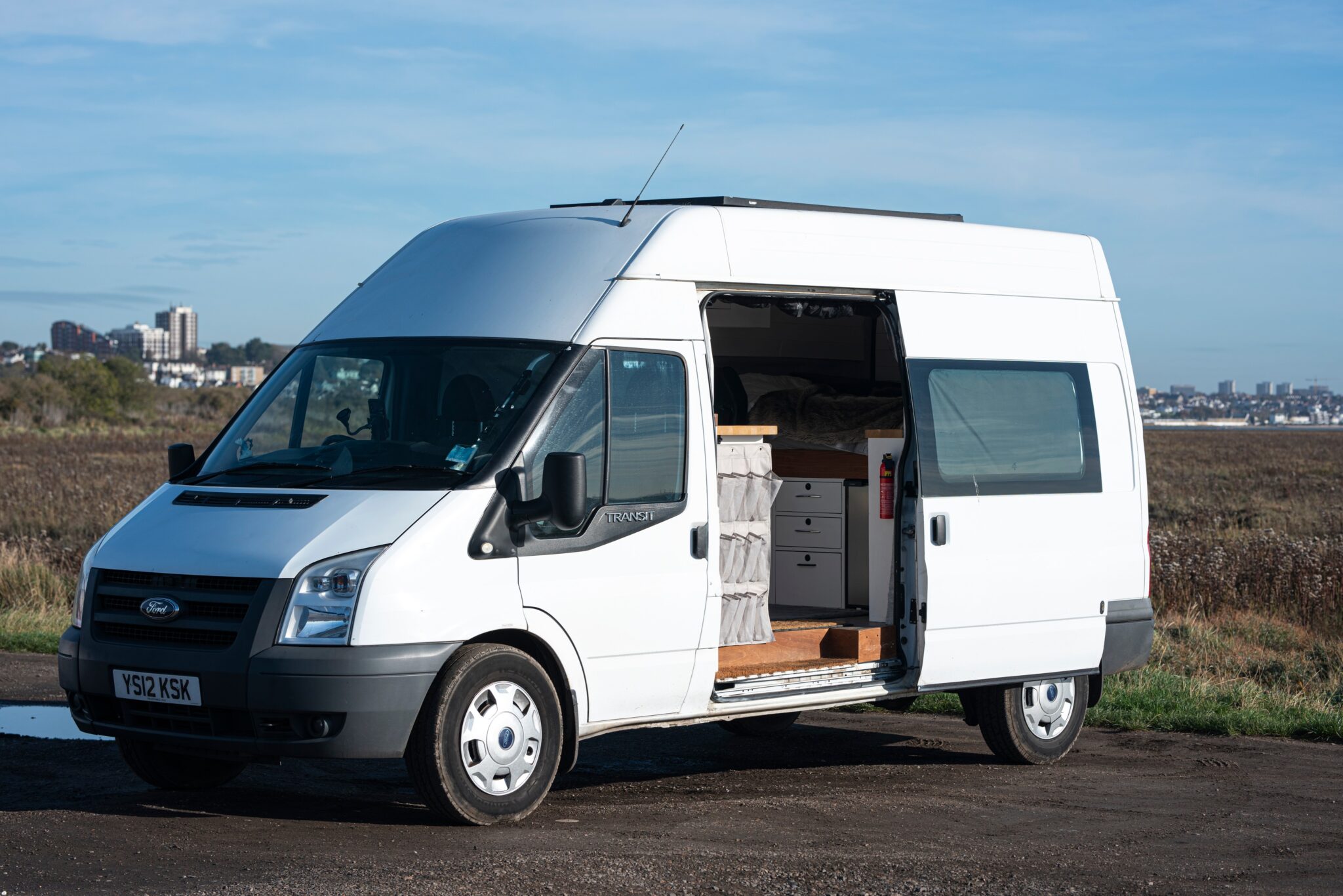 Vehicle Description
– Full Service history & 12 month MOT (MOT passed 16th Nov 2021)
– Engine size: 2198 CC
– Fuel Type: Diesel
– Fuel capacity: 80L
– Urban / Extra Urban MPG: 29.1mpg / 36.2mpg
– Fuel Consumption: 33.2mpg
– Gears: 6
– CO2 emissions: 224g/km
– Good condition engine & bodywork
Beds Description
Fixed double bed (1.39m x 1.77m) with custom-sized, thick 2 layer soft memory foam mattress on top of firmer denser foam so you'll never have to worry about comfort. There is also a Silentnight Airmax mattress topper which can be removed depending on your preferences.
Conversion Description
This is a custom conversion of a 2012 LWB high roof Ford Transit van, only 78,000 miles on the clock that comes with the following:
1. 5 seats with seatbelts (3 in the front).
2. 80L Dometic fridge with freezer compartment.
3. a 2 ring gas hob running off 6kg propane bottle stored in a chamber with a drop vent.
4. Autoterm (Planar) 2kw diesel heater, which has only been needed in the extreme cold.
5. Whale electric tap with 20L clean and waste water storage.
6. 350w solar panel. I haven't woken up with less than 100% battery recovered.
7. Full high specification and tidy Victron Electrical system, complete with 160Ah LiFePO4 smart battery system with Safety VE Bus BMS Battery monitoring system.
8. Low energy consumption LED strip lights throughout the interior.
9. Four 240v house plug sockets connected to the 800w inverter. We both work remotely and relied on this system to power our laptops, only having to keep an eye on energy use on cloudy days in the dead of winter.
10. Excess power from the alternator also charges the Victron battery. All the charging, solar and power consumption can all be tracked in real time on your smart phone using bluetooth.
11. SmarTrack S7 Trident Thatcham Approved GPS Tracker is fitted. It connects to an app so you can check the vehicle's location at all times. It's a fantastic service, and worth it for the peace of mind. You will even get notified if the vehicle moves without your keys in the ignition.
12. Side and rear Deadlocks to give an extra level of protection when you're not with your van, making breaking in harder. There is an external keysafe, and also a basic steering lock, every visible deterrent is vital in protecting your vehicle. If the worst is to happen, the tracker will help recover your van and aid in the police in finding it.
OTHER NOTABLE ADDITIONS:
– While the van has been heavily insulated with Eco Therm and also for when it's really cold a Autoterm (Planar) 2kw diesel heater (one of the best on the market) has been installed & directly connected to the fuel tank which is perfect for the colder Winter months.
– Custom-sized, thick 2 layer soft memory foam mattress on top of firmer denser foam so you'll never have to worry about comfort. There is also a Silentnight Airmax mattress topper which can be removed depending on your preferences.
– Reversing sensors have been fitted to help with parking.
– Thetford portable toilet (Porta Potti 335) with 10l capacity – completely new & unused with unopened 2 litre bottle of Elsan Organic Toilet fluid (biodegradable & free from harsh chemicals).
– All the overhead cupboards have interior lights which makes searching around for items so much easier.
– Custom sewn magnetic window coverings with thermal blackout fabric wrapped around sheets of bubble foil insulation which keeps the van warm in winter and cool in summer. The cabin & van separator has also been sewn with the same materials.
– There is a retractable windshield attachment that helps keep the front cab cool in summer.
– The skylight above the bed has an insect mesh and a handle which opens up for ventilation.
– Magnetic mosquito net attached to the side door helps keep the bugs out while you enjoy the scenery.
– There is also a hammock hanging point above the bed so you can tie your hammock to a tree and your van to make the most of any views you're parked by.
– A mini USB clip fan helps keep you cool in summer wherever you're located in the van.
– Customised shoe storage organiser at the entrance can also be used to store other knick-knacks.
– Small cordless rechargeable vacuum cleaner makes it easy to keep the van tidy.
– Storage net attached to the backdoor next to the bed helps store your phone & other small bedside accessories.
– Caravan leveller ramps for the times you need to park on uneven terrain.
– Grey blackout curtains to separate the bed from the rest of the space.
– Carbon monoxide alarm & smoke alarm both with a 9 year battery life (it was 10 years but it's already been used for a year!). There is also a 950g AA Fire Extinguisher by the kitchen for safety
– Foldable wall hooks in convenient locations and spares provided if you wish to add more yourself.
– Good sized mirror next to the bed which is perfectly positioned for any skincare routine or checking your clothes.
– The floors are oak plans, the work tops are oak blockboard, the joinery is birch plywood, the step is Balau wood, the side panels for the bed are Ipe timber and the cladding is Scots pine.
My partner & I bought this van so we could live & travel across the UK in her during the pandemic and we've had an absolutely amazing year as a result. We'll be sad to see her go, but our plans to move abroad mean we can no longer keep her but we hope she'll get to go on more amazing adventures with someone else.
We are open to sensible offers and genuine inquiries & happy to arrange viewings.
See you soon!
Registered Vehicle Type
Panel Van (meets DfT standards)
Base Vehicle Condition
Used
Converter Type
Professional - Handcrafted
Conversion Condition
Used - Excellent
Maximum Weight (MAM or MTPLM)
3,500kg
Unladen Weight Verified?
NO - the vehicle has not been weighed since completion
Gas sign-off supplied
None
'We like the style' means that Quirky Campers would approve it for hiring but you must still check that the gas, electrics and weight were done properly. For some tips on what to look out for read this. If the listing has no Gas Safe certificate, no unladen weight and no electrical sign-off please proceed with caution!
Please note: Quirky Campers do not inspect the listings for accuracy or check campervans in person. We have asked sellers to provide evidence of certificates and paperwork however you MUST check yourself that the information provided is present and correct. You will need to exercise the normal due diligence when buying any vehicle.