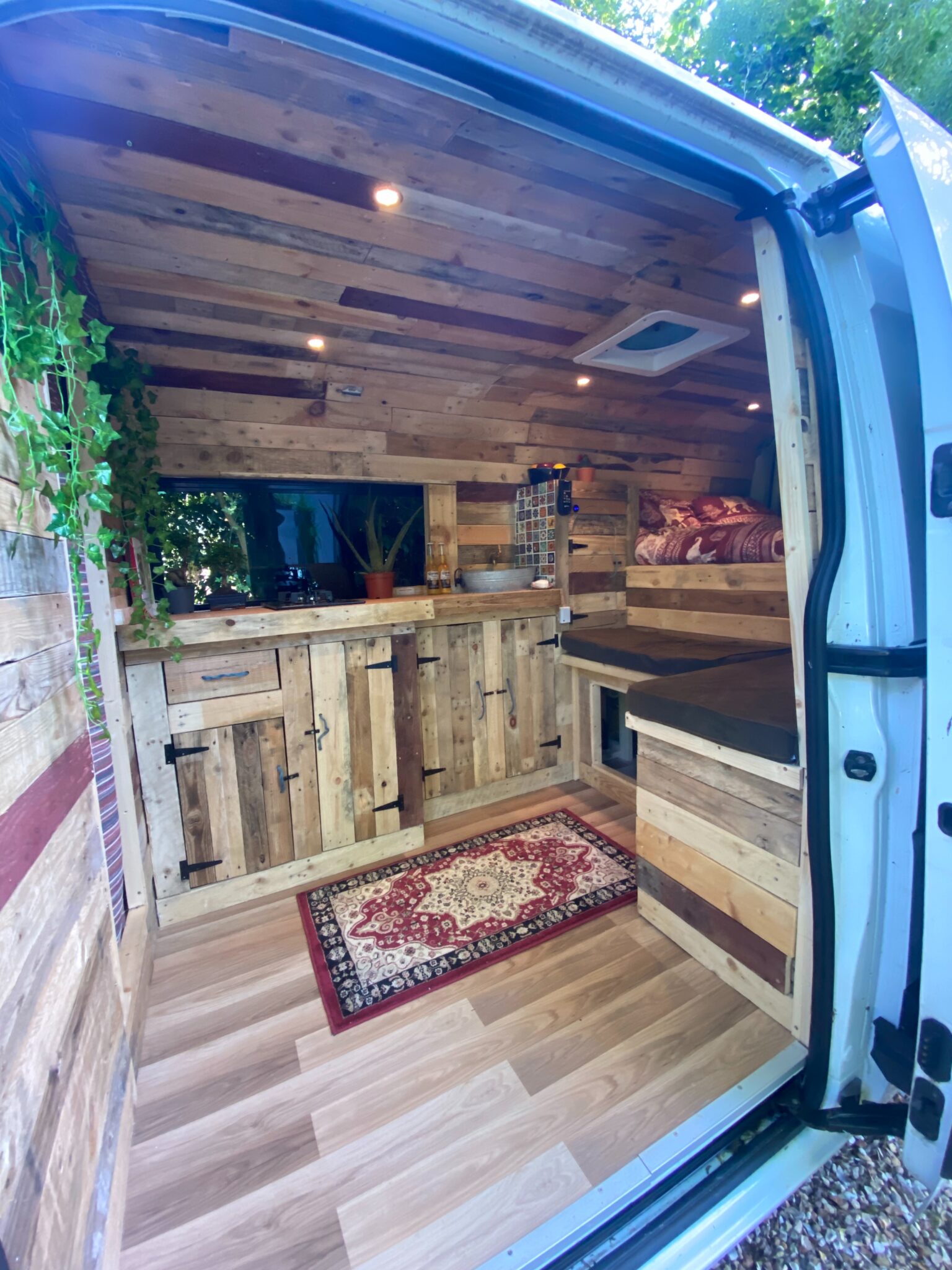 Vehicle Description
Generally this van is in excellent condition, despite a minor dent above the back left wheel (as pictured), which has since been covered up. Similarly, the engine is also in very good condition. This van was previously used to transport stationary, meaning it never had to transport anything too heavy or travel very far. The van has an MOT until 5th January 2022, and upon the most recent MOT, has had new brake pads. Additionally, this van drives very well due to its lethargic past and is easy to drive.
Engine: 2299cc, Fuel type: diesel, Number of gears: 6, MPG: 36.2
Conversion Description
Conversion Overview:
Converted over the course of the past year, this stunning camper has been built using reclaimed materials, ensuring it does not have a compromising effect on the environment. The character of this van is amplified by a variation in wood colour and red accents. It has been cladded entirely out of pallet wood which has been washed and sanded leaving it smooth to the touch and cosy. As well as being spacious a large 'L' shaped bench allows for multiple people to be seated. The subtle smell of freshly cut wood and sheep's wool incenses the space.
Kitchen:
Beneath the sink there is a 25l fresh water tank (white) and a 25l grey water tank (blue), along with a 12v cigarette port powered pump supplying the chrome tap with running water. Despite it being an old hose tap, to begin the flow of the water + to activate the pump there is a switch. To match the rustic aesthetic of the van there is a deep zinc tub, with an adjacent tiled backsplash. Sunk into the marine ply counter, there is a two burner hob which is yet to be hooked up to gas, but is fully functional with it. Along with the 4 cupboards and 1 drawer there is a lot of counter space for food preparation. There is also an opening window right by the kitchen for adequate ventilation whilst cooking.
Electrics:
The electrics in this van have been wired professionally by VanHaus. 6 touch sensitive lights along the ceiling ensure the van is well lit at all times. In the ceiling there is also a MaxX Air Fan which offers good ventilation, light and temperature control. Beneath the counter top is an LED strip to provide colour changing light at night. Additionally, there is one cigarette port in the closet, a voltmeter and a dual USB socket by the bed. There is also a 12v electric cooler accessible by the cupboard underneath the bench, which is best used when it is hooked up to the cigarette port in the cab when the engine is started due to its power-hungry nature. All of this runs off the 110 amp hour leisure battery which can be charged using a battery charger or by driving. This leisure battery is housed beneath the closet. In terms of 240v, there is an external hookup at the rear of the van below the body. This hookup feeds one singular 240v socket in the closet and a double socket which houses 2 of the 4 USB ports in the van. Also, there's a small light that runs off the vehicle battery above the kitchen area which turns on when any door is opened.
Storage:
Below the bed is a vast area to stow bikes or other belongings. This area also has a cupboard in it. There's 6 cupboards and 1 drawer so storage is not an issue. One of these cupboards is a fairly large closet with a wooden rail along the top and two large half sunk screws for clothes hanging space.
Insulation and Sound Deadening:
To keep the van warm year round and as sustainable as it can be, it's been insulated with 40mm sheep's wool with a vapour barrier to provide protection from condensation. Recycled plastic bottle insulation has also been used, primarily in the metal ribs of the van. In order to keep the van quiet, it has had sound deadening put all over it. Beneath the floor is a layer of adhesive foil insulation.
Windows and Natural Light:
The two large windows in the van are located by the kitchen area (which opens), and at the foot of the bed. There's also a MaxX Roof Vent as stated before to add to the natural light. Both windows have curtains.
Living Area:
The large 'L' shaped bench is completed with thick foam for maximum comfort and finished with recycled fake suede, meaning it is a comfortable and cosy place to relax, and making it more of a sofa than a bench. To maximise space there is storage beneath it.
Bulkhead and Access to Cab:
A large pallet wood bulkhead separates the cab from the living space except for a door way which provides easy access to the cab when the middle seat is put down.
'We like the style' means that Quirky Campers would approve it for hiring but you must still check that the gas, electrics and weight were done properly. For some tips on what to look out for read this. If the listing has no Gas Safe certificate, no unladen weight and no electrical sign-off please proceed with caution!
Please note: Quirky Campers do not inspect the listings for accuracy or check campervans in person. We have asked sellers to provide evidence of certificates and paperwork however you MUST check yourself that the information provided is present and correct. You will need to exercise the normal due diligence when buying any vehicle.
Current Mileage
129,000miles
Registered Vehicle Type
Panel Van (meets DOT standards)
Bed(s)- 1 elevated bed (135cmW x 176cmL) equipped with a comfy memory foam mattress (15cm thick). Despite being shorter than a traditional bed found in houses, you are still able to stretch out comfortably, albeit not perfectly vertically obviously depending on your height. At the foot of the bed there is a large window providing an abundance of natural light and good views to wake up to. Underneath this bed there is a similar slightly smaller space which may be used for additional storage, or optionally a child's bed as pictured.
Maximum Weight (MAM or MTPLM)
3,500kg
Unladen Weight Verified?
NO - the vehicle has not been weighed since completion
Gas sign-off supplied
None