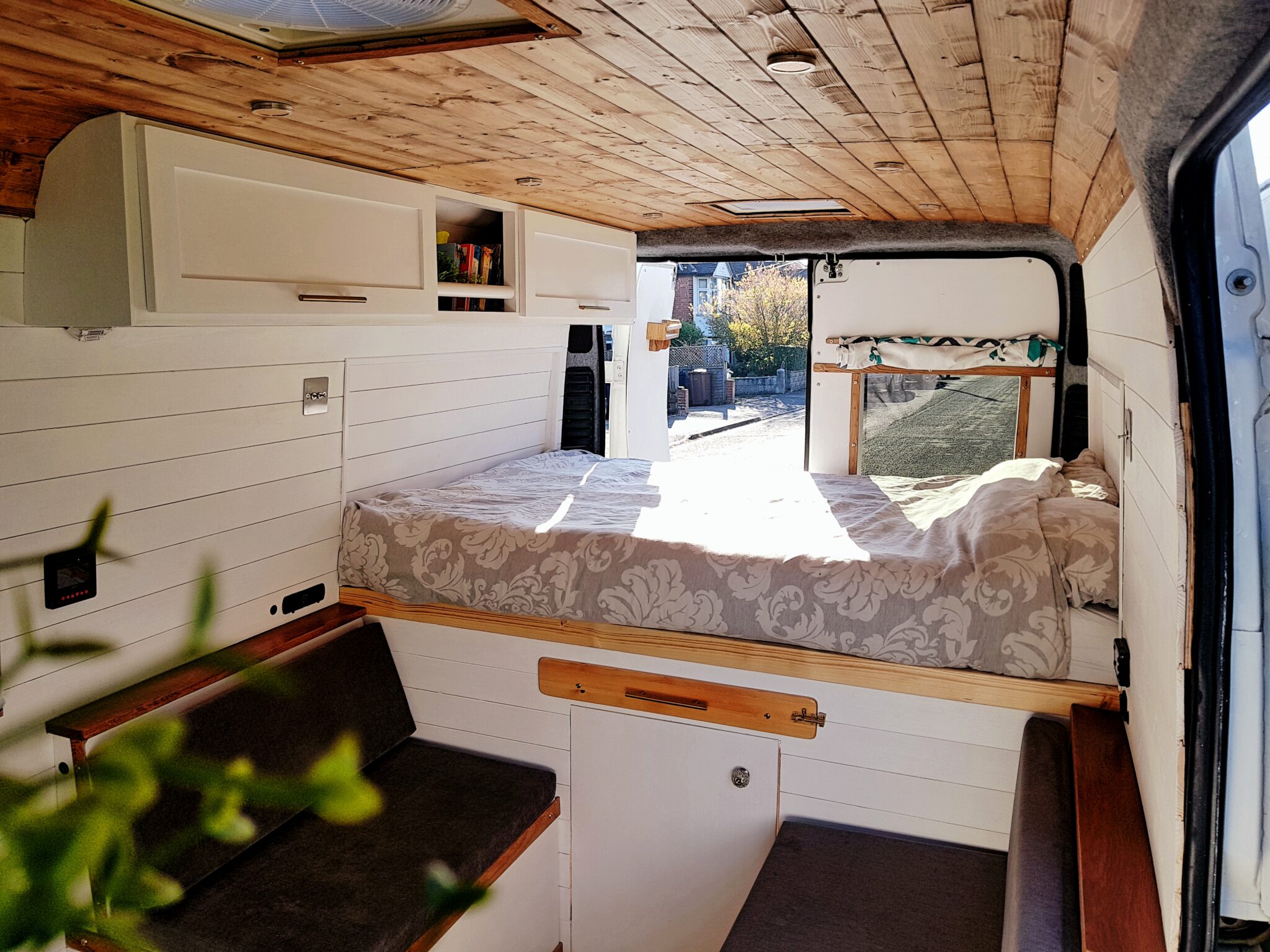 Sold
Vehicle Description
Brand new campervan conversion with full specs and very low mileage. We are a small local business specialising in building bespoke and beautiful off-grid campers with this one being the latest in our series.
The van is in excellent condition and is perfect for long or short trips away, having been specifically designed for long term off-grid living. It would suit someone looking for complete functionality as well as comfort and reliability.
Open to reasonable offers.
Registration: CK67 ZGE
Milage: 60,900
MOT until December 2021, no advisories bar some very minor wear on rear tyres
1 Previous owner
Full service history (van is only 3.5 years old): Last full service was in March 2021 along with brand new brake pads AND discs for all four wheels.
Exterior body work is in great condition with only a couple of small surface paint scratches, the usual wear and tear on these vehicles and no structural damage whatsoever as of last inspection.
No mechanical issues and has run well every time. All mechanical fluids regularly checked and topped up.
– Vehicle supplied with 2 keys
– Bluetooth connection to speakers
– Reversing sensors
– Speed camera detection
– In built sat nav
– Cruise control
– Air-Con
Vehicle was purchased from a registered dealer before conversion and comes with a complete HPI check with all sections cleared. Not written off, not stolen etc. All relevant paperwork supplied.
Conversion Description
Interior specs:
– Solid oak kitchen unit and oak trim throughout living area finished with danish oil
– Extra large 55L compressor fridge/freezer down to -18C, 3 year warranty
– 2 burner gas hob powered by a 6kg propane gas tank (lasts around 6 months cooking daily).
– Gas system has been built to current british standard regulations for LPG in motorhomes. This includes all connections between appliances made with fixed copper piping, sealed gas locker with a drop-out vent, and shutoff valves to each appliance (cooker and boiler). This would be compliant with the requirements for a gas safe certificate.
– Refillable LPG tank makes refilling easy and a lot cheaper than Calor bought bottles
– 75L fresh water tanks
– Water pump by Shurflo provides up to 7L/min tap flow for kitchen sink and shower unit fitted with a Shurflo accumulator for a continuous smooth flow
– Camplux tankless boiler providing instant hot water to the shower out the back.
– Diesel turbo heater heats the living space in minutes with warm dry air and is externally vented
– Fiamma turbovent extractor fan for use when cooking or cooling the living area.
– Additional Fiamma roof vent for air circulation and as a roof light
– 8 dimmable LED spotlights on the roof and colour changing LED strip lights either side of the bed for an unlimited variety of lighting options
– Fixed double bed and seating area (no need to pack away your bed every day!) Seating area can convert to a small single bed
– Huge amount of storage space under the bed, under seats, shelf unit, and above cabin.
– Plenty of space under seats or under bed for storage of a portable toilet
– Insulated fully on the walls, floor and roof with 50mm of Celotex so remains warm in cold weather and cool in hot weather
Electrics:
– 2 x 110Ah Xtreme 12V AGM leisure batteries. NCC Class A (Highest storage capacity and number of cycles, also with a dual purpose as a backup starter battery) 4 years warranty!
– 2 x 160W (a massive 320W total) monocrystalline solar panels
– MPPT solar charge controller 40A with a temperature sensor for optimal charging – up to 98% efficiency
– MT50 remote power meter for solar charger and battery monitoring
– Mains (240v) battery charger: Victron energy smart charger 15A with bluetooth connect
– Renogy battery to battery charger supplies smart controlled backup power from the main vehicle engine to charge the leisure batteries (this is switched from the cabin when driving and is useful if there has been no sun for many days)
– Exterior mains hookup port for shore power when at a campsite with 2 x 240v interior plugs
– 12 port fuse box with lots of extra space for additional appliances/modifications
– 4 x USB ports positioned around the living area (2.1A each)
– 1 x 12v cigarette style socket
– Universal inverter 12v – 19v. Perfect for charging any laptop (all adaptor types) or other 19v appliances. Significantly more energy efficient than using a 12v – 240v sinewave inverter.
As the solar array and battery system has such a large capacity you will rarely need to use mains hook up when away for extended periods of time, even in overcast weather whilst using all appliances normally. Fridge runs 24/7 at 2 degrees C!
Call or text me (Dan) for any more info or if you'd like to arrange a viewing.
'We like the style' means that Quirky Campers would approve it for hiring but you must still check that the gas, electrics and weight were done properly. For some tips on what to look out for read this. If the listing has no Gas Safe certificate, no unladen weight and no electrical sign-off please proceed with caution!
Please note: Quirky Campers do not inspect the listings for accuracy or check campervans in person. We have asked sellers to provide evidence of certificates and paperwork however you MUST check yourself that the information provided is present and correct. You will need to exercise the normal due diligence when buying any vehicle.
Make and Model
Peugeot Boxer 335 PRO L3H2 BLUE HDI
Current Mileage
60,900miles
Registered Vehicle Type
Panel Van (meets DOT standards)
Fixed double bed – full size (190cm x 135cm)
Seating area can convert into a small single if needed
Maximum Weight (MAM or MTPLM)
3,500kg
Unladen Weight Verified?
YES - the vehicle has been weighed since completion
Gas sign-off supplied
None