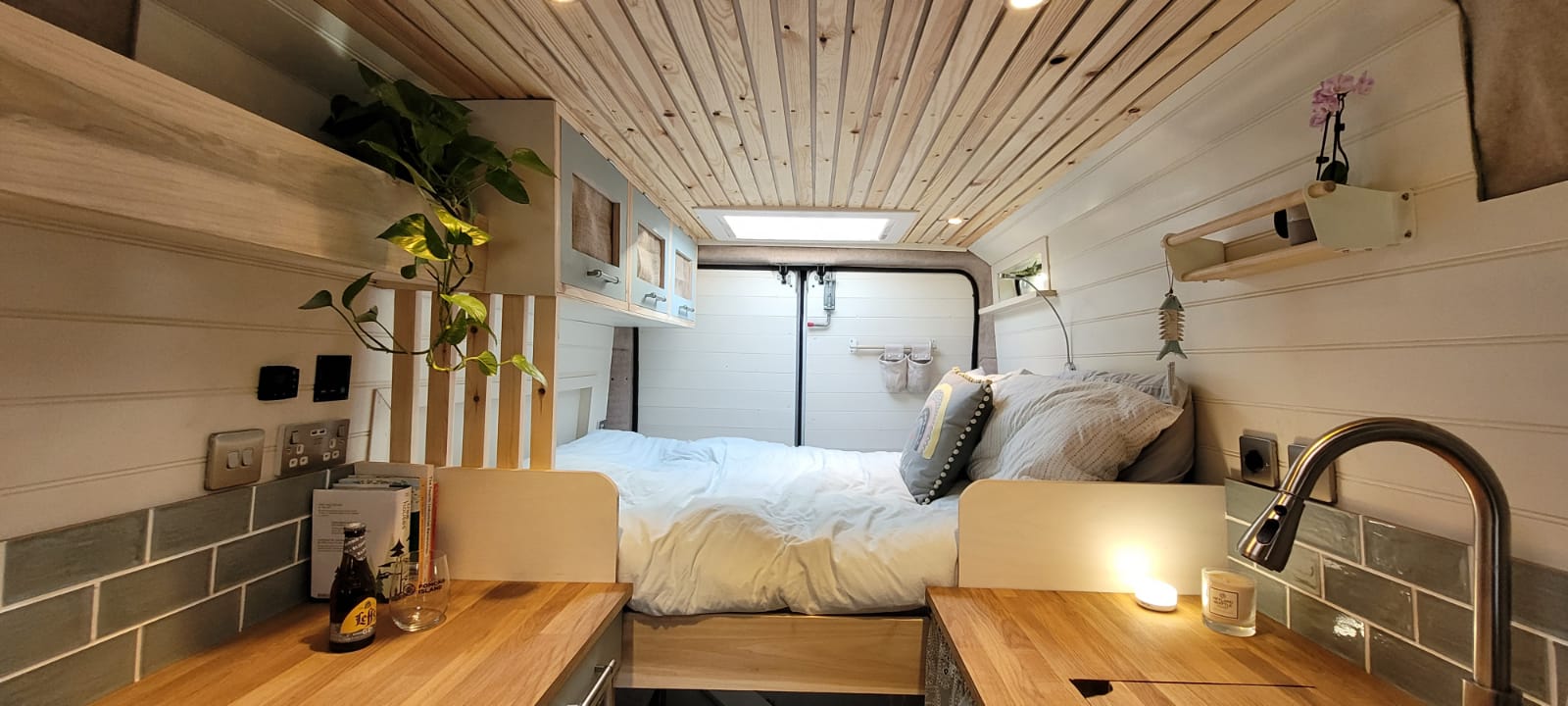 Sold
£29,500
Peugeot Boxer L3H2 Professional
96,700 miles
Vehicle Description
2.0L Diesel Euro6 compliant economical engine
Full service history
2 keys
Air con
Bluetooth
DAB Radio
Built in Sat Nav
Cruise control
USB/Aux port
Hill start assist
Reversing sensors
Bodywork in great condition
All tyres in good condition
Will be sold with a new MOT
Beds Description
Fixed double bed at the rear (1.85metres x 1.35metres)
One person can sleep on the sofa (two if the new owner wants to do some simple engineering!)
Conversion Description
Thank you for looking at our newly converted Peugeot Boxer L3H2 Boxer professional. This is a 66 plate (Jan2017) so comes with the 2.0L Euro6 compliant engine. Essential for the new regulations that will come into play in cities all across the UK/Europe in the very near future. The van is fully off grid and awaits fantastic adventures at any time of the year! Please visit my Instagram link in the top right (@matt_vivafidel_moore) to see how it was built.
**Please note I still have to connect the solar/water/waste up and just a few small finishing touches so isn't available immediately**
My wife and I travelled around Spain for 9 months (with our baby) in our last Peugeot Boxer so know what's needed to live practically and comfortably on the road. Anything I thought could have improved our last van has gone into this one. As a result I am very sad to be selling it. I think the Peugeot Boxer is the perfect van to live in and most of all is incredibly reliable.
Windows – One small window on the side of the van above the bed and 1 very big skylight for stargazing at night.
Construction – Please head over to my Instagram for a more graphic presentation of the build that's hidden. Highlight on my stories. – @matt_vivafidel_moore
Fully insulated with 50mm Celotex on the side panels, 25mm Celotex in the floor and ceiling and recycled plastic loft insulation in all cavities.
Full foil/polythene vapor barrier
Birch PLY, Moisture resistant MDF, Pine, Poplar and Oak
Treated 25mm x 50mm timber battens on floor and sides
Floor is 12mm Hardwood Ply
Ceiling is custom cut 7mm Pine slats treated with Danish oil
Worktops are 26mm Solid Oak treated with Tung/Danish oil
Kitchen
Thetford 922 Gas hob (12v ignition)
Dometic 2250 Extraction/intake fan (12v)
Undermounted stainless steel sink with pull out spray tap (which extends to the shower!)
Freshwater drinking tap from 10L tank (12v submersible pump)
58 Litre Fresh water tank (inside the van)
75 Litre custom waste water tank (under the van)
Solid Oak worktops with extendable space
2 x pull out pantry for easily access to kitchen essentials
Pull out drawer for utensils
Living space
Spacious L-shape sofa situated for wonderful views out of the sliding doors for remote working or relaxing.
Fully rotatable and removable Lagun swivel table
Hidden composting toilet and shower tray
Custom made 3 inch foam and upholstery
Hidden storage
Beautiful poplar shelf
Large Whiteboard for learning a new language, mind mapping or writing down easily accessible recipes!
Toilet – Simploo composting (Dry) toilet with 12V extractor fan which feeds into a carbon filter unit for zero smells!
Electrics
All electrics installed by professional electrician
Xtreme 200AH AGM leisure battery
240V mains hook up
2 x 100W Renogy Solar panels
CTEK – D250SE smart charge controller (also charges leisure battery when driving)
Edecoa 1500W peak 3000W 240v inverter (with smart monitor to see state of battery)
1 double and 1 single 240V outlets complete with USB's
Front and rear exterior LED lighting (12v) – perfect for setting up camp in the dark!
5 touch on touch off LED lights (12v)
Reading bed light with USB's (12v)
USB charging point x 2 and voltmeter
LED strip lights under kitchen cabinets (12v)
LED strip lights in the cab (12v)
Heating – 2kw Autoterm diesel heater (professionally installed by Autoterm). This has a digital display (app/bluetooth compatible) with various settings and is directly fed into the diesel tank.
Shower – There is a large hidden shower tray under the L-shape sofa that you can sit in. There will also be an external shower point on the back doors. For more information about hot showers please ask!
If you have any further questions big or small please don't hesitate to ask. Mobile number is 07792645312 (Whatsapp is best) or alternatively you can message me on Instagram 🙂
Registered Vehicle Type
Panel Van (does not meet DOT standards)
Base Vehicle Condition
Used
Converter Type
Self Build - Handcrafted Start-up
Maximum Weight (MAM or MTPLM)
3,500kg
Unladen Weight Verified?
NO - the vehicle has not been weighed since completion
Gas sign-off supplied
Gas Safe Certificate
'We like the style' means that Quirky Campers would approve it for hiring but you must still check that the gas, electrics and weight were done properly. For some tips on what to look out for read this. If the listing has no Gas Safe certificate, no unladen weight and no electrical sign-off please proceed with caution!
Please note: Quirky Campers do not inspect the listings for accuracy or check campervans in person. We have asked sellers to provide evidence of certificates and paperwork however you MUST check yourself that the information provided is present and correct. You will need to exercise the normal due diligence when buying any vehicle.