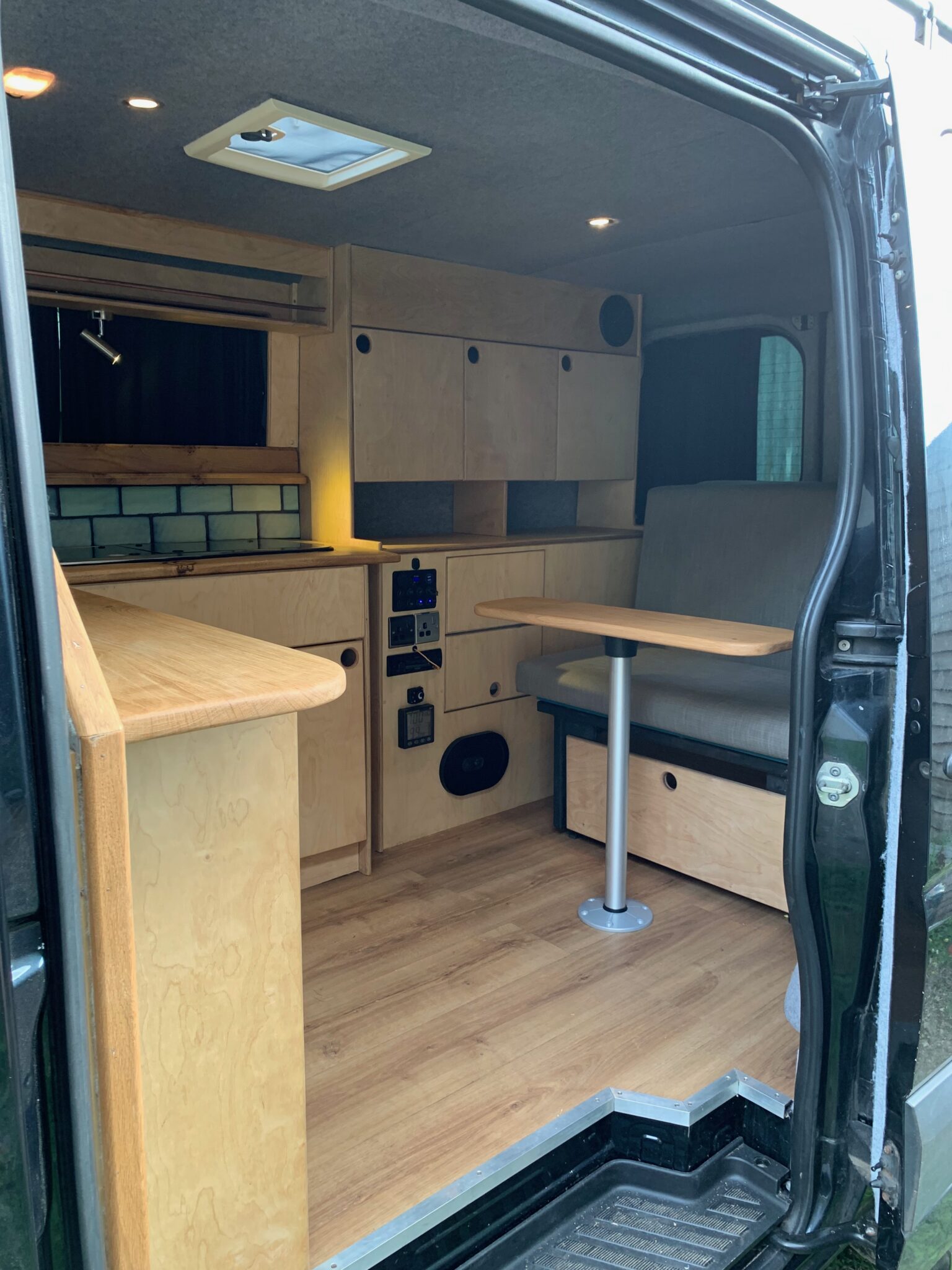 Sold
£22,500
Mercedes Sprinter 210 CDI
91,000 miles
Vehicle Description
A little about Bertha:
Brand new conversion.
Being a SWB and automatic she drives and handles like a car. I go for these base vehicles to convert as the t4/t5 VW's are overpriced and here you have a camper/day van that is more spacious, but drives like a t4/t5 or similar, but with low mileage and without the t4/t5 premium.
It will happily do 30-35mpg all day long as well.
This has been a labour of love for over 6 months. I have fitted out Campervans and narrowboats before in the past, but never with as much care and attention as with this one.
The price I've listed it for represents the 100s of hours I have spent on it, achieving a very high level of finish and a great deal of time spent on considering functionality and materials used.
WILLING TO CONSIDER SENSIBLE OFFERS
The Base Vehicle:
DESPITE BEING OFFICIALLY A 2011 VEHICLE IT WAS REGISTERED IN DECEMBER 2011 SO REALLY A 2012!!!
– 2011/2012 SPRINTER SWB
– 91K MILES (A BABY)
– FULL DEALERSHIP SERVICE HISTORY (OIL/FILTER/SUMP CHANGES REGULARLY)
– FORMER MOTABILITY VAN – GENERALLY DRIVEN CAREFULLY AND SLOWLY
– AUTOMATIC TRANSMISSION (THESE GEARBOXES ARE AN ABSOLUTE DREAM TO DRIVE, VERY IMPRESSIVE ENGINEERING)
– PARKTRONIC PARKING SENSORS, HIGH SPEC SO GIVES WARNINGS OF PROXIMITY WHEN PARKING ON DASH AND IN SIDE MIRRORS
– BLUETOOTH TO RADIO DEVICE TO ALLOW PHONE TO PLAY MUSIC THROUGH STEREO
– FULL BLUETOOTH PHONE CALLING THROUGH RADIO
– ELECTRIC WINDOWS
– CARRIES 2 PASSENGERS UP FRONT
– 2 ADDITIONAL SEATS WITH SEAT BELTS IN THE REAR (CAN CARRY 5 PEOLE IN TOTAL, WITH BELTS)
– FULL LIMOUSINE TINT ON ALL REAR WINDOWS
That is as honest and descriptive as I can be, I think it's a pretty comprehensive description.
Any questions do ask.
Thanks for taking the time to look
Beds Description
Rock 'n' Roll bed – 2 seater sofa with 2 seatbelts
Rolls out to form a queen sized full length double bed
Conversion Description
THE CAMPERVAN FIT:
– ONE PIECE OF SOLID WELSH OAK KITCHEN WORKTOP (FINISHED WITH OSMO LOW VOC WORKTOP OIL FOR LONGEVITY, DURABILITY, EASE OF MAINTENANCE AND SUSTAINABILITY)
– OAK TRIM USED THROUGHOUT
– EASY FOLD AWAY SOLID OAK DINING TABLE
– TOP QUALITY BIRCH PLY FINISH ON ALL UNITS, FINISHED AGAIN WITH OSMO WORKTOP OIL
– ROCK N' ROLL BED WITH BOTH FRONT AND REAR DRAWER STORAGE WITH SOFT CLOSE HINGES
– LOADS OF ADDITIONAL STORAGE (ALL SOFT CLOSE HINGES)
– TOP QUALITY VINYL FLOORING (ITS NOT WOOD, CAN YOU BELIEVE IT!) FOR WET DAYS COMING BACK TO THE VAN AND MUCH GREATER LONGEVITY THAN ANY SOLID WOOD FLOORING
– FULLY INSULATED AND SOUNDPROOFED ALL OVER
– BLACK OUT CURTAINS ON ALL WINDOWS IN REAR
– LINED CURTAIN BETWEEN CAB AND REAR FOR WARMTH AND PRIVACY
TECHNICAL ELEMENTS:
– SMEV 2 RING GAS HOB WITH SINK
– X2 110 AMP/HOUR 'BANNER' DEEP CYCLE LEISURE BATTERIES (VOTED NUMBER 1 BY CARAVAN AND CAMPING CLUB)
– SPLIT CHARGE RELAY (CHARGES BATTERY WHILE DRIVING OR WHILST ENGINE IS RUNNING)
– UNDER-COUNTER 25L LITRE FRESH WATER TANK AND 10 LITRE WASTE WATER TANK
– INVERTER (800 WATT) – PROVIDING 240V CHARGING FOR LAPTOPS ETC
– 240V MAINS HOOK UP – TO ONE 240 SOCKET AND ALSO CONNECTED TO PROVIDE TRICKLE CHARGE TO BATTERIES WHEN HOOKED UP AT CAMPSITE OR HOME
– 12V 30L FRIDGE
– EBERSPACHER 12V DIESEL NIGHT HEATER (FOR THOSE CHILLY EVEING AND MORNINGS)
– TOP NOTCH BLUETOOTH READY SOUND SYSTEM INCLUDING SONY DOOR SPEAKER IN THE REAR AND ALPINE 6'/9′ SPEAKERS, REALLY TOP QUALITY SOUND
– LED LIGHTING IN REAR
– BEDSIDE READING LIGHT WITH USB CHARGE PORT
– ADDITIONAL USB CHARGE POINTS IN REAR
– 12.5KG GAS BOTTLE IN LOCKER
– CARBON MONOXIDE ALARM
– PORTA POTTY AND HIDE AWAY HOLE FOR IT (IF YOU WANT IT… INCLUDED IN PRICE BUT NOT FOR EVERYBODY)
– SKYLIGHT
Registered Vehicle Type
Panel Van (meets DOT standards)
Base Vehicle Condition
Used
Transmission Type
Automatic
Converter Type
Professional - Handcrafted
Maximum Weight (MAM or MTPLM)
3,500kg
Unladen Weight Verified?
NO - the vehicle has not been weighed since completion
Gas sign-off supplied
None
Please note: Quirky Campers do not inspect the listings for accuracy or check campervans in person. We have asked sellers to provide evidence of certificates and paperwork however you MUST check yourself that the information provided is present and correct. You will need to exercise the normal due diligence when buying any vehicle.