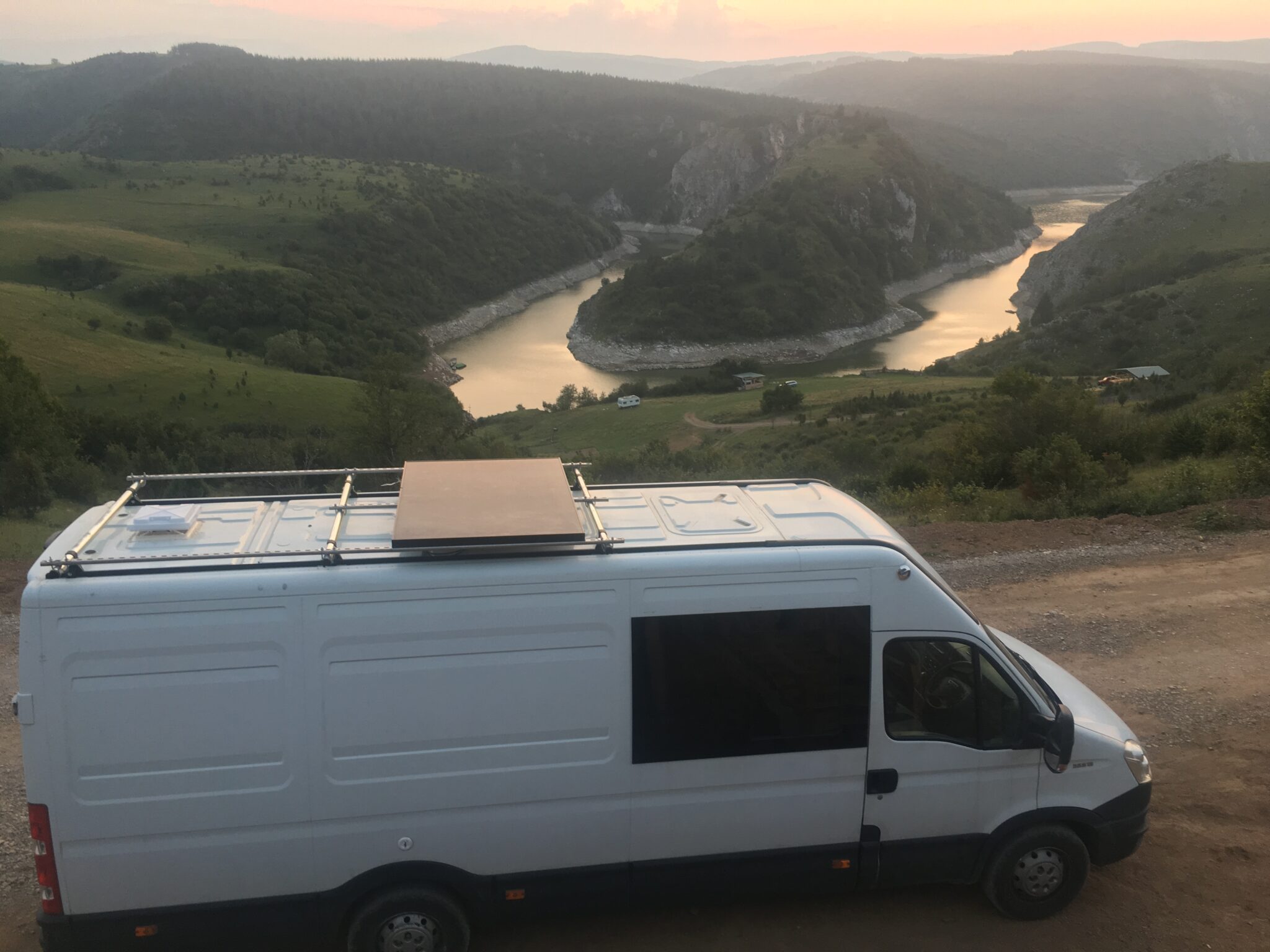 Vehicle Description
Bertha is the best running vehicle I have ever owned- Ive owned her for 3 years – It's been a privilege and relaxing ride.
She's driven to and from Greece twice and down to southern Spain and back with me this year.
The best thing about her when you drive her is you know you've got a super reliable vehicle that's been maintained properly.
This vehicle is a turbo diesel 2.3.
It has 6 gears and cruise control (really great and efficient for long drives).
The last year it has been serviced and maintained by an official Iveco garage in both the UK and Spain, with zero fails and 110% love.
2 keys and central locking.
All paper work in keeping.
The body work is nearly completely clean from top to bottom – a couple of dents – zero rust.
I am happy to supply with a fresh MOT and maintenance complete
Conversion Description
(More nice pictures to come)
Bertha is a self conversion.
She's been a wonderful and reliable companion from the beginning.
She's stealth – this means you can part and sleep anywhere without being moved on or getting in trouble – I've slept all over Europe in her and never been moved on by police or anyone else. I've never paid for a campsite. All her air vents, solar and chimney are subtly on the roof and from the side people will think you're a van.
With curtain drawn and with her substantial size – you can disappear in peace from the world and make your own, even in a busy city.
Nearly all materials used were reclaimed apart from major appliances and the kitchen sink which was purchased new.
I've listed some below.
Let's start with the baselayer – INSULATION
All walls, ceilings and floor are fully insulated with high quality materials (and in the case of the fire – fireproof).
This makes a real difference in keeping the warmth in when you need it.
I wanted this vehicle to be my home for 4 seasons it has a sturdy and very capable wood stove. The wood stove is super powerful and as low capacity drive the internal temperature to 22degrees with ease.
KITCHEN
There is a full size sink and oven/ stove grill. I have worked as chef and need a real kitchen and here you have ample space and equipment to make a real meal. This makes living aboard a pleasure and never fatiguing as you can stand comfortable (I'm 180) and do your thing. No bending over moving things out the way to get to other things – just a relaxed preparation space.
Fridge and oven are the best you can buy (see below for links) and in mint condition.
Plenty of overhead and under head spaces/ slide our bins etc.
LOUNGE/ BEDROOM
Lights are all dimmable LED and warm.
I installed a high quality hifi and turntable so if you're a vinyl enthusiast its a nice touch to sit by the fire spinning vinyl. It also does all the bluetooth things
The lounge is horseshoe-shaped to seat maximum people – I've sat 6 comfortably playing cards under the drop down lamp- and the table can be left with the telescopic leg in place or completely removed.
As described above, the bed is a really comfy custom made foam mattress with custom yellow corduroy covers. Very supportive and comfy and very handsome – designed by a friend who works in fashion design. its one of my favourite features.
Overhead cupboard space stores your clothes with room to hang a few pretty dresses and suits for when you want to step out.
It has to large side windows – one along the sink and one opposite – both tinted. I Mention again, you will be allowed to sleep most places in this without hassle.
SOLAR/ WATERTANK/ STOVE/ GAS
I mention these together because they're basically what take you off-grid to freedom
-Solar feeds your leisure batteries 2x100AH (you could extend this if you wish but its plenty for me) and when driving a split relay also charges your batteries.
These connect to handy electrical board above the kitchen with full controls to everything.
-Water tank is 150lt – above the cab – and has a high quality filter so if you fill with drinkable water (maybe even if you didn't) you'll be healthy and fine
-The stove is a beautiful Hamlet Hardy 4 stove that I reconditioned and bought new glass and fire bricks for. It works a treat and can take the internal temp on the coldest nights safely to about 25 degrees inside. its seated in granite I had cut and sat in front of some hand painted Andalusian tiles I recently brought back with me from Spain. its a real piece of beauty.
Until recently I was in the mountains looking out at the snow in a t-shirt drinking coffee before a day of snowboarding.
It's amazing. I've seen other lower capacity stoves, but not only would you need to continually load them (maybe every 20mins), you'd need to have wood chopped VERY small for it to fit. These stoves are, in my opinion, for show not for use.
-The gas housing is subtle and hides a 11kg gas cylinder with you can refill from a petrol station. No need to swap bottles and have the ugly things floating around. Just LPG which you find anywhere in Europe pumped safely into the container. usually costs me £10 to refill and lasts me about 3 months of medium oven and stove usage
With these items in place you are ready to disappear fir an easy 5 days at a time or as long as you want if you can find water and food because you'll need NOTHING else.
SHOWER
The shower system is very simple but effective.
The shower curtain hangs in the kitchen space. The shower plugs into the 12v and pumps water from the sink into the shower area with a shallow plastic surround.
Sure it's rustic but it's lightweight, removable and you can stand in from the fire on an icy night having a nice shower.
This enables you to not only to maximise the space – you don't need a permanent shower cubicle – but also allows you to use about 5-10ltrs water (MAX) per shower, allowing you many days off grid.
Goodbye society, hello world sort of thing.
Also you can shower in the city which for me is the main time I use it. If I'm by the sea/ river, that is my washroom every time.
CAB
As you're likely to be driving quite a lot the cab is crucial – It's super spacious and comfy in the cab but you chuck a throw and cushion in there too for good measure.
The cruise control is a blessing – it saves on fuel and your energy – you can relax your feet, put on some tunes and enjoy.
It's also a nice touch to have a top of the range pioneer audio console with DAB, bluetooth and reverse camera (Still in warranty).
It's very reassuring to travel in a van that has never broken down and doesn't leave you stranded and worrying. Bertha just purs away.
Everything in the cab is fully functional and feels new.
SUMMARY
Bertha is super comfy, spacious and practical.
She's simple elegant and after many months of planning her I set out to build something that would work for me for many years as she did.
You can live in her. Like REALLY live in her -some of the vans out there simply don't allow that. I lived in Bertha on and off for the last 3 years.
She's a great bet to travel in for extended periods of time because you have the space to feel at home.
I've kept her quite neutral so she'd very easily be easily painted, added to or further modified.
I'm sad that we're at the end of our journey, but I'm moving to Spain and I'll be converting a left hand wheel drive next.
I hope you'll enjoy her for many years to come!
—-
Notable items – all receipts exchanged on purchase:
Oven £630
Spinflo Aspire 3/4 Height Campervan Motorhome Caravan Oven
https://www.jacksonsleisure.com/caravan-motorhome/spinflo-aspire-3-4-height-campervan-motorhome-caravan-oven/
12v Specialised fridge freezer – £700
Waeco CRX65
https://www.jacksonsleisure.com/caravan/motorhome/dometic/waeco/crx65/coolmatic/campervan/fridge/freezer/
Custom Gaslow gas locker setup (with 7 years warranty remaining on tank) – £455

(we recommend buys a spare reg to travel with as these occasionally fail – £20 well spent)
Water tank 150lt £100
https://www.tcschandlery.co.uk/plastimo-flexible-fresh-water-tank-150ltr-rectangular/p11336
Kitchen furniture £400
Please note: Quirky Campers do not inspect the listings for accuracy or check campervans in person. We have asked sellers to provide evidence of certificates and paperwork however you MUST check yourself that the information provided is present and correct. You will need to exercise the normal due diligence when buying any vehicle.
Current Mileage
142,000miles
Registered Vehicle Type
Panel Van (meets DOT standards)
The Bed is a horizontal day bed (for 1-2 people) with a horseshoe-shaped lounge set up.
At night you can lower the table piece which forms a huge comfy bed and fits 3-4 if necessary. So there's extra space for guests on mini breaks etc.
The table piece can be raised to complete the lounge, removed completely or lowered to complete the bed.
The bed is a really comfy custom made foam mattress with custom yellow corduroy covers. Very supportive and comfy and very handsome – designed by a friend who works in fashion design.
I'm 180cm so this bed was made to fit me comfortably, as it does.
We have plenty of mattress protectors and sheets if needed – also custom fitted.
Maximum Weight (MAM or MTPLM)
3,500kg
Unladen Weight Verified?
NO - the vehicle has not been weighed since completion
Gas sign-off supplied
Gas Safe Certificate