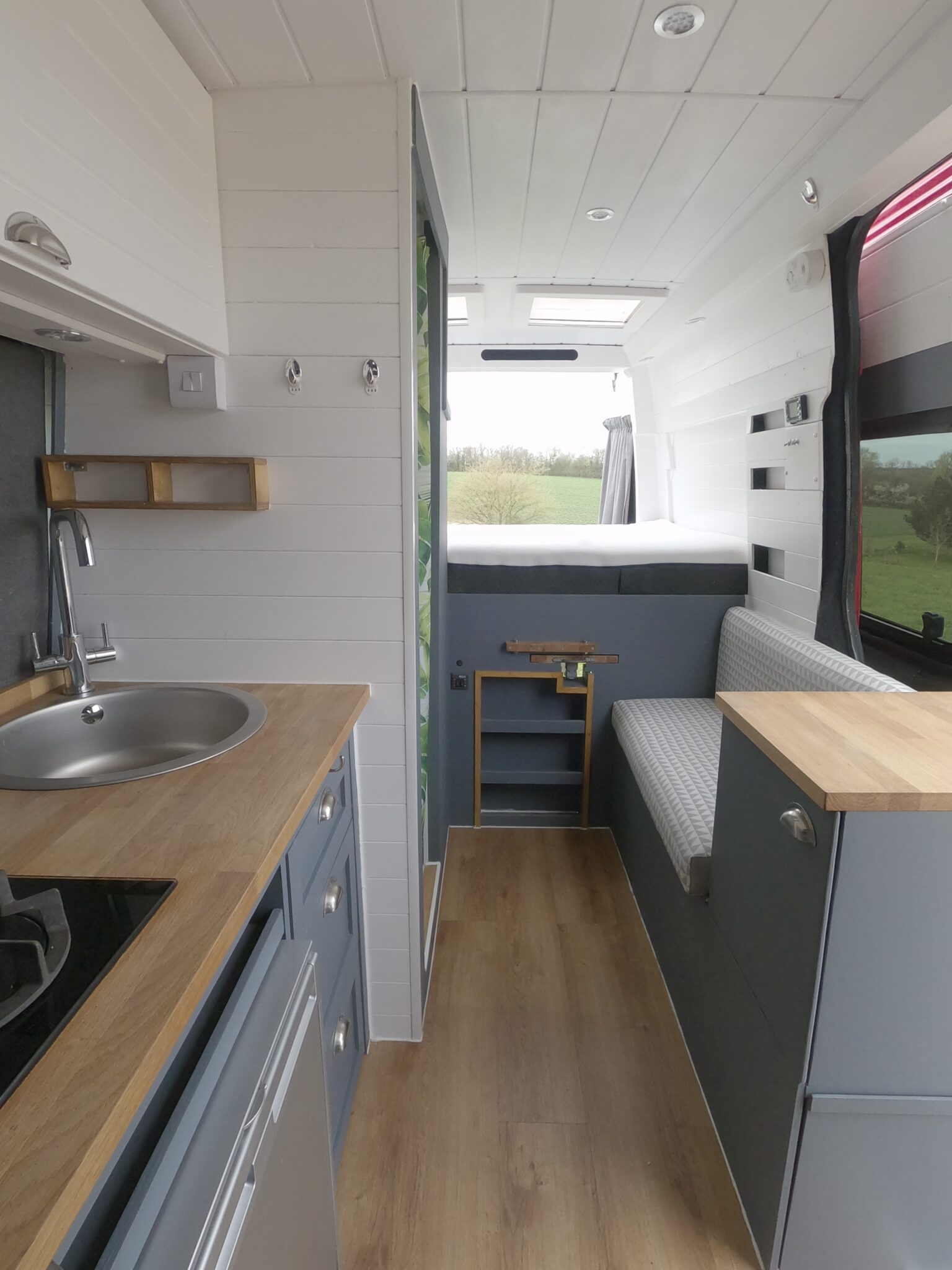 Vehicle Description
2012 Volkswagen Crafter Camper
Current Mileage – 105,300.
2.0 tdi engine, 6 speed gearbox.
Cruise control.
Electric windows.
Retro fitted Rear anti roll bar.
Front captains seats – with crash tested swivel base on passenger side.
Pioneer CarPlay head unit with uprated speakers in doors.
Before collection we will have the timing belt and water pump changed, carry out an oil service and get a new MOT for the van, so it will be ready to get on some adventures over the summer.
Conversion Description
About 'Reggie' –
I purchased the van to convert so that my partner and I could go off travelling around Europe, which is something we managed to do throughout the summer/autumn of 2020. We had such an amazing time, a proper bucket list item ticked! We would recommend it to anyone that is toying with the idea (and those that aren't!) Traveling around, seeing the real side of countries, away from all the tourism. With the comfort of having everything you need right there in your little home on wheels.
The van was superb on our travels and we are so sad to be putting him up for sale (dreading the day he drives away from us) but we have some new plans now. We are going to be building more van conversions and we would love for someone new to be able to go out and enjoy life on the road as much as we did, and give Reggie many more adventures.
Conversion-
There has been a lot of work carried out on this van so I will list everything I can think of to keep reading easy. If you have any questions please feel free to ask.
Extensive sound deadening, insulating and vapour barrier installed throughout.
5kw Diesel heater keeps the van warm in the coldest of temps (as we found out on our travels!)
80L dometic fridge with freezer drawer.
Twin gas hob.
Underslung 30L gas tank with led level indicator.
110L fresh water tank.
Waste exit under van for use with bucket or Waterhog style carrier.
Shurflow water pump (replaced in February 2021) with fiamma accumulator for smooth water flow.
Large sink with mixer tap.
Three drawers to provide ample storage in kitchen area.
Above kitchen food/storage cupboard.
Wet room with thermostatic shower and space for portaloo.
Seating area with under seat storage and storage cupboard at end.
Solid oak work tops and multi position table, all treated with danish oil.
Small shelving storage at base of bed.
Large over cab parcel shelf storage.
Clothes storage unit over end of bed, includes other small storage areas.
Rear high level device charging area with usb points.
Device charging area in pocket style storage area (2x QC USB's).
Small double bed measures 1200mm wide and 1770mm long with Emma mattress; cut down slightly to fit across width of van.
Twin dometic rear sky lights with built in fly screens and black out blinds.
Sky light in bathroom with extraction fan.
Sliding windows fitted to both sides (privacy glass).
Rear glass fitted to doors (privacy glass).
Black out thermal blinds fitted to side windows and black thermal curtains fitted to rear doors.
Two part black out thermal curtain to close off cab area from living area.
Full van internal thermal window covers, these can also be used as sun reflectors in the summer.
External blackout windscreen cover.
Large under bed storage/garage area with bespoke shelving to one side. Ideal for folding bikes/paddle boards, chairs, bbqs etc.
Propex Malaga water heater 230v/LPG powered, also located in garage area.
External 230v hook up and water filling point.
BBQ connection point located inside sliding door.
PVC cladding affect ceiling.
Painted wood cladding to most of walls with carpet to cover any exposed metal work.
Key safe mounted underneath.
Electrics
2 x 130a/hr batteries mounted under passenger seat.
300w of solar power on roof.
Epever MPPT with Bluetooth connectivity.
30a sterling Battery to Battery charger.
20a 230v battery charger.
12v fuse distribution panel.
230v MCB board.
LED lighting through out (various zones).
1500w inverter with control panel, 1x socket to use with inverter located on end of kitchen. Inverter also powers spark for gas hob.
Refit/refresh work
Due to us using the van for our travels it has picked up the general wear and tear so below is a list of work that we have done to get it back up to that fresh conversion finish.
Ceiling painted matt white.
New USB's fitted in rear area, these are on flying leads for easier access.
Resealed parts of bathroom cubicle, no damage just to freshen up.
Sanded and re-stained all oak worktops and table.
Paint refreshed throughout van.
Fitted new door system to over bed clothes cupboard.
Full wash, polish, and wax to exterior.
The van does have some marks/chips/small dents on the outside in a few places, but overall it is good for its age. Mechanically this van has been faultless for us, it hasn't missed a beat, and we covered over 6,000 miles around Europe tackling some pretty epic climbs and descents along the way. For peace of mind we are having the mechanical work, previously mentioned, carried out before sale.
The van is ready for you to pack up, hit the road and have some proper adventures!
Please note: Quirky Campers do not inspect the listings for accuracy or check campervans in person. We have asked sellers to provide evidence of certificates and paperwork however you MUST check yourself that the information provided is present and correct. You will need to exercise the normal due diligence when buying any vehicle.
Make and Model
Volkswagen Crafter 2.0tdi MWB
Current Mileage
105,300miles
Registered Vehicle Type
Panel Van (meets DOT standards)
Fixed Rear bed which measures 1200mm wide x approx 1770mm long
Maximum Weight (MAM or MTPLM)
3,500kg
Unladen Weight Verified?
NO - the vehicle has not been weighed since completion
Gas sign-off supplied
None