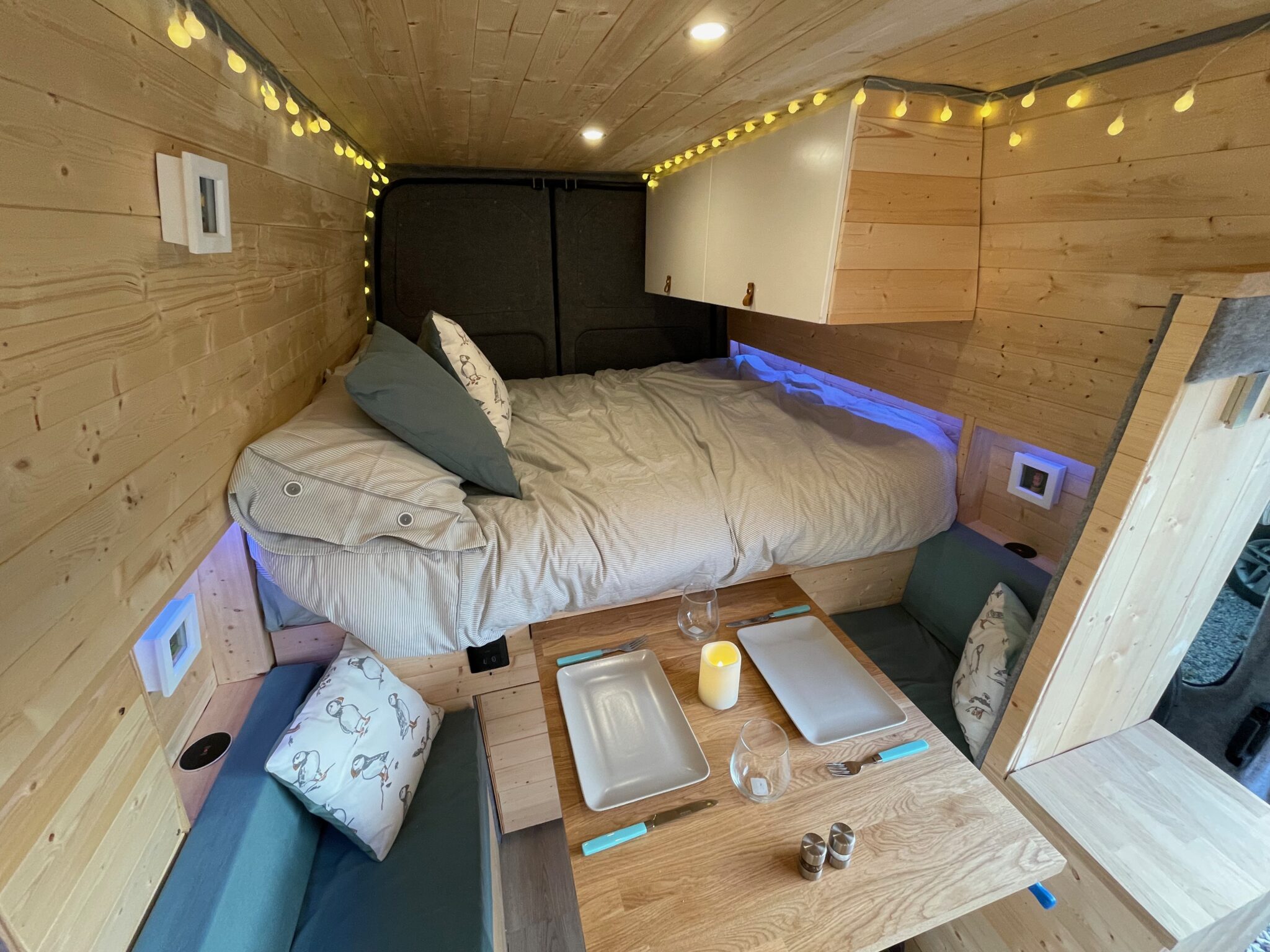 £24,500
Ford Transit LWB, High-Roof, 140 T350L, RWD
128,000 miles
Vehicle Description
We have known this van from new. First it belonged to a local gas fitter (Rob) for the first three years and 80,000 miles and then a local commercial vehicle specialist (Phil) who used it sparingly each year up to about 115,000 – both of whom look after their vehicles! MOT until June 2022.
Beds Description
Double bed for two raised above garage, at widest point in the van. Standard UK double width and approximately 5'8″ (172cm) in length.
Conversion Description
We converted this camper in the summer for some staycation adventures. We enjoyed the conversion as much as we did exploring Cornwall so now it's time to let someone else enjoy living in Cactus! It's our first conversion but our family's third so we had plenty of advice throughout – wether we wanted it or not!
Key Features:
All Electric, with the battery muscle to back it up.
– 400 Watt Solar Array on roof
– Huge Bluetti / PowerOak Battery System
– 1 x Induction Hob (Battery or on Hookup)
– 1 x Induction Hob (Hookup Only)
– Reversing camera
– New Sony head unit with Apple CarPlay, Camera feed, DAB, FM, Bluetooth, handsfree, etc.
– LED Overhead Lights
– LED Accent lights throughout, (including cupboard and garage)
– LED fairy lights all around for decoration (battery powered)
– Two way switching for lights – switches at the side (kitchen) door and garage door.
– Diesel-powered heater
– Two Wireless Phone Chargers in alcoves behind seats
– 2 x Standard USB Charging Sockets
– 1 x High-Power USB-C Charging Socket (suitable for powering laptop)
– External 4G/5G Antenna and WiFi hotspot for remote working (amazing to be on Teams from the beach!)
– Fridge freezer in pull-out drawer
– Push-button water pump
– Two further wireless chargers, three USB outlets and 240V socket in garage (via Bluetti power unit)
The capacity of the Bluetti is just great and makes electric-only camping a dream. On rainy days we've cooked our three meals on the induction hob (and cups of tea, of course!), without hookup power, and ended the day with plenty of charge left over. The two huge solar panels do a great job of soaking up the intermittent Cornish sun and keeping things charged. The LED lights and fridge/freezer seem to be very power efficient with an overcast day being sufficient to provide more power than is drawn. When on hookup, the battery charges from both the solar panel and the mains so you can get around 750 watts of input charge for a super-rapid fill-up. Put it this way: we've never run out of power! There's plenty of room in the garage for a pizza oven or BBQ for those sunny days dining outside, too.
Kitchen
– Sink and tap. Fed by, and draining into, two jerry cans conveniently secured in the cupboards below. Nice and simple.
– Push-button submersible water-pump
– Storage for plates, bowls, pots, pans, utensils, heat mats, etc (all included, by the way)
– Stove-top kettle
– Waste bin
– Utensil drawer
– Over-cab cupboard for food storage disguised as cork-board for your Polaroids & Post Cards
– Fully-opening window by hobs for ventilation
– Spice-rack carved out of window-sill
– Three cute pots affixed with succulents
– Oak worktops
– Very strong magnets on doors
While we prefer to cook and eat outside to enjoy the sun, when the weather turns we enjoy cooking inside the van. With the side-door open there is plenty of ventilation pulling through the open window which sits flush with the height of the two hobs. There's lots of storage for food and utensils and enough worktop space to prep your meal before serving it onto plates at the table.
Dining
– Pull out and latching oak table. Plenty big enough for two with wine and a LED candle
– Pull out drawer with top-loading fridge/freezer and space for more wine (or food!)
– Cushioned seats either side of table for comfort
– USB-A & USB-C sockets (as above) conveniently located for when using table as desk and working remotely
Cabin Storage
– Boot/dirty shoes cupboard accessible from doorway and lined with door-mat-like material
– Coat hangers above boot storage
– Towell hooks on end of kitchen units
– Storage underneath passenger-side dining seat (mat-lined, like the dirty boot space)
– Diesel heater underneath driver-side dining seat
– Storage over-cab (as mentioned above in Kitchen)
– Two large wall-mounted cupboards over foot-end of bed for clothes and other things
– Handy box for iPad/iPhone/book to side of bed (so you don't loose it in the night)
– Handy recesses with wireless chargers where phones can be stored and charged over night (as above)
Bed
– Same width as standard UK double
– A smidge over 5'8″ in length.
– Good quality foam mattress
I'm 5'8 and Gemima is 5'6″ and we can both sleep comfortably on our bed. I sleep with my legs ever so slightly bent and am quite happy. There is enough room for me to stretch fully (by a hair!) but I never sleep like that. Those looking for a longer bed might like to consider adding a removable section which slots in above the two dining seats – I had always planned for this if Gemima and I found the bed to be too short. Luckily we haven't needed to but I'd be happy to show you where I was going to attach the removable extension if we did.
We like to set the LED lights to a very dim red and leave them on overnight so that if you want to get up in the dark of night you can still see without it affecting your night-vision and without turning on another light and waking the other person.
Garage
– Large pull-out stowage tray (100Kg rated runners) making it even easier to load up all your stuff (pizza oven in our case!)
– Diesel tank for diesel heater
– Hook for hookup cable
– Plenty of hooks, eyes and bungee cords for hanging and securing things you might have
– All the electrics on the right hand side
– LED light strip so you can see in the dark (part of the accent lighting circuit)
– Switches for all the lights within reach
We find that there's so much storage in the main compartment that we only really use the garage for our Pizza Oven and sometimes our power kite. There's plenty of room for you to use the space in a way that suits you. Perhaps you'd like a storable shower, or somewhere to store one of those portable toilet things (we were a bit too squeamish to get one of those, opting to camp near toilets each time we used Catus!) – there's plenty of space for things like that in the garage.
Exterior
– Tow hook at rear
– Exterior nice and tidy, sprayed in a satin-finish charcoal grey
– Retro stripes sprayed and painted on (we did this, so by no means a show-room finish!)
– Rear tires and brakes are in great condition and I'm going to put new tires and pads on the front before we sell so they're all as good as the rears.
– Good-looking wheel covers all round
Well, that's all I can think of for now. If you're interested to find out more, or if I've forgotten something that you would like to know, do get in touch.
Cheers,
Richard & Gemima
Registered Vehicle Type
Panel Van (meets DfT standards)
Base Vehicle Condition
Used
Converter Type
Self Build - Handcrafted Start-up
Conversion Condition
Used - Excellent
Maximum Weight (MAM or MTPLM)
3,500kg
Unladen Weight Verified?
NO - the vehicle has not been weighed since completion
Gas sign-off supplied
Gas free
'We like the style' means that Quirky Campers would approve it for hiring but you must still check that the gas, electrics and weight were done properly. For some tips on what to look out for read this. If the listing has no Gas Safe certificate, no unladen weight and no electrical sign-off please proceed with caution!
Please note: Quirky Campers do not inspect the listings for accuracy or check campervans in person. We have asked sellers to provide evidence of certificates and paperwork however you MUST check yourself that the information provided is present and correct. You will need to exercise the normal due diligence when buying any vehicle.