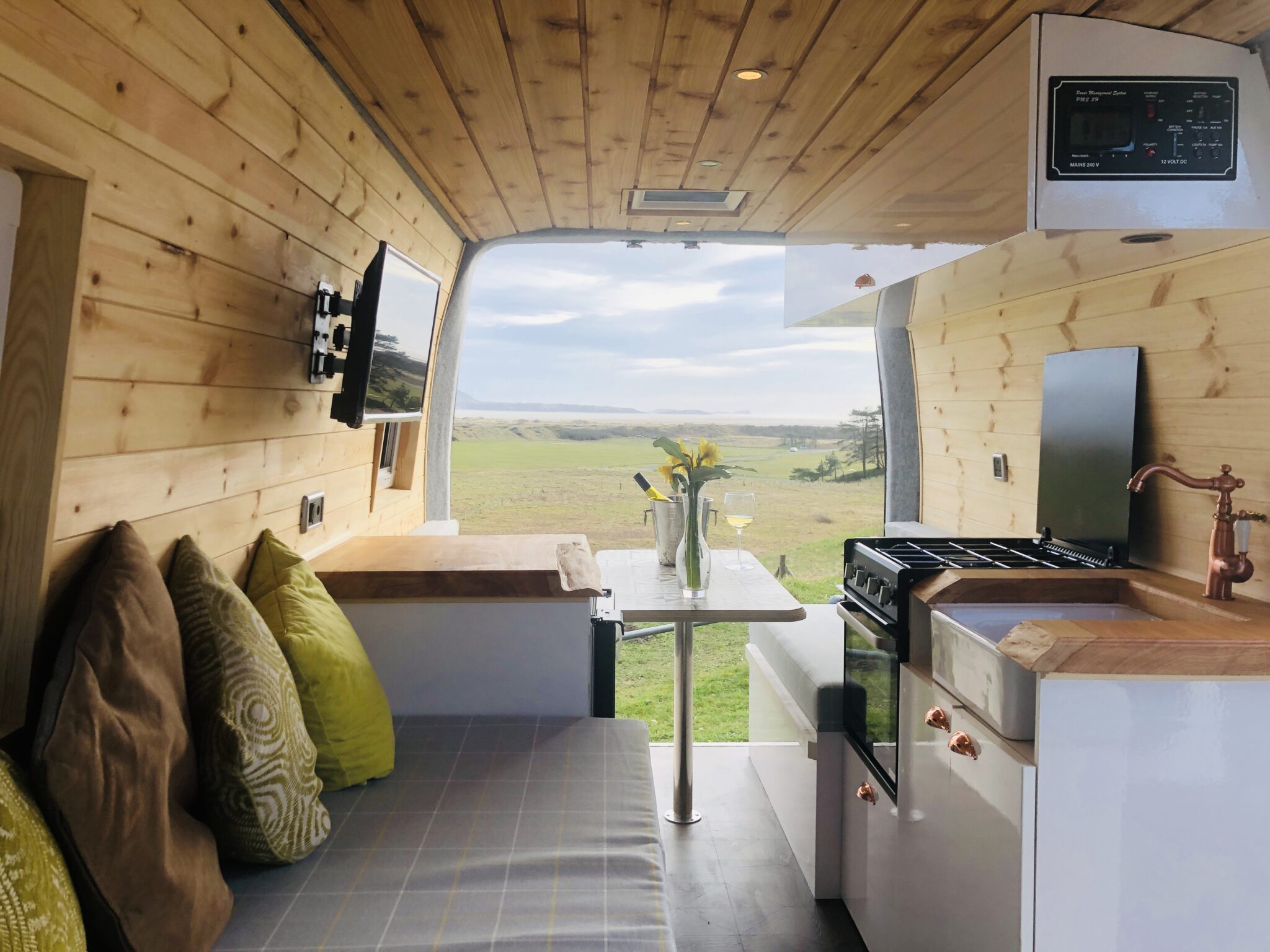 Sold
Vehicle Description
Vauxhall Movano 35 L3 Diesel Fwd 2.3 Cdti H2 Van 130ps
33 MPG
Engine and bodywork both in good condition.
Full service History
MOT due 23rd June 2021
6 Gears
Reverse Sensor Parking
Cruise Control
On Board Touchscreen Info Display
Conversion Description
A carpenter by trade, I converted my first van last year as a side project to potentially progress on to a new career path. With the success of my first sale and the positive feedback I received on my design style, this has now become full time. My new workshop resides within a working saw mill which allows me access to locally felled native trees, which I have incorporated within this conversion. I have tried to gather materials from as many local or family run business' as I can, with exceptions of course.
DESCRIPTION OF THE BUILD
The floor of the van is battened out and insulated in-between with 25mm Celtotex insulation board, with 9mm hardwood ply fixed on top. Thermal underlay has been laid on top of the ply, with hard wearing herringbone laminate flooring on top as the finished floor.
The walls have been insulated with 200mm rock wool insulation. I have fixed ply lining over this then foil wrapped the walls for extra insulation and to act as a vapour barrier. I then counter battened to create an air gap, then cladded with 9mm pine tongue and groove for the finished walls.
The walls incorporated two Sheild Autocare windows. 800 x 500mm & 500 x 350mm. Both windows have built in thermal blinds and mosquito nets.
The ceiling has been insulated using multi layer foil insulation, which has then been counter battened and cladded with 18mm red cedar tongue and groove. Cedar is a magnificent material as it has fantastic thermal properties, as well as possessing beautiful aesthetic qualities making it an ideal choice.
The ceiling also incorporates two Fiamma Turbo 40 roof vents. With duel switch control, one vent can be used to pull air in, while the other can be used to push air out, thus keeping a constant airflow circulation within the van. There are also 4 LED touch spotlights positioned in the ceiling.
The seating area, cabinet furniture, dining area and wall unit are made from 15mm lightweight plywood which have been wrapped with high gloss white vinyl. The seats are constructed from 100mm high density foam, with removable and washable tartan design covers.
The worktops are made from live edge red cedar (which is what's also on the ceiling). What is special about this timber is that it came from a 200 year old cedar tree which was locally felled (pictures available). The timber has been seasoned and dried. I hand picked the lengths I wanted to use that I thought showed the most character.
The van stores two 110 amp leisure batteries. These batteries are fed by the split charge relay system in place, and also with the two 100 watt solar panels which are mounted on the roof. These solar panels can be monitored using the eco-worthy controller unit on board. The PMS 3 on board controller unit also houses a built in battery charger which trickle feeds the batteries when hooked up to 240v supply.
There is a 5KW diesel heater located within the seating area. This heater has its own on board fuel tank to make it easier to see your fuel levels. It can be controlled with the wall mounted control unit located within the front seating area or by remote control.
The oven is a Triplex 3 hob oven/grill which is fed by the onboard refillable Gaslow 2.7kg gas bottle. This bottle can be filled at any AutoGas petrol station. The gas bottle is fitted with a bluetooth sensor so that gas levels can easily be checked via the app. The oven is housed within the same cabinet as the sink.
The sink is a mini belfast sink with copper fittings. There is a 23 litre fresh water tank on board which can be refilled in place or rolled away. Water is drawn from the tank using the Shurflo Trailhiking 20psi 12v water pump. Underneath the sink there is also a 23 litre grey water tank which can be easily rolled away to dispose of waste water.
The fridge is a Dometic CRE 50 Compresser 45L fridge freezer, housed within its own cabinet with built in wine rack and storage draw underneath. The fridge will run off 12v but with the addition of the Dometic MPS35, this fridge will automatically switch to 240v supply when hooked up to save battery power.
There is also a wall mounted Ferguson 24″ smart HD ready LED TV which combines terrestrial channels with online streaming content such as Netflix, YouTube, iPlayer, etc, as built in Freeview channels and Wi-Fi enabled.
Located under the dining are seat is a Thetford porta potti 365. Also this is where the Gaslow 2.7kg refillable gas bottle is housed, within its own gas locker. The bottle can be refilled by opening the filling cap located at the back of the van.
As well as all of these features, this van offers ample room for storage, both open and hidden. There are also two 240v sockets along with one 12v socket and duel USB charging port.
This van needs to be seen to appreciate the craftsmanship and attention to detail throughout. This conversion has been an absolute pleasure from start to finish and I am very proud of the work that has gone into it. To view the van, see the extended photo file or if you have any further enquiries. Please don't hesitate to ask.
Delivery options to mainland UK available.
'We like the style' means that Quirky Campers would approve it for hiring but you must still check that the gas, electrics and weight were done properly. For some tips on what to look out for read this. If the listing has no Gas Safe certificate, no unladen weight and no electrical sign-off please proceed with caution!
Please note: Quirky Campers do not inspect the listings for accuracy or check campervans in person. We have asked sellers to provide evidence of certificates and paperwork however you MUST check yourself that the information provided is present and correct. You will need to exercise the normal due diligence when buying any vehicle.
Make and Model
Vauxhall Movano F3500 L3H2
Current Mileage
68,579miles
Registered Vehicle Type
Panel Van (does not meet DOT standards)
The van has a rear lounge that converts to a good sized double bed and an L shaped lounge to the front that converts to a large double bed.
Maximum Weight (MAM or MTPLM)
3,500kg
Unladen Weight Verified?
NO - the vehicle has not been weighed since completion
Gas sign-off supplied
Gas Safe Certificate