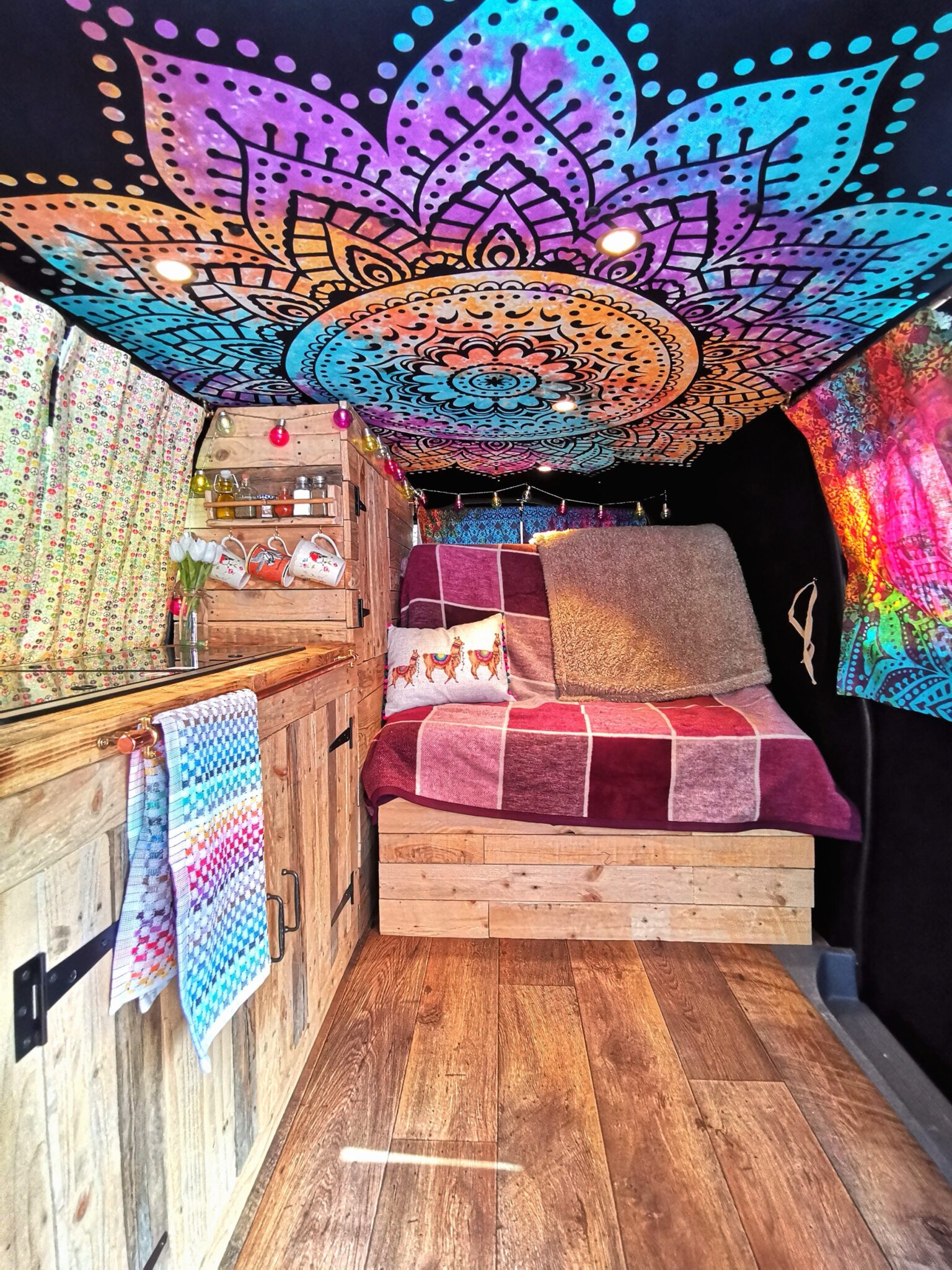 Vehicle Description
Mercedes Vito 109 Cdi Compact
164,000 miles
3 previous owners
Logbook present
2 keys
Part service history
MOT until 20th December 2021 (Should pass the next one with no issues).
New clutch and flywheel fitted earlier this year by Mercedes (flywheel still has a years warranty).
Bodywork is in good condition
Good MPG – comfortably does 35mpg
6 gears
Diesel
Dab radio with Bluetooth and aux
Fits under height barriers and into parking spaces unlike most campervans.
I have maintained this van to a high standard over the last few years and it runs perfectly and always starts first time. Occasionally when it's cold it will take an extra couple of seconds to start – I got this diagnosed by Mercedes and they said it could do with a new crank sensor which I was quoted £150 to have replaced.
Beds Description
The bed is a rock n roll bed which comfortably fits 2 adults
Conversion Description
Inspired by hippie culture I converted this van to be eye catching and psychedelic but also homely and very cosy. I have had it for hire on Quirky Campers for the last 3 years under the name Rory and I have been on lots of road trips in it myself. I am very sad to have to sell it but I have decided to start a new van project and will not have the room or funds for both.
If reading isn't your thing then you're welcome to watch my van tour video which should give you most of the information I have listed below.
The first thing you notice about the van is the "one of a kind" paint job. This was done by an artist from Hastings called Luke Brabant. It has turned many heads over the last few years and you usually get people coming over and chatting to you about it while on your travels.
The inside features a colourful & tasteful ceiling which is complemented by the rustic cupboards and worktop, all of which are crafted from used pallets and scaffold boards. All the curtains are handmade and have magnets in them to block out outside light.
The van features a solid metal rock and roll bed which has seat belts when it is in a seat position. This bed is very sturdy and good quality.
The van has a smev sink and double burner hob which runs off camping gaz which is kept in a gas locker under the worktop. I wanted to keep things simple so I made sure the gas heater runs off this same canister.
Most of my roadtrips involve wild camping so I wanted to keep my van as an off grid camper. To do this I installed a 100ah leisure battery which is run off a split charge relay from the vans main battery. Unlike other campervans you do not need to plug the van in at a campsite meaning you can park in the middle of nowhere and use the 12v lights, tap and USB chargers for up to a week without worrying.
There is a fair amount of storage under the bed and in the cupboards where I also keep a portable table. This clips onto the towel rail and is very useful for eating dinner or when cooking. The passenger seat also has a swivel base and turns 180 degrees to make eating meals and socialising more enjoyable.
The van is fully insulated and carpet lined to keep you cosy and warm at night or if you're too hot the van features a sliding window which is useful in summer. All the windows were fitted by a specialist van window company.
The coolbox uses 2 large ice packs which last for up to 3 days.
The van is all ready to go for winter roadtrips & I can also include the full kitchen set, mattress topper, hot water bottle etc for a small fee.
Registered Vehicle Type
Motor Caravan - approved
Base Vehicle Condition
Used
Vehicle Length
2,748.00meters
Converter Type
Self Build - Handcrafted Start-up
Converter Condition
Used - Excellent
Maximum Weight (MAM or MTPLM)
2,770kg
Unladen Weight Verified?
YES - the vehicle has been weighed since completion
Gas sign-off supplied
Landlords Gas Safe Certificate
Quirky approved and ready to list
Currently listed on Quirky
We like the style
'We like the style' means that Quirky Campers would approve it for hiring but you must still check that the gas, electrics and weight were done properly. For some tips on what to look out for read this. If the listing has no Gas Safe certificate, no unladen weight and no electrical sign-off please proceed with caution!
Please note: Quirky Campers do not inspect the listings for accuracy or check campervans in person. We have asked sellers to provide evidence of certificates and paperwork however you MUST check yourself that the information provided is present and correct. You will need to exercise the normal due diligence when buying any vehicle.