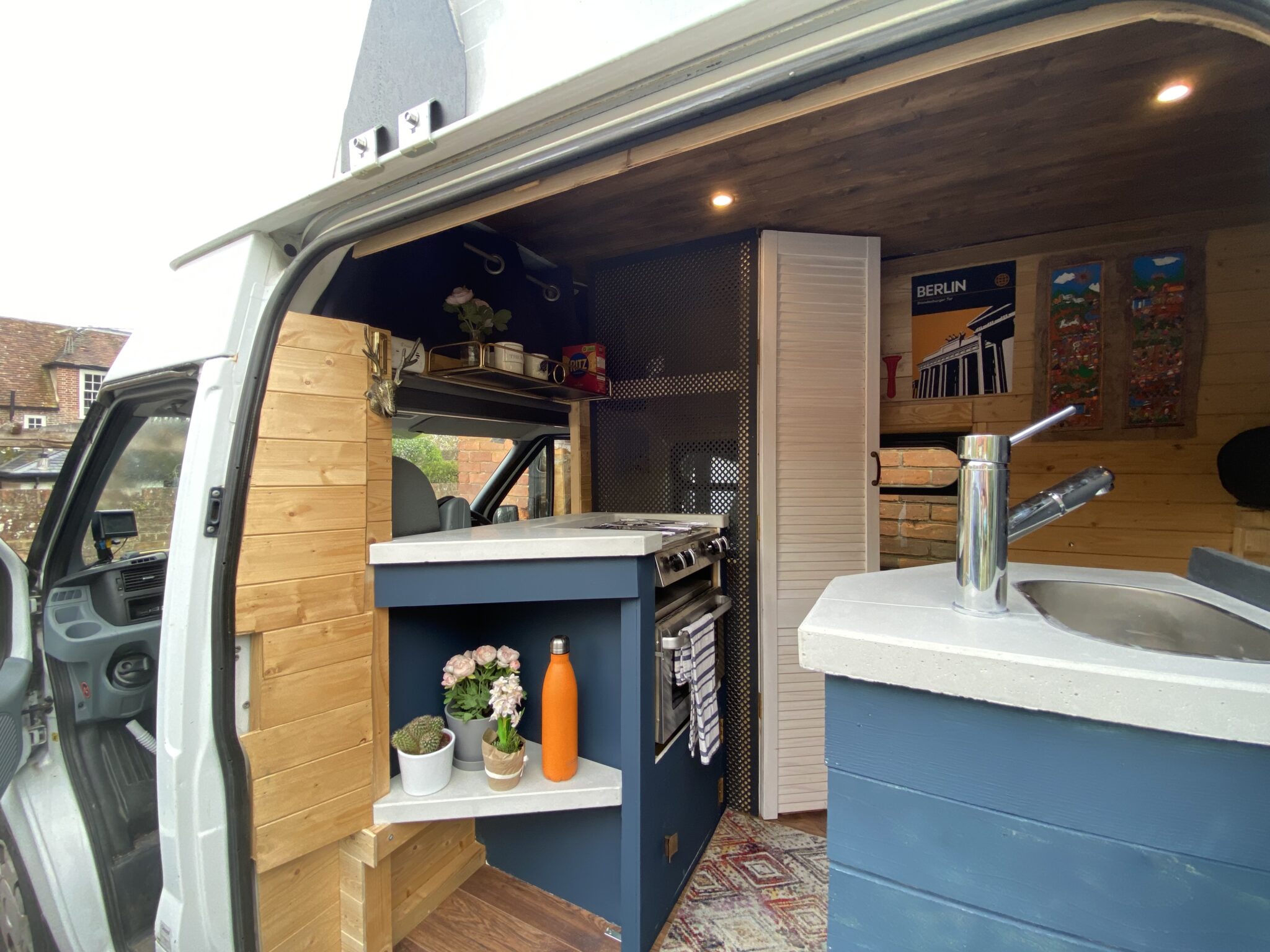 Sold
Vehicle Description
Ford transit t350 long wheel base high roof
(Ex network rail crew van)
65,000 miles
2.2l turbo engine
Manual (6 gears)
Diesel
2 keys
MOT until April '22
Taxed until November '22
Recently serviced (new springs on rear wheels)
3 belted seats
70mph speed limiter
Central locking
Parking sensors
Conversion Description
Insulation – dodo Thermo fleece (made from 100% recycled bottles and a 7mm dodo thermo van liner vapour barrier.
Heating – Diesel eberspacher heater with thermostat
Electrics/solar – two 85ah batteries connected to an alternator and solar panel
    ⁃    310w JA solar panel + Renogy Rover 40 amp MPPT controller
    ⁃    240v inverter w/ UK three pronged plug
    ⁃    Two USB charging ports
    ⁃    One 12v cigarette lighter port (tv plugs into this)
    ⁃    12v led ceiling lights
Kitchen
    ⁃    concrete worktops
    ⁃    voyager 4500 oven, hob & grill (LPG)
    ⁃    400w microwave
    ⁃    12v water pump for tap
– 1m pull out tap
    ⁃    10litre water tank, sink drainage out bottom of van
    ⁃    The bench seats lift up to reveal two generous storage compartment
Bathroom
    ⁃    brand new portapotti w/ chemicals
    ⁃    Outdoor complux lpg shower w/ 12v pump
Bedroom
    ⁃    The bed measures 4ft3 by 5ft5
Cab
    ⁃    3 belted front seats
    ⁃    Radio/CD player with aux
    ⁃    Electric windows
    ⁃    Wireless phone connection
I bought the van from network rail in January 2020 and converted it over the following months, with additions/changes being done continuously over the year. I had the intention of travelling through Europe over the summer but Covid meant I was restricted to the U.K. I've spent a few months living in the Van and loved every minute of it.
She's been through numerous different designs. I have recently repainted the kitchen cabinets and the concrete counter tops have been the latest addition which is a shame because I haven't been able to enjoy them for that long. But you can!!
The van is fully insulated with dodo thermo fleece, made from recycled plastic bottles, covered by a 7mm dodo thermo liner to add a sealed vapour barrier.
The eberspacher 12v diesel heater provides central heating to the living space. It is directly connected to the fuel tank, and is controlled by a thermostat and it is mounted under the bench.
There are two 85 amp hour batteries connected to both an alternator from the engine and a solar panel.
There are four roof bars that the 310 watt JA solar panel is attached to. I have left space on the roof rack to attach a kayak, bikes etc.
The 310 watt solar panel is very efficient. It is a mono percium panel.
The solar controller is a 40amp hour Renogy MPPT controller.
There is a 240v inverter with a UK three pronged socket, two usb charging ports, and a cigarette lighter port. The ceiling lights are 12v warm colour led. And there are a few fairy lights dotted around.
There is a 12v TV with DVD player and Ariel. This also has the capability of being attached to a satellite should you so wish.
The bespoke concrete kitchen work tops were installed by @bristolconcretestudios, and are my favourite thing in the van.
There is a voyager 4500 oven, grill and double hob.
There is a 400w microwave.
The sink is a bar sink. The tap is controlled electronically by a 12v pump, and has a hose function that stretches to 1m (perfect for washing sand off your feet). There is a 10l water tank under the sink and the water drains straight out from under the van. When I've been in places that don't allow this I just throw a bucket underneath to collect the excess water.
I've bought a brand new Portapotti that is in the bathroom and I have a couple of litres of the chemicals. This has come to be extremely useful when I've been camping in cities. The room/cupboard that the toilet is in has doubled up over time as a walk in wardrobe/larder. `
Attached to the back door is a camplux lpg shower.
The bench lifts up to reveal two very large storage sections. The bench also doubles as a small spare bed.
The Bed is small, which does mean there is more living space. It measures 4ft3 by 5ft5 Diagonally it measures over 6ft, perfect for a solo camper, or a small couple! It could easily be extended should you so wish.
Under the bed is a huge garage compartment. I've managed to get 3 bikes in there (with the front wheels off) and still had space for camping chairs and other bits and bobs.
Up front, in the cab, there are 3 seats. There is a CD/radio with an aux cable. There are parking sensors at the rear.
I'm happy to send additional photos of the conversion process to anybody who's interested. Open to offers.
Please note: Quirky Campers do not inspect the listings for accuracy or check campervans in person. We have asked sellers to provide evidence of certificates and paperwork however you MUST check yourself that the information provided is present and correct. You will need to exercise the normal due diligence when buying any vehicle.
Current Mileage
65,000miles
Registered Vehicle Type
Panel Van (meets DOT standards)
Maximum Weight (MAM or MTPLM)
3,500kg
Unladen Weight Verified?
NO - the vehicle has not been weighed since completion
Gas sign-off supplied
None