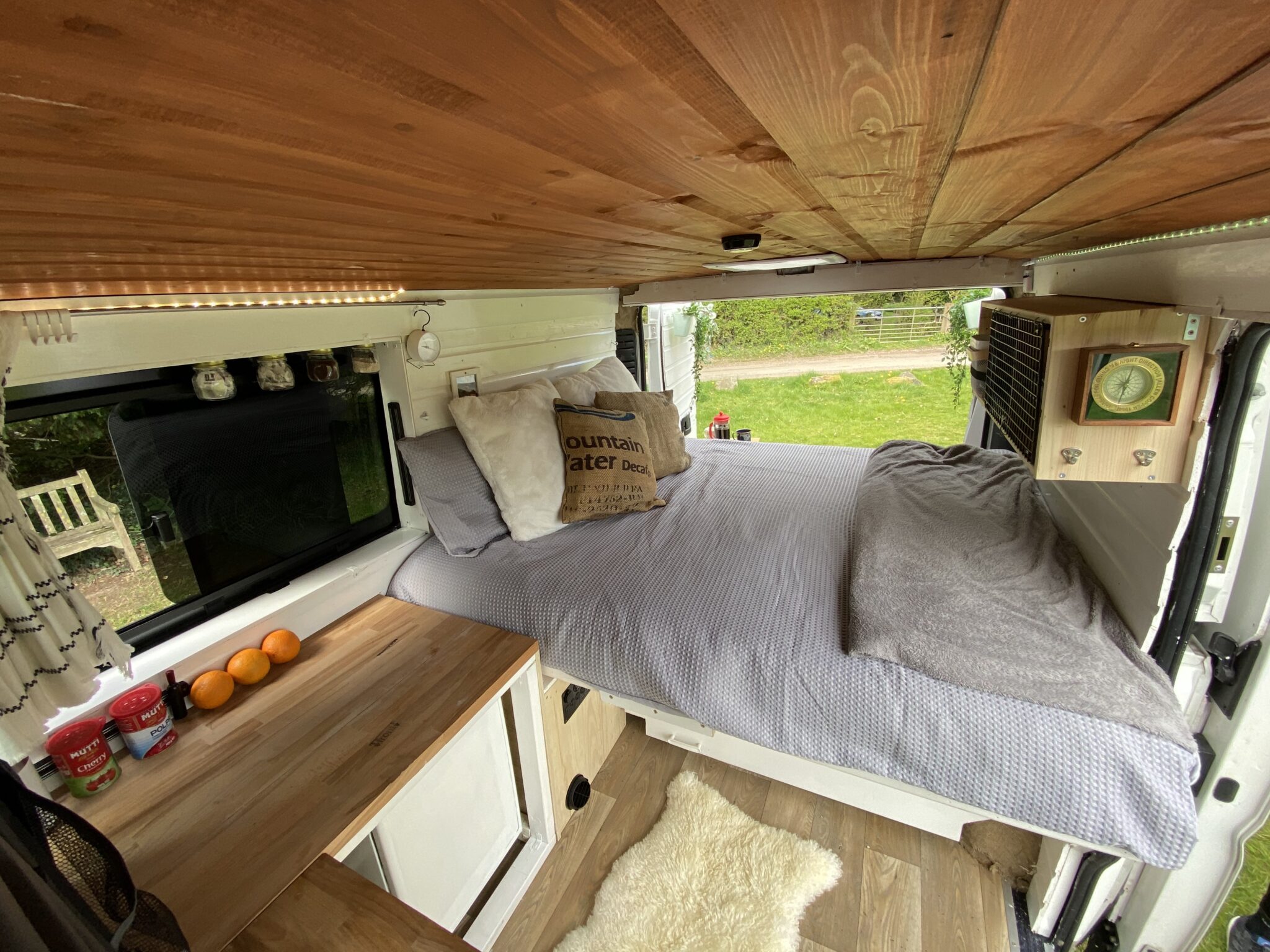 Vehicle Description
1997cc
Devin averages 37 MPG on motorways and roughly 30 MPG urban driving (depending on how you drive!)
AdBlue
6 speed manual
Aircon
Reversing Sensors
Bluetooth radio with call functions
Cruise control
Body work in great condition
Full service history
12 month MOT till 4 May 22 – no advisories!!!!
Was part of a rental fleet in previous life so well maintained
Was used as my daily driver until very recently.
Conversion Description
Introducing Devin, a stealth high-spec cosy camper for two… with a massive bed!
Newly converted and hand built ourselves; you can see the step by step build process that we undertook on our Instagram @thedevinproject
We picked the L1H1 as we used Devin as a daily driver until recently when we purchased a second car for work. Devin is very easy to park, especially with the parking sensors. Being a stealth van too he blends in allowing you to blend in, in all environments. In terms of mileage, Devin averages 37 MPG on motorways and roughly 30 MPG urban driving (depending on how you drive!). Devin is easy to drive being a smaller van, and having plenty of driver comforts such as cruise control and phone connectivity.
Devin is also fitted with a 19-litre electric oven, which we believe combined with portable camping hobs provides more flexibility for cooking and exploring.
The fridge runs off the leisure battery or can run from hook up and is large enough for 3 bottles of wine and snacks ;).
The counter top/work surface was provided from an independent wood worker who also makes our household chopping boards! Most of the wood in the van is from a wood local recycling centre, we wanted to keep Devin as green as possible. In short, Devin not only is it rustic inside, but also incredibly comfortable and space savvy with multiple clever and quirky features. Perfect for couples with a keen sense of adventure wanting to get out and about post lockdown. As a plus, the bed/couch is large enough for a dog to tag along too!
Happy to arrange viewings whenever suits. Additionally, if you wish to see more photos/a video tour do let us know. We are based in High Wycombe so not far off the M25. Feel free to contact us for more details or if you have any questions (see the contact details below).
We built Devin for ourselves with the goal of traveling to Europe after lock down, he isn't a typical out of the box build that you see everywhere he was a project of love. Unfortunately due to circumstances changing and needing a larger van we are having to sell our Devin.
LIVING COMFORTS
• 19 L grill and oven
• King size memory foam bed!! (5ft x 5ft11′)
• Seating box
• Bed folds up into a large couch secured for travel
• 12V/hook up fridge
• LED lighting (ceiling and multiple colour mood lighting)
• Upcycled wooden interior
• Fully insulated with: Dodo Super Liner, aluminium thermal foil on the walls and ceiling, 25mm Kingspan Insulation Boards on the floor
• Custom made wooden counter top
• Multiple storage cabinets and shelving
• Roof vent
• Laminate wood effect flooring
• Sound deadening (Dodo Hex Mat)
• Large garage storage area
• Awning rail with awning
• Water jerry can
• Secured bookshelf
• Magnetised mug holder
ELECTRICALS
• Leisure battery 100AMP
• 2 Kilowatt diesel heater
• Split charge relay
• Electrical hook up
• 3 electrical sockets
• 2 USB charging points
• 3 cigarette chargers (12V)
GENERAL
• Barn doors to the back with fold out table surfaces
• Fitted tinted slide opening window
• Recycled coffee bag roof liner and wheel arch covering
• Fold out chopping board
• White painted interior and cedar painted wooden ceiling
• Large Mirror on sliding door
'We like the style' means that Quirky Campers would approve it for hiring but you must still check that the gas, electrics and weight were done properly. For some tips on what to look out for read this. If the listing has no Gas Safe certificate, no unladen weight and no electrical sign-off please proceed with caution!
Please note: Quirky Campers do not inspect the listings for accuracy or check campervans in person. We have asked sellers to provide evidence of certificates and paperwork however you MUST check yourself that the information provided is present and correct. You will need to exercise the normal due diligence when buying any vehicle.
Make and Model
Citreon Relay 30 L1H1 Enterpise Blue HDI
Current Mileage
72,001miles
Registered Vehicle Type
Panel Van (does not meet DOT standards)
We converted and designed this van with the main goal of having a bed to comfortably fit two fully grown adults (1 slightly overgrown at 6ft 3). The bed is a king size bed in width and the memory foam mattress was trimmed to just shy of 6ft in length. It is defined to fold up into a cosy couch when not in use to allow for more living space and open up the van. Under the bed is a large garage for storage, which can be accessed from inside and outside the van via the back-barn doors.
Maximum Weight (MAM or MTPLM)
3,000kg
Unladen Weight Verified?
NO - the vehicle has not been weighed since completion
Gas sign-off supplied
Gas free