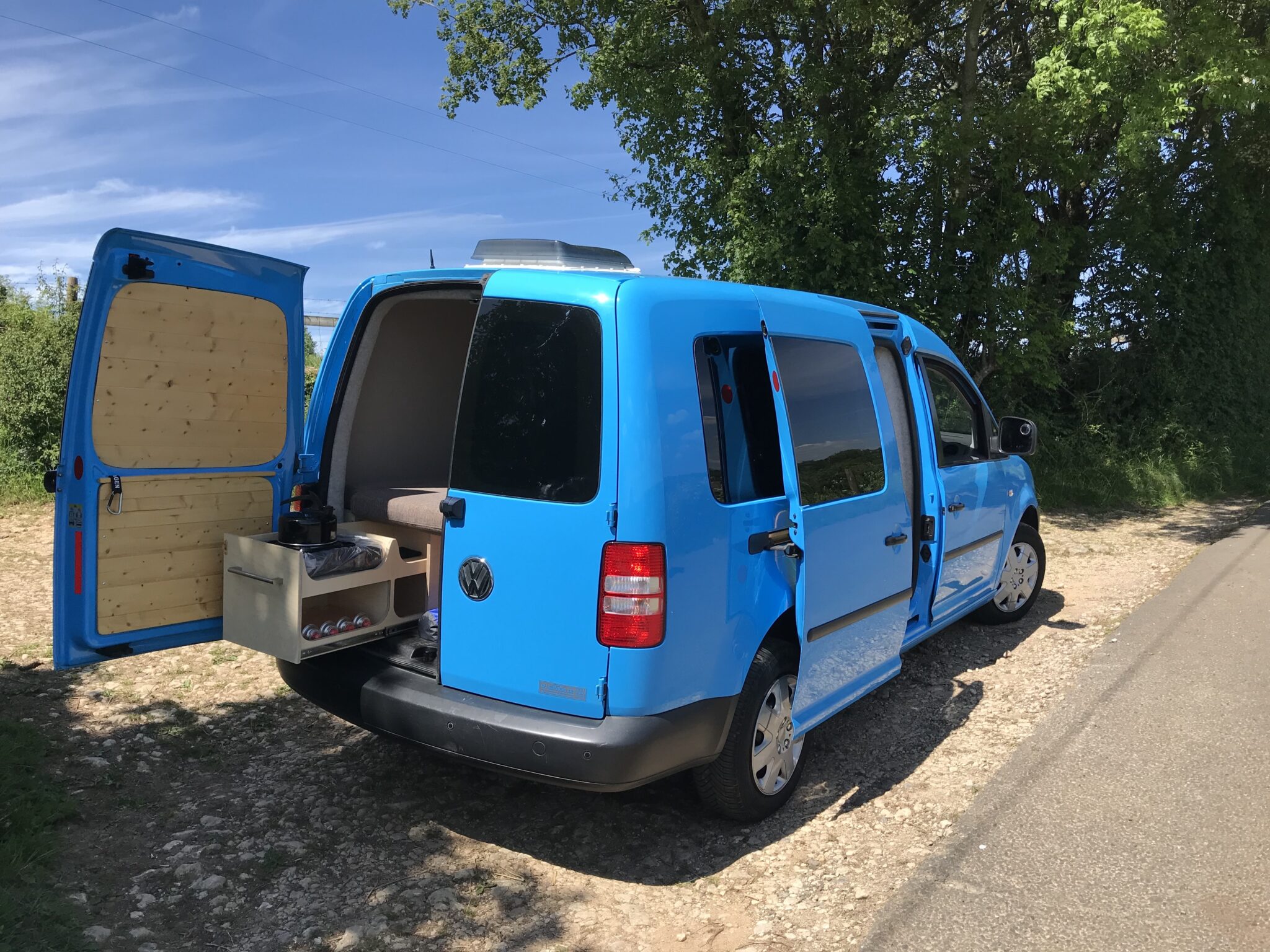 Vehicle Description
Caddyshack is an ex British Gas van so it has been well maintained with full service history. VW Caddy Maxi Camper. 1598 CC diesel engine, 6 speed manual gearbox. Drives like a car, very smoothly with plenty of power, never had a problem with it. The vehicle is fairly new and has alow mileage! It has had one other owner since it stopped being a service van, although they made the conversion to the vehicle but didn't drive it.
We have uploaded some photographs showing a double bed, with cooking and washing up area which all folds away neatly for traveling and normal van use. The conversion has so much storage under the bed with hide away secret side pockets to keep valubles. Comes with a one hob Gas cooker, gas canisters, awning, washing bowl and water tank.
Recent MOT passed with flying colours, cheapest MOT I have ever had! 11 months MOT remaining
The van has an campsite electrical hook up with a one british plug socket and a seperate 12 volt leasure battery which self charges when driving. The leisure battery supplies power to USB plug ins and LED ceiling lighting. The van also has a sun roof/vent with instect mesh, its great for star gazing at night when lying down to sleep and keeps the van well ventilated.
You hook up your mobile to the sound system so you listen for whatever you wish too!
Caddyshack is so well insulated its warm in the night and cool in the day and nicely sound proof if parked by a noisey road or campsite, we felt so safe and well protected when sleeping, and because its to modern looking no one really knows its a converted camper. it also has blackout curtains for privacy.
Custom fitted cushions are specially made for comfort and use with in the camper, you can create different seating arrangements and are machine washable.
Outside the bodywork is very clean apart from couple of little indents very small and scuff/scratch marks above one of the tyres.
The van has a good driver comfort spec including:
– Rear parking sensors
– Air conditioning
Please note: Quirky Campers do not inspect the listings for accuracy or check campervans in person. We have asked sellers to provide evidence of certificates and paperwork however you MUST check yourself that the information provided is present and correct. You will need to exercise the normal due diligence when buying any vehicle.
Current Mileage
50,031miles
Registered Vehicle Type
Panel Van (meets DOT standards)
Bed spans the width of the van so there is plenty of room for two adults and a dog. very comfy custom made matress cushions.
Maximum Weight (MAM or MTPLM)
2,350kg
Unladen Weight Verified?
NO - the vehicle has not been weighed since completion
Gas sign-off supplied
None