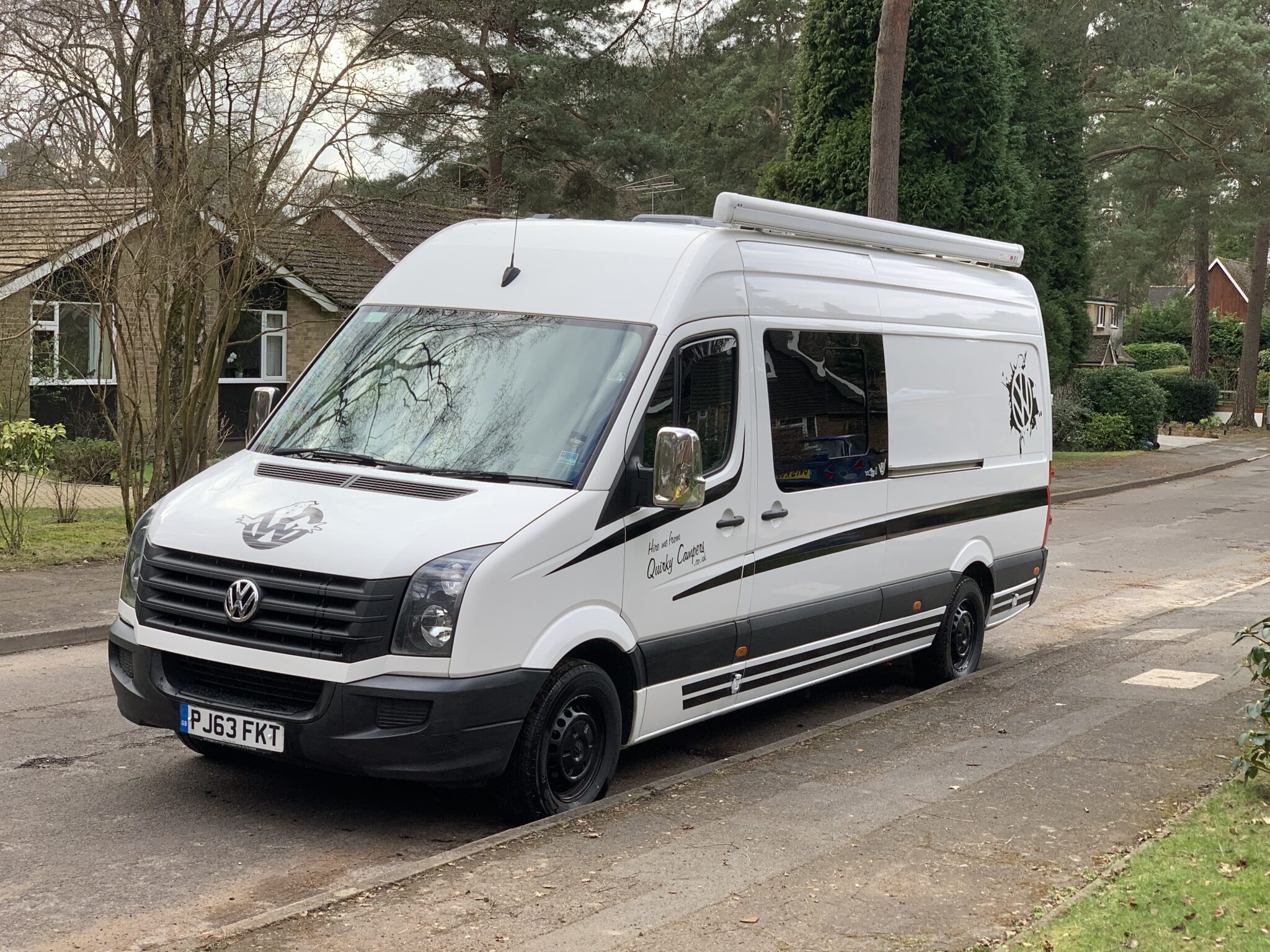 Vehicle Description
2013 VW Crafter
Long Wheel base, High top
2.0 TDI engine (recently had cam belt and water pump replacement)
6 Speed manual
Cam belt and water pump change 1 year ago
33mpg
MOT May 2021
118k mileage
Reversing camera – connected to new 6″ touch screen DVD/media player
Bluetooth hands free
DAB Radio
Complete front cab speaker upgrade; 6×9's, mid range and tweeters (sound deadening in both doors)
3 seat belts
Double swivel passenger seat
Conversion Description
This campervan is called Valerie and has been rented through Quirky Camper for the last few years, you can see more photos on their website also.
Front cab:
Double swivel passenger seat, with leatherette seat cover
Single swivel drivers seat bought, but not installed.
Complete audio make over: 6 x 9's, mid range and tweeters
Kenwood 6″ touch screen DVD/media player, with Bluetooth hands free and DAB radio
Reversing camera connected to media player, displaying view from behind when in reverse.
Insulation:
Celotex insulation all round
Plastic bottle wool in the hard to get to spaces
Silver sided bubble wrap on top, as extra warmth and vapor barrier
Silver lining tape used on joints
Raised celotex insulated floor, with ply and vinyl floor
Exterior:
2 slide open side windows with privacy glass
Double rear windows in privacy glass
Roof wind open roof light
270w solar panel – powering every off grid internally
Roof bars – can attach roof box, or any ski's, snowboard, or kayak
Rear mounted roof ladder, to access top of van
Customised double bike rack attached to rear ladder
All 4 steel wheels have been sprayed black
Graphics attached all round
Fiamma wind out 3m awning, with feet attachment on side of camper, for hard standing camping (with storm pole provided)
Professional installed by Propex, 30ltr LPG tank under the camper with external BBQ point adapter – £12 fill up last most of the year
Steel wheels sprayed black
Kitchen:
Great size working kitchen; plenty of counter space for food preparation.
Kitchen sink, with waste pipe through bottom of the camper
Cold water tap connected to shurflo water pump and 70 litre Fiamma water butt, at rear of camper, under seating
Brand new Dometic CRE65ltr 12v fridge (powered by solar panel) £650
240v microwave
Glass double ring gas burner – powered by LPG tank
6 x bottle holder
Wine bottle holder for 3 bottle
Magnetic knife rack
Bottle opener on wall
Kitchen roll holder
8 x Ikea put holders
2 x tea towel holder
3 deep draws for all kitchen utensils
Double cupboard under counter, with Bin on back of door, table tops, and a further 3 draws
2 x spice racks
Electrics:
1 X 270W Smaller Size Perlight All Black Mono Percium Solar Panel
Victron MPPT 100/20 controller, with Bluetooth (app on phone controls the Solar power)
2 x 115AH batteries
12 Blade Fuse box
Durite 20a battery charger
Durite split charge relay
240v consumer unit power 3 plugs, and battery charger when plugged in at camp site
600w pure sign wave inverter (£250)
24″ LED screen – powered by 600w pure sign wave inverter
New Propex 3kw air heater, power by the LPG tank (under rear seating)
240v external plug in for campsites (powers microwave and 3 internal plug sockets)
LED Digital Display Voltmeter
3 x 2 USB charging points, front, middle and back of camper
12v push in charger
LED volt metre display
Lighting:
6 x touch sensitive ceilings lights (meaning you can have 1 or as many on as you like on)
3 x LED strip lights: Kitchen, cupboards and sleep/sitting area
2 x LED night lights
Motion active LED light in cupboard.
Seating area:
Front double swivel seat
2 seater seat behind drivers seat, which doubles as toddler bed (with bed guard anchors)
Large U shaped lounge with access to storage and water butt
U shaped lounge turn into 6'x6.3′ bed with customer memory foam
2 floor mounted table leg and table tops (one in U shaped seating area and one by swivel seats)
24″ LED TV in this area and aerial
iPad holder
Several storage pockets
Several cup/beer holders
Storage:
Under front double seat
Electric box behind drivers eat
8 shelves across 3 large cupboards
Underneath of the whole U shaped lounge
Shelf across half of the back of the camper, for easy access to every day items.
Shelf above front cab.
Toilet:
Pull out Thetford chemical toilet for when you're off grid and not at a camping site.
Chemicals for toilet included
Additional Features:
Gas and smoke detector
Fire Extinguisher and blanket
Black out curtains all round
Customer made insulation blackout blinds for each of the windows, for privacy and complete blackout
General good body work all round
Reversing camera
Customer made rear door canopy (you can have the doors open when it's raining and not get wet!)
Rear door access to all of the storage under the seating if required.
Quirky approved and ready to list
Currently listed on Quirky
We like the style
'We like the style' means that Quirky Campers would approve it for hiring but you must still check that the gas, electrics and weight were done properly. For some tips on what to look out for read this. If the listing has no Gas Safe certificate, no unladen weight and no electrical sign-off please proceed with caution!
Please note: Quirky Campers do not inspect the listings for accuracy or check campervans in person. We have asked sellers to provide evidence of certificates and paperwork however you MUST check yourself that the information provided is present and correct. You will need to exercise the normal due diligence when buying any vehicle.
Make and Model
VW Crafter, High top, Long wheel base, 2.0TDI 2013
Current Mileage
118,000miles
Registered Vehicle Type
Motor Caravan - approved
The 'U' shaped lounge turns into a 6 x 6.3′ king sized bed, with £400 worth of made to measure memory form.
There is also a 2 seater seat, that turns into a toddler bed, with bed guard.
Maximum Weight (MAM or MTPLM)
3,500kg
Unladen Weight Verified?
YES - the vehicle has been weighed since completion
Gas sign-off supplied
Landlords Gas Safe Certificate