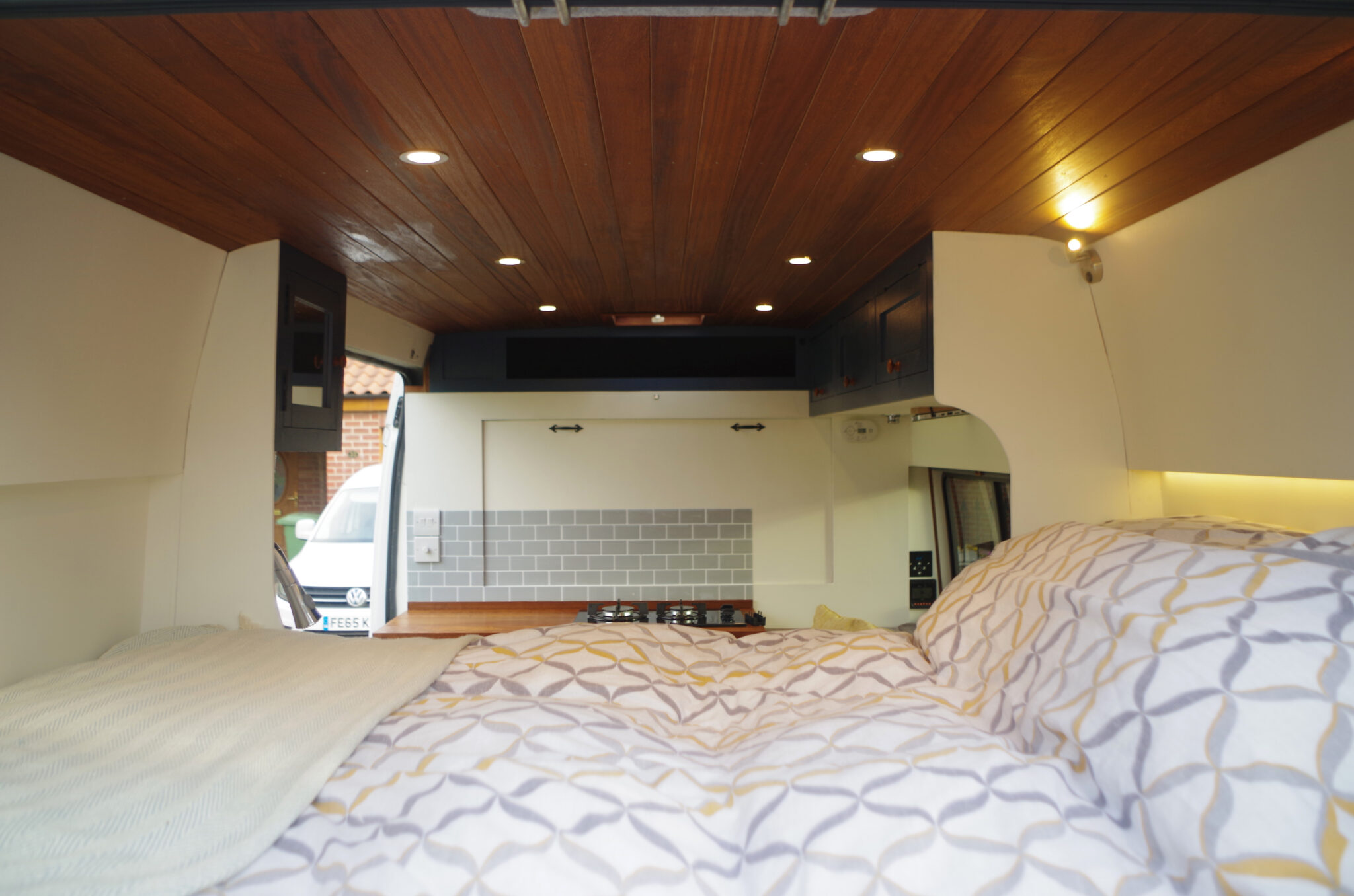 Sold
Vehicle Description
The base van is a rare L2H2 (MWB) Peugeot Boxer with air conditioning, in excellent condition with nearly 12 months MOT.
Being an L2 van means this van is a fair bit more maneuverable than it's L3 and L4 counterparts, meaning you don't have to worry about navigating small car parks – this van even (just about) fits in a standard single parking space. Despite this, the rear of the van feels roomy and bright with plenty of room to stand up. It really is the perfect compromise between space and ease of driving.
Externally the van is in good condition, with just a few minor marks to the paint and a small dent on one of the rear doors. There are absolutely no large dents or structural damage.
Mechanically the van is running perfectly, it was originally owned by the RAF so was serviced regularly by them and has been serviced several times in my ownership (well before a service is due). It's had everything it's ever needed, including recent front brake discs and pads.
Features:
– Electric windows and mirrors
– Air conditioning – a must have, even in the UK!
– Touch screen Android powered stereo, with Bluetooth, Spotify etc.
– Reversing camera, output on the stereo
– Sat nav via your preferred Android app (Google Maps, Waze etc)
– MOT'd in April 2021, so nearly a full years MOT
– Lightweight conversion that doesn't compromise on appearance, with over a tonne of available payload
Conversion Description
Overview
———
The theme of this van is the hardwood iroko, hence the name Iroko! Every single bit of hardwood used in the van is iroko – even the ceiling – giving it a very unique finish. To complement the heavy iroko, almost all plywood used in the van is lightweight poplar plywood meaning that the unladen weight of the campervan comes in at just 2220kg. Add a driver and passenger, full tank of water etc. and you'd still have about 1000kg of payload remaining.
Despite being a medium wheel base van, this conversion manages to include a fixed double bed, seating area/single bed, plus a decent sized kitchen/cooking area – all without feeling cramped. On top of this it has heaps of storage space, with overhead lockers, under-seat cubbies, two kitchen cupboards and draws, an over-cab shelf (much larger than it first appears!), plus a huge storage area under the rear bed.
Electrics
——–
Electrically, this campervan has everything you'd need to live off-grid. With a 120Ah lithium battery, 300W of solar and a 1500W inverter, you'll never need to worry about running out of power. The battery is connected to the van alternator via an ignition switched relay, allowing the van engine to charge the battery at a real-world rate of about 70A (far faster than lead acid batteries can be charged) – meaning you can easily replenish the batteries from just a quick trip to the shop, and that's if the battery isn't already fully charged from the solar panels.
The inverter supplies a 240V socket at the front, plus a double 240V socket at the rear of the van.
The campervan is fitted with multiple lights (reading lights for the front seating, reading lights for the rear bed, ceiling lights, under-bed storage lights, etc), plus multiple USB charging points.
Cooking facilities
—————-
The conversion has a good size kitchen unit with double gas hob, situated directly under an adjustable-speed extractor fan and skylight. The hob is powered by a small refillable gas bottle (gaslow), that can be refilled at any LPG serving petrol station. Daily use of the hob sees this gas bottle last several weeks, and when it does run out it costs only a few pounds to refill.
The kitchen consists of two good sized cupboards, with a solid iroko worktop. There are two drawers, with one including a lovely sliding cutlery draw (made out of iroko, of course!).
Opposite the seating area is a full sized sink with pull out tap, and cupboard with mirror above for your toiletries etc.
Fresh water is served by a huge 60L water tank, kept out of sunlight (and in from the cold – no frozen pipes) under the rear bed. Grey waste water is captured in a 23L tank directly under the sink, which can easily be removed to be emptied.
Under the sink is a large 42L fridge, which can be comfortably run continually off the leisure battery and solar.
Heating and Insulation
———————
This van has been exceptionally well insulated, with a minimum of 30mm kingspan all round – most places have as much as 60mm of kingspan. This insulation does a great job of keeping the heat out in summer, and the warmth in in winter. This has been tested down to -10C, with the diesel heater barely ticking over to keep it at a comfortable 20C inside.
Separating the living area from the cab of the van is an insulated partition, which includes an insulated slider allowing you to let additional light in if needed. This slider is a great way of keeping the heat in the cab in summer, and allowing the heat and light through to the back in the winter sun.
To heat the van a 2kW diesel heater has been fitted, with an outlet under the front seating and an additional outlet under the rear bed, with an adjustable valve to split the air flow between the two outlets. This heater is plumbed into the van's fuel tank, meaning you don't have to worry about filling and carrying a separate tank of diesel.
Controlling this diesel heater is a custom "Afterburner" aftermarket diesel heater controller, which allows a great deal control over the heater – it can even be started and stopped remotely. See http://afterburner.mrjones.id.au/ for more info.
Extras
——
There are a few notable extras in this van, including:
– Projector screened onto sliding door opposite the bench seat. This runs Android so can play Netflix, Youtube etc. if there's an internet connection, or alternatively can play downloaded films and videos from a USB stick.
– Pull out table with iroko veneered plywood top.
– Partition slider can be opened from either the front or the back, just by pressing a discrete button on either side.
– Control panel for monitoring the solar input/output, plus Bluetooth apps for monitoring/control of both the lithium battery and the diesel heater.
– Fiamma roof vent with speed control, so the fan can be kept on quietly at night.
Summary
———
Key features:
– Solid iroko kitchen top, beautiful iroko ceiling, and iroko trim throughout
– 2 burner gas hob
– Gaslow 2.7kg refillable LPG gas system
– 60L fresh water, 23L grey water
– Shurflo water pump and accumulator
– 42L compressor fridge
– 120Ah LiFePo4 (lithium) leisure battery with Bluetooth monitoring
– 1500W 240V inverter
– 3x100W solar panels with MPPT charge controller and MT50 remote monitoring
– 2kW diesel heater with advanced controller
– Projector
– Multiple lights giving plenty of lighting options
– Fiamma roof vent with speed-controlled fan
– Fixed small double bed
– Seat converts to small single, plenty long enough even for a fully grown adult!
– Plenty of storage space
For any questions or to request a viewing, just drop me an email. I'm unable to access my phone during the day so email is preferred, but I'll happily give you a call back when I can.
Asking price is £29,000 but I'm open to sensible offers.
'We like the style' means that Quirky Campers would approve it for hiring but you must still check that the gas, electrics and weight were done properly. For some tips on what to look out for read this. If the listing has no Gas Safe certificate, no unladen weight and no electrical sign-off please proceed with caution!
Please note: Quirky Campers do not inspect the listings for accuracy or check campervans in person. We have asked sellers to provide evidence of certificates and paperwork however you MUST check yourself that the information provided is present and correct. You will need to exercise the normal due diligence when buying any vehicle.
Current Mileage
112,200miles
Registered Vehicle Type
Panel Van (meets DOT standards)
Rear fixed bed, with wall cutouts to ensure no length is lost – small double size (190cm x 120cm)
Bench seat turns into a small single, with extension under rear bed (193cm x 61cm)
Maximum Weight (MAM or MTPLM)
3,500kg
Unladen Weight Verified?
YES - the vehicle has been weighed since completion
Gas sign-off supplied
None