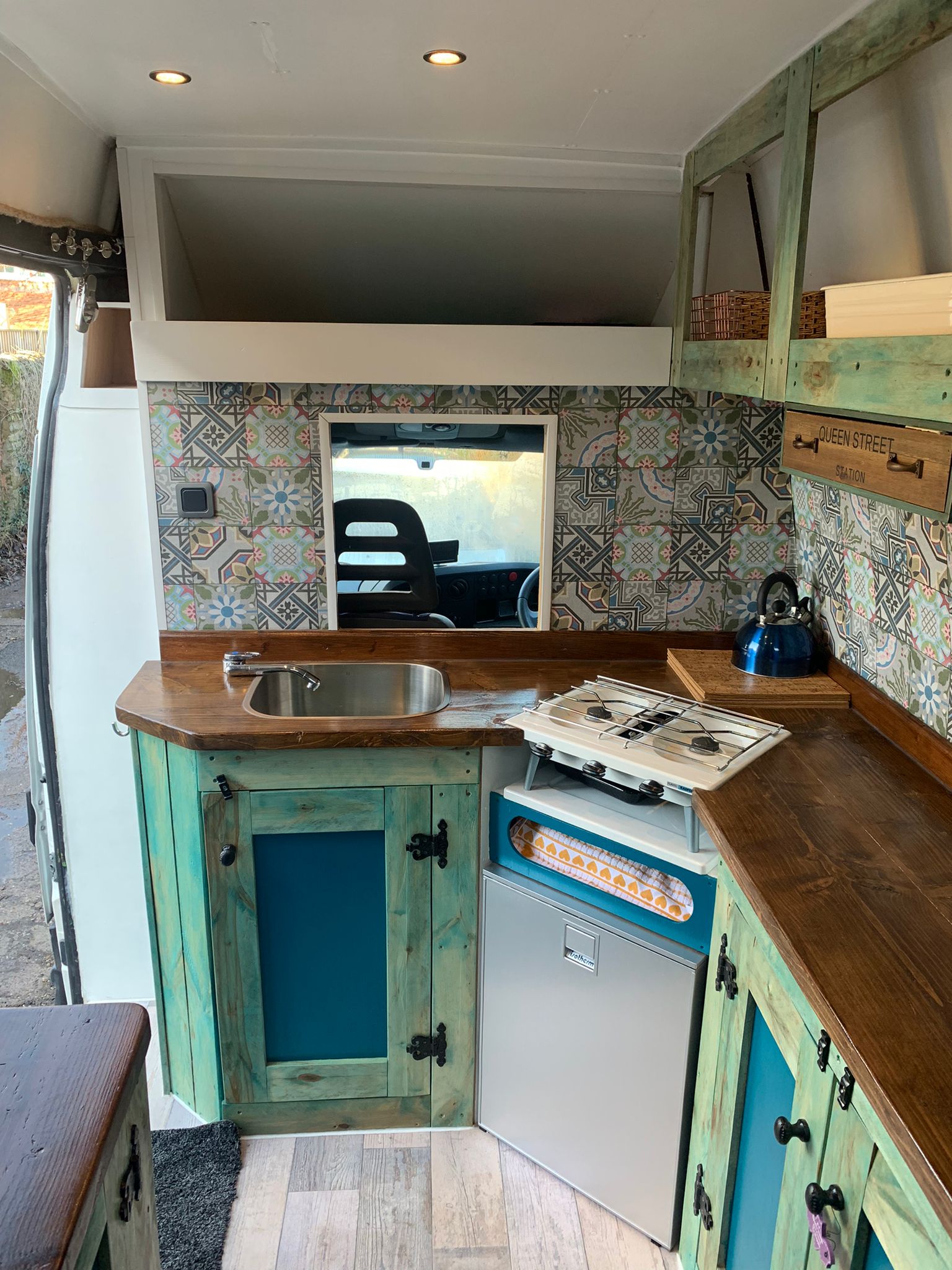 Vehicle Description
3.5 tonne
2002 Iveco Daily Club Extra high top 2.8 non turbo engine that are bullet proof especially at this mileage
Genuine 38000 miles
Body in overall good condition, has had a recent respray to tidy the look, happy to show before pics, paint flake etc only no rust bubbles etc.
Chassis has never been welded or advised
Very clean and tidy overall for a 20 year old bus
4 months left of MOT, happy to put a year on this for eventual buyer
Beds Description
For two adults: Fixed length ways bed in a small double size (6ftx4ft). Comfy memory foam mattress slept on a handful of times.
Wooden centre piece fixes to two seats to create a small single, up to a maximum height of around 5ft 6
Conversion Description
Lovingly self converted off grid camper. Was built to live in full time and travel abroad but had a change of plans. Only had a few runs out since finishing.
Completely unique one of a kind conversion on a solid van base with extremely low mileage for age. Designed for two to live in or can sleep 3.
Selling it with lots of extras detailed below. Needs to be seen to be fully appreciated.
Totally ready to go now – diesel heater and kingspan insulation mean it's warm all year round.
KITCHEN / LIVING SPACE
2 good sized Kitchen cabinets constructed from reclaimed pallet wood and scaffold
Ample worktop
Overhead shelf/cabinet storage to both sides
Over cab storage
Gas bottle with drop out
Large sink
Water and waste tank under sink
Webasto fridge 80lt (purchased new for £700) still over 18months warranty left
Vintage retro two ring hob and grill
2 bench seats with under seat storage
Usb and 12v Outlets
Centre piece to make seats into sofa/single bed
Bed cushions are high grade foam and are temporarily covered.
Small hatch for access to garage area
Captain leg and removable table top
Area with harness clip for a dog bed or additional storage
Storage area with drop down hatch
Touch activated spot lights
CO2 detector
Self built composting toilet in side unit and spare thetford porta potty as alternative
Viewing/emergency hatch to cab with removable wooden hatch for privacy
BEDROOM AREA
Two roof light windows, one large one small
Overhead extractor fan
Touch spot lights
Small double memory foam mattress slept on a few times.
Bracket mounted smart TV and remote
Clothes storage area with small rail and lots of space for boxes or loose items
"GARAGE" AREA
Large garage storage area would fit bikes, sports equipment etc ample storage
Diesel heater with separate tank.
600watt solar panels for power and recharging the dual leisure batteries which are Superbat 120ah rated. These also charge through a split charge relay connected to the vans main battery.
EXTRAS
Sony DAB Bluetooth stereo.
Reverse camera.
700w Pure sine generator with 240v socket.
Weber baby Q gas BBQ. Full insulated thermal window covers.
Rinsekit self powered shower hose.
Ring battery booster/jump start with 240v and usb power. 12v Electric shower pump
Registered Vehicle Type
Panel Van (meets DVLA standards)
Base Vehicle Condition
Used
Converter Type
Self Build - Handcrafted Start-up
Conversion Condition
Used - Excellent
Maximum Weight (MAM or MTPLM)
3,500kg
Unladen Weight Verified?
YES - the vehicle has been weighed since completion
Gas sign-off supplied
None
'We like the style' means that Quirky Campers would approve it for hiring but you must still check that the gas, electrics and weight were done properly. For some tips on what to look out for read this. If the listing has no Gas Safe certificate, no unladen weight and no electrical sign-off please proceed with caution!
Please note: Quirky Campers do not inspect the listings for accuracy or check campervans in person. We have asked sellers to provide evidence of certificates and paperwork however you MUST check yourself that the information provided is present and correct. You will need to exercise the normal due diligence when buying any vehicle.