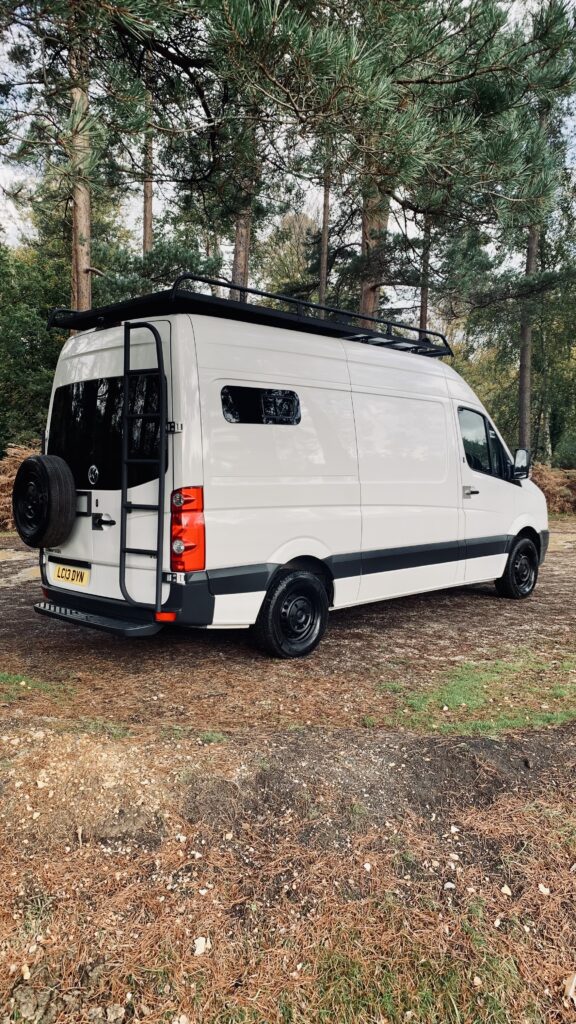 £32,000
Used
105,700 miles
3 Berths
Vehicle Description
Jelsa is a 2013 MWB Volkswagen Crafter CR35 TDI 6 speed manual with 105,700 miles on the clock. Jelsa has been very well looked after and comes with full service history (last service carried out on 04/08/2022) with all paperwork present and up to date. Our van also comes with 13 months warranty which can be transferred onto the new owner. Jelsa has had 2 previous owners, comes with 2 sets of keys and has a valid mot until 2nd July 2023. Jelsa also comes with an extensive amount of service history which I will detail below.
• Twin turbo replaced
• Cambelt and water pump replaced
• Egr cooler pump replaced
• Glow plugs replaced
• Front shock absorbers top mounts replaced
• Front brake disc and pads replaced
This van comes with all the features including rear parking camera, high security dead locks fitted on all doors, Armaplates fitted on exterior doors, built in sat nav, multimedia unit with bluetooth functionality and hands free, rhino roof rack with roof deck, a custom made rear ladder and spare wheel carrier and 6 x roof spot lights. The condition in the cab area is immaculate with no signs on wear. Overall this van has been very well maintained, kept in good condition throughout and is ready to go exploring!
Conversion Description
Meet Jelsa, she has just been converted into a stylish tiny home on wheels. This is our seventh conversion which has been inspired by our previous travels through Europe incorporating the warm, earthy tones of the wilderness with the sleek and minimal touch of Dutch style. Jelsa is a fully off grid home and ready to take you on some unforgettable adventures.
Below we have summarised the key factors of our van conversion.
Van base-
We first prepared the van by treating any rust and imperfections. This was followed by sound deadening and insulation which consists of dodo dead Matt, celotex and a space thermal blanket. These all have very high thermal values which we have personally tried and tested before. The insulation was then lined over with reflective vapour barrier to remove the possibility of any condensation build up. We have thermally insulated custom blinds for all the windows to minimise any heat loss. Finally the walls were lined with hard wood ply painted in a tough and durable valspar paint allowing you to easily wipe away dirt.
Kitchen-
The kitchen has been lovingly crafted by hand and made from lightweight pine to create an eye catching and practical work space. A shaker style door painted in Farrow & Ball colours to embellish the kitchen frontage and is mirrored throughout the conversion. We decided to use a marble effect compact laminate worktop because of its durability and clean look. There is an ample amount of space for cooking and all other daily needs. We have chosen to pair the tops with a simple black glass 2 burner hob supplied by camping gaz (located under the sofa in a gas locker to hold 2 x bottles). Opposite to that we have a deep brushed steel sink which is perfect for everyday needs. The work space is well lit from 3 adjustable spotlights which run on their own dimmer switch. A 50L SMAD 12v fridge has been installed capable of holding all of your essentials. A 240v inverter outlet socket has been fitted on the side of the kitchen allowing you to run Blenders Etc. At the end of the kitchen we have built a top to floor cupboard which holds all of our clothes with the capability of hanging, a full length mirror on the door and complete with a compact chemical toilet at the bottom. On the side of the cupboard we have plumbed in a shower which enables you to wash from the back of the van. The hot water is supplied by a compact combi bolier which supplies instant hot water for showering. The boiler is stored away in the cupboard on its own shelf for ease of use.
Additional benefits:
• Integrated waste and recycling bins
• handmade Italian tiled splash-back
• Good sized storage cupboards
• Large cutlery /spice drawer
• Black surface mounted tap and soap dispenser
Living area/Bed-
From our past experience we decided that functionality and comfort are two things we would not compromise on. Taking this into account we decided a corner sofa was the way to go. We fitted 4 windows in Jelsa and a Dometic roof vent to optimise the natural light. For us it maximised the views when sipping our morning coffee and it gives us an open space to socialise. The cushions are made from memory foam and upholstered with faux suede removable covers. Not only is the sofa an amazing space to relax it also doubles as a pull out double bed capable of sleeping 2 tall adults and the possibility of one more underneath. Plenty of storage for bedding and possessions can be found under the cushion pads, one accessed from a chest style lid and the other via sliding doors. Opposite the sofa you will find the water storage compartment capable of holding 50L of fresh water. Underneath the vehicle you will find a 60L waste tank which can be emptied by the drainage tap on the rear skirt of the van. Equipment such as the sureflow water pump, sureflow filter and accumulator are found in the bottom of the sink cupboard. Located at the end of the bed we have installed an efficient 8kw self contained diesel heater which is perfectly capable of warming the van on a cold winters night. Also we have installed a 12v JBL surround sound system controlled via Bluetooth allowing you to play your music so you can always vibe on the road!
Electrics-
We have created an efficient and reliable electrical setup which is easy to use and minimal to maintain. The system has been designed with off grid travel its priority meaning you will very rarely need to connect to mains electricity. Perfect for anyone looking to hit the wilderness and escape modern day life. Below is a list of components and features used in the set up:
Battery to battery charger
Renogy Bluetooth Solar charge controller
2000w inverter and isolator switch
2x150w Renogy solar panels
Fuse board
240v mains hook up
Consumer unit
Hook up cable
2 gang inverter outlet
2 gang mains socket
3x double usb sockets
1 gang cigar socket
Custom switch panel
3x touch dimmer panels
Volt metre
8x dimmable LED downlight
3x adjustable LED spotlight
2x 110 AH Numax deep cycle leisure battery
Registered Vehicle Type
Panel Van (meets DVLA standards)
Converter Type
Professional - Handcrafted
Belted Seats
3 Belted Seats
Vehicle Length
5.90 meters
Vehicle Height
2.70 meters
Maximum Weight (MAM or MTPLM)
3,500kg
Unladen Weight Verified?
YES - the vehicle has been weighed since completion
Gas sign-off supplied
None
We like the style means that Quirky Campers would approve it for hiring but you must still check that the gas, electrics and weight were done properly. For some tips on what to look out for read this. If the listing has no Gas Safe certificate, no unladen weight and no electrical sign-off please proceed with caution!
Please note: Quirky Campers do not inspect the listings for accuracy or check campervans in person. We have asked sellers to provide evidence of certificates and paperwork however you MUST check yourself that the information provided is present and correct. You will need to exercise the normal due diligence when buying any vehicle.