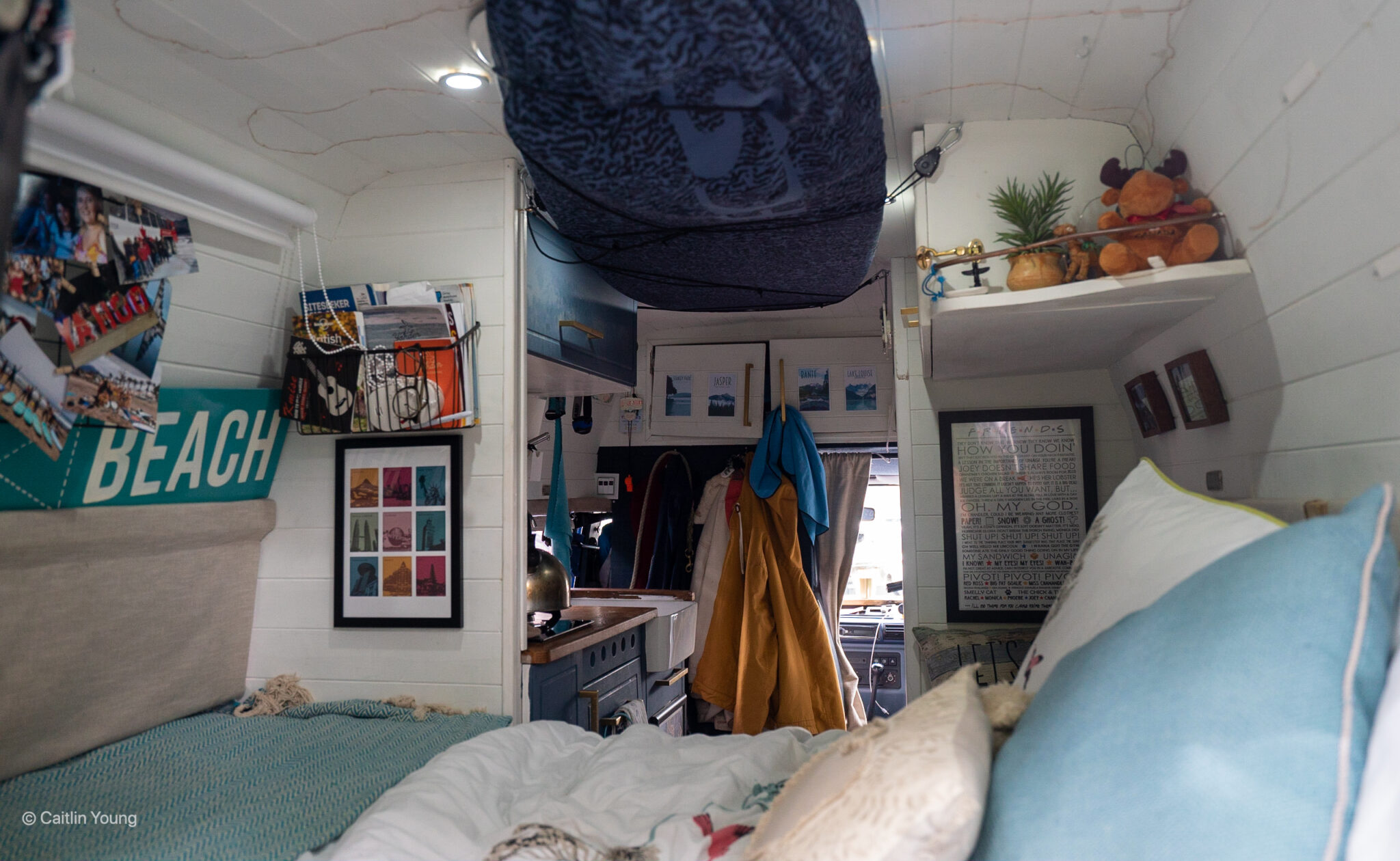 Vehicle Description
– MOT until 09/07/22
– Diesel
– 5 gears
– 6 brand new tyres in May 2021
– Great runner for an old girl
2 x 100amp hour batteries
150W Solar Panel
MPPT solar charge controller
1000W Inverter
Split charge relay
12v 45L fridge
4 USB sockets
2 240v mains sockets
12V Electrics
240v Electric hook up
40L Fresh Water
20L Waste Tank
LPG (25l underslug) 2 hob gas burner
Tinted Windows
Belfast Sink (water and waste under)
Shower/toilet/wet room
Fix bed
Lots of storage
Few bumps and marks, part of the charm of the adventure
Slide table
Memory foam mattress
Big boot (paddle board, folding bike, surf board, deck chairs)
LED spot lighting
Laminate flooring
Meet Fran, the adventure campervan. Perfect for days at the beach having plenty of storages for paddle boards and surf boards. There is a surf compartment through the boot for smaller boards and rope racking for longer boards (you will see my 8ft attached to the ceiling)
Fran has a fixed bed at the rear with a comfy memory foam mattress. There are two drawers accessible from inside, perfect for clothes – but could be removed if wanted to make a doggy den. The two read doors open to give access to a big boot space, non of the electrics or water/waste tanks are in the boot so really is a huge amount of space. Two tinted widows at the back allow for a great view even on the rainy cold days.
Inside you will find a well equipped kitchen area with a beautiful Belfast sink, under which a 40L fresh water and 20L waste container are stored, accessible from outside the sliding door. There is an extra wooden surface that slides over the sink to create extra work space if needed. There are 2 gas hobs that run from LPG and a 45L Dometic fridge using 12v electrics. A drawer and cupboard create lots of great storage for all Kitchenware. Above is a big cupboard, again great for tins and food storage. On the side of the kitchen unit you will find the 12v electrics panel which provides switches to control all the 12v appliances
Opposite the kitchen is a bench area, with a sliding table built into the bed this makes a great dining and work space. More storage underneath the bench, perfect for dog toys, blankets and bits and bobs. Above head is another cupboard.
Fran also has a toilet/shower/wetroom. Important to note there is not a hot running water shower, but there is drainage for one to be put in (and as LPG is underslung, it wouldn't be too hard to connect). I have an electric pump shower which works great. There is a rail to hang towels and wetsuits, and a shower curtain for some privacy when going to the loo.
Above the cab is a huge storage area accessible inside from the doors, perfect for bedding and toiletries. The living part of the van and cab are separated by a curtain so you can get into each part but close the curtain to make it feel less like a van and like a cosy comfy home.
The Leisure batteries are stored under the passenger seats in the cab, along with the 1000w inverter. There is a 150w solar panel and split charge relay which will keep you charged up.
I am living in Fran full time and am not based in one location so would suggest doing a video walk through of the van as might be tricky to sort viewings but will obviously accommodate to viewings.
Please note: Quirky Campers do not inspect the listings for accuracy or check campervans in person. We have asked sellers to provide evidence of certificates and paperwork however you MUST check yourself that the information provided is present and correct. You will need to exercise the normal due diligence when buying any vehicle.
Current Mileage
48,000miles
Registered Vehicle Type
Panel Van (meets DOT standards)
Maximum Weight (MAM or MTPLM)
3,500kg
Unladen Weight Verified?
NO - the vehicle has not been weighed since completion
Gas sign-off supplied
None