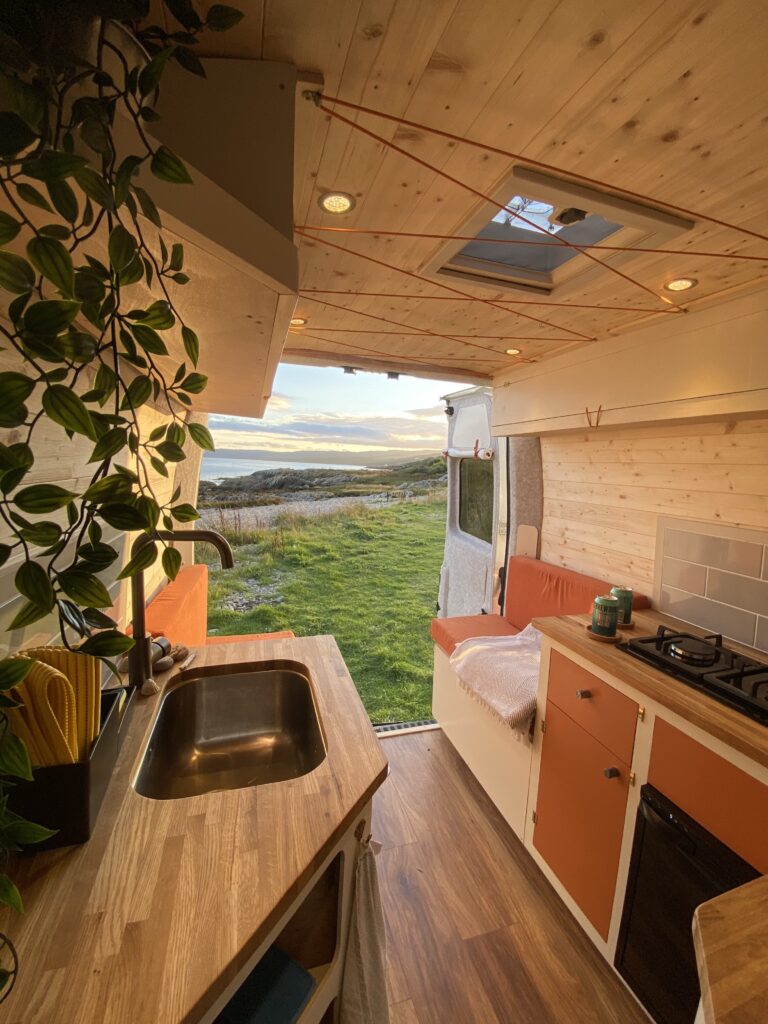 £37,950
Vauxhall Movano 2.3 CDTI Bi Turbo
New
91,380 miles
3 Berths
Vehicle Description
Long Wheel Base, Medium Height
Full Service History
MOT till 23rd February 2023
Very reliable vehicle and drives really nicely
Full Clifford Alarm System and all round extra security door locks
Beds Description
Double bed for 2 Adults
Separate bed for child or someone 5ft 7ish
Conversion Description
New and beautiful professional camper conversion fully kitted for your next adventure!
Latest Build from Twin Coast Campers!
• 2010 Vauxhall Movano L3 H2 Long Wheel Base – Medium Height , Diesel, 6 Speed Manual,  Rear view reversing camera.
• 12 months warranty on the conversion work
• Mileage 91380 –  11 Months MOT
• Comes Fully serviced
• Hot water and Internal shower
• Fully off grid electrical system
• Huge storage under bed accessed via side loading door
• Massive 100 litre water capacity
• Body work is in great condition with no rust.
• Rear privacy windows and Side privacy window with sliding window.
• The chassis is galvanised so zero rust or welding underneath. Tow bar and rear step.
• All in all a very solid, reliable vehicle. 3 Belted seats.
This is a bespoke, totally unique one of a kind build that maximises the interior space. It has a full kitchen with sink and twin gas hob for cooking. There is a 100 litre fresh water tank with electric pump to the sink and shower. There is also a 50 litre underslung waste water tank. There is a double bed that slides back to create a kitchen space with plenty of room for cooking and entertaining. The double bed is wide enough for two adults and is 190cm tall (standard double), to help access onto the bed there are built in steps that also double up as a two book shelves for even more storage.
Sound proofed and insulated to the highest standards with Dodo sound proofing mats, thermal van liner and Supasoft thermal fleece. In the ceiling and floor is foil backed foam insulation. If you do get cold on those chillier days and nights though you've got a diesel heater to keep you warm and cosy. The diesel heater is super efficient and runs off the fuel from the vehicle's fuel tank. The insulation also provides an excellent heat barrier on hotter days keeping the van cool on the inside.
There is a 25 litre under slung gas tank that fuels the under slung water heater providing hot water for the shower and kitchen tap. The shower at the rear has a fanned vent and room for a Porti Potti toilet.
The floor is wood laminate and the sides and ceiling are pine wood clad. Above the kitchen hobs is a roof vent to allow for ventilation.
There is a table at the rear doors that also collapses down to form another bed at the rear. Can easily accommodate a child or someone about 5ft 6ish.
At the side loading door is a massive storage area underneath the bed for all your gear as was as lots of cupboard space inside the camper.
On the roof are two 100W solar panels providing you with plenty of power to the 2 leisure batteries totally 210Ah. The system is supported by a high quality 40amp solar converter keeping the system in great shape. There is also a remote solar controller allowing you to easily see how much power is being produced/used and also the condition of the leisure batteries.
To further keep the leisure battery charged there is a split relay charger that will operate when the vehicle's engine is running. Also when on the 240v hook up there is an Optimum trickle charger that will keep it topped up.
When on 240v hook up there are two standard plug sockets with USB sockets. There is also a 1000w inverter for 240v power when not on hook up. All 240v power is certified by a qualified electrical engineer.
The van comes with a gas safety certificate that was carried out by a professional gas safety expert. There is a fire blanket and fire extinguisher stored in the kitchen cabinets. A smoke/carbon monoxide alarm has been fitted
For lighting you have separately controlled led ceiling spotlights, led RGB mood lighting. The mood lighting can be customised to your exact colour/brightness preference making the interior a relaxing space to be in. If you don't want to relax you can turn the mood lighting into a disco with customisable flashing colour sequences that can even play along to music. You can also control this all from your phone.
There are 4 USB points that run off the leisure batteries.
There mini bar style 50 litre compressor fridge/freezer, it only runs when it needs to and when it is running it is very quiet.
The mattress is 4 inch thick memory foam providing maximum comfort and room for two adults. There are black out curtains all round to make sure you get the best nights rest.
In the rear are two Pioneer speakers that are connected to the radio in the front of the vehicle.
There is plenty of storage within the van so you'll be able to store all your belongings comfortable. On the ceiling is a criss cross bungee cord that is ideal for storing longer items, I designed it for my surfboard so its perfect for that.
The front cab is very clean and tidy.
In summary this campervan is packed with everything you need and more to get out there on your next adventure!
Any questions please let me know. I've listed everything it has below for you.
Camper van includes:
3 belted seats
Rear view camera
Shower
2 ring gas hob cooker
Diesel heater
Hot water heater
25 litre under slung gas tank
Smoke/Carbon monoxide alarm
Sink with electric pump system for water supply
100 Litre fresh water tank and electric pump
50l Under slung waste water tank
50 litre under slung waste water tank
200W Solar Panels
Solar charge remote control panel
210ah Leisure batteries
100w Inverter
Split relay charger (charges leisure battery whilst driving)
Optimum mains battery charger (charges leisure battery when on 240v hook up)
240v Mains Hook
4 USB charging points
50 litre compressor fridge/freezer
LED lighting
LED fully customisable RGB colour mood lighting (remote controlled or connect to your phone/tablet)
2 Fiamma roof vents (electric fan in shower)
Black out curtains and blinds
Bookshelves and loads of storage
Thanks for viewing!
Registered Vehicle Type
Panel Van (meets DVLA standards)
Converter Type
Professional - Handcrafted
Belted Seats
3 Belted Seats
Vehicle Length
6.00 meters
Vehicle Height
2.40 meters
Maximum Weight (MAM or MTPLM)
3,500kg
Unladen Weight Verified?
YES - the vehicle has been weighed since completion
Gas sign-off supplied
Landlords Gas Safe Certificate
Quirky approved and ready to list
Previously listed on Quirky
Created by an approved Quirky Converter
We like the style
'We like the style' means that Quirky Campers would approve it for hiring but you must still check that the gas, electrics and weight were done properly. For some tips on what to look out for read this. If the listing has no Gas Safe certificate, no unladen weight and no electrical sign-off please proceed with caution!
Please note: Quirky Campers do not inspect the listings for accuracy or check campervans in person. We have asked sellers to provide evidence of certificates and paperwork however you MUST check yourself that the information provided is present and correct. You will need to exercise the normal due diligence when buying any vehicle.