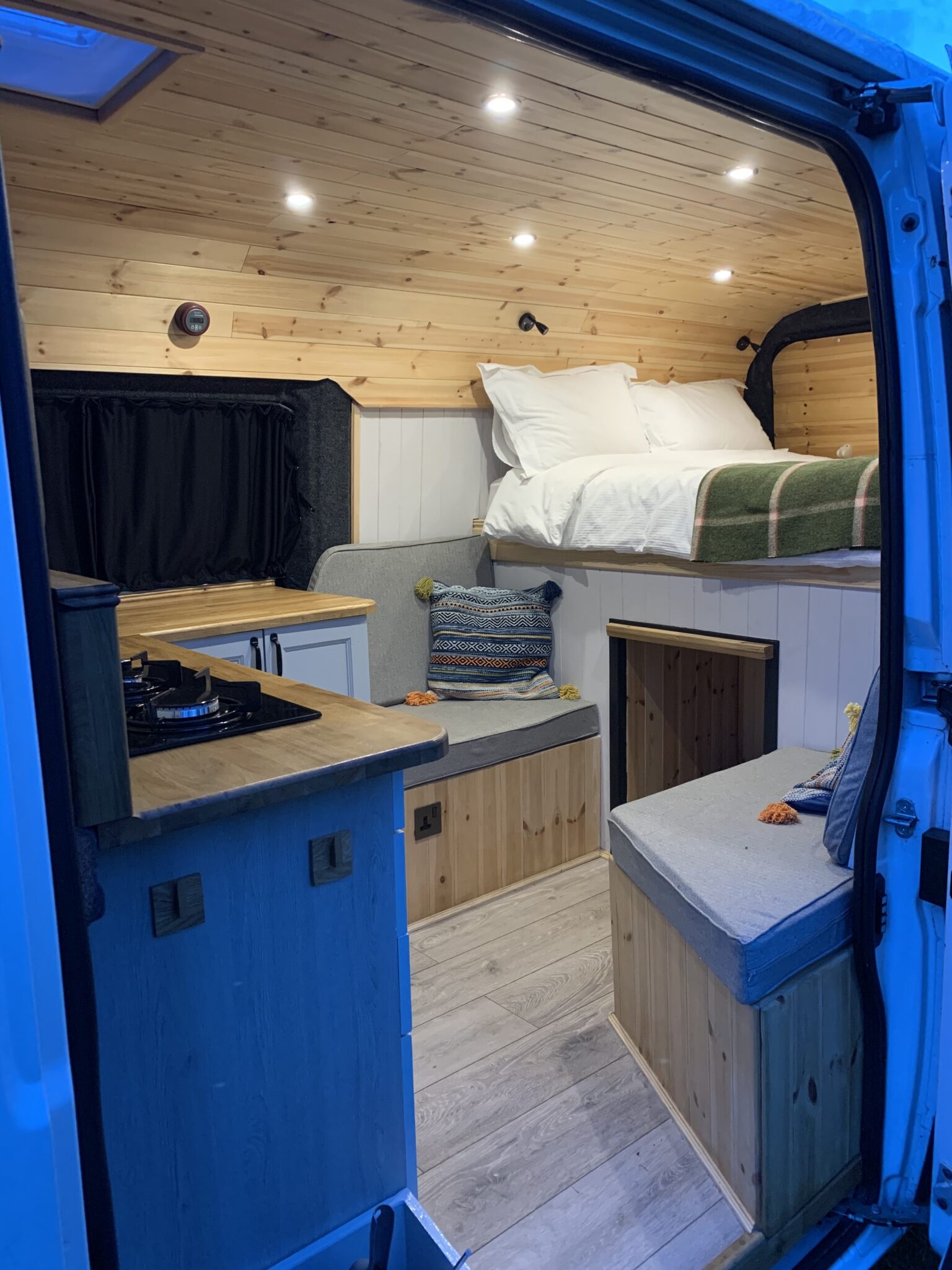 Sold
Vehicle Description
This beautiful handmade conversion has everything you could need for any adventure. It was converted in 2020 and we documented our conversion journey on Instagram @rosierelay.
There is space for bikes in the garage space and a dog in the main living area, as well as a full double bed which is fixed so no faffing when you want to go to bed or have a nap!
It is fully off grid, in excellent condition and perfect for long or short trips away, having been specifically designed for long term off-grid living. It would suit someone looking for complete functionality as well as comfort and reliability.
There are further adaptations that could be made to the van if the new owner so wished, such as decals and ability to convert the seats into a single bed.
Vehicle Description
New MOT until April 2022
Vehicle comes with original service booklet stamped. Last full service was in June 2020. Four new matching tyres, that have covered 1200 miles. New cooling fan and engine mount fitted as recommended by the MOT.
No mechanical issues and has always run well for us. All mechanical fluids regularly checked and topped up.
· Vehicle supplied with 2 keys
· Bluetooth connection to speakers
· Cruise control
· Air con (very useful but rarely found in white vans!)
· Steering wheel controls
· Brand new Garmin sat nav with free map updates for life.
The vehicle was purchased from a registered dealer before conversion. Unfortunately the rear parking sensors do not work.
Exterior body work is in great condition with no noticeable large dents or structural damage.
Conversion Description
Key features
· Fixed double bed
· Large seating area.
· Large garage with space for 2 large mountain bikes
· Full Victron off grid electrical system
· Gas powered shower, with fitting on back door for easy use, and detachable shower curtain
· Propex gas heater
The van is fully insulated using 50mm Celotex on the floor, roof and sides. DODO sound deadening was also fitted to each panel before insulating.
The kitchen has been fitted out with a solid oak worktop that has been treated with Danish oil for waterproofness. The sink is a large black under mounted domestic sink so makes washing up a breeze! There is a matching black tap suppling cold water via the shurflo water pump. There is also a two burner black gas hob. The kitchen has 5 large drawers and a spacious cupboard providing access to the under-sink area. In the centre of the kitchen is the fridge with ice box.
The seating area is large enough for four people to sit. The table is made from solid oak and can be left in position whilst travelling or stowed away when not eating. The seat closest to the sliding door has a large storage area under it and also contains the electronic safe which is large enough for a 15-inch laptop. The seat on the opposing side contains the electrical system. Above the cab is also an open storage area.
You will see from the pictures that under the bed in the main living area is a dog bed. We needed this space for our dog to join us on adventures however this space could easily be converted into drawers and is adequate space for a portable toilet also.
Both windows in the living area are fitted with curtains and the sliding door has a shelf on it (perfect for a cup of tea when it is raining!)
The bed is a fixed full-size double bed and contains a sprung double mattress, so no need to pack away your bed every morning.
The garage space is accessed from the back of the van. This is lined with heavy duty carpet. On the right is the 70L water tank, 6kg gas locker, Gas shower unit and the plumbing for all the appliances. The shower head fits neatly onto the back door. There is also the mains electrical consumer unit mounted in the back with a shore line plug in also wired in, should it be required. We have never needed to use this as our solar power has always been sufficient (see large electrical system below).
Our extensive electrical system means this van is truly off-grid and this was an important part of the build for us, and we spared no cost in ensuring this was a top class system, see details below.
Electrics
2 x victron solar panels 175w each. Total of 350w of power.
Victron smart solar mppt 100/30. Bluetooth control.
Victron Phoenix inverter 12/800. Wired into brushed finish grey plug socket in seating area.
Victron smart ip22 mains charger
Victron mppt smart control screen. Fitted above the kitchen for easy monitoring
2x Varta deep cycle leisure batteries. Total of 210ah
12 volt fuse box, with space for expansion.
Mains consumer unit in garage space with shoreline hook-up
Lighting
6x LED lights fitted in the roof. Front four controlled by brushed effect light switch by sliding door for easy access when returning to the van in the dark. 2 over the bed controlled by the switch panel in the kitchen.
2x bed lights with built in switches.
1x LED strip panel in garage space with in built switch.
Other features and more detail.
Indel B 49L cruise compressor fridge with freezer area.
Propex heat source hs2000 blown air heater. Controlled via control panel in kitchen. Fitted under kitchen unit with outlet in kick board.
Shurflo trail king water pump fitted in garage space and turned on via switch panel in kitchen. Fiamma expansion tank fitted inline with the water pump.
70l water tank fitted in garage space with external filler and lockable cap.
Large 6kg gas locker with drop vent fitted for ventilation through floor of van. Carbon monoxide alarm fitted in garage space and fire extinguisher in kitchen cupboard.
Drop vent also fitted in kitchen area.
Gas shower fitted in garage space with shower head fitting hung on the back of the door.
Electronic safe fitted under seating area. Large enough for 15inch laptop.
Gas system has been built to current British standard regulations for LPG in motorhomes. This includes all connections between appliances made with fixed copper piping, sealed 6KG gas locker with a drop-out vent, and shutoff valves to each appliance (cooker, Propex heater and Shower unit)
Levelling ramps
Large solid oak table that can be left if place while travelling or tucked away to allow for extra space.
Huge amount of storage space under the bed, under seats and above cabin.
If the buyer wishes, the following can also be included in the sale of the van:
· Blue whistling kettle
· Saucepan and frying pan
· Cutlery for 4
· 4 plates, bowls, side plates
· 4 wine glasses
· 4 tumblers
· 4 Mugs
· Trivet, chopping board, spoon, slotted Turner, knife, peeler, 2 collanders, cheese grater and gas lighter.
Bedding and gas bottle not included!
More photos are available…please email, and I can send a OneDrive link.
Call Tom for enquires or more information.
'We like the style' means that Quirky Campers would approve it for hiring but you must still check that the gas, electrics and weight were done properly. For some tips on what to look out for read this. If the listing has no Gas Safe certificate, no unladen weight and no electrical sign-off please proceed with caution!
Please note: Quirky Campers do not inspect the listings for accuracy or check campervans in person. We have asked sellers to provide evidence of certificates and paperwork however you MUST check yourself that the information provided is present and correct. You will need to exercise the normal due diligence when buying any vehicle.
Current Mileage
75,162miles
Registered Vehicle Type
Panel Van (meets DOT standards)
Fixed full size double bed
Maximum Weight (MAM or MTPLM)
3,500kg
Unladen Weight Verified?
YES - the vehicle has been weighed since completion
Gas sign-off supplied
Gas Safe Certificate