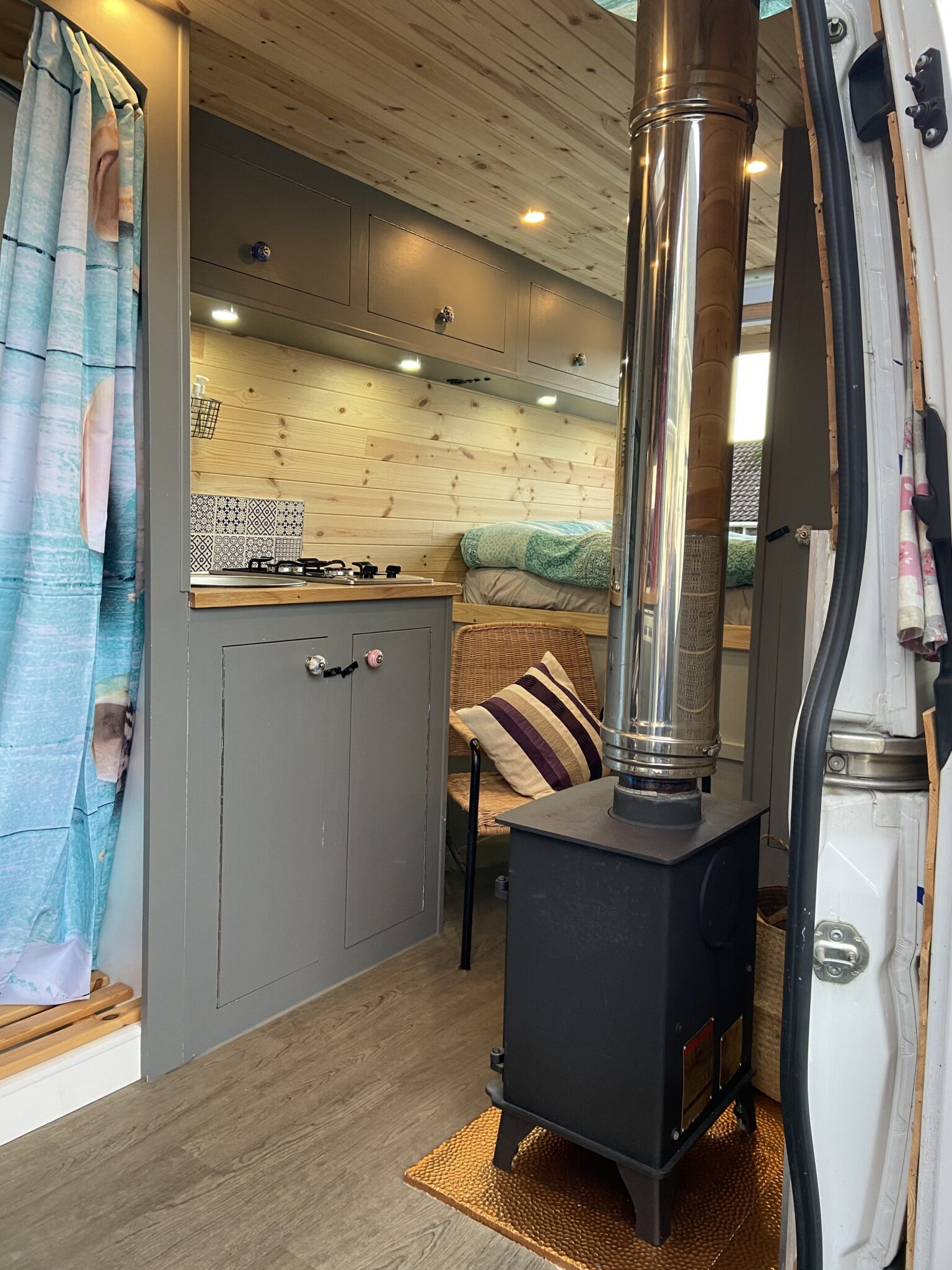 Vehicle Description
• White 2016 Mercedes Sprinter, long wheelbase, high top
• Serviced March 2021
• MOT to July 2021
* New rear tyres March 2021, front in good condition
* Low mileage – 96,000 miles
• Cruise control
• Post-conversion weight 3,240kg (with weighbridge certificate)
• Engine in excellent condition
• Bodywork in very good condition
• Reverse camera
• 2 keys
• Engine size: 2.1L
• Fuel type: Diesel
• Number of gears: 6
• Extra security locks on sliding and back doors
Conversion Description
Professionally converted just over a year ago by Leo and the team @studleycampers. It is a custom design with fixed double bed, kitchen, shower/toilet room, a living area with super-cosy wood burner and even a cat flap for your furry companion!
I am gutted to be selling my cosy wood cabin on wheels, but my circumstances have changed, so needs must. However, there are many years of adventure ahead for this beautiful campervan, so hopefully the perfect new owner will snap it up!
This high-spec off-grid converted van can easily be lived in full-time, as I have been doing, featuring…
UTILITIES:
o 70 litre onboard water tank
o Underslung waste water tank
o Gas / electric water heater
o 110ah leisure battery
o 100w solar panel – 40A solar controller, with capacity to take up to 400w solar
o 240v hook-up
o Several USB, 12v and plug sockets
o Fully insulated, with beautifully bare tongue & groove pine cladding throughout
o Multiple ceiling LED lights
o Large garage storage under the bed, with access from back doors – stores the gas, water & electrical utilities, in addition to having plenty of space for bikes and outdoor equipment
o Blackout windows on both sides of the van, the bathroom one opens with a sliding panel
KITCHEN:
o Nature Pure Drinking Water System (water filter, capable of filtering rain, river & lake water, so that it's drinkable – great for off-grid!)
o Dometic CRX50 fridge-freezer
o Built-in double gas hob in stainless-steel
o Beautiful solid oak counter-tops
o Large stainless-steel round sink
o Double cupboard for all your cooking equipment & essentials
LOUNGE / LIVING AREA / BED 'ROOM':
o Multi-fuel 5kw woodburning stove (Stove World UK, Coseyfire Ottawa), sat on stunning hammered, polished copper, with a protective Moroccan-style tiled wall behind
o Large skylight above the bed – perfect for stargazing and an absolute god-send for a night-time breeze in the summer heat! (500x700mm)
o Skylight near front of van (400x400mm)
o Wardrobe with hanging space
o 4 large overhead cupboards
o Double memory foam mattress, set on a platform with ventilation holes through to the garage & an additional wooden slatted layer – just the solution for avoiding moisture issues.
o Free-standing wicker armchair in lounge area, great for flexibility of space. Plenty of space the other side of the fireplace for another free-standing chair.
o SureFlap cat flap with microchip identification, capable of programming in multiple microchips.
o Sturdy vinyl wood-effect flooring throughout – super-easy to clean!
SHOWER / TOILET:
o Good-sized shower tray, with shower riser & soap dish
o Archway entryway to space, using the shower curtain for privacy
o Thetford Porta Potti Qube 165 portable flushing toilet (21 litre capacity)
o Towel rail
o Opening window
CAB:
o Double passenger seat.
As you can see, the van contains everything you could possibly wish for in a campervan, either for worldwide travel or full-time living – it is functional, cosy and ready to roll!!!
'We like the style' means that Quirky Campers would approve it for hiring but you must still check that the gas, electrics and weight were done properly. For some tips on what to look out for read this. If the listing has no Gas Safe certificate, no unladen weight and no electrical sign-off please proceed with caution!
Please note: Quirky Campers do not inspect the listings for accuracy or check campervans in person. We have asked sellers to provide evidence of certificates and paperwork however you MUST check yourself that the information provided is present and correct. You will need to exercise the normal due diligence when buying any vehicle.
Make and Model
Mercedes Sprinter 313 CDI
Current Mileage
96,000miles
Registered Vehicle Type
Other - see description for explanation
Fixed double bed: 4' x 5'8" – 5" thick memory foam.
Maximum Weight (MAM or MTPLM)
3,500kg
Unladen Weight Verified?
YES - the vehicle has been weighed since completion
Gas sign-off supplied
Gas Safe Certificate