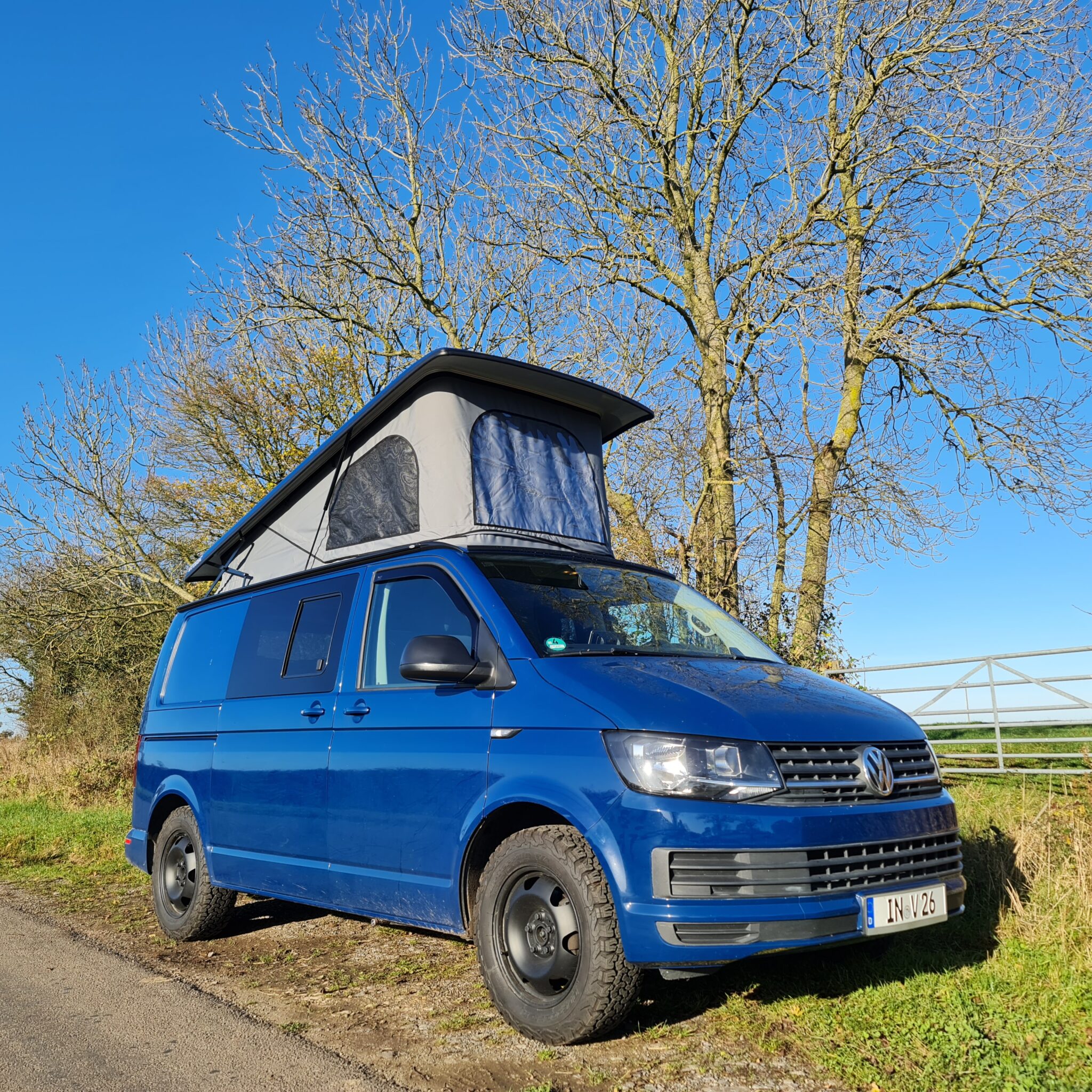 £39,500
Volkswagen T6 Transporter T28 Startline SWB
99,000 miles
Vehicle Description
VW Transporter T6 2016 Startline
T28 2.0 TDi with engine remapped to 165BHP for improved fuel efficiency & driveability
99,000 miles (180,000km)
Left Hand Drive – Imported from Germany November 2021
Full VW Service History
Recent Service & Tune Up
12 Months MOT
Gorgeous VW 'Deep Ocean Blue'
1 Previous Owner
Beds Description
Storm Poptops Roof Bed (120cm wide x 200cm long)
RIB Altair 112 Rock 'n' Roll Bed (112cm wide x 200cm long)
Conversion Description
The concept with Momo was to deliver the 'Slow Road Campers version' of the classic VW California layout & set up (in an imported Left Hand Drive VW T6!)
We set out to use the best appliances, install a top end off-grid capable electrical system, tweak the layout & storage options to the very max – then finish everything with our usual clean, crisp styling.
Being a UK registered Left Hand Drive vehicle, the van is set up perfectly as an awesome camper to venture into Europe with – or for the UK based, European second homeowner looking for a reliable, flexible & functional vehicle to travel comfortably back and forth to the continent. New rules post-Brexit now allow a UK registered vehicle to be driven in the EU for up to 12 months at a time (as long as the vehicle has valid UK insurance, road tax & MOT) which makes owning a LHD UK registered vehicle a valid & practical choice!
Traditional 'California' style camper set up with pop roof, ¾ rock 'n' roll bed & full-length side kitchen, offering flexibility, multiple sleeping options and plenty of storage space!
With the double passenger bench up front, fitted with Kiravans swivel & RIB Altair 112 Rock 'n' Roll bed with 2 belted seats. The van is designed comfortably travel up to five and easily sleep four.
Storm Pop Roof (Colour Matched with original VW paint) with elevating ceiling/roof bed + custom memory foam mattress. The elevating roof allows full standing height in the living space with just a simple push!
RIB Altair 112 M1 Tested & Certified Rock 'n' Roll Bed trimmed in matching Simora VW Fabric
BFG KO2 All Terrain Tyres on 17" VW Steel Wheels (Powder Coated Black)
Vamoose Multi/Awning Rail (Powder Coated Black) & Stitches + Steel Tarp Awning
Full Alpine System with ILX-F903D Head Unit (Sat Nav, Apple Carplay/Andriod Auto, Rev Cam Display, DAB Radio, etc), Upgraded Alpine SPC-108T6 Component Speakers up front (sounds incredible!) + Road Angel HD Reverse Camera & Parking Sensors.
The rear cargo area has been stripped, fully sound deadened, insulated, vapour barriered, newly panelled & carpeted. The rear cargo floor has been fully sound deadened & a solid 14mm engineered oak flooring laid.
The living space layout has been hand-built around a traditional ¾ Rock 'n' Roll bed by RIB. The side units have been constructed from Baltic Birch Plywood & finished with Farrow & Ball Ammonite Estate Eggshell paint for a luxurious & classic look. All work surfaces, the custom-made camping table and storage bench inlays are made from 22m staved English Oak, finished with Osmo Clear Matt Top Oil.
There is a well-proportioned Dometic 930 stainless steel sink, matching stainless steel tap – fed via a Whale submersible pump from the under sink 19L freshwater tank. The wastewater runs to a 19L under sink tank. Both can easily be removed & refilled/emptied when required.
The run of beautiful solid staved oak worksurface has been left open for you to cook on either a portable gas, campinggaz or induction stove of your choice – then store away once done, keeping the space clean & clear. The end of the run has been continued vertically in matching oak, giving a unique & different feature.
Beneath the oak work surface, you'll find plenty of storage in four good sized drawers, all equipped with awesome RV Labs stainless steel catches – as well as a mini bookshelf with hidden storage bin below. A custom-made camping table offers a flexible and beautiful surface on which to cook, dine, work or relax. As a free-standing table, it can also be used outside under the awning.
The remainder of the driver's side storage is completed with a tall cabinet with open top shelf, two large removeable panels to access the storage within + lift up lids to give access to the electrical system housed underneath. In the rear garage area there are a further 2 large and deep storage benches with matching oak lids. Further storage (if ever required!) is also available underneath the RIB bed.
For your comfort & temperature control, there is a Miro Airo 2Kw Diesel heater with thermostatic control mounted under the van – with the heater outlet & control installed at the rear of the driver's seat. A quick 5-minute blast gets the living space toasty warm!
The van has been equipped with a top of the line & fully off grid electrical system. It comprises a 110Ah TN Power Lithium Leisure Battery, 185W High Power Flexible Solar Panel + Victron 100/30 MPPT (30Amps), Victron Orion DC to DC Charger (30Amps), Victron BMV712 Battery Monitor, Victron Multiplus Compact 1200W Inverter/Charger (50Amps) + Digital Multi Control.
This mega-system powers the LED touch/dim spotlights, diesel heater, Alpicool under bench drawer compressor fridge + quick charge USB & standard 12v cigar style outlets. From the Multiplus there are also 2x double 230V sockets for laptop charging & running 'household' appliances (rated up to 1200W). There is a 230V Hook Up Inlet in the rear garage area to allow mains hook up charging and operation of the entire electrical system via Hybrid Power Assist when available.
As the van is owned by us (the owners of Slow Road Campers), this will be a private sale (with no VAT applied) rather than through the business.
We're happy to offer the buyer our usual 6 month warranty on all of the campervan build elements of the van (so excludes any mechanical, bodywork or specifically 'vehicle' elements). Any appliances and components would be the responsibility of the buyer to register with the manufacturers (as per our Bespoke Builds)
The van is available to view/test drive in Lea, Wiltshire, SN16 9PD.
Please get in touch to arrange an appointment.
We're also very happy to field any additional questions anytime.
07549 768447
Registered Vehicle Type
Panel Van (meets DVLA standards)
Base Vehicle Condition
Used
Converter Type
Professional - Handcrafted
Maximum Weight (MAM or MTPLM)
2,800kg
Unladen Weight Verified?
NO - the vehicle has not been weighed since completion
Gas sign-off supplied
Gas free
Created by an approved Quirky Converter
Please note: Quirky Campers do not inspect the listings for accuracy or check campervans in person. We have asked sellers to provide evidence of certificates and paperwork however you MUST check yourself that the information provided is present and correct. You will need to exercise the normal due diligence when buying any vehicle.