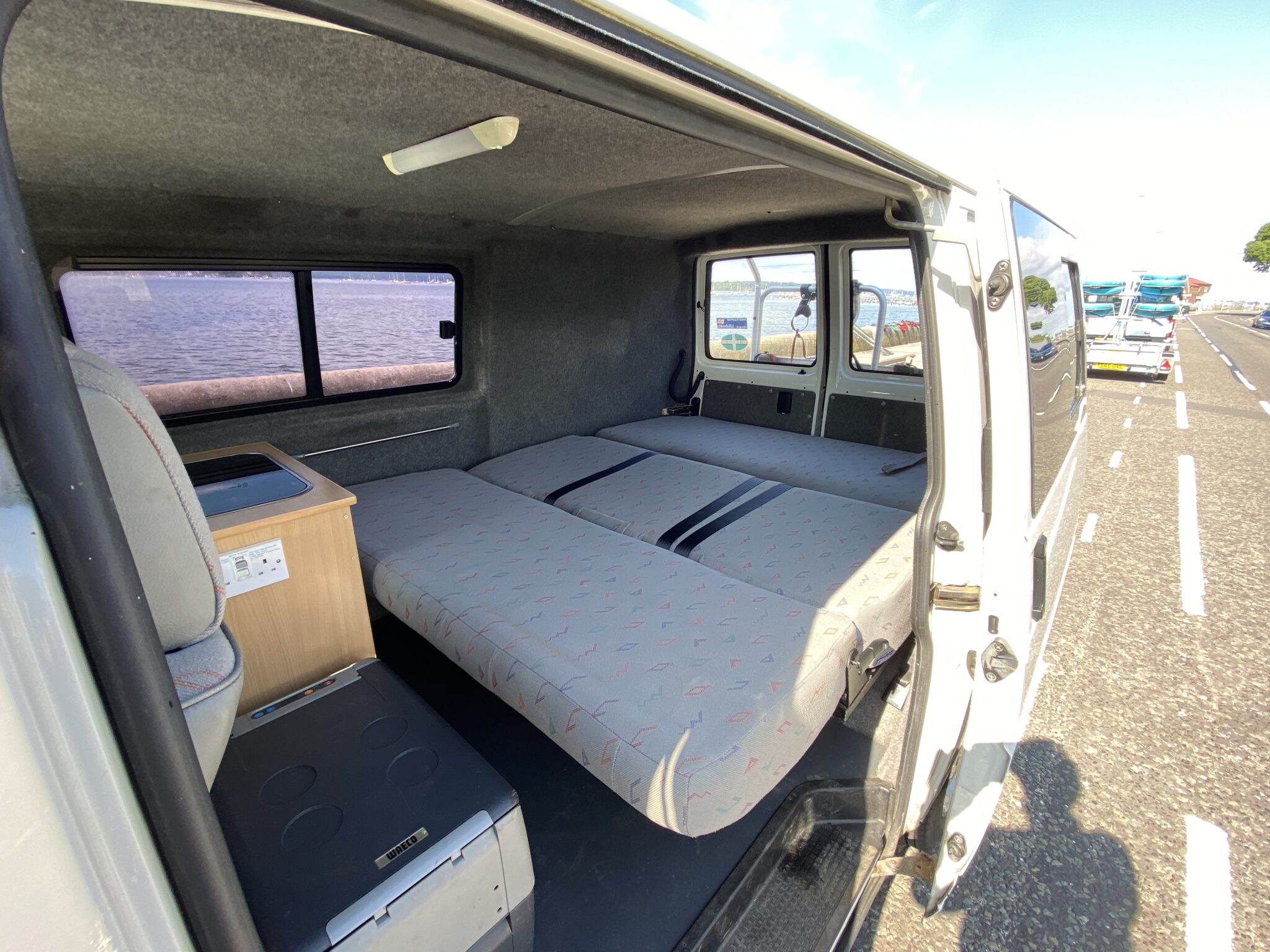 Vehicle Description
Volkswagen T4 that has been my pride and joy for the last 15 years.
The van is taxed until 01/10/2021 and the MOT expires on 16/12/2021. The last service took place on 16/12/2020 at 129,000 miles.
Full service history with all work carried out as needed. Two periods where van was SORN'D. Registered as a 'Motorhome' on the log book.
Vehicle fitted with immobiliser
Van in good condition for its age. Some rust has started to show (shown in photos) with corrosion happening beneath the sliding door on the outer door seal which is out of prescribed areas so doesn't affect MOT.
Conversion Description
Are you looking for a campervan to head off on weekend or multi-week adventures? Then look no further!
I have loved heading off in this VW campervan for the last 15 years, on trips of anything from 1 night to 9 weeks!! I have found the van great to drive, using it as my sole vehicle for many years and it has been my companion for many memorable trips.
I initially bought the van in 2001 as an empty panel van and had it converted into a flexible weekend style campervan a year later.
The conversion includes insulation, soft fabric lining on ply, large underbed storage, full width folding RIB bed/3 seats with seatbelts, LED strip light, 1 large storage cupboard with inbuilt 2 burner hob that connects to campingaz bottle – cupboard includes storage for 25l water container, Dometic CoolFreeze CF 35 Compressor Fridge/Freezer that connects to the 3-pin plug or the cigarette lighter, electric hook-up connection and a stow away table for use inside the van and hooks onto the side rail.
The van is fitted with an opening window either side and a window in each of the rear doors.
Vehicle has original VW soft furnishing in good condition.
Roof bars also included
Extras @ additional cost
– 2-bike fiamma bike rack bought in 2020
– Drive away awning
Please note: Quirky Campers do not inspect the listings for accuracy or check campervans in person. We have asked sellers to provide evidence of certificates and paperwork however you MUST check yourself that the information provided is present and correct. You will need to exercise the normal due diligence when buying any vehicle.
Current Mileage
130,000miles
Registered Vehicle Type
Motor Caravan - approved
Full width RIB fold out bed fixed to chassis of the vehicle. 3 seats, with seatbelts, which can be converted into a 1.9m x 1.4m bed to sleep up to 3 adults.
Lots of under bed storage
Maximum Weight (MAM or MTPLM)
3,000kg
Unladen Weight Verified?
NO - the vehicle has not been weighed since completion
Gas sign-off supplied
None