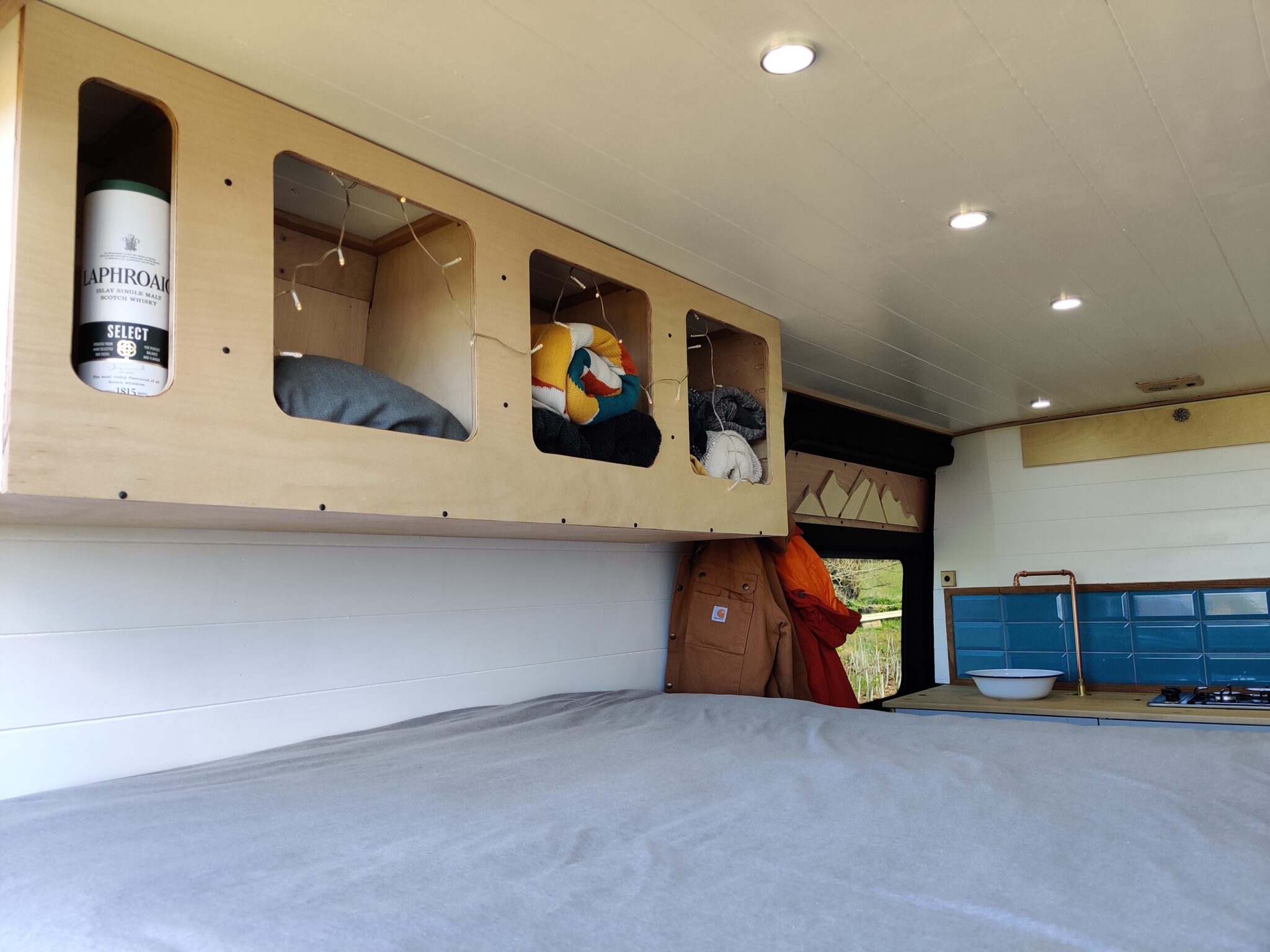 Vehicle Description
Citroen Relay 63 Reg. In black, with two tinted windows in the rear doors and a tinted window in the sliding door.
MOT until Dec 2021
Bodywork is in all round excellent condition. There is one large dent in the driver's side in the middle of the van low down. It is not scratched though.
It also has one fairly long scratch In the same area. Not very noticeable. Will send photos if requested.
Cab is in good condition for the mileage.
Conversion Description
Newly purchased and converted Van, it was built to sell. I am a carpenter and have completed a lot of the work myself. Electrical and other work was undertaken by others with more experience.
I wanted to design a cozy yet functional space designed for trips to Europe and beyond!
Tech setup
12v 110amp batteries power the lights, fridge, heater, USB sockets and the water pump to run the tap. There are two of these batteries stored in the electrical department above the wheel well in the back.
Batteries are charged in 3 ways. 150watt Solar panel, split charge relay that charges batteries while driving, and the van has a hookup for 240v when you are on a campsite.
When hooked up you have a couple of 240v sockets for power.
When off grid all of the rest of the electrical system works from the battery apart from the 240v power.
Propex Heat source LPG heater heats the van more than adequately! It runs off the gas bottle in the back under the bed that is safely locked in a gas safe vault with drop out vents installed in the event of a leak.
The gas bottle also feeds the two burner gas hob.
The kitchen has an electrically operated tap for running water to wash your hands and wash dishes.
It also features a 12v fridge that still runs even when you are off grid!
Tons of storage in the soft closing drawers and In the small storage shelves around the van mean you will be able to carry a week or so of food for your trip.
Storage under the seats is also a great place to keep food cool.
Coat hooks are fixed just inside the sliding door so you can keep your muddy boots on and still reach your coat when the weather turns.
One of my favorite features is the outside dining options this conversion has to offer.
A sliding table is accessable from the inside for two people to dine with plenty of room. But this table also slides out the back of the van so that you can put your morning coffee on it and lay in bed while enjoying the view.
A table also folds done from the end of the kitchen to create a second outdoor dining space.
A low profile storage cubby hole above the bulkhead is the perfect place for extra bedding or sheets.
The 'Wardrobe' in the van has 3 large cubby holes for storing larger clothes and sports gear and a small one at the end is perfect for hats, socks or small clothing items.
A Thetford toilet slides underneath the bed when not being used.
I really hope this conversion suits you and is the van that you were looking for! If you think this van might be for you then please give me a call. I would be happy to show you around the van.
I am based in Brentwood in Essex but I would be willing to drop the van off to you. So give let me know if you want to see it and we can talk about arranging a viewing.
Thanks so much for looking at my Van. I really hope there is someone out there who loves the design and would like to make it thier own!
Thanks, Jack
'We like the style' means that Quirky Campers would approve it for hiring but you must still check that the gas, electrics and weight were done properly. For some tips on what to look out for read this. If the listing has no Gas Safe certificate, no unladen weight and no electrical sign-off please proceed with caution!
Please note: Quirky Campers do not inspect the listings for accuracy or check campervans in person. We have asked sellers to provide evidence of certificates and paperwork however you MUST check yourself that the information provided is present and correct. You will need to exercise the normal due diligence when buying any vehicle.
Current Mileage
103,000miles
Registered Vehicle Type
Panel Van (does not meet DOT standards)
Double fixed bed with storage underneath.
Foam Mattress and all bedding is included if asking price is reached.
Maximum Weight (MAM or MTPLM)
3,500kg
Unladen Weight Verified?
NO - the vehicle has not been weighed since completion
Gas sign-off supplied
None