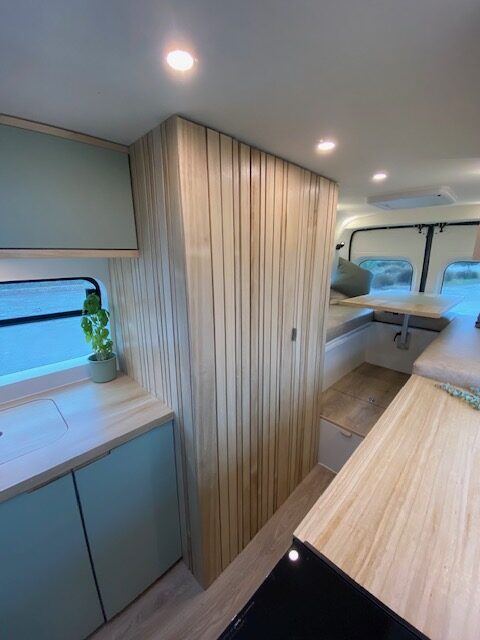 £48,000
FIat Ducato Maxi L4H2 Multijet 130
62,000 miles
Vehicle Description
An exceptional base vehicle with low mileage and perfect running order, original owner was a charity who were required by law to have it serviced more regularly than is typical for this type of van. We bought it with long-term intentions but are moving abroad so sadly we have to say goodbye.
Weight verified at 3,200 kg – November 2021
Latest service at Fiat – October 2021
New front tyres (Pirelli) – October 2021, rear tyres are near new
All fluids and filters checked and replaced where necessary by Fiat – October 2021
MOT with no advisories – August 2021
New front tyres (Pirelli), brake pads and discs – September 2021
Weight certified at 3,200 kg including full fuel tank and passenger in November 2021. We took weight reduction precautions such as removing the steel under-floor frame for the original 14 rear seats, removed the heavy electronic step, used construction materials and techniques to ensure we stay under the weight allowance.
Beds Description
Super king (really, really big!)
Conversion Description
Newly converted in immaculate condition on an exceptional base vehicle with low miles (62k), completed by professionals.
Designed to live, work and travel in long term, every element of the van is to the highest specification. All seasons van; fully insulated with heating and cooling functions. The van is fully stocked with everything needed to start the engine and head out on your first adventure!
Weight certified at 3,200 kg incl. full fuel tank and passenger.
Kitchen
– Two Large, Oakly worktops (lighter than most timbers but hard wearing)
– Hardwearing Forbo linoleum cupboard fronts
– Large, deep stainless steel sink with cover (same material as benchtop)
– Black swivel tap (with extendable hose)
– Thetford Triplex gas oven and cooktop with 3 large burners and a grill
– Isotherm Cruise Elegence 85L fridge with mini freezer (runs on 12v and/or 230/240v)
– Additional under-bench hose tap for outside use (Dogs, muddy boots, beach days etc)
– 2 x USB charging sockets
– 230V socket for blenders etc
– All cookwear and utensils included
Living space
– Space for two people to work comfortably
– Large, custom table on swivel lagun-style leg
– Windows on all sides for all those amazing views
– Beautiful curved ceiling and window reveals
– 4 x reading lights
– Maxxair Deluxe roof fan (with remote) and Maxxshade (with LED lights)
– 230V double socket and 2 x USB charging sockets
– Can be set up as sofas with a side table, backless seats or a large dining area for 4+ people
– Cushions included
Bed
– High quality mattress, incredibly comfy
– Extra large bed (Super King with added 'foot room' in windows; longer than most van beds)
– All bedding included
– Thermal window covers included
Bathroom
– Oakly Feature with hidden bi-fold sliding door for full privacy
– Wet room style shower with custom base
– Start/Stop shower head with good pressure
– Thetford Porta Potti 165 toilet
– Heater outlet in bathroom for drying wet clothes- brilliant!
– Curtain rail (location adjustable)
Storage
– Built for fulltime life on the road for active people; loads. of. storage.
– 2 x high level cupboards on hydraulic pistons for kitchen goods
– 3 x large, low level cupboards with moveable shelves
– 4 x kitchen drawers
– 1 smaller low level cupboard
– 1 medium low level cupboard
– 1 x 'hidden' wardrobe style cupboard with hanging rail
– 2 x 'chest style' storage accessible on hinges under table
– 6 x super large chests under living space, 2 under seats and accessible from rear, 4 accessible from rear
– 2 bookshelves
– 3 concealed bookshelves and drop-down table on rear door
– lots of Vanlife items included (hose, drying racks, storage boxes, jump leads, stools, European LPG converters, bin – you need it, its in there)
Heating/Cooling
– Fully insulated to withstand hot summers and cold winters
– Eberspacher diesel heater with 2 outlets and thermostat (connected to main fuel tank)
– Maxxair Deluxe roof fan (with remote) and Maxxshade (with LED lights) for mega suck and blow – got us through a summer in southern Europe!
Electrics
-Electric system designed to never need plugged in (though you can, if you want to). This van has 2x XL solar panels and 2x Lithium Ion leisure batteries which power it non stop, even when using lights, laptops, fridge etc. We never went below 85% charge!
– 2x 250w solar array
– 2x 100 ah Victron Energy Super Pack LiFePO4 leisure batteries with built-in Battery Management System
– Victron Energy Smart Solar MPPT 100/30
– Victron Energy Multiplus 500VA Inverter / Charger
– Victron Energy Orion-Tr DC to DC charger (30 amp)
– Victron Energy shore power inlet
– Check batteries and adjust system using Victron Energy app
– Designed by tinybuildelectrics, installed by certified electrician
Plumbing
– Designed to up to a week without filling up or emptying
– 90L underslung fresh water tank with external, easy access fill up connection
– 66L underslung grey water tank
– Water filter
– Surflo trail king pump
– Whale 13L MK II gas and electric water heater – hot hot water in 30 mins, enough for 2 good showers and 2 loads of dishes
– All installed by a certified plumber
– Gas installed by certified fitter, certificate provided
Gas
– 25 kg underslung LPG tank by Gas It, installed and certified by a registered gas engineer
The Van
– Ghost immobiliser system – nobody can start the van without first pressing the secret combination of dashboard buttons
– Scorpion S5 tracking system – 24h monitoring of the van's location, and alerts if it has been moved without you in it (via special tags)
– Alarm
– Cruise control
– Air conditioning
– Bluetooth stereo and phone connectivity
– Reversing camera
– GPS
– Carbon Monoxide Sensor
– Fire extinguisher
– European Travel Kit
Registered Vehicle Type
Other - see description for explanation
Base Vehicle Condition
Used
Converter Type
Professional - Handcrafted
Conversion Condition
Used - Excellent
Maximum Weight (MAM or MTPLM)
3,500kg
Unladen Weight Verified?
YES - the vehicle has been weighed since completion
Gas sign-off supplied
Gas Safe Certificate
Please note: Quirky Campers do not inspect the listings for accuracy or check campervans in person. We have asked sellers to provide evidence of certificates and paperwork however you MUST check yourself that the information provided is present and correct. You will need to exercise the normal due diligence when buying any vehicle.