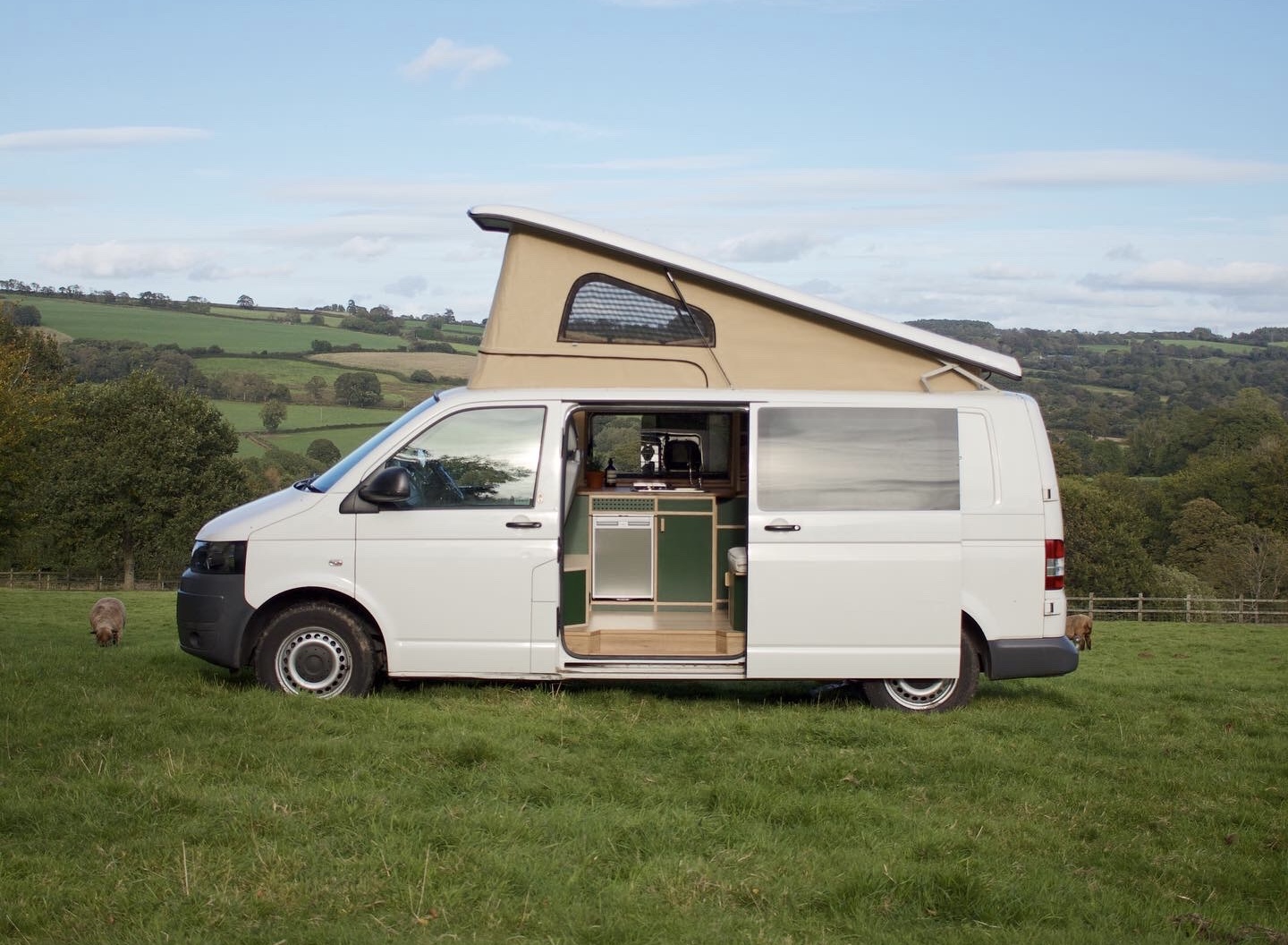 £36,000
Volkswagen Transporter LWB Bluemotion TDI
73,000 miles
Vehicle Description
PY003 is a brand new VW Transporter pop-top campervan brought to you by Project Yonder. It comes with a 5 month vehicle warranty.
This build has taken inspiration from nature and the great outdoors featuring wooden worktops alongside Farrow & Ball 'Duck Green' units. The seat cushions have been made using a high quality, natural linen and the wooden panelling has been hand finished with Osmo wood wax oil.
All of our conversions are finished to a very high standard using premium products and finishes. If you have any questions please feel free to contact us any time!
This vehicle has all the relevant paperwork to be rented. Weighbridge certificate and Landlords Gas Safety sign off are available upon request.
– 3 Belted seats – Sleeps up to 4
– 5 Month vehicle warranty
– 72,000
– Westdub Pop-Top
– 1 owner from new
– *Weighbridge certificate*
– *Landlords Gas Safety sign off *
– 50L compressor fridge with freezer compartment
– Dometic Sink & 2 ring hob
– Diesel heater
– Pull out double bed in living area
– Double bed in pop-top
– Potta Potti
– 48L under-slung fresh water tank – Fitted with water gauge & heating element
– 48L under-slung waste water tank – Fitted with water guague
– 90W Solar panel linked to 75|15 Victron Energy MPPT controller (Bluetooth)
– Victron battery to battery charger (Bluetooth)
– 1000W Cinewave Inverter
– 110Amp Gel Leisure battery
– Sargent control panel
– 240v Hook up
– Toe bar for bike rack
Beds Description
Double pull out bed in living area
Double bed in pop-top
Registered Vehicle Type
Other - see description for explanation
Base Vehicle Condition
Used
Converter Type
Professional - Handcrafted
Maximum Weight (MAM or MTPLM)
3,000kg
Unladen Weight Verified?
YES - the vehicle has been weighed since completion
Gas sign-off supplied
Landlords Gas Safe Certificate
Quirky approved and ready to list
We like the style
'We like the style' means that Quirky Campers would approve it for hiring but you must still check that the gas, electrics and weight were done properly. For some tips on what to look out for read this. If the listing has no Gas Safe certificate, no unladen weight and no electrical sign-off please proceed with caution!
Please note: Quirky Campers do not inspect the listings for accuracy or check campervans in person. We have asked sellers to provide evidence of certificates and paperwork however you MUST check yourself that the information provided is present and correct. You will need to exercise the normal due diligence when buying any vehicle.