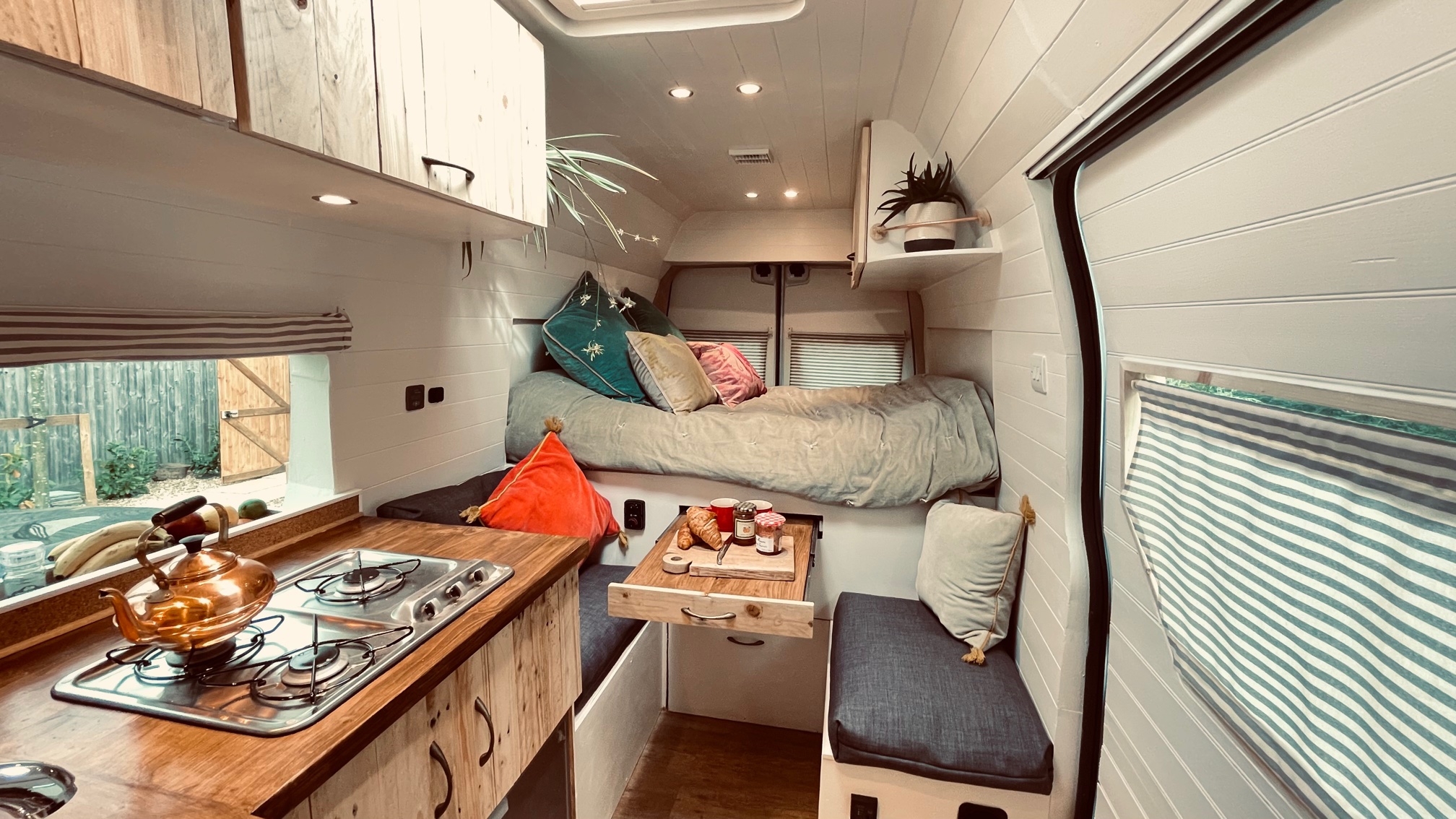 Vehicle Description
2015 L3H3 Vauxhall Movano
MOT until November 2021
Full Service History
Brand new vehicle battery
Engine and bodywork in excellent condition
2 Keys
Manual
Central Locking
Electric Windows
Air Con
Bluetooth
Reverse Camera
Vehicle Alarm
Engine Size: 2299CC
Fuel Type: Diesel
Number of Gears: 6
Conversion Description
Our newly converted cosy cottage on wheels is now for sale, she is a fully off grid campervan with 150 watts of solar power and 3 x 110 AH leisure batteries equipped with all the latest gadgets you'd need to get going, enabling you to explore in style.
Kitchen
Full size working kitchen, plenty of prep space with a Dometic-Cramer 3 Burner Hob, stainless steel sink with running water via a SHURflo pump and a Dometic 12v 45L Compressor Fridge with 4.4L freezer.
Sleeping
– Fixed double bed width ways with NEW mattress
– Pull out single bed – also can be used as a sofa
Seating
– 2 x fixed Seating with pull out dining table
– Seating can also be converted into sofa / single bed
Heating
– Propex Heatsource HS2000 Gas Blown Air Heater
Gas
– Large gas locker for 7Kg Butane Cylinder – supplies the hob and Propex heater
Toilet
– New Thetford Porta Potti
Water
– 70L Fiamma water tank secured in garage (under double bed) with exterior fill point
– 25L Portable Waste water tank secured under sink
– SHURflo Pump
– Fiamma expansion tank
Lighting
– 2 x LED Kitchen Spotlights
– 6 x LED Overhead Spotlights
– 2 X LED Reading lights above bed
– 1 x LED Garage Light
Electrics
– 3 x 110AH AGM batteries
– Victron Energy Smart Bluetooth IP22 Battery Charger
– 150W Solar Panel
– Victron MPPT 100|20 Smart Solar Charge Controller (Bluetooth)
– 2000w modified sine wave inverter (remote controlled)
– Victron Energy Smart Battery Monitor (Bluetooth)
– Sterling Power 12v 60amp Battery to Battery Charger
– 240v hook up
All Victron products can be monitored via app on your smartphone
All are fresh out the box and under warranty
Safety
– LED Carbon Monoxide Detector
– Powder Fire Extinguisher & Fire Blanket
Ventilation
– Low Profile rotary roof vent
– Domestic Heiki skylights with fly screen and blackout blind
Insulation
– Fully insulated with 50mm Celotex on floor and ceiling and recycled plastic on walls
– Dodo Sound proofing
– Silver bubble wrap and aluminium tape vapour barrier.
Storage
Ample built in storage within including 4 x overhead cupboards, kitchen cabinets, bulkhead above cab and space within the garage under the double bed.
Certifications
– Weighbridge certificate
– Landlords Gas Safety sign off
– 240V electrical certificate
Contact
Any questions and / or if you want to set up a viewing please get in touch with Amber on; 07811751381 or email caratelcampers@gmail.com
www.caratelcampers.com
Quirky approved and ready to list
We like the style
'We like the style' means that Quirky Campers would approve it for hiring but you must still check that the gas, electrics and weight were done properly. For some tips on what to look out for read this. If the listing has no Gas Safe certificate, no unladen weight and no electrical sign-off please proceed with caution!
Please note: Quirky Campers do not inspect the listings for accuracy or check campervans in person. We have asked sellers to provide evidence of certificates and paperwork however you MUST check yourself that the information provided is present and correct. You will need to exercise the normal due diligence when buying any vehicle.
Current Mileage
161,500miles
Registered Vehicle Type
Panel Van (meets DOT standards)
– Fixed width ways double bed with NEW mattress
– Pull out single bed – also can be used as a sofa
Maximum Weight (MAM or MTPLM)
3,500kg
Unladen Weight Verified?
YES - the vehicle has been weighed since completion
Gas sign-off supplied
Landlords Gas Safe Certificate