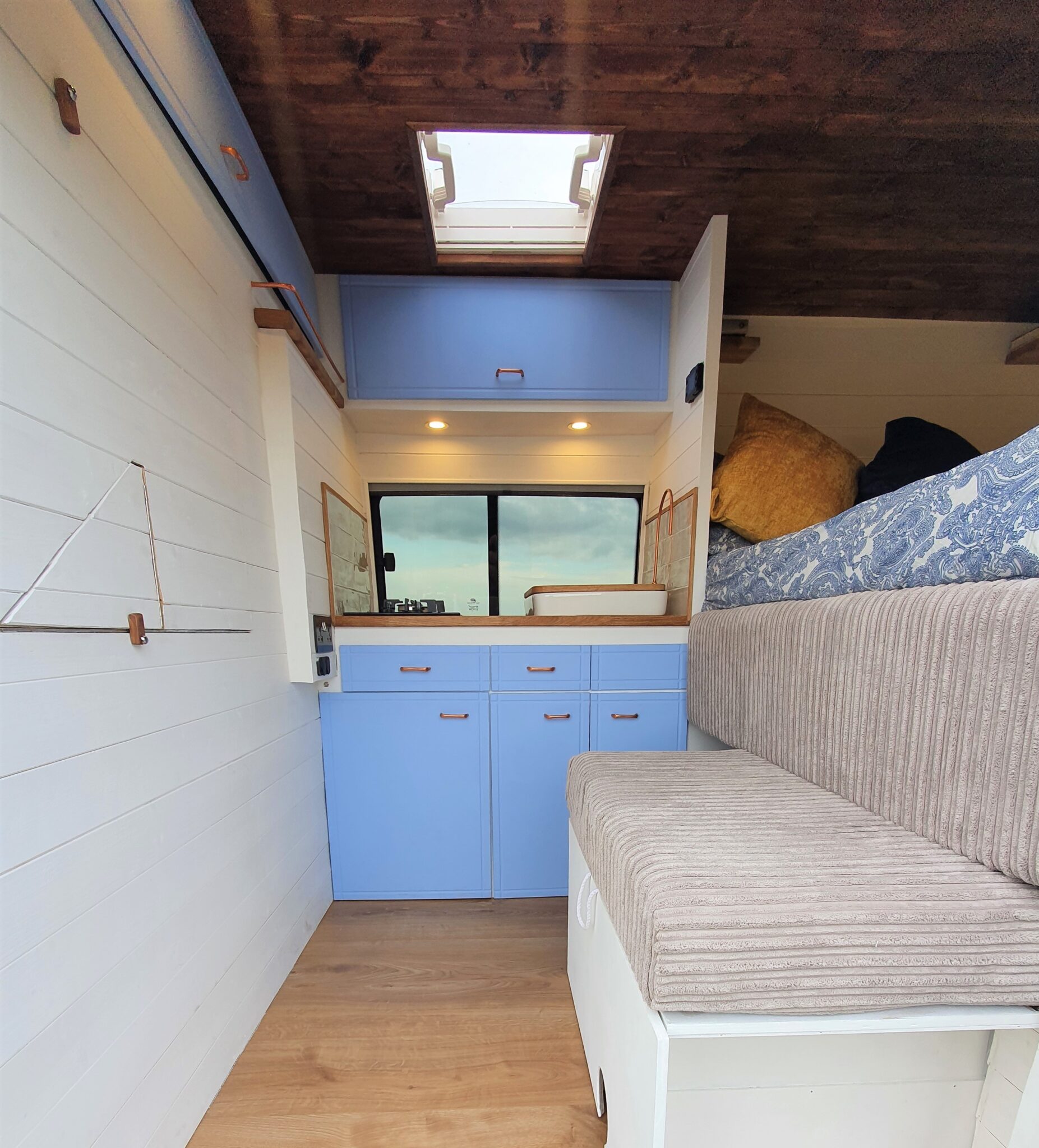 Vehicle Description
New, luxury, compact cosy camper for 2, from Surprise View Campers. Perfectly proportioned, with plenty of space inside for the fixed bed, kitchen, and seating area, whilst remaining small enough to fit in a parking space at a supermarket or down a narrow country lane on the way to its' next adventure.
2.2l diesel engine
Euro 5
MOT Valid until 02/12/21
The van was a Virgin Media van until 2 years ago, so has been well maintained and serviced.
It has been recently serviced (02/03/21), front brake pads were replaced, and everything is in great condition, inside and out.
Conversion Description
Kitchen/ living area:
Oak counter top
2 ring gas hob run off 907 Camping Gaz bottle. (gas has been signed off)
Butler sink with removable cover to extend the worksurface and make the most of the space
Copper swivel tap with electric pump
Removable 25l fresh water tank and smaller grey water tank
12v/ 240v fridge
Fold down oak table
Pull out sofa seating for 2/3 people.
Large enough space inside either side of the sofa to fit a chemical toilet if desired, otherwise lots of storage space!
Overhead cabinets (over kitchen and bulkhead)
Large skylight and vent with insect net and blackout blind over the kitchen, conveniently located to make standing at the sink possible even if you're over 6ft
Tinted sliding window behind kitchen area
Full sized double bed (1.35 x 1.85m) with brand new memory foam topped mattress
2 tinted rear windows
Convenient small shelves and charging points over the bed, as well as an overhead cabinet at the foot of the bed, perfect for storing clothes
Large garage area under the bed
Electrics:
130w Solar panel
183Ah leisure battery
800w inverter
Split charge relay
6 USB sockets (2 double points over the bed, and 1 in the kitchen area)
3 12v sockets
2 240v sockets
4 dimmable spotlights in living area, and dimmable LED strip lighting over the bed
5kW diesel heater
Fully insulated with 25mm celotex in floors and ceiling, 25-80mm celotex in walls and doors, nooks and crannies filled with recycled plastic insulation, and a full vapour barrier
Insulated honeycomb style blackout blinds at all 3 windows
Hardwearing laminate flooring
Asking price £23000, but open to sensible offers.
We are based in Sheffield and happy to arrange video or in person viewings, or send more photos on request.
Quirky approved and ready to list
We like the style
'We like the style' means that Quirky Campers would approve it for hiring but you must still check that the gas, electrics and weight were done properly. For some tips on what to look out for read this. If the listing has no Gas Safe certificate, no unladen weight and no electrical sign-off please proceed with caution!
Please note: Quirky Campers do not inspect the listings for accuracy or check campervans in person. We have asked sellers to provide evidence of certificates and paperwork however you MUST check yourself that the information provided is present and correct. You will need to exercise the normal due diligence when buying any vehicle.
Make and Model
Ford Transit SWB Medium Roof
Current Mileage
66,000miles
Registered Vehicle Type
Panel Van (does not meet DOT standards)
Fixed full sized double bed, 1.35 x 1.85m
Maximum Weight (MAM or MTPLM)
2,825kg
Unladen Weight Verified?
YES - the vehicle has been weighed since completion
Gas sign-off supplied
Gas Safe Certificate